Christiana (Younkin) Fleck
(1844-1910)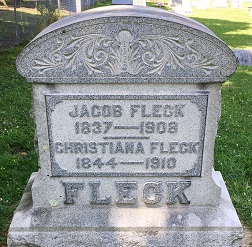 Husband Cemetery, Somerset, PA
Christiana "Christa" (Younkin) Fleck -- also spelled "Christena" and "Christa" over the years -- was born on Nov. 14, 1844 in or near Somerset, Somerset County, PA, the daughter of Abraham and Mary Ann "Polly" (Haupt) Younkin.
She was just six years old when her father died. As a 17-year-old, Christiana taught school and made her home with her widowed mother and sister Amanda in Somerset. Their post office in 1860 was at Benford's Store.
In July 1869, when she was 25 years of age, she married 31-year-old carpenter Jacob Fleck Jr. (Sept. 16, 1837-1908), who was seven years older than she, and the son of Jacob and Nancy (Friedline) Fleck Sr.
The couple produced these known children -- Frank R. Fleck, Mary Grace Kammerer, Margaret L. "Maggie" Long and George W. Fleck.
In 1870, the couple made their home in Somerset Borough, and Christiana's 67-year-old widowed mother lived under their roof, and next door to her married sister Margaret Pisel.
When the census enumeration again was made in 1880, the Flecks dwelled in the borough, with Jacob working as a "laborer."
By the early 1900s, Jacob had become an invalid, suffering from "catarrh" of the stomach and urinary tract infection. He succumbed at the age of 71 on Oct. 18, 1908. His remains were lowered into eternal repose in Husband Cemetery in Somerset. Son Frank, living in Pittsburgh, signed the certificate of death.
Christiana outlived her husband by two years. Burdened with kidney failure, she suffered a stroke of paralysis on March 20, 1910, and lingered for nearly a month. The Grim Reaper finally swept her away at the age of 65 on April 17, 1910. She joined her husband in burial in Husband Cemetery, with daughter Mary Kammerer providing details for the death certificate.
~ Son Frank Roland Fleck ~
Son Frank Roland Fleck (1872-1938) was born on Aug. 17, 1871 in Somerset, Somerset County, PA.
During the 1890s, he earned a living with the Adams Express Company and then in 1900 was promoted to messenger between Pittsburgh and Oil City. His home was in Pittsburgh in 1908 and in Johnstown, Cambria County in 1916.
He was bonded in matrimony with Carrie Olive Ellsworth (April 16, 1871-1950), a native of Johnstown and the daughter of Charles and Harriet (Slick) Ellsworth.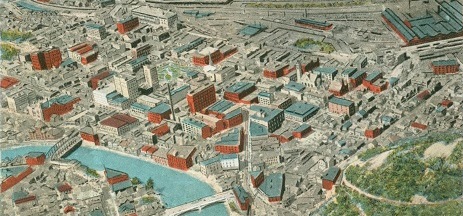 Aerial view of industrial Johnstown, Pennsylvania
They were the parents of a foster daughter, Gladys Laird.
The couple's longtime home was in Johnstown. Frank belonged to the Johnstown Methodist Episcopal Church and Carrie to the First Lutheran Church of Chambersburg.
For three decades, Frank was employed as manager in the commercial department of the Johnstown Telephone Company. On weekends, they enjoyed getaways to the Log Cabin Inn in Caledonia. In about 1936, they relocated to Chambersburg, Franklin County, and made a residence at 538 Nelson Street.
On Christmas Eve 1938, having been stricken with pneumonia and influenza, he died in their home at the age of 67. His remains were returned to Johnstown to rest for eternity in Grandview Cemetery. Rev. Haden preached the funeral sermon, and an obituary was published in the Chambersburg Public Opinion.
Carrie outlived her spouse by a dozen years and one day. As her health declined, she was admitted to the Chambersburg Hospital, where she died at age 79 on Christmas Day 1950. Rev. Martin F. Foutz led the funeral service. Carrie's obituary in the Public Opinion said that she was survived by four grandchildren.
Foster daughter Gladys O. Fleck ( ? - ? ) was at home in 1938. On Aug. 10, 1941, in the St. Paul's United Brethren Church of Hagerstown, MD, she married Jack Laird ( ? - ? ), with Rev. Dr. F. Berry Plummer officiating. Reported the Chambersburg Public Opinion, "The bride wore a blue and white street dress with white accessories and an orchid corsage." Jack was the son of J.D. Laird of Chambersburg. At the time of marriage, he worked for T.B. Wood's Sons Company, and she by the Stanley Company. Circa 1950, they lived on Redwood Street in Chambersburg. Gladys is known to have posed in a group photo, published in the Public Opinion, when attending her high school class reunion in 1978.
~ Daughter Mary Grace "Daisy" (Fleck) Kammerer ~
Daughter Mary Grace "Daisy" Fleck (1874-1924) was born on Jan. 29, 1874 in Somerset, Somerset County, PA.
She married Charles W. Kammerer ( ? - ? ) and dwelled in Somerset circa 1908-1924.
They were the parents of four -- Christine K. Laughrey, Harold Kammerer, Alice Kammerer and Eleanor Kammerer.
Trained as a carpenter, Charles spent his career building bridges in the employ of the Pennsylvania Department of Highways.
At the age of 46, Daisy was stricken with pulmonary tuberculosis and influenza and died on March 24, 1924. Interment was in Husband Cemetery.
Charles married again to Edith Leeder ( ? - ? ).
His final years were spent in Somerset at 443 South Kimberly Avenue. He died at home at the age of 76 on April 8, 1951. Reported the Somerset Daily American in an obituary, "Ever since he came to Somerset more than 20 years ago he had been prominently identified with the Calvary Methodist church. He was sincerely devoted to the church and its activities and was serving as a trustee at the time of his death. He served on the building committee of the new structure which was erected in 1927."
Daughter Christine K. Fleck (1908-1996) was born on Sept. 8, 1908 in Somerset. She married Richard E. Laughrey ( ? - ? ). One daughter was born to this marriage, Mary Gochnour. In later life, Christine moved to La Mirada, CA to reside near or with her married daughter. She died there at age 87 on March 12, 1996. Her remains were transported back to Somerset to rest in Husband Cemetery. An obituary in the Somerset Daily American noted that she was survived by three granddaughters and five great-grandchildren.
Son Harold Kammerer lived in 1951 in Lancaster, Fairfield County, OH.
Daughter Alice Kammerer studied nursing at Pittsburgh's West Penn Hospital in 1951.
Daughter Eleanor Kammerer lived at home with her parents in 1951.
~ Daughter Margaret L. (Fleck) Long ~
Daughter Margaret L. "Maggie" Fleck (1880-1944) was born on Sept. 26, 1880 in Somerset, Somerset County, PA.
On June 15, 1905, she was united in wedlock with Elmer O. Long Sr. ( ? - ? ), a resident of Johnstown. The nuptials were held at the home of her sister Mary Grace, with the announcement printed in the Somerset Daily American. At the time of marriage, Elmer was a former worker for Somerset Coal Company. The newlyweds established their first home at 716 Somerset Street in Johnstown, Cambria County.
They produced two sons -- Elmer O. Long Jr. and George F. Long.
Margaret was a member of the First Christian Church of Somerset. The family relocated to Pittsburgh in about 1929 and moved into a residence at 6606 Northumberland Street.
Sadly, in her mid-60s, Margaret made the decision to end her life. On the fateful day of Oct. 30, 1944, she hung herself with a rope attached to a bar in her clothes closet. Her body was shipped to Somerset for funeral services held at the First Christian Church, with burial following in Husband Cemetery. The Pittsburgh Post-Gazette and Somerset Daily American published notices of her death.
The widowed Elmer relocated to St. Petersburg, FL and was there circa 1958 at the untimely death of his son Elmer Jr.
Son Elmer O. Long Jr. (1906-1958) was born on April 24, 1906 in Somerset. He attended Bethany College in West Virginia and the University of Pittsburgh. Elmer served as an ensign in the U.S. Merchant Marine during World War II, and achieved the rank of lieutenant junior grade. On June 5, 1944, he wedded Helen Mae Mueller, daughter of John F. Mueller of Walnut Street in Pittsburgh. The nuptials were held at the East End Christian Church. News of their engagement was printed in the Pittsburgh Post-Gazette. After the war's end, Elmer joined United States Steel Corporation and worked for a dozen years as a buyer in the purchasing department. The couple made a home at 10 Rosemont Avenue in the tony Mount Lebanon suburb of Pittsburgh. He belonged to the Pittsburgh Athletic Association and Crescent lodge of the Masons. Grief blanketed the family when the 51-year-old Elmer was diagnosed with cirrhosis an dkidney failure and was admitted to St. Clair Memorial Hospital. He died within just three weeks on March 15, 1958. Rev. Dr. W.R. Vivrett, of the East End church, officiated at the funeral. The remains were lowered under the sod in Somerset's Husband Cemetery, with the Post-Gazette producing an obituary.
Son George F. Long ( ? - ? ) dwelled in New Orleans in 1944 and in Victoria, TX in 1958.
~ Son George W. Fleck ~
Son George W. Fleck (1880-1958) was born on July 27, 1880 in Somerset, Somerset County.
He wedded Anna Catherine Franke ( ? - ? ).
The two daughters born to this union were Ruth Stuck and Margaret Koontz.
The Flecks lived in the city's Penn Hills suburb at the address of 521 Dixie Drive. George earned a living through employment with the U.S. Post Office.
He was burdened with heart disease and kidney problems in his final years. At the age of 77, on June 27, 1958, he was gathered away by the Angel of Death while a patient in Pittsburgh Hospital. The remains were transported back to Somerset to rest in Husband Cemetery. Mrs. Ruth Stuck, of 5072 Brownsville Road in Pittsburgh, signed the death certificate. A death notice in the Pittsburgh Post-Gazette observed that he was survived by five grandchildren and one great-grandchild.
Copyright © 2016-2017, 2020 Mark A. Miner
Research for this page graciously shared by Dan Floyd, the late Olive (Rowan) Duff and the late Donna (Younkin) Logan.