Home

Abraham 'Abram' Younkin
(1801-1850)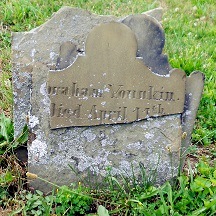 Union Cemetery, Somerset, PA
Courtesy Dan Floyd
Abraham "Abram" Younkin was born in May 1801 in Milford Township, Somerset County, PA, the son of Jacob and Hannah (Nicola) Younkin Sr.
He was age 10 when his father died, and in May 1815, when Abraham reached the age of 14, John Gebhart was named as his legal guardian.
He was united in holy matrimony with Mary Ann "Polly" Haupt (April 27, 1803-1870).
The couple produced a family of five known children -- Amanda M. Reger, Anna Kantner, Margaret Pisel, Cyrus Younkin and Christianna "Christa" Fleck.
The Younkins made their longtime residence in Somerset Borough and Township. While an early member of the Disciples of Christ Church movement in the county, co-founded by his brother Dr. Jonas Younkin, he appears to have suffered from a streak of alcoholism.
Circa the mid-1820s, noted an observer, "the demon Drink always works such wicked havoc that it is still clearly remembered that Wm. Philson, Abram Younkin and Dr. Bruce, had to be frequently disciplined for drunkenness, and that their copious tears of penitence were never wholly able to wash this stain out of their natures." [Full text] This text appeared in 1886 in The Disciple: A Monthly Magazine of Christian Literature, and then again a year later when compiled as part of Peter Vogel's book Tale of a Pioneer Church.
In October 1828, at the age of 27, Abraham was elected by a wide margin to the post of Somerset County Auditor, a term of three years. The election results were published in the Somerset Herald. As such, he is believed to be the first member of the Younkin family to hold an elected post in the county. It was the same election which propelled popular local figure Chauncey Forward into Congress.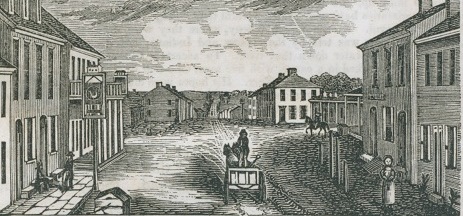 Above: sketch of Somerset, PA, 1840s. Below: page naming "Abram" in Vogel's book Tale of a Pioneer Church.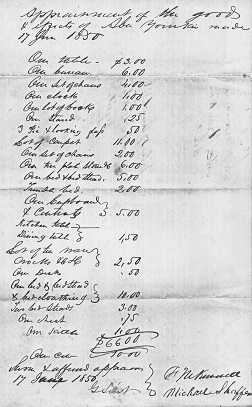 Inventory of Abraham's estate, 1850
In 1843, Abraham along with John A. Snyder was elected school directors in Somerset Borough. Then circa 1849-1850, at a time when there were 120 dwellings in the town, Abraham operated a tailoring business locally, with his name appearing on a list of Somerset's prominent residents. These roles are cited in the 1884 book History of Bedford, Somerset, and Fulton Counties, Pennsylvania, published by Waterman, Watkins & Company.
Suffering from "consumption" (tuberculosis), Abraham passed away at the age of 48 years, 11 months and 14 days on April 11, 1850. His remains were placed into eternal repose in Union Cemetery in Somerset, just a few blocks from the courthouse.
An inventory was made of the assets of his estate, which collectively were valued at $66.00. The items included a table, bureau, set of chairs, clock, lot of books, looking glass, carpet, bedstead, trundle bed, cupboard, kitchen and dining tables, crocks, desk, clothing, chest and kettle.
Polly lived for another 20 years after her husband's death.
When the federal census was taken later in the year 1850, the widow and her offspring Margaret, Cyrus and Christianna lived in the same household in Somerset Borough, with her married daughter Amanda Rager residing next door.
The United States Census of 1860 shows Mary and some of the family remaining in the borough, and receiving their mail through the Benford Store post office. Daughter Amanda Reger, age 35, grandson Thomas M. Reger, age 5 and daughter Christena Younkin, age 17 and employed as a school teacher, all dwelled under the same roof at that time.
When the census again was taken in 1870, Polly dwelled with her married daughter and son in law Christa and Jacob Fleck in Somerset Borough.
Polly died on Oct. 6, 1870 at the age of 67 years, five months and 10 days. The cause of her passing is not known. She is said to rest beside her spouse in Union Cemetery in Somerset. Unlike her husband's fractured but somewhat readable grave marker, the stone marking her final place of repose is illegible.
Copyright © 2016-2017, 2020 Mark A. Miner
Research for this page graciously shared by Dan Floyd, the late Olive (Rowan) Duff and the late Donna (Younkin) Logan.