Home

Family Bible of Samuel A. and Susan (Miner) Birch
Handwritten Records and Scrapbook Collections of a Civil War Veteran's Family of Prosperity and Washington, Pennsylvania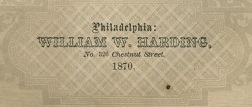 Printer's identification

Samuel A. and Susan (Miner) Birch of Prosperity, Washington County, PA purchased or received the gift of a large family Bible sometime in or after 1870. The volume was printed in Philadelphia in 1870 by William W. Harding of 326 Chestnut Street.

The Bible became a repository for handwritten family records over the years documenting marriages, births and deaths. As Samuel had been married and earlier in life to Suretta Wilson, and then widowed with the loss of an infant daughter, their information was duly transferred into the new pages for posterity.

It was passed down to their son John Wiley Birch and thence to his only son J. Russell Birch.

Over the years it was handled frequently, and eventually its covers became unhinged and torn away. The Bible became a repository for family keepsakes, including newspaper clippings, locks of hair, scraps of fabric and pressed flowers. In November 1988, the tattered book was presented to the founder of this website by Russell's widow for permanent safe-keeping.

The pages are reproduced here as an ongoing reference and free resource for the family at large.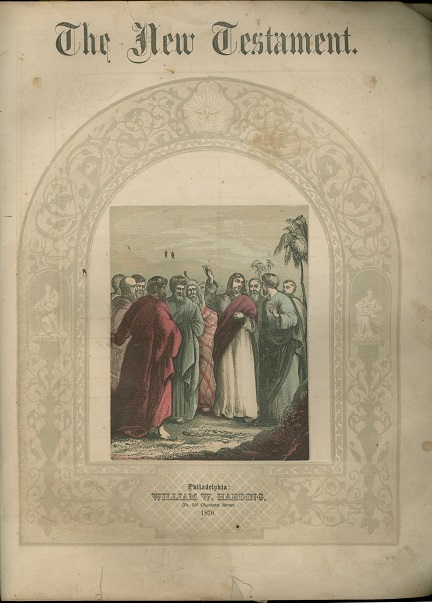 Title page to the New Testament section. The title page and early chapters of the Old Testament were lost years ago.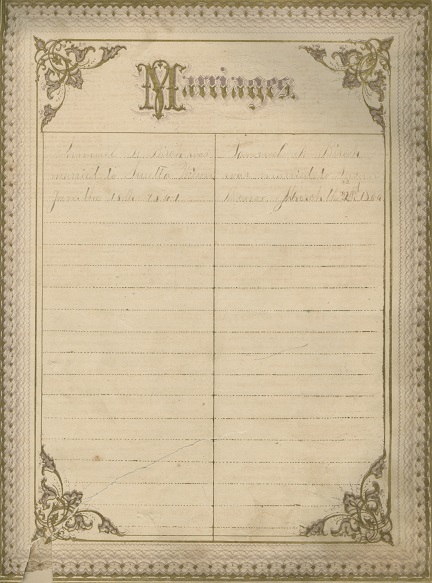 Marriages" page documenting Samuel's marriages to Suretta Wilson (left) and Susan Minor (right)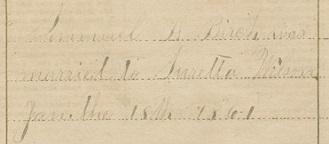 Marriages page, upper left: "Samuel A. Birch was married to Suretta Wilson Jan. the 18th 1861"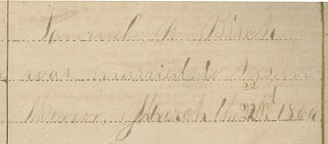 Marriages page, upper right: "Samuel A. Birch was married to Susan Minor, March the 22nd 1866"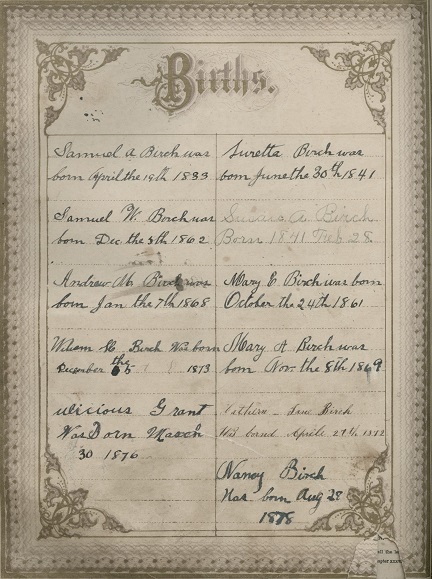 Births page 1 of 2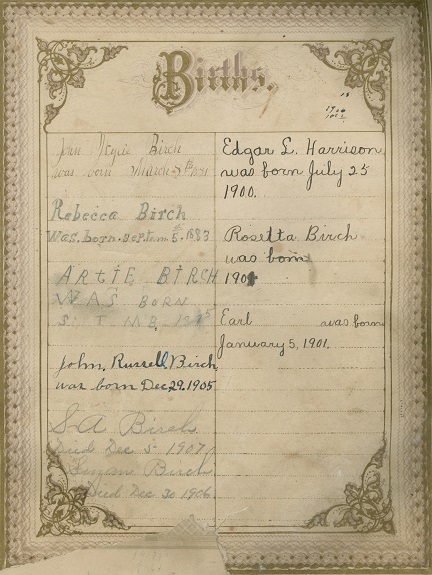 Births page 2 of 2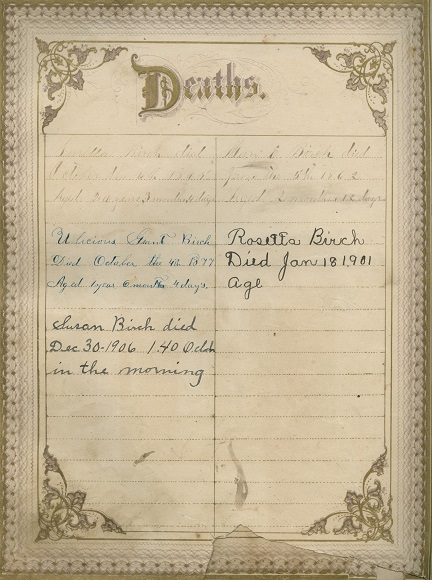 Deaths page -- the faint handwriting at the top marks the passing of Samuel's first wife Suretta Wilson (left, 1865) and infant daughter Mary E. Birch (1862)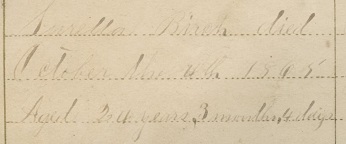 Deaths page, top left: "Suretta Birch died October the 4th 1865 Aged 24 years, 3 months, 4 days"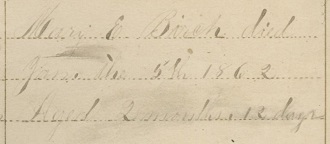 Deaths page, top right: "Mary E. Birch died Jan. the 5th 1862 Aged 2 months, 12 days"
~ Scrapbook ~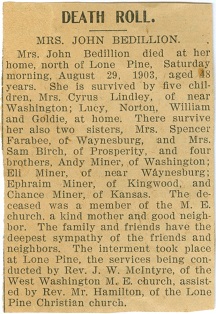 1903 newspaper obituary of Susan's younger sister Catherine (Minor) Bedillion of Lone Pine, Washington County. It was the discovery of this small piece of paper in 1988 that threw open wide the research about Susan's sisters, now that their married names were known, and confirmed the relationship of the brothers.


News obituaries about the Birches' friends Jacob Bedillion (left) and Capt. J.N. Minton, commanding officer of Samuel's former Civil War regiment.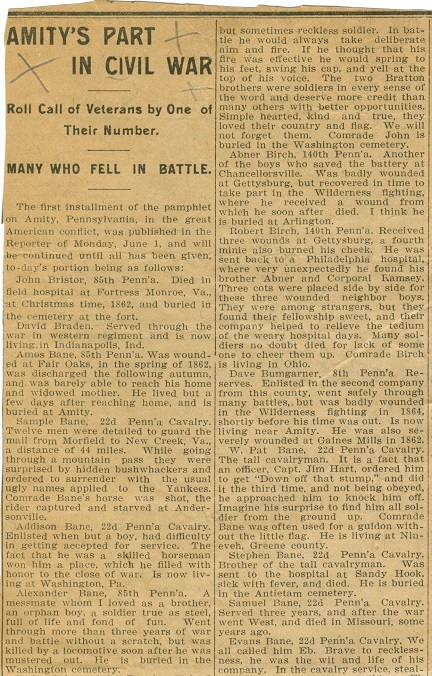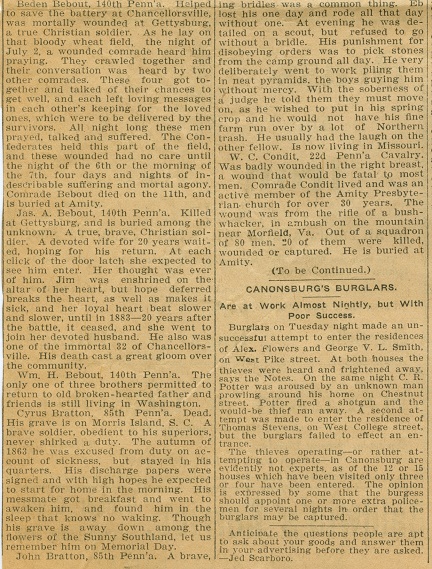 Newspaper story about local residents who served in the Civil War. Samuel's relatives Abner and Robert Birch are featured with paragraphs in the article.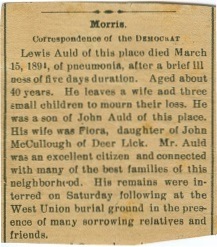 Obituaries of Birch family friend Lewis B. Auld Jr., age 35, of Nineveh, Greene County, who died March 15, 1894. He was married to Flora McCullough.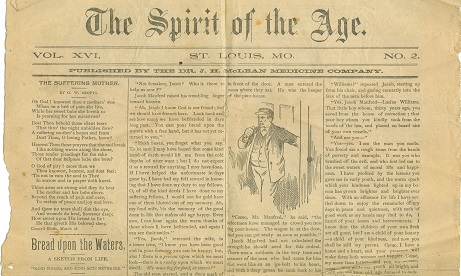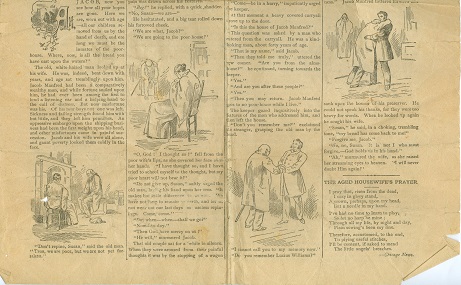 Spirit of the Age, a newspaper of the 1880s produced by Dr. J.H. McLean Medicine Company of St. Louis, Vol. XVI, No. 2, page 1. It has been described as an advertising sheet for McLean's patent medications, "thinly disguised as a newspaper," and to have had a monthly circulation of more than 100,000 copies worldwide.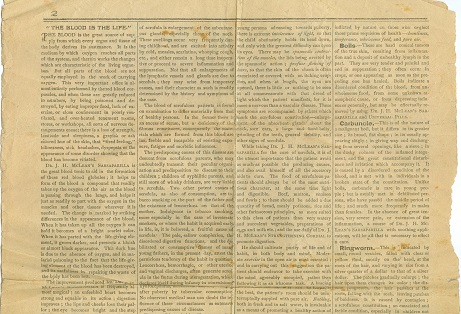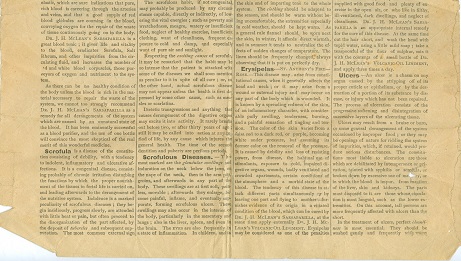 Page two of Dr. J.H. McLean's Spirit of the Age newspaper, prescribing his own remedies for ailments such as scrofula, erysipelas, boils, carbuncles, ringwork and ulcers. The Birches may have kept this as a home remedy reference.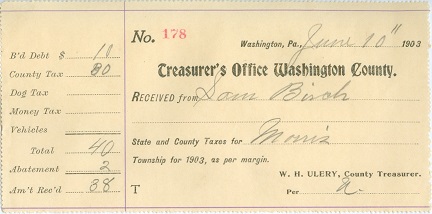 Receipt for the Birches' 1903 state and county taxes in Washington County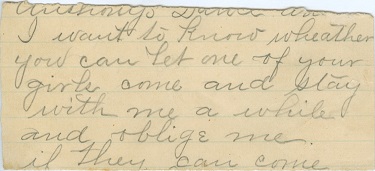 Handwritten note from an unidentified author, saying: "...Anthony's Dance [illegible]. I want to know wheather you can let one of your girls come and stay with me a while and oblige me if they can come."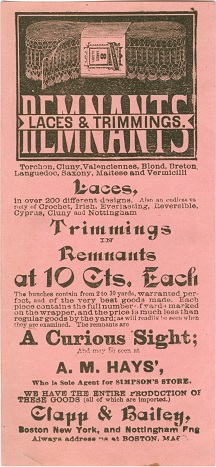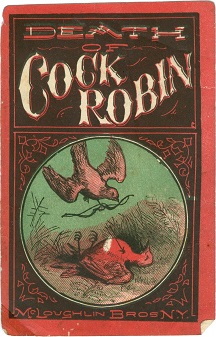 Advertising insert for fabric laces and trimmings at A.M. Hays, an agent for Simpson's Store, featuring goods shipped from Clapp & Bailey of Boston, New York and Nottingham, England. Right: McLoughlin Bros. of New York card promoting the card game or book Death of Cock Robin, no date.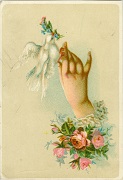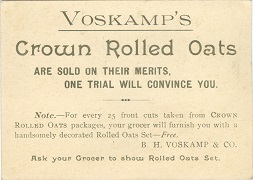 Two-sided advertising card for Voskamp's Crown Rolled Oats, featuring a drawing of a child's hand giving pink roses to a dove. Images not to scale with each other.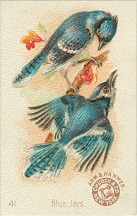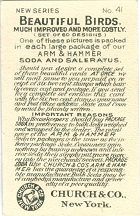 Two sided trading card of the "Beautiful Birds" series issues by Church & Co. of New York, promoting its Arm & Hammer soda and saleratus (leavening agent) products. This card, featuring blue jays, is no. 41 of 60, and was an insert in boxes of the soda circa 1898-1904.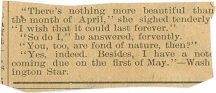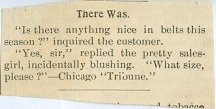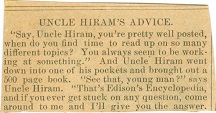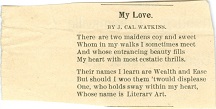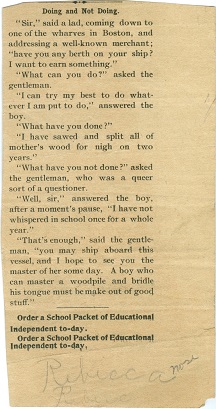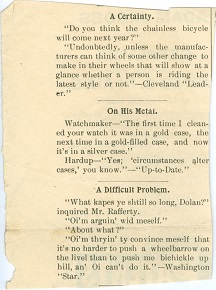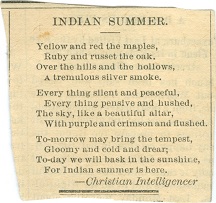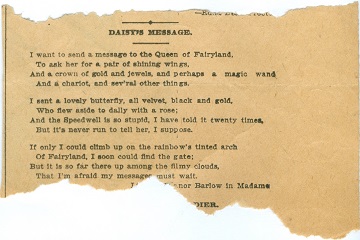 Newspaper clippings saved by the Birches featuring humor and instruction.

Label for "Dice Plug" -- thought to have been a brand of tobacco circa 1896
Copyright © 2014 Mark A. Miner