John Wiley Birch
(1881-1935)
John Wiley Birch was born on March 8, 1881 at Burnsville, PA, the son of Samuel and Susan (Miner) Birch. He was an entrepreneur who owned his own grocery and wholesale candy business for many years in Washington, PA, and is featured with a biography in Earle R. Forrest's 1926 History of Washington County.
He is said to have been "possessed of more than ordinary ability [and had] won the full measure of success."
In 1904, he married Mary Olive Sprowls (1886-1969), daughter of Milton Riley and Hannah (Cook) Sprowls. They had one son, John Russell Birch.
As a young man, John helped his father on the family farm in Prosperity, Greene County. At age 21, in about 1902, he moved to Washington and began working for the retail grocery firm of G.W. Warrick & Sons. He later joined G.W. Driver & Son and then was a traveling salesman for the New York Produce Co. After gaining substantial experience, he worked for 12 years as in a traveling sales capacity for Peerless Biscuit Company of Pittsburgh.
In 1921, desiring independence, John purchased the C.A. Prigg wholesale candy company, and renamed it "J.W. Birch Co." Later, when his son entered the business, it was renamed "J.W. Birch & Son Co." He was called "one of the influential members" of the old Washington Board of Commerce. Of his company, said the History of Washington County:
He has greatly enlarged its scope and the house is represented by three traveling salesmen, also enjoying an extensive local trade. [He] also employs a deliveryman and a stenographer and is ably assisted by his son … who has charge of the stockroom. The firm has placed on the market a high quality of confectionary products and lists as its most valuable asset a well deserved reputation for thorough reliability and honesty.
John was a trustee of the Central Presbyterian Church in Washington and was a member of the local lodge of the Elks and the United Commercial Travelers.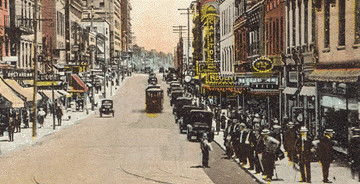 Postcard of Chestnut Street in downtown Washington
Mary was a member of the Daughters of the American Revolution (DAR) and the YWCA. Said the Washington Observer-Reporter, she "served several years as secretary of the Foreign and Home Missionary of the [Central Presbyterian] Church and had been a teacher in the primary department."
John passed away in 1935. Mary outlived him by more than 3 decades, and died in 1969. They're buried at Washington Cemetery.
Son Russell took over his father's confectionary business, retiring in July 1966 after a 45-year career.
Copyright Ó 2001-2002 Mark A. Miner