Online Museum of Creativity
Item: Porcelain Painting
Creator: Shirley (Minerd) Dick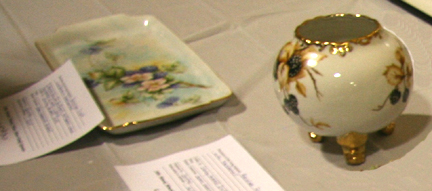 Shirley (Minerd) Dick displayed these examples of porcelain painting at our 2006 reunion. Each color of glazing had to be applied by hand and fired separately in a painstakingly slow process. She also brought one of her paintings to show. Shirley and her husband Clarence were the longtime proprietors of a greenhouse and florist shop in Medina, OH, prior to retirement. She has exhibited her creations at, among other places, the Yankee Peddler Festival in Canal Fulton, OH. Shirley is the daughter of the late James A. Minerd and the granddaughter of the late James W. Minerd of Dunbar, PA.
Click for next artifact
Return to index page
Copyright © 2006 Mark A. Miner. Photo by Sid Miller.