Home

James William Minerd
(1878-1953)


James and Minerva
James William Minerd was born on March 14, 1878 at Dunbar, Fayette County, PA, the son of James Valentine and Nancy (Warman) Fuller Minerd. A coal miner and furnace laborer, he spent virtually his entire life in Dunbar. As an adult, he was considered tall and slender with brown eyes and light-colored hair.
On July 3, 1899, at the age of 21, James married 19-year-old Minerva J. Bodkin (1880-1966), daughter of George W. and Catherine (Williams) Bodkin, an old family of Dunbar. The ceremony was performed by James' first cousin, the famed "Blacksmith-Preacher" of Fayette County, Rev. David Ewing Minerd.
At the time of marriage, James earned a living as a local laborer.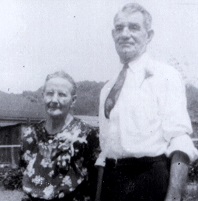 Minerva and James
They went on to produce five children -- Edith Yutzy, George Theodore Minerd, James Albert Minerd. Eleanor Smith and David Edwin Minerd.
James is known to have spent many years working as a laborer at an industrial furnace in Dunbar. When the federal census was made in 1910, the family made its home in Dunbar and the census-taker -- spelling the name "Minard" -- recorded James as working at the "Furnace." That same year, Minerva's younger sibling Emma Bodkin, age 16, lived under their roof as a servant helping tend to the four children born by that time.
When the United States entered World War I, the 40-year-old James was required to register for the military draft, and he did so on Sept. 12, 1918. He disclosed to the registration officer that he was employed as a fireman with the West Penn Power Company at Connellsville and that Minerva was his next of kind.
In 1920, census records show the family living on Second Street in an area known as "Speers Hill," with James employed as a "carrier" at the furnace. For reasons not yet known, the census-taker wrote down Minerva's name as "Carrie." James' younger brother John "Albert" Minerd and wife Bessie lived two doors away, although the census-taker wrote John's name as "James."
During the decade of the 1920s, as the nation entered the Great Depression, James apparently lost or left his job at Dunbar Furnace. The 1930 census shows his occupation as "junking" with his son James laboring at the local glass factory (Anchor Hocking). Their home remained on Second Street in Speer's Hill. In 1937, at the age of 59, James lived and worked at the Leisenring #1 Mine near Uniontown although they kept their residence in Dunbar.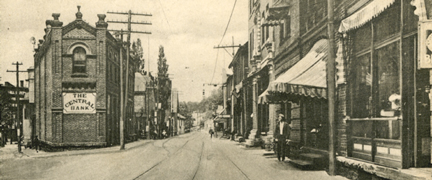 Street scene in Dunbar, from an old postcard
Later in the 1930s and into the '40s, James earned extra money painting houses and churches throughout the Dunbar community. He is said to have been a heavy drinker.
As with many American families during World War II, the Minerds worried when their son David was away serving in the U.S. Armed Forces with a tank destroyer battalion.
Suffering from hardening of the arteries and a skin disease known as "dermatosis," James was stricken with bleeding in his brain and died at the age of 74 on Feb. 3, 1953, and is buried in the newer section of Mount Auburn Cemetery in Dunbar. At the time of his death, he and Minerva had produced 16 grandchildren and seven great-grandchildren.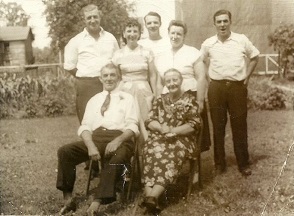 Family gathering, 1940s. James and Minerva seated. Back, L-R: George, Eleanor David, Edith, James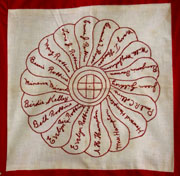 Flower pattern quilt

Detail of Minerva's name
Minerva outlived her husband by 13 years and maintained her membership in the Dunbar Baptist Church.
At some point in time, the local Ladies Aid Society in Dunbar sold "name petals" for 10 cents each to the people of Dunbar in order to raise needed funds. Minerva was one of the purchasers, among others including her sister in law Emma (Fuller) Robbins and several of her Robbins nieces and nephews.
Each donor's name was stitched with red threads onto white fabric petals which eventually formed the shape of flowers superimposed on top of squares. The squares were sewn together into an attractive red and white banner, in the collection of resident Mae Hardy, who passed it down to her niece Doris (Porter) Rockwell. Years later, in September 2002, the banner was placed on display at the Dunbar-Fest Community event, and has continued to be shown at the annual "fests." Seen at right is the flower pattern as well as Minerva's individual name petal. Click here to see the quilt at a larger size in our "Online Quilt Museum."
Minerva spent the rest of her life at their home at 43 Railroad Street in Dunbar, and was a member of the Dunbar Baptist Church. Sadly, she passed away at age 85 on Jan. 15, 1966 and is buried with James. Rev. H.L. Davis of the Harbor of Light Chapel in Uniontown conducted the funeral service. At the time of Minerva's death, the number of their great-grandchildren had risen to 31, and she even had one great-great grandchild. Her obituary was not only printed in Connellsville but also in the Cumberland (MD) Times News.

James and Minerva's grave at Mt. Auburn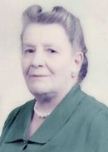 Edith Yutzy
~ Daughter Edith F. (Minerd) Yutzy ~
Daughter Edith F. Minerd (1902-1995) was born on July 2, 1902 in Dunbar, Fayette County, and grew up there.
When she was about 17 years of age, in 1919, Edith married 19-year-old Henry Yutzy (1900-1986), son of William and Louise (Romesburg) Yutzy of Garrett, Somerset County, PA. His name also has been misspelled as "Yutzey" over the years. Henry is believed to have been a veteran of World War I, but this needs to be confirmed.
They first resided in Garrett before settling for good in the late 1920s in Cumberland, Allegany County, MD.
They had three known children -- James Henry Yutzy, Betty M. Wheeler and Peggy Jane Grimes.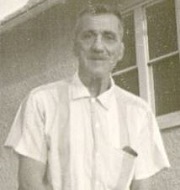 Henry Yutzy
Henry was well known as a boxer in Cumberland in his young adult years, "remembered by boxing fans as 'the best slambang fighter' Cumberland ever had," according to an article in the Cumberland News. Henry was nicknamed "K.O." and began his career at age 14 as a circus boxer in Garrett, Somerset County, PA. Shortly afterward, his contract was purchased by a boxing promoter. Said the News, Henry was:
...active in the ring from 1926 to 1936 and his best fighting weight was 143 pounds. He liked to fight so much that he never asked, nor concerned himself about the win-loss record or little else about his opponent. He was game to the core and the rougher the fight got the better he seemed to like it.... His most prized triumph was scored here in the National Guard armory the night he knocked out Johnny Carey of Erie, Pa.,... The knockout came in the first round.
Over the years, Henry supported the family as an employee of the Baltimore & Ohio Railroad. In 1930, with the family making their residence on Virginia Avenue in Cumberland, Henry's occupation as recorded by a federal census taker was a "boiler maker helper" in the B&O shops.
During the 1930s, the Yutzys moved to a new home at 100 Laing Avenue in Cumberland, as shown on the 1940 census. Henry continued his labors as a boiler-maker with the railroad. By 1951, they dwelled at 39 Oak Street. He was a member of the Brotherhood of Boilermakers of America.
In addition to raising her children, Edith in the 1940s through the '70s was an officer and secretary with the Swanson Memorial Bible Class of Second Baptist Church in Cumberland. She occasionally hosted meetings in her home, and her name often was published in the Cumberland Evening Times in connection with her volunteer activities at the church.
Henry also was a volunteer with the church, chairing the deacons and supervising the intermediate grades of the annual Vacation Bible School. He also was a pallbearer at many funerals in the city over the years. He was a member of Post 1125 of World War I Veterans in Cumberland. During his retirement years, he was a member of the Has Beens, Inc.
In February 1967, Edith received a visit from her cousin Olive (Ellis) Quairiere, of Dunbar, who had been vacationing in Virginia. The stopover was noted in the gossip column of her former hometown newspaper, the Connellsville Daily Courier.
Henry died at home at the age of 83 on March 10, 1986. An obituary in the Meyersdale (PA) Republic reported that he was "a former world-ranked welterweight boxer." Interment was in the Davis Memorial Cemetery with Rev. Frank Trozzo leading the funeral service. Pallbearers included Emmett Bittner, Donald Deiser, Bobby Goss, Gene Kelly, Randy Shreves and Edgar Tucker. Honorary pallbearers were his fellow members of Has Beens, Inc., among them Howard "Red" Bush, Presley "Red" Mauk and Robert "Bob" Shrout.

Rooftops and steeples of Cumberland, Maryland
Edith passed away in Cumberland on Aug. 8, 1995 at the age of 93. Her remains were placed beside her husband's in eternal repose in Davis Memorial Cemetery in Cumberland. [Find-a-Grave]

James Henry Yutzy
Son James "Henry" Yutzy (1921-2004) was born in 1921 in or around Garrett. He grew up in Cumberland. In March 1951, when James was age 30, he was united in marriage with Lucy Jean Clark ( ? - ? ), daughter of John Henry Clark Sr. of Bedford Road in Cumberland. The ceremony was held at the First Baptist Church of Cumberland, with Earl Turner serving as best man and Norma Trussell as maid of honor. A photo of the wedding party was printed in the Cumberland Evening Times. They had two sons -- James C. Yutzy and David H. Yutzy. As a 19-year-old, James lived at home and obtained work as a glass cutter in a local glass factory in Cumberland. He later was a longtime machinist for the CSX Railroad and served in the U.S. Army Railroad Corps during World War II, with training at Fort Belvoir, VA, and deployment in Iran. Said the Cumberland Times, he was "a faithful member of the Second Baptist Church, served as a deacon, Sunday School Teacher, choir member and nursing home ministry. He was dedicated to neighborhood clean up and helping his neighbors. For many years, Henry participated in the city gardening program. He always had a smile on his face and a song in his heart. He was an inspiration to everyone who knew him." Tragedy rocked the family in July 1951 when Lucy Jean's father, a lineman with Potomac Edison Company, was electrocuted and died while working on a high tension wire in Bedford, PA. Circa 1957, the family dwelled in Connellsville, PA but by the 1960s were back in Cumberland. Lucy was active with the Women's Missionary Union of the Second Baptist Church. James passed away at his residence, at the age of 83, on May 19, 2004. He was laid to rest in Sunset Memorial Park.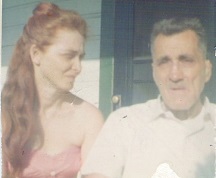 Peggy Grimes with her dad
Daughter Betty M. Yutzy (1923- ? ) was born in about 1923 in or around Garrett, Somerset County. She was but a young girl when the family relocated to Cumberland, where she grew into womanhood. On Feb. 21, 1941, at the age of 18, Betty married Frederick R. Wheeler ( ? - ? ), a resident of Weber Street in Cumberland. The ceremony was held at the Yutzy home, with Rev. Edgar S. Price, of the Second Baptist Church, officiating. Reported the Cumberland Evening Times, "The bride wore a white satin gown, with a halo of rose buds and purple orchids in her hair." At the time of their nuptials, Betty was employed at Memorial Hospital in Cumberland, and Frederick with Celanese Corporation. Their first home was at 724 Frederick Street. During World War II, Fred was a private in the U.S. Army, specializing in aviation, with training at Camp Lee, VA, Miami Beach, FL and Cumberland University in Lebanon, TN. Then, from about 1956 to 1959, the couple lived in Frankfort and Wiesbaden, Germany, where Frederick was stationed with the U.S. Air Force. Circa 1986, at the time Betty's father died, she made her home in Frederick, MD.
Daughter Peggy Jane Yutzy (1929- ? ) was born in about 1929 in Cumberland. She obtained employment as a young women in Rosenbaum Brothers Store in Cumberland. At the age of 21, on Nov. 15, 1950, in a ceremony in the clerk of court of Portsmouth, VA, she was wedded to George Clair Grimes ( ? - ? ), son of Carl A. Grimes of Cumberland. She was attired in a Navy blue suit for the wedding. Peggy's photograph and an article about the wedding were printed in the Cumberland Sunday Times. At the time, George was serving with the U.S. Navy aboard the U.S.S. Newport News. They produced at least two daughters, Peggy Jo Grimes and Bonnie Ackerman. Peggy was a volunteer with the Second Baptist Church in Cumberland and in December 1950 was elected president of the Ruth Class. By 1952, the family made its home in Philadelphia, where George continued his military service in the Navy, and spent the Christmas holidays visiting with the Yutzys in Cumberland. Following George's discharge, they returned to Cumberland and remained there for decades.
~ Son George Theodore Minerd Sr. ~

George T. Minerd
Son George Theodore Minerd Sr. (1905-1969) was born on July 18, 1905.
He married Mary L. Boyd (1910-1997), of Confluence, Somerset County, PA, and the daughter of John D. and Fannie (Tressler) Boyd.
The Minerds had five children -- Edith Eleanor "Cookie" Loudermilk Allen, Mary Katherine "Kate" Jackson, George Theodore "Ted" Minerd Jr., Richard Minerd and Ronald Cornel Minerd.
In 1930, their home was in Somerfield, Somerset County. PA. By 1933, George had accepted employment as a driver for Seven Baker Brothers. They resided in 1940 along U.S. Route 40 in Redstone Township, Fayette County, where George earned a living as a coal miner. Their address in 1947 was 97 Devan Avenue in Uniontown. In 1955, the Minerds were sued for failure to repay a $1,000 loan from Luciano Pope who had often purchased masonry sand from them.
The couple eventually divorced. George maintained a home in 1968 at 97 Devan Avenue in Uniontown.
On Nov. 14, 1968, in nuptials held at the Braddock Street United Methodist Church in Winechester, VA, the 63-year-old George wed 56-year-old Nellie Augusta (Fullem) Lerch (April 3, 1912-1995), the widow of Samuel W. Lerch and the daughter of Charles and Myrtle (McLean) Fullem of Uniontown, Fayette County. They met when Nellie's daughter Marlene Lerch wed George's son Ted. Adding to the twists, Nellie's first cousin Sarah Elizabeth Farr married George's cousin Wade Minerd (of the family of Thomas Minerd).
George was a representative for the Dunlap Tire & Rubber Co. at his retirement in 1968. Nellie was the organist for 36 years at Mount Braddock (PA) Methodist Church, and worked in the cafeteria of Kennedy School in the Laurel Highlands School District.
George passed away in July 1969. He was laid to rest at Sylvan Heights Cemetery, with Rev. Ray Snair preaching the funeral sermon.
Nellie spent her final years in Voorhees, NJ. She passed away at the age of 83, on Dec. 15, 1995, in West Jersey Marlton Hospital. Her remains were returned to Uniontown for burial at Sylvan Heights Cemetery.
Although divorced from George, Mary kept in touch with her former Minerd in-laws, and came to our national family reunion circa 1995. Over the years she made her home in Collier and Chalk Hill, Fayette County. She died at the age of 86 on March 21, 1997, with burial at Sylvan Heights Cemetery in Uniontown.
Daughter Mary Katherine "Mary Kate" Minerd (1930-2005) was born in 1930. She married Marshall Jackson ( ? -living). They had three children -- Marsha "Kim" Harned Noonan, Richard Dawson Jackson and Scott William Jackson. They resided in Uniontown in the 1950s. Sadly, Mary Kate passed away in Uniontown at age 74 on March 15, 2005. Marshall survived her by many years and has made his home in Wisconsin.
Grandson Richard Dawson Jackson (1963-2007) was born on Aug. 6, 1963 in Uniontown. He died at the age of 43 on June 14, 2007.
Granddaughter Marsha "Kim" Jackson (1955-2013) was born on July 5, 1955 in Uniontown and was a graduate of Laurel Highlands High School. She wedded twice, first to (?) Harned. Later, at the age of 31, on Sept. 13, 1986, she married Mark E. Noonan ( ? -living). In all, she bore three children -- Joseph "Joe" Harned, Gus Noonan and Beth Fry. Kim became employed circa 1992 by the Commonwealth of Pennsylvania in its State Correctional Institute at Muncy, Lycoming County, PA, and remained there for more than two decades, retiring in 2012. In 2013, their home was in McEwensville, Northumberland County, PA. She enjoyed vacations in the Florida Keys, sea cruises, creating ceramics and collecting frogs. Sadly, she passed away at home at the age of 57 on June 24, 2013. A memorial service was led by Rev. James Savidge with interment in Twin Hills Memorial Park in Montoursville, PA. In an obituary, the family asked that "in keeping with Kim's wishes, please dress casual in memory of her."
Son George Theodore "Ted" Minerd Jr. (1933-2014) was born on June 13, 1933 in Somerfield. In March 1951, during the Korean War, he enlisted in the U.S. Army and was assigned to the 350th Infantry in Austria. He was pictured in uniform in the Nov. 7, 1951 edition of the Uniontown Morning Herald. After the war, he returned home and obtained employment with Rockwell Meters Inc. in Uniontown. In about 1955, when he was age 22, he married Marlene Lerch ( ? - ? ), daughter of Samuel and Nellie (Fullem) Lerch of Mount Braddock, Fayette County. By 1963, the Minerds had relocated to New Jersey, where they made their home in Riverton. Their six children were Mark Minerd, Jeffrey Minerd, Keith Minerd, Susan Marie Minerd, Wendy Minerd and Brad Minerd. Ted died in Orlando, FL at the age of 80 on June 17, 2014. A brief death notice was printed in the Orlando Sentinel.
Son Richard Edwin "Dick" Minerd (1936- ? ) was born in about 1936. In 1956, he enlisted in the U.S. Navy. On July 27, 1963, in Cherry Hill, NJ, he was united in matrimony with Edna Marie Martin ( ? - ? ), daughter of Daniel J. Martin of Cherry Hill. The ceremony was held in Queen of Heaven Church, officiated by Rev. Francis McVay. Edna's photo and wedding story appeared in the Aug. 30, 1963 edition of the Morning Herald. They did not reproduce.
Daughter Edith Eleanor "Cookie" Minerd (1941-1991) was born on or about Dec. 7, 1941, otherwise known as "Pearl Harbor Day." She was married twice, first to Donald Loudermilk ( ? - ? ). They had one son Donald Loudermilk. During her first marriage, she made her residence in White Sulphur Springs, WV. Later, she wed to (?) Allen. She is said to have died in November 1991, when she would have been 50 years of age.
Son Ronald Cornell Minerd (1946- ? ) was born on Nov. 30, 1946. He resided in Uniontown in 1963. During the Vietnam War, he joined the U.S. Air Force and was stationed at Charleston Air Force Base in South Carolina. With the rank of sergeant, he served as an aircraft mechanic with the 437th Military Airlift Wing, which was cited more than once for "achieving an exceptionally meritorious rating for distinguished service during a one-year period." He wed Joyce Lynn Ross ( ? - ? ), daughter of Jack Newcomer of Hopwood. They produced two known sons, Sean Richard Minerd and Lucas Matthew Minerd.
~ Son James Albert Minerd ~


James and Elizabeth
Son James Albert Minerd (1908-1986) was born on Jan. 11, 1908 in or near Dunbar. He grew up in a household where his father was a heavy drinker.
He married Elizabeth Hall (1913-1992), daughter of John William and Margaret (Burchinal) Hall of Lemont Furnace, near Uniontown..
Their three children were James William Minerd, Shirley Dick and Deborah Bittner Polacke.
On Nov. 23, 1931, when he was 23 years age, James and his buddy Stephen Uher were critically injured in a motorcycle accident. The Daily Courier reported that "the motorcycle on which they were riding was wrecked near Uniontown on the old Connellsville-Uniontown road... The motorcycle is reported to have attempted to pass two automobiles as they also were passing and struck a machine driven by W.E. Coddington of Uniontown, who took them to the hospital."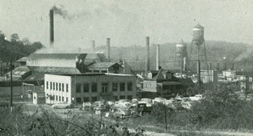 Anchor Hocking plant in Connellsville
When James' badly injured leg could not be saved, it was amputated just after the New Year's holiday in 1932. He was released from the hospital in mid-February 1932. While recovering from his injury, he met his future wife Elizabeth, who was a licensed practical nurse at Connellsville State General Hospital. Elizabeth also was a volunteer for the Albert Gallatin Hospice program.
They resided in the Little Summit section of Dunbar, and many descendants still live in the community today.
James worked for Anchor Hocking in South Connellsville, PA for about 34 years. (The Anchor Hocking plant is seen here in an old postcard.) He belonged to the Glass Bottle Blowers Association local and was a social member of the South Connellsville Fireman's Club.
Stricken with metastic cancer at age 78, James passed away on Sept. 11, 1986, at home in Little Summit. His remains were placed at rest in Green Ridge Memorial Park following funeral services conducted by Rev. Ned Horsfall.
Elizabeth survived her husband by six years. She joined him in eternity at the age of 79, in her home, on Dec. 1, 1992. Her newspaper obituary noted that she was survived by 10 grandchildren and a dozen great-grandchildren. Rev. David Warner and Rev. Ned Horsfall officiated at her funeral, with burial following in Green Ridge Memorial Park.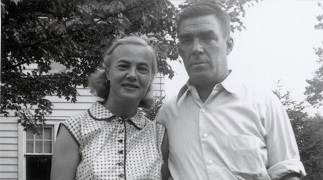 Elizabeth and James Minerd
Son James William Minerd (1933-2014) was born on Sept. 1, 1933 in Lemont Furnace, Fayette County. He married Glenda Crayton (1938-2014), daughter of Frank and Helen (Livingston) Crayton of Mt. Braddock, Fayette County. They had a family of five children -- Denise Lynn Turek, Susan "Renee" Gettemy Bertok, James Allen Minerd, Kenneth Albert Minerd and Ronald William Minerd. James was employed for many years at the Anchor Hocking plant. Glenda worked as a secretary for Pechin's Market in Dunbar, a local landmark, and was a member of the Fraternal Order of Eagles as secretary and onetime state president. James and Glenda divorced. He and his daughter Denise met with the founder of this website in 1994 and were very informative in providing details of the history of this branch. He came to the national family reunion in June 2013. James died at the age of 80 on Aug. 27, 2014, at home in Dunbar. Burial was in the Minerd family plot at Dunbar. Sadly, Glenda died just a few months later, on Oct. 21, 2014. At their deaths, said the Daily Courier, they had produced 11 grandchildren and 19 great-grandchildren.
Daughter Shirley Minerd married Clarence E. Dick Jr. (1936-2009). Their four children were Jonathan Dick, thomas Dick, Brian Dick and Shauna Peyton. The Dicks owned Medina Greenhouse and Florist near Hinckley, OH. Clarence's primary employment over the years was as a construction superintendent at Leonard Krill Company, "from steel mill repairs in the Flats to nursing homes in Holmes County," said the Cleveland Plain Dealer. He also served as a zoning inspector for Hinckley Township. they attended several of our reunions over the years, and Shirley's painted porcelains were displayed at our 2006 "The Art of Creativity" reunion. Clarence passed away at the age of 73 on July 26, 2009.
Daughter Deborah Sue Minerd was a model as a young woman and competed in beauty pageants. She graduated from Pittsburgh's John Robert Powers Modeling School. She was wed twice. She and her first husband Richard Bittner were united in matrimony in 1966. They had one daughter, Elizabeth Jane "Beth" McKenzie. After a divorce, Debbie married a second time, to Henry "Hank" Polacke.

Eleanor Smith
~ Daughter Eleanor R. (Minerd) Smith ~
Daughter Eleanor R. Minerd (1910-1999) was born on March 29, 1910 in Dunbar.
She married Herschel B. "Smitty" Smith (1906-1991), a native of Moorefield, WV, and the son of Seymour and Agnes (Simmons) Smith.
They had four children -- James Francis Smith, Elaine Elva Hawkins, Richard Hershel Smith and Nadine Gloria Reinhart.
Their eldest child was born in about 1928 in Pennsylvania, likely in Dunbar, but by 1930 the family had relocated to Cumberland, Allegany County, MD, where their second offspring was born. Their address in 1930 was Virginia Avenue.
In Cumberland, the 1940 federal census shows the family living in Cumberland, with Hershel working as a pipefitter for an artificial silk company. Hershel's 26-year-old cousin, Woodrow Simmons, lived under their roof that year and was one of his co-workers at Artificial Silk, laboring as a textile operator.
The silk plant, owned by American Cellulose and Chemical Manufacturing Co., Ltd., began in 1924 producing artificial silk using a cellulose acetate process. Located on McMullen Highway, it had the capacity to generate 10 tons of dyed, woven fibers and yarns a day, according to trade publications of the era. In 1927, the business was acquired by Celanese Corporation of America and by 1934, despite the grip of the Great Depression, employed an astonishing 7,000 workers.

Celanese Corporation of America plant in Cumberland
The Smiths divorced in 1951, and Hershel moved to Fort Ashby, Mineral County, WV. On Sept. 22, 1951, he married again to nurse Eva (Allen) Beckner (1913-2005). They remained married for four decades and were members of Springfield Presbyterian Church. He died in Fort Ashby on Oct. 11, 1991, with interment in Fort Ashby Cemetery.
Eleanor resided for the rest of her life in Cumberland, Allegany County, MD, at the address of 1123 Virginia Avenue. She worked for 30 years as a laboratory technician at the local Memorial Hospital. She also was a volunteer phlebotomist for the Red Cross, and received the Sarah Bennaman Award, "given annually to an American Red Cross volunteer," said the Cumberland Times-News.
Eleanor died at the age of 88 in Cumberland on Feb. 20, 1999. She was survived by 18 grandchildren, 30 great- grandchildren and nine great-great grandchildren. Said the Cumberland Times-News, she "was affectionately known as Na Na ... [and] was a loving mother, grandmother, friend and helper to her family. Those who remain, will treasure her memory..." She was laid to rest at Sunset Memorial Park in Cumberland.
Son James Francis Smith (1927- ? ) was born in about 1927 most likely in Dunbar. He grew up in Cumberland and worked for the Celanese Corporation of America plant. He married Shirley Martin ( ? - ? ). They dwelled at 1119 Virginia Avenue. He entered the U.S. Navy in March 1945, during the final year of World War II, and during the Korean War, in 1951, he was a seaman first class with the Seabee Reserves, receiving training at Little Creek Amphibious Base in Virginia. He and his brother Richard were pictured in a Cumberland Sunday Times article about their parents having two sons in military service.
Daughter Elaine Elva Smith (1930-2019) was born on July 11, 1929 in Cumberland. She was married at least twice. On Jan. 28, 1947, she was joined in wedlock with Roy William Edward Merritt ( ? - ? ), son of Roy L. Merritt of 191 Thomas Street in Cumberland. The nuptials were held in St. Paul's Methodist Church of Oakland, with Rev. Denver H. Pickens officiating, but was not announced in the Cumberland News until the following August. At the time, Roy was employed by Rosenbaum Brothers, and the newlyweds made their initial home with Elaine's parents. The couple produced two known children, Carol Sue Little and William Merritt. Circa 1951, Elaine also was employed by Rosenbaum as a telephone switchboard operator and was pictured in an article in the News about a telephone clinic she had attended. Later, by 1969, she wed again to Richard H. Hawkins ( ? - ? ). The couple were the parents of Richard Hawkins and Robert Hawkins. The family lived in Cumberland, where Elaine was employed at ABL. Then, after a move to Jarrettsville, MD, she became a realtor. Said the Baltimore Sun, "She loved and took pride in her home, yard, and her flower and fish gardens. She was never afraid of hard work, and until the past few years, she was still on a ladder putting up her Christmas lights. She was full of fun and life, and was always ready for an adventure at a moment's notice." She died in Jarrettsville at the age of 90 on Sept. 28, 2019. Chaplain Paul Demers officiated at her funeral service, with interment at Sunset Memorial Park in Cumberland. The Sun printed an obituary, which noted that she was survived by eight grandchildren, 11 great-grandchildren and four great great-grandchildren.
Son Richard Hershel Smith (1932- ? ) was born in about 1932 in Cumberland. Circa July 1951, during the Korean War, he was stationed in Korea, with the Third Signal Company, Third Infantry Division, having trained at Fort Knox and at radio school at Camp Gordon, GA. He and his brother James were pictured in a Cumberland Sunday Times article about their parents having two sons in military service.
Daughter Nadine Gloria Smith (1934- ? ) was born in about 1934 in Cumberland. On Jan. 8, 1956, she wedded Robert H. Reinhart ( ? - ? ), son of Joseph H. and Melva (Meister) Reinhart Jr. of Cumberland. The nuptials were held at SS. Peter and Paul Catholic Church, officiated by Rev. Jude Senieur. An article in the Cumberland Evening Times noted that the bride was employed on the staff of Celanese Corporation and the groom in the U.S. Army, having obtained his law degree from West Virginia University. Later, Robert established a private law practice in Cumberland, operating under the name Walsh, Walsh and Reinhart. In 1966 and again in 1972, Nadine was a member of the planning committee for the Fort Hill High School Class of 1951 reunion.

James and Minerva's adult children, L-R: George, Edith, James, Eleanor and David, circa 1953.
~ Son David Edwin Minerd ~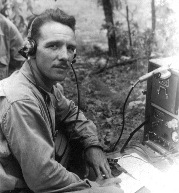 David, World War II
Son David Edwin Minerd (1914-1984) was born in 1914.
He married Ruth Winifred Morgan (1913-1988). Circa 1937, he resided at Leisenring No. 1 and in Dunbar, where he worked as a laborer.
Seen here, wearing a headset, David operates a military radio while serving in World War II.
During the war, he was pictured on the front page of the Connellsville Daily Courier in March 16, 1945, when he was home on military leave. Said the Courier, he "is spending a furlough with his wife, the former Miss Ruth Morgan of Dunbar township, after spending two and a half years overseas in combat in Tunisia, Italy, France and Germany. When his furlough is up, the veteran will return to his tank destroyer outfit in Germany, it being a part of the Seventh Army."
Later, after his service in World War II, they resided in Cumberland, Allegany County, MD. They had one daughter Winifred "Wini" Minerd.
He is mentioned for his military service in the 1983 book, Dunbar: The Furnace Town.
David died on June 16, 1984, and is buried at Rocky Gap Veterans Cemetery in Flintstone, MD (Section K-4, Row 8).
Ruth outlived David by four years. She passed away on Aug. 13, 1988, at the age of 75, and rests for eternity beside her husband.
Daughter Winifred "Wini" Minerd is a retired executive secretary with the County of Allegany in Cumberland, MD. She is a local photographer who displays her portfolio at www.photoartfantasy.com.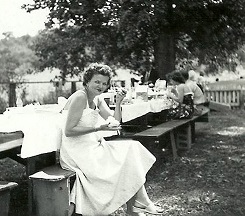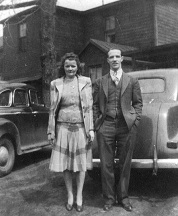 Left: Ruth at a family picnic. Right: David and Ruth, 1940s
Copyright © 2000-2004, 2008-2016, 2018, 2020 Mark A. Miner
Dunbar streetscape postcard courtesy of Donna Myers.