Home

Online Museum of Creativity
Item: Wooden Treasure Chests
Creator: William Shriver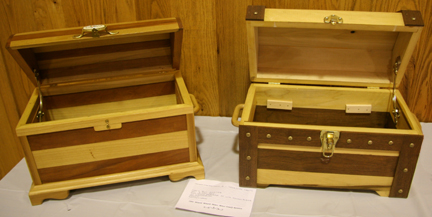 At our 2006 reunion, the late William Shriver of Cortland, OH, exhibited these two "treasure chest" boxes that he made as prototypes for gifts for his grandchildren. The chest on the left is made from cherry and poplar wood, using biscuit joinery, glued and wood screws. After sanding, two coats of polyurethane, natural stain and sealer were applied. The chest on the right is made of walnut and poplar, affixed with biscuit joinery, glue and wood screws. After sanding and coats of finish, upholstery tacks were nailed in to give an added effect to the front. The wooden curved handles on the ends were purchased for both chests. Bill keeps these two chests as patterns for making more in the future. He is the son of the late Ferne (Minor) Shriver Higginbotham, and the grandson of the late William Thomas Minor of Greene County, PA.
Click for next artifact
Return to index page
Copyright © 2006 Mark A. Miner. Photo by Sid Miller.