Our Family History Trip to Ohio
By Victoria Sherrill (Smith) Clingman Gunderson

Victoria Gundersen
[Editor's note: the author is the daughter of the late Dale Gordon Elizabeth Sherrill "Sheri" (McCanless) Smith of the family of Royal Dee and Mary Jane "Mamie" (Blansett) Minard.]
Over one hundred years had passed since our Great Grandparents, Clyde LaFayette Smith and Elise Sarah Morse Smith, had left Ashtabula County, Ohio with their young son, our grandfather, Floyd Grant Smith, and headed west for a better life in the newly founded town of Sunnyside, Washington.
Life had gone on in the way that it does, they lived and loved and died, leaving only the few descendants of their son, Floyd, to know, or care, about what had come before them.
And care, we did, my sister, Lorri Ann Smith Vincent, and myself, Victoria Sherrill Smith Gunderson. We gathered information as we could over the course of many years, and truthfully, there was a lovely trove of it. It helped us to feel we knew our ancestors a bit, but their spirits prodded us towards more.
Naturally, it was our Smith line that gave us the most headaches – Smiths immigrating from Ireland being an overwhelmingly large group to try to sort out. Who were these people to whom we owed our existence? What motivated them? What kind of people were they? Why did they make the choices that charted our destiny?

Lorri Ann Vincent

For more years than I can be sure of, when asked what she would most like to do, my sister, Lorri, would say that she wanted to go to Ohio on a family history journey – with me. It always seemed a thing of rather remote possibility – she, living as she did in South Jordan, Utah, raising five wonderful children, and me, living near Seattle, my own children fully grown and scattered across the country. It was their very scattering that brought about our unexpected and exceptionally rewarding opportunity to make that pilgrimmage back to Ohio.

In the fall of 2015 I began planning my visit to my children, Jennifer, and Tom, who lived then in Pennsylvania and North Carolina, respectively, I couldn't help but notice that Ohio bordered on Pennsylvania. Then, when trying to make my visit work between their respective schedules, I had about 8 days difference and suddenly that unlikely trip to Ohio seemed to be perfectly timed for the Spring of 2016.

In clandestine negotiations with my niece, Chelsey, and through her, her siblings, a plan formed to surprise my sister with that trip as a Mother's Day gift.

Lorri and I had never had much time together. I am ten years her senior and started my family quite young, so I was raising children while she was growing up, and her children are much the age of my grandchildren. We certainly had never had a trip together, and while we often spoke on the phone, and I had visited as often as I could while living in Wyoming, we both wanted an even deeper sisterly bonding. I am delighted that we had that, and more, from her bucket-list journey.

Though Lorri was unexpectedly stranded by airline issues in Atlanta overnight, I was waiting at the airport when she arrived in Cleveland on the morning of June 2, 2016, and we began our journey into the past.

Chelsey had found a little house for us to stay in near the shores of Lake Erie, in North Madison, Ohio. Now, Madison hadn't been on our list of places to go, but it was certainly well-situated for getting to those places. Little did we suspect that we would find several of our family connections and graves right there.

It was in Madison, at Fairview Cemetery, that we gasped with delight in finding the grave of our Great Great Grandparents, Frank J. Smith, who died Feb 7, 1899 and his wife, Elizabeth Warren, who died September 13, 1875, at the too-young age of 34 years. Their little son, Henry, rested somewhere there too, but no headstone marked his spot. Henry's cousin, Maud died at about the same age and time as little Henry, so perhaps there was some outbreak. It had to have been a terrible tragedy to endure. On another side of the same monument we found John Smith and Almira Hulbert Smith – our 3rd Great Grandparents, and parents of Frank.

You see, we hadn't been aware that the township of Thompson – our primary destination – had, early on, extended far beyond the tiny geographical area it now claims. In fact, over the course of our searches, we gained a great deal of information about "The Connecticut Western Reserve", and the fact that no story is only about one thing – they, and we, are all connected.

So while we began with wondering why our Great Grandparents had left so much of their family and good farm land behind to head to a far and unknown place like Sunnyside, Washington, we now also found ourselves learning about what might have brought the previous generations to Ohio in the first place.

We knew their names. We could click them off like a litany.

James and Ann Smith, along with Ann's sister, Eleanor Caldwell, had left Ireland and come to America sometime after the births of their three oldest children, Jonathan, Joseph, and Eliza. Eliza had been born in Ireland in 1815, but their next child, Sarah, was born ten years later, in Hartford, Connecticut.

Somewhere between 1815 and 1825, they had come to America. They were our most recent immigrants, all other sides of the families having arrived on these shores a hundred years or more before the Revolutionary War.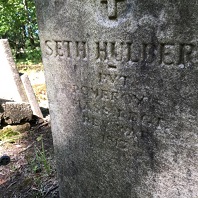 Seth Hulbert's grave

Then there was Seth Hulbert, and his wife, Theodosia Bartlett Hulbert. Both born in the 1790's, they finished out their lives in Thompson, Ohio. What was their story?

Our third Great Grandparents, Nathan Warren and Mary Ann Moseley were also in the area. Ansel Morse and Jael Phelps, the Hulberts and Bartletts and Warrens – they were all there when the area was still wilderness.

Thompson had been plotted in 1800 and incorporated in 1817. By 1830 it claimed a population of about 700. The recorded population in 2014 was 2,283, but it is a farming community so houses were mostly far spread among fields and stands of forest and so what actually passes as town seems smaller than those numbers might indicate.

Though only about twelve miles south of the banks of Lake Erie at North Madison, Thompson seems a place out of time. It is very easy to imagine it a hundred years ago because beyond the paving of roads and the addition of power and phone lines, the land and the houses were surely the same. There is no interstate access to Thompson. One arrives there by way of a simple two-way paved road which spills straight into the center of town, becoming a one-way road that loops around the town square where the hundred-plus year old town hall and requisite town gazebo sport fresh paint. The grass in the town square – which isn't square at all – is green and well-tended.

Just to the right, as one enters town from Madison, is a large red building that now also serves as the Post Office. On the far side of the building are loading docks and bays. It is a thrift store, of sorts, now, but it had been a full store, owned and operated by our 4th Great Uncle, Joseph Smith (1812-1877). His descendants had continued to own and operate the store until the 1970's. The house he built and lived in still stands next door. He was brother to our 4th Great Grandfather, Jonathan Smith, and a son of our Irish immigrant Smiths, James and Ann.

One must make the loop about the town square, passing the infrequently open (and only) café in town, as well as the general store which dates back nearly to the age of Joseph Smith's store – they were the competition – but all these must be skirted because of the one-way road, before being able to head south toward the Maple Grove Cemetery, where we had every hope of finding the graves of many of our family members.

We wandered about the old grave yard on a sunny morning. Birds sang and flittered about. There was no traffic noise. An old water pump, fully functioning, had a plastic milk jug beside it for watering the flowers, still tended, on many of the graves. It turned out to be a common feature in all the tended grave yards we roamed.

We found many other graves that day, of Hulberts and Smiths and Moseleys. But the prize of finding our immigrants escaped us. We took many pictures. We laughed and talked and speculated. Just two sisters sharing a wonderful and long hoped for adventure.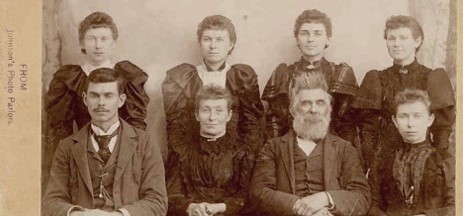 The Ansel/Anson Moore family, Johnson's Photo Parlor. Back row, L-R: Beulah, Elsie, Flora, Carrie. Front, L-R: Grant, Mary P. Treat, Ansel, Ida.
At some point, so it may as well be now, I would like to say that my sister, Lorri, is the sweetest, most caring, most giving and loving person in the world. She is truly a saint. I, on the other hand, have always been reluctant to pass temptation by, fearing it may not come again. That said, I will add that I have (fortunately) an excellent sense of direction and orientation, which was an especially good thing to have on this trip, since Lorri is about the worst navigator you could find. We put 1400 miles on our rental car in 7 days.
Every night we drove back to our little cottage in North Madison, having stopped for food along the way and munching our leftovers as we charted our course for the next day. This was the first week in over 25 years that Lorri had no one to take care of. I was fairly certain she would be trying to cut my meat for me, but she managed to hold off.
The thirty-five pastoral miles that separate Thompson and Williamsfield are dotted with carriages of the Amish whose horse drawn ploughs can be seen in the fields, guided by women standing on the buckboards dressed in their long blue dresses, their heads covered by modest white caps.
Williamsfield makes Thompson seem quite large and populous, even though there is a stop light noting the center of the community - something Thompson has found no need for. At last count, the population, including the large outlying areas, had been noted as 1,529. There is one old building near the stop light that is a strange combination of café (it has two wooden tables) convenience store, and U-haul rental. That was the only business we saw.
Across the road from the store was an old Methodist Church. Our Great Great Grandmother, Mary P. Treat Morse had lived in this town, with her cantankerous husband, our Great Great Grandfather, Ansel Luke Morse. She may have even gone to services at that church, and nothing would do but Lorri had to see if she could find a way inside. The doors were locked, of course, but she tried them anyway -- as I noticed she did at every abandoned place she could convince me to stop at.
There was a curious thing we had noted about each of the many churches we saw in Ashtabula County, Ohio. They all, regardless of denomination, sported sprigs of flowers on the front doors. Every town had that, and a town square, in common -- except for in Williamsfield which didn't even have a town square.
I had intended to pull around the back side of the church to resume our searches when Lorri gave up on her attempted breaking and entering, but as we pulled around the back, another car had pulled in, and, sure enough, he was a caretaker. He went inside the church and returned with an old Sunday school record that had been somewhat burned and worse for wear, but he gave it to Lorri and she was happy. Did I mention that she picked up a single rock from each place she deemed special? They were carefully bagged and tagged for location each evening when we returned to the cottage.
There were a great many churches and cemeteries. And no bars or taverns to be seen. Finding a place to eat in those small towns is a challenge, but finding a bathroom is next to impossible. Trust me, this was a critical and on-going issue. Not caring to dine in the strange establishment in Williamsfield, we headed south, passing Amish land holdings all around, their all-alike laundry swaying in the breeze. We found a little café, at last, and smiled as we read the sign before entering. Their hours were posted from 9am to 2:30pm and announced to one and all that they accepted cash only. That was just fine by us, and they had a bathroom. I do mean one bathroom, shared equally among genders, but is was functional and clean. We had a very good breakfast there.
The distances between Madison, Painesville, Thompson, Williamsfield, Andover and Ashtabula aren't really that great when driving in a car on paved roads, but we marveled over how it must have been for our ancestors (and the Amish today) traversing those miles on foot or horseback. There have long been cleared fields for farming, even so, large amounts of forested land weave through and among the farms. It forged a personal appreciation for what it might have been like for our pioneer ancestors who first broke this land to yoke.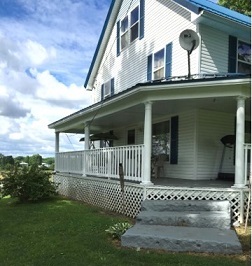 Ansel Morse house, Williamsfield, OH

On a day that proved wonderful, though not in the way we expected, we went to Painesville, Ohio. We had been assured -mistakenly- that some graves we sought were to be found there. What we found instead was a beautiful and picturesque town with cobblestone streets and buildings of fabulous architectural workmanship, as well as a truly magnificent genealogy section at the library. We spent a very enjoyable afternoon there, reading through microfilmed newspaper accounts and found two very important obituaries, one of which was for our beloved Irish immigrant, Ann Smith. To anyone with a love of history or genealogy who might find themselves in this area of Ohio, we would highly recommend a visit to that library!

There were times when we both seemed led by those spirits of the past, like on the day we both spied a road that called to us and, turning the car around to explore it, found a cemetery that hadn't even been on the map. In our efforts to retrieve information from weather-beaten stones, we employed several methods that Lorri had heard about. Putting shaving cream on them didnt turn out to be helpful. A bit of water and a soft toothbrush helped with some, and actually a picture taken in the right lighting was easier to read than the stone in person in some cases, but the approach we found most successful was using tin foil to cover the inscription, and then rubbing to get the impression.

Lorri will talk to anyone and everyone, unabashedly. She will knock on the doors of strangers and accost people in church parking lots. To my surprise, it paid off more often than not, still, I didn't participate in that part of our endeavor. I merely watched and shook my head, telling her that she was "The Mormon", so it was her job.

One such encounter came in the parking lot of the church in Thompson, where Lorri was trying to gain access to the old church. It was Sunday, but church services had been earlier and there was only one car in the lot. I was across the town square taking pictures and noticed her talking to a middle-aged man and a woman who seemed to be his mother. The exchange had been going on quite a while, so I joined them.

Lorri had explained to them why we were there and they were making every effort to be helpful. They were certain that we should talk to a man named Fred. The conversation between mother and son went back and forth several times over the best way for us to find Fred. We were given lots of details about the vegetable garden Fred had, and the new fruit trees he had planted, and how we were to go back down this road, around the curve and down the hill, and then there was a question of the color of his house, over which the pair debated and finally concluded that, yes, his house was yellow.

I will admit to being dubious, but willing to give it a shot. We followed our instructions as best we could, since no street names or addresses had been included, and I dutifully pulled into the drive of a yellow house set a good deal back from the road. --A yellow house that had an open garage door, no hint of activity, and a prominent "Beware of Dog" sign.

I told Lorri I didn't think this was a good idea, drawing her attention to the dog warning. She said she didn't see a dog --which was a good part of what made me uneasy. Not to be deterred, Lorri went straight to the door while I watched for the reputed dog. Long after I would have given up, Lorri continued to knock and the door eventually was opened by an older woman (and loudly barking dog) who shook her head and pointed across the way to a green house. The fact that the house was green became incredibly amusing to me in light of the fact that Fred's last name turned out to be Green. I couldn't help but wonder how that had not been a connection for the man and his mother at the church.

We then went to the Green house. Again, there was no sign of occupancy, and it was beginning to rain. Lorri went around a corner to the door, and to my surprise popped her head back around right away, waiving me to join her. Grabbing my note pad, I darted through the rain and we were ushered into Fred's house.

Fred Green is a man a few years my senior, with a great many talents. He has a law firm in Chardon, and also teaches real estate law with a very interesting approach from the history of The Western Reserve. He is quite an artist and world traveler. One more pertinent fact about Fred is that he is also the head of the local historical society.

As one would expect, given his above-listed credentials, Fred is a very knowledgeable man. He is also quite personable and willing to have his Sunday afternoon nap interrupted. His home was filled with history and art, including paintings of his early ancestors as well as many old photographs. Books and plants abound. We sat around his table that rainy afternoon and learned a great deal about the history of the Western Reserve, which he described as the first major land grab/development.

I am sorely tempted to launch into a lesson on that history here, since Fred whetted my appetite I've learned even more about it, but suffice it to say that the state of Connecticut had, in colonial times, been given claim to all the land that lies to the west of it and somehow managed to enforce that claim, and proceeded to sell that land, divided into townships and sight unseen, to the highest bidders. The impetus for the State of Connecticut was to pay off debt from the Revolutionary War and the War of 1812. The new owners then subdivided their land and sold it, again, sight unseen, to those willing to make a new life on the frontier - which is where our ancestors came in.

I will dispense with discussion of how the land surely had previous occupancy.

Our afternoon with Fred was generally enlightening, but not specifically so, because he really couldn't tell us any more about our own family than we already knew. He was, however, aware of two older sisters who had moved to Florida and may be able to help us. He said he would try to get word to them and pass along our contact information.

Fred's house is not far from Moseley road. Moseley being the name of one of the area's first prominent settlers, and our own 4th Great Grandfather. We were thrilled to discover, still beautifully maintained, a house that his son built in 1860. There is a plaque on the house that notes his name and date. Though it is no longer in the family, the people who presently owned it were gracious and allowed us to take pictures.

One of the countless places that I pulled into to turn the car around (I'm guessing at least 200 of the 1400 miles driven that week were spent in turning around) was an old farm. I thought it was pretty creepy. There was nobody there and it had obviously been around a very long time. I pulled deep into the drive, up by the barns, to turn around. Lorri, of course, wanted to go knock on the door. I said I didn't think that was a great idea and she responded that they might be family. My feeling on the matter was that being family might not keep them from shooting us. Ironically, we later discovered that they were, indeed, family. They were Moseleys and that particular farm had been in the family and actively farmed for over two hundred years.

Once we learned that, we did go back so Lorri could knock on the door. We never did catch anyone home there, and I still maintain it was creepy.

The Moseley Family had also had a private cemetery on their original holdings, most of which had been parceled off over the years. Using google earth, I found a likely location for it and pulled down yet another long and deserted drive. Lorri knocked on the door, but there was, as usual, no one home. I turned the car around to pull back out and as I looked toward my sister to say something, a bit of sunlight in the neighboring woods gave shadow to a tombstone. I squealed that we had found it, and, no longer caring about asking permission, we climbed a small embankment and wandered through a small forgotten cemetery. Graves were caving in. What remained of the headstones were mostly broken and too worn to read. The forest had blanketed them for untold years with leaves and branches. There wasn't even enough left to really document. It was very sad.

We made repeated trips to every town on our lists. We re-checked Maple Grove Cemetery, in Thompson, several times. Each time failing to find the most important graves we were looking for. Another reason we went so many times to Thompson was because we kept trying to gain access to the private property that housed the old Bartlett Cemetery. We had been given instructions by some helpful guys at the general store on how to find the place. Those instructions were given in the general vein of the ones we received for finding Fred Green's house.

One of the landmarks we were told to look for was a beautiful house with a big porch. We drove several miles down the designated road and eventually came upon a house that perfectly matched that description. It was a nice afternoon and there was a fellow sitting on that beautiful porch. I felt fully onboard with this particular door knocking. Unfortunately, this was the wrong house and he pointed us further down the road -- two houses, to be precise -- and let us be clear about the fact that the houses don't sit right next to each other.

Fine. We went to where he told us to go and were totally confused by what we found. What once might have been a front porch -- though I'd hesitate to say it might ever have been beautiful --had fallen in. The front door was not approachable and there was a sign that deliveries should be made to the back. I drove to the back of the house and Lorri got out to do her door knocking. Like pretty much everything in the area, the place was old. There were gargoyles on the back porch steps and, weirdly, a Halloween skeleton could be seen hanging inside the entry area. There were actually two sets of doors, the outside doors, and then an area with windows where the skeleton was hung, and then a further door inside. With minimal hesitation, Lorri opened the door and walked inside to the second door. I began debating whether I should first go to her rescue, or call for assistance and then go to her rescue after the ax murderer grabbed her.

But there was nobody there.

We repeated that adventure yet again on another day, and a different hour, to the same result.

In Williamsfield, however, we enjoyed an encounter that pretty well topped them all. We had been to the cemetery there twice previously but had made little progress because each time a sudden afternoon storm swept in on us with wind and copious amounts of rain. As we began to fear our time running out without plucking some sweet plum, we determined to try yet again. On that particular day, the fates were in our favor. We combed the cemetery and found numerous graves of ancestors and relatives, documenting them all with pictures, and were feeling quite pleased. Across the road from the cemetery was a house I had admired each time we had been there. Actually, the cemetery and that particular house were the only things in Williamsfield that appealed to me. On that last lovely day when we finally were able to visit our graves, we saw an old man on a riding mower at my favorite house and, naturally, Lorri wanted to go talk to him. This time I really liked the idea. The house sits on a bit of a hill and the driveway, like all those I can think of in the area, was long. We pulled up and once we gained his attention were delighted by a number of happy discoveries.

Lorri tends to be the one who does the most talking, door knocking, and collecting, I do the driving, writing and research, that's pretty much how things shake out, so it was she who explained that Williamsfield was the home of our Morse relatives.

That set the tone for the rest of that afternoon, because that very house had been built by our 4th Great Grandfather, Ansel Morse, and Irwin Coe, present owner, added that it was haunted. He was pleased to stop his mowing and spend time with us. We stood in the yard for a few minutes as the eighty-year-old Irwin told us about delivering papers to that house when he was a child. Then he asked if we would like to see the place. It couldn't have been better! From basement to attic, we heard stories and took pictures.

There had, of course, been a few changes and attempts at modernization to the house, but really not that many.

The woodwork in between the dining and living area was pristine, unpainted and wholly original, as was the front door, which sported leaded glass panels and to which Mr. Coe said he still had the skeleton key for the lock -- somewhere. Though he had also added a more modern lock.

As we made our way upstairs, I was taken by the amazing understanding that our 3rd Great Grandparents had also lived in the house. That generations of our family had climbed those very stairs. The top of the stairway opened into a wide area off which opened four bedrooms and a much and often altered bathroom. The wallpaper there had to have been 100 years old, and the woodwork was simply fantastic. There was also a feature, original to the home, of which Mr. Coe was quite proud. It was a laundry chute. It was surprising to see such a thing in a house of that age.

Another door in that open area revealed a stairway up into the attic, which had a large window and was both lofty and spacious. It was also bare of the usual storage items one might find in an attic, housing only a beautiful set of old doors. It would have been a wonderful place to play, or even dance.

In the basement/cellar of the house, besides an absolute nightmare of piecemeal electrical wiring, there were actually a couple of windows to let in the light. Taking up about the length of the house, and the entire width, there was a slightly raised garden area so that root-type vegetables could be grown year round. This particularly struck me because our grandparents, Floyd and Hazel Smith (Floyd was the great grandson of Ansel Morse) had a very similar growing cellar when I was a child.

The property still has a large amount of land and at least two barns. One of the barns is now used as a garage, but Mr. Coe showed us the ax-hewn logs that were used to hold the roof. It seems that barn was also the site of the first taxidermy shop in the area.

Out beyond the chicken coop and vegetable garden, he pointed out where the A.M.E. Church once stood at the edge of the property. Ansel Morse had been a great supporter of freedom and equal rights for "colored people", having left $50 -- that being a generous amount in 1880 -- for their education. A number of family members in the area, including Ansel, had helped facilitate the underground railroad, helping runaway slaves get North to safety.

We exchanged contact information with Irwin Coe, and he told us not to wait too long before coming back, because he was, after all, 80 years old.

Now, a bit about the ghost business.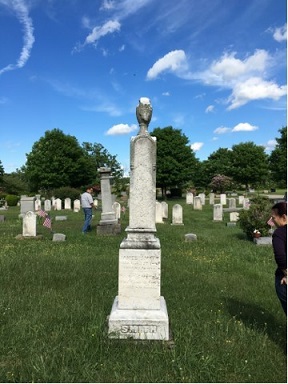 Long-sought-after grave marker, James
and Anna Smith. found on a fourth try

According to Mr. Coe, the ghosts that frequent the house like to party. They laugh and dance and carry on, shaking the house from top to bottom at times. Lorri and I found this particular ghostly behavior curious on a number of levels. Assuming that Mr. Coe was as sane and certain as he presented, our particular relatives in this case would be most unlikely to be partying in such a way -- or maybe in any way. They were very clear about the evils of drink and dance, cards and that sort of thing. Everything we've ever heard or learned about the lot of them tells us that they were strict and hard-working, pious people. In puzzling over the notion, though, I've reached a couple of possible conclusions. The first might be that Mr. Coe was not quite as sane as he seemed, though I'm not sold on that one. The second is that some other band of partying ghosts have encroached upon the space. But the last is one that I'm most warming to -- which is that Ansel Luke, the much married and divorced son of the Ansel who built the house, may be the culprit. His first wife died within about 3 years of the marriage. His second wife divorced him, in the mid 1800s, which simply wasn't done. His third wife, Mary, our Great Great Grandmother divorced him too. Why she remained with him for 38 years before doing so is the huge unanswered question, but they divorced with much rancor as evidenced in their divorce papers. Perhaps he was debauched in more ways than we have been able to uncover and it is his unruly presence that parties on.

Eight days had seemed such a generous amount of time as the plans for our trip had been coming together, but as our precious remaining days trickled all too soon away, we knew we would have loved to have stayed longer. Worse, we'd not found a couple key graves. Lorri's husband, Brent, was flying in as he and she were going to continue on another set of adventures while I continued on to North Carolina to see my son.

Brent arrived the day before I was to leave. He was perfectly game to go with us back to Thompson, trying, one last time, to find those graves and to gain access to the old Bartlett cemetery. Having already made those attempts several times, I wasn't optimistic, but I was game.

We had no sooner begun to explore Maple Grove Cemetery -- for the fourth time -- than Brent found the graves of James and Ann Smith -- our Irish immigrants and 4th Great Grandparents! How we could possibly (and repeatedly) have missed it defies explanation. While utterly baffling, it was marvelous! We stood reverently at their headstone, and we took many pictures of it and those of other family members (though we'd previously found quite a few of them). Brent announced that he was our good luck charm and we agreed, so with hopeful hearts we went one last time to try to gain access to the Bartlett cemetery.

Again we drove the long miles (I'm convinced that Ohio miles are longer that ordinary miles) to the creepy house with the gargoyles and cardboard skeleton.

We pulled into the empty drive as we'd done so many times before, but this time a woman was home and gave us permission to go to the cemetery. Brent was beaming. I was dumbfounded but immensely grateful.

We parked the car near the barn and followed a trail down a slope and over a little stream bed. It was a perfect Springtime afternoon. Though there were fields before and beyond, the cemetery was wooded. It was in far better shape than the lost-forever Moseley cemetery. I wanted to cry. We found them. Theodosia Bartlett Hulbert (another of our 4th great grandparents) slept here, as did a number of her familial contemporaries. Her tombstone had broken, but we put the two parts together and took pictures of hers, and all the others.

It seemed they knew we were there.

It seemed they were pleased to be visited.

Brent's good luck charm had worked perfectly and on our last day, everything came together for us.

Page copyright © 2023 Mark A. Miner
Text and photographs copyright © Victoria Sherrill (Smith) Clingman Gundersen. Published with permission of the author.