Home

Royal Dee Minard
(1870-1936)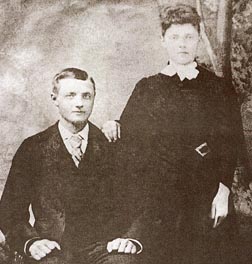 Royal and Mary Jane
Royal Dee Minard was born on June 6, 1870 in Cedar County, IA, the son of Nathan W. and Sarah Jane (Woodruff) Minard. He and his parents were pioneer settlers of Missouri and Kansas.
As a seven-year-old boy, Royal and his parents and siblings left Iowa and moved to Richland, in Monmouth Township, south of Topeka, Shawnee County, KS. There, he grew into adulthood.
On June 8, 1891, in Topeka, the 21-year-old Royal married 15-year-old Mary Jane "Mamie" Blansett (1876- ? ), daughter of Janie Blansett. Probate judge G.W. Elliott in Shawnee County performed the nuptials.
Mary Jane was born in Missouri on Oct. 14, 1875, and as a two-year-old apparently was motherless, and was taken into the home of a family named Beeler. In fact her name on the marriage license was "Beeler." Her age as stated on the license was 19, which may have been fudged.
A copy of the Minards' marriage license, found on microfilm in the probate court office at the Shawnee County Courthouse, is seen here.
Their nine children, born between the years 1892 and 1918, were Royal Clemuel "Roy" Minard, Vera Minard, Hazel LaGretta Smith, Ethel Holcomb, Nathan "Wilbur" Minard, Doris Plymale, Mona Minard, Elizabeth Helen Santa Maria and Mary Jane Dean.
Circa 1895, he is believed to be the same "R.D. Minard" who was employed in the Fort Scott machine shops of the Missouri Pacific Lines railroad and had his wages garnisheed in a dispute with the Neese Brothers ruled on by Justice R.H. Scott. In covering the story, the Topeka State Journal said that Royal "claims that the garnishment is unjust and malicious, and brought for the purpose of having him thrown out of employment. He says also that he has only $35 coming to him from the company for nearly two months' work, and that all of this princely income is needed to support himself, his wife and their two children."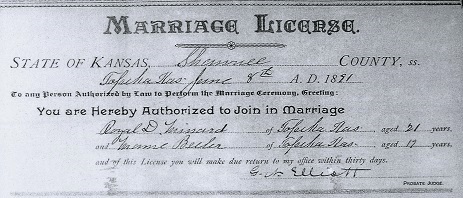 The Minards' marriage license, Topeka

A related article in his hometown paper, the Richland Argosy, said that the Neeses had sued him and his father and that the Missouri Pacific had paid $27.73 out of Royal's wages to satisfy the judgment and costs, amounting to another $20.

In 1900, the Minards resided on Kansas Avenue in Topeka, as next door neighbors to his older sister and brother in law, Emma Frances "Frankie" and Leroy Dumars. Roy's occupation that year, following his father's vocation, was carpentry.

When Royal returned to his old hometown in September 1903, the Richland Observer newspaper referred to him as "an old time Richland boy but now of Topeka" and noted that he was "visiting Clark Cole and family, east of town this week."

The Minards remained in South Topeka for about two decades. Royal grew apples and peaches in his yard, and in July 1908 brought some samples to the office of the Topeka State Journal, saying he had "half a dozen trees loaded to the breaking point." They are known to have entertained a visit in October 1910 from his sister Emma Frances Dumars and then in August 1911 from their niece Bernice Pelsma of 121 Arter Avenue, Topeka.

The 1912 Topeka City Directory show that Royal was living at 2108 Van Buren, while his father was residing just down the street, at 2101 Poplar. Royal's brother Edward also is listed in the directory, at 396 Poplar. The entry for Royal shows that he was working as a contractor, while son Roy was a pressfeeder at Crane & Co. Dissatisfied with the slow development of the neighborhood, he petitioned the Topeka Mayor in March 1909 to build "a sidewalk on the north side of Beacon street from Kansas avenue to Van Buren," reported the Topeka Daily Capital, "also a walk on the east side of Van Buren from Beacon to Twenty-third street."

By 1919, the Minards had relocated to Washington, settling in Sunnyside, Yakima County. Royal's occupation was carpenter.

Royal and Mary Jane pushed further south and by 1930, when the federal census was taken, were living in Calabasas Township, Los Angeles County, CA, where Royal was employed a caretaker of a private estate.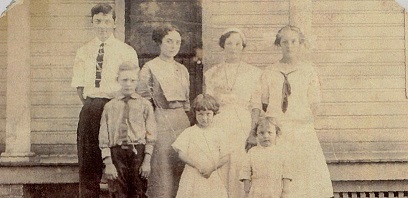 Minard children: back, l-r: Royal Jr., Vera, Hazel. Front, l-r: Willard, Helen, Mary Jean
Mary Jane was said to have been strong-willed and opinionated. She often clashed with her equally strong father in law over what others considered trivial matters. Mary Jane also is remembered as a loving and concerned mother, perhaps making up for the fact that she had no mother of her own. Genealogy, and looking after her family, were important to her, especially in her later years.
On the other hand, Royal was said to be more good-natured and easy-going. He went through repeated religious cycles where he would be very strict and not allow tobacco or alcohol in the family, but his daughters knew it wouldn't last, and after awhile he would start buying tobacco again.
Royal passed away at the age of 66 on April 19, 1936 in Girard, CA. He was laid to rest in Santa Monica, Los Angeles County, CA.
After his death, Mary Jane with a daughter resided in California. She married a second time to (?) Beeler ( ? - ? ). She died in Los Angeles on Jan. 30, 1961.
Royal is honored on the Migrations Project website, which details his pattern of pioneer movements over the years. His name also appears on an intricate old family tree drawn by "C. Furnas" of Topeka, KS -- apparently a family friend who was an artist.
Arlington National Cemetery - "Women in Service" section
~ Son Royal Clemuel "Roy" Minard ~
Son Royal Clemuel "Roy" Minard (1892-1957) was born on July 30, 1892 (or 1893) in Enterprise near Topeka.
He was of medium height and stout build, with blue eyes and brown hair.
As a young man, he learned the trade of printing press feeding and was a member of the Pressfeeders' Union No. 24 in Topeka. He then obtained work in Los Angeles, with an address of 790 East Vernon Street. In the summer of 1917, when he was age 24 and required to register for the military draft during World War I, he was employed by the Times-Mirror newspaper as a printing press cylinder feeder.
He eventually was called into military service during the Great War, as a private first class in the Medical Department of a Kansas regiment.
Roy was married to Olive D. (1884-1962), who was eight years older than her husband. She was known for playing the organ during funeral services at Arlington National Cemetery and perhaps at the Tomb of the Unknown Soldier.
Roy passed away on July 10, 1957. Burial was in the "Women in Military Service" section of Arlington National Cemetery, where Olive eventually would join him. [Section 31. Grave #4113]
Olive survived her husband by five years and remained in their home in southeast section of Washington, DC. Tragically, on the fateful day of April 17, 1962, after returning via bus after shopping, the 65-year-old was walking a block from her home at 31st and N Streets when she was assaulted, stabbed five times and died. A story distributed nationally by the Associated Press reported that the killer "watched from a nearby ditch while an ambulanced collected the body.... Police could detect no motive. It seemed to be a wanton, indiscriminate killing." Police later arrested grocery clerk Harry F. Jarmans Jr., age 20, who confessed to the murder as a mask for his ultimate desire to kill his wife and make it appear to be random. Her remains were interred beside her husband at Arlington.
A jury serving with the U.S. District Court found Jarmans guilty of first-degree murder in December 1962 and sentenced him to life in prison.


Hazel and Floyd Smith
~ Daughter Hazel (Minard) Smith ~
Daughter Hazel Lagretta Minard (1897-1975) was born on May 22, 1897 in Topeka.
In the mid-to-late 1910s, she migrated to Washington State with her parents and siblings.
When they both were age 21, on Feb. 5, 1919, Hazel married Floyd Grant Smith (1898-1983), bon Nov. 8, 1897 and a native of Ohio. The nuptials were held in Yakima County, WA.
Hazel is said to have been sweet tempered and fun-loving, with penetrating blue eyes. She stood only about five feet tall and weighed no more than 110 lbs. even when nine months pregnant.
The Smiths had three children -- Elaine Marie Griffiths, Gerald Frank Smith and Dale Gordon Smith.
When the federal census was enumerated in 1920, the newlyweds resided in Sunnyside, Yakima County, WA and earned a living as farmers. There, their daughter Elaine and son Gerald were born. In about 1925, they relocated to California and made a new home in Lancaster County. Son Dale was born in California in 1928.
By 1930s, as shown by U.S. census records, the family had migrated again back to Washington, and made their home on a farm in Birdsview, Skagit County. They remained in Birdsview during the decade of the 1930s, during which time Floyd found more steady-paying employment as a U.S. Postal Service rural mail carrier.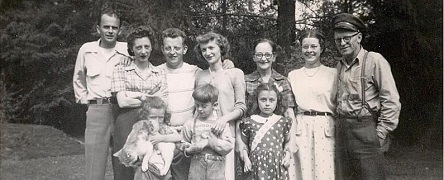 Smith offspring, 1951. Back row, L-R: H. Milton and Elaine Griffiths, Gerald and Vera Smith, Hazel Minard Smith, Elizabeth McCanless Smith, Floyd Smith. Front, L-R: Susan Rambow, Norman Griffiths and Nancy Griffiths.
Hazel passed away on April 30, 1975, at the age of 78.
Floyd survived her by eight years. He joined Hazel in death on Nov. 15, 1983.
Daughter Elaine Marie Smith (1922-2002) was born on March 3, 1922 in Washington State. She married H. Milton Griffiths (1930-2003), son of Archie Griffiths Sr. and stepson of Mildred Griffiths. They made their home in Mt. Vernon, WA in the 1940s. The couple had three known children, Norman Griffiths, Nancy Ann Farrar and Susan Rambow. In early adulthood, Milton earned a living as a gandy dancer (track repairer) on the railroad and also as a ship's purser. Later, he was employed for 18 years by the Alaska Steamship Company. His final position, leading up to retirement, was as terminal manager in Seattle for Alaska Marine Highways. In retirement, they moved to Spokane, WA in about 2000, where their married daughter Susan resided. Sadly, Elaine passed away in Spokane at the age of 80 on May 23, 2002, terminating a marriage of 62 years. Milton only outlived her by nine months. He died in Spokane on Feb. 1, 2003 at the age of 86. In an obituary, the Everett (WA) Herald said: "Milt was loved by all for his sharp wit, sense of humor and lovable personality. He loved doing lots of projects (always busy), was very inventive, and was an avid crossword puzzle fan, and most importantly, loved restoring antique automobiles of which he did restore a Model A and Model T. Needless to say, they were beautiful when all done and he had a lot of fun showing them off."
Grandson Norman Griffiths (1944-1996) was born in about 1944. He produced a son, Kelly Allen Griffiths, raised by Norman's sister and brother in law, Susan and Dick Rambow. Norman was a rock hunting enthusiast. In 1996, when he was age 52, Norman was unmarried and resided with his parents in Everett. On May 7, 1996, he did not return home from work after telling his parents that he might go rock hunting. A team of 20 search and rescue workers searched the Sultan Basin Road area near Olney Creek, and while coming upon some broken rocks, did not locate him. Search dogs tracked him from the Olney River to a Sultan Basin road. The news was reported in the Seattle Times, which in one article noted that "The area is about 13 miles north of Highway 2 and in rugged terrain at about 3,200 feet, just below the Cascade Mountain snowline." Officials gave up the search after three days of fruitless work, and the body was never found.
Granddaughter Susan Marie Griffiths (1945-2014) was born on May 15, 1945. In about 1964, at the age of 19, she married 22-year-old Richard A. "Dick" Rambow (1942-2012). They resided in Spokane Valley and had two naturally born children -- Kathlene Marilyn Parke, Kristopher Milton Rambow. They also adopted and raised a nephew, Kelly Allen Griffiths, the biological son of Susan's brother Norman. In all, the couple was married for 48 years. Suffering from lung issues, Dick passed into eternity at the age of 70 on April 2, 2012. An obituary was published in the Spokane Spokesman-Review. Susan died one day shy of two years later on April 1, 2014, at the age of 69.
Granddaughter Nancy Ann Griffiths (1942-2013) was born on Feb. 6, 1942 in Mt. Vernon, Skagit County, WA. Said the Seattle Times, she "lived several places in Western Washington from Concrete to Renton and finally settled in Kirkland where she graduated from Lake Washington High School..." She was married and had a daughter, Rebecca "Becky" Tait. Nancy was employed in the field of real estate for more than three decades, specializing in escrow and title companies. Said the Times, she enjoyed fishing, gardening, traveling and watercolor painting. Later, she wed Robert "Bob" Farrar ( ? - ? ) who brought two step-daughters, Dan Farrar and Jena Farrar. In her final years, they lived in Snohomish, Snohomish County, WA. Suffering from amyotrophic lateral sclerosis (ALS), commonly known as Lou Gehrig's Disease, Nancy died in Snohomish on Dec. 12, 2013. Her obituary was printed in the Times.
Son Gerald Frank Smith (1923-1995) was born on Oct. 4, 1923 in Washington State. He married Vera Emily Johnson and had two sons, Michael Dale Smith and Patrick Allan Smith. Gerald died on Oct. 22, 1995, just after reaching his 72nd birthday.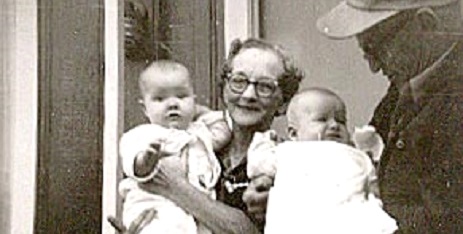 Hazel and Floyd with grandbabies Victoria Smith and Michael Dale Smith


Dale and Elizabeth (McCanless) Smith
Son Dale Gordon Smith (1927-2007) was born on April 28, 1927 near Lake Hughes, Lancaster County, CA, although he and his parents moved back to Washington State when he was very young. He served in the U.S. Navy during World War II, enlisting at the age of 17, and later rejoined the military during the Korean War. On April 11, 1951, the 24-year-old Dale wed his first wife, 19-year-old Elizabeth Sherrill "Sheri" McCanless (1932-2014), daughter of Mack Clyde and Mary Elizabeth (Sherrill) McCanless. They had two children -- Victoria Clingman Gunderson and Marlin D. Smith -- and at one time lived in California. The couple eventually divorced, and Dale wed for a second time on Dec. 4, 1961 to Pearl Newman (1930-1991). She brought three children of her own to the marriage -- Mickey Bolan, Virginia Small, and Janet Fraser. One daughter, Lorri Ann Smith Vincent, was born to their second marriage. Later in life, Dale made his home in Utah in Murray, Salt Lake County. Said the Deseret (UT) News, "Dale drove trucks for many years, helped complete the Alaska Pipe Line, and did commercial fishing in Alaska. He loved the outdoors and was an avid hunter and fisherman. During his younger years he loved to write poetry and put beautiful models together." Sadly, Pearl died in 1991 at 61 years of age. Dale passed away when he was 80 years old on Nov. 10, 2007, in Murray. In an obituary, the Deseret News said he was survived by 18 grandchildren and nine great- grandchildren, Former wife Elizabeth was a waitress for many years and later obtained employment with the Veterans Affairs Administration in Cheyenne, Laramie County, WY. She married again, to Rex D. Forester (1934-2000). In her later years, after retiring from the V.A., she kept busy working at Motel 6 in Cheyenne. Elizabeth died on Jan. 12, 2014, in Cheyenne's Kindred Transitional Care Center. Her obituary was published in Cheyenne's Wyoming Tribune-Eagle.
Granddaughter Victoria (Smith) Clingman Gunderson has contributed significantly to this website and enlarged our understanding of this branch of the family. See her memoir, "Our Family History Trip to Ohio."
Grandson Marlin D. Smith ( ? - ? )
~ Daughter Vera (Minard) Moore Gough ~
Daughter Vera LaVerge Minard (1894- ? ) was born on Aug. 5, 1894 in Topeka.
On her 18th birthday on Aug. 5, 1912, at the United Presbyterian Church in Topeka, Vera wed 33-year-old Fred E. Moore (1879- ? ), son of Thomas C. Moore. Dr. J.A. Renwick performed the ceremony. The union was announced on the pages of the Kansas State Democrat. Their marriage license is on file today on microfilm in the Shawnee County courthouse.
At the time of marriage, Fred was well known as player-manager of the Manhattan baseball squad of the Central Kansas League. A shortstop, he had been signed by the team in May 1912 after playing circa 1910 with the Three-I League and then serving as manager of the Topeka Western League team in 1911 and the Omaha Western League squad. He had left the Topeka team after not having received a $300 reimbursement paid to a Fort Worth team for his release in 1910. His brother Earl M. Moore at one time had played for the Cleveland (American League) and Philadelphia (National League).
In reporting on the upcoming nuptials, the Topeka Daily Capital said that the "great American game, baseball, is to lose another player... Mr. Moore will come to Topeka for the wedding and will close his baseball career the next day when the Kansas league completes its schedule. He will join his brother, George [Godfrey] Moore, in the insurance business in the city and make his future home here." His last game was against Junction City. The Daily Capital reported that when he came to bat he received a warm ovation from fans and $100 in silver dollars.
A few months before the wedding, Vera was the subject of a surprise party thrown by friends from Oakland, KS -- among them Edna Watts, Leona Wilson, Mabel Rooks, rhey Dumars and chaperone Mrs. L.J. Dumars.
By January 1913, the Moores had relocated to Manhattan, KS, with Fred employed by the Germania Life Insurance Company. They relocated to Fort Worth, TX by 1922, when Vera returned to Topeka as the guest of Mr. and Mrs. George Godfrey Moore, her brother-in-law and family.
The Moores did not reproduce.
Later, Vera was united in holy matrimony with Dr. R.H. Gough of Fort Worth. The couple traveled extensively.
Family lore says that Vera spoke French, "almost to the exclusion of English, and represented that the family had been French Huegenots and came to America after an extended stay in Germany, to which they had fled to escape persecution... trying to downplay any true German heritage."
After Dr. Gough's death, she moved to California to be close to her brother and sister.
After eight years in San Bernardino, CA, she died there on March 28, 1978, at the age of 83. Burial was in Montecito Memorial Park.
~ Daughter Ethel Frances (Minard) Holcomb ~
Daughter Ethel Minard (1898-1985) was born on Dec. 11, 1898 in Topeka.
At the age of 19, on Feb. 23, 1918, she married 20-year-old Lawrence Bunyan Holcomb (1898-1963). The ceremony was held in Washington State.
Eight children were born to this union: Patty Jane Lacy, Lawrence Francis Holcomb, Robert Earl Holcomb, Dorothy Laverne Buckner, Lois Erma Thompson, Richard Thayne Holcomb, Frederick Duane Holcomb and Delores Ethel Holcomb. Sadly, son Robert died at age 18 days on June 20, 1920, and daughter Delores passed at the age of 12 on July 7, 1948.
They kept a family Bible with names and vital dates. It was misplaced and made its way into an owner outside of the family, but is thought to have been returned in the early 2010s.
The Holcombs made their home in Washington State and Portland, OR.
Lawrence died in 1963, at the age of 65.
Ethel lived for another 22 years. She passed away on Jan. 15, 1985, at the age of 86.
Daughter Patty Jane "Pat" Holcomb (1939-living) was born on July 2, 1939. At the age of 17, on July 14, 1956, she was joined in matrimony with Charles "Chuck" Lacy ( ? -living). Her home in 2004 was in Ocean Park, WA and in 2016 in Spokane.
Son Lawrence Francis Holcomb (1919-2005) was born on April 10, 1919 in Sunnyside, WA. During World War II, he served in the U.S. Army Air Corps. Then, during the Korean War, he was a member of the U.S. Air Force. He married Thelma Morton and had two children -- Eileen Marie Sotomora and Clayton Holcomb. They made their home in Hot Springs, Garland County, AR, where for 42 years he was employed by Weyerhaeuser Corporation. Lawrence was a trustee of the Hot Springs Village Bible Church and enjoyed salmon fishing trips to the West coast. Lawrence died on Oct. 29, 2005, at the age of 86, in Hot Springs' St. Joseph's Mercy Health Center. Funeral services were held in the family church, led by Dr. Mark D. Cain, and an obituary was published in the Hot Springs Village Voice.
Granddaughter Eileen Marie Holcomb, R.N., B.A., married Ricardo F. Sotomora, M.D., and they lived in Little Rock, AR. Ricardo received his medical degree in 1972 from the University of San Carlos, Guatemala and received his master of science degree in physiology in 1978 from the University of Minnesota. He began his career in a neonatal medicine fellowship at St. Paul children's Hospital in St. Paul, MN and later moved to the Arkansas Children's Hospital in Little Rock. His career has specialized in pediatrics and pediatric cardiology, and he is employed at the Baptist Health Medical Center in Arkadelphia, AR. Eileen manages the cardiology practice. Together, they founded the American Heart Association Sweetheart Program and co-chaired the symphony's ball fundraisers. Ricardo also has been a member of the board of the American Heart Association affiliate in Central Arkansas and the Arkansas Symphony Orchestra Foundation. In 2013, he was elected to the board of trustees of the Arkansas Arts Center.
Grandson Clayton Holcomb wed Michelle with a home in Lincoln, NE.
Daughter Dorothy Laverne Holcomb (1921-1992) was born on May 9, 1921. She married James B. Buckner ( ? - ? ) and resided in Lakeside, AZ. Her death occurred on Oct. 4, 1992.
Daughter Lois Erma Holcomb (1922-2007) was born on Nov. 14, 1922. In 1955, when she was about 32, she was wedded to Odbert Thompson ( ? - ? ). The Thompsons lived in Ocean Park, WA. She passed into eternity on June 9, 2007, at the age of 84.
Son Richard "Thayne" Holcomb (1924-2004) was born on June 9, 1924 in Portland. When he was age five, he moved with his parents and siblings to Ostrander, Cowlitz County, WA. During World War II, Thayne joined the U.S. Navy and was a medical corpsman, with duty in the Pacific Theatre. After the war ended, on July 17, 1945, he wed Donna Rugg (1927-1990) in Lewiston, Nez Perce County, ID. They made a home in Kelso, WA and had two children, Sandra Look and Lee Holcomb. Thayne he was employed at Longview Fibre before taking work in 1950 at the Longview docks as a longshoreman and later as a dispatcher. He retired in 1986, after 36 years on the docks, and was said by the Chinook (WA) Observer to have been "known and respected for his fairness and dependability." Very active in the community, he was an original member of the Longshoremen's Credit Union and Cowlitz Bank as well as a member of the American Legion, International Longshoremen Workers Union, Ocean Park Eagles, the Peninsula Senior Center at Klipsan Beach and Veterans of Foreign Wars. He was a volunteer with the Democratic Party, attended Ocean Park United Methodist Church and enjoyed gardening and beach activities. on Feb. 7, 1990, Donna passed away at the age of 63. The following year, in 1991, Thayne wed his second bride, W. Lucille Mattson ( ? -2004). They were together in marriage for a baker's dozen of years. She was gathered in by the Grim Reaper on March 20, 2004. Thayne only survived her by seven months. He died on Oct. 1, 2004, with an obituary published in the Observer.
Son Frederick Duane Holcomb, M.D. (1930-2009) was born on July 14, 1930 in Kelso, Cowlitz County, WA. He was married twice. His first spouse was Clara L. Senter ( ? - ? ). They had these children -- Kim Rolling, Laura Krebs and Mary Marshall. In 1956, at the age of 26, he received his medical degree from the University of Washington Medical School. He then served in the U.S. Air Force. Following his military service, he established a private practice at Salem Clinic in Salem, OR, specializing in obstetrics and gynecology. Said the Salem Statesman Journal, "he was honored to bring thousands of babies into this world." Frederick retired in 1994 and spent his remaining years enjoying his passions -- "family, friends, cooking, archaeology [in the Madaba Plains in Jordan], the Oregon Coast and Arizona sunshine," said the Statesman Journal. After a divorce, he married Sally Kupillas ( ? -2008) in 1976. She brought three of her own adult children to the marriage -- Steve Kupillas, Greg Kupillas and Karin Grano. They were together for more than three decades until Sally's passing in 2008. He wed for a third time to Carole Davi in 2009. He passed away in Salem on June 21, 2009, at the age of 78.
~ Son Nathan "Wilbur" Minard ~
Son Nathan "Wilbur" Minard (1903-1982) was bornon April 9, 1903 in Kansas. At the age of nine, he was one of 4,000 members of the Daily Capital newspaper's Junior Flower Club, organized to beautify Topeka.
As a young man,he migrated to California and in 1930 worked as a machinist in a garage in Fresno, Fresno County, CA, boarding in the home of James and Etta Zibbell on Forthcamp Street.
He married Missouri native Georgia Gresham (1904-1984), daughter of Elijah F. and (?) (Herlinger) Gresham of Arkansas.
They had one known son, Larry P. Minard.
Circa 1935, they dwelled in Inglewood, Los Angeles County. By 1940, they had moved again to Lomite near Inglewood, Los Angeles County. There, Wilbur was employed as a molder in a steelmaking plant. The census of 1940 shows George's widowed father living under their roof.
The four decades between 1940 and the early 1980s are a void of knowledge of this family.
Wilbur passed away in Shasta County, CA on Nov. 13, 1982.
Georgia only lived for a year and a half as a widow. She succumbed in Sacramento, Sacramento County, CA on June 16, 1984, at the age of 79.
Son Larry P. Minard (1933- ? ) was born in about 1933 in Southern California.
~ Daughter Elizabeth Helen (Minard) Santa Maria ~
Daughter Elizabeth Helen Juanita Minard (1912-2006) was born on Sept. 22, 1912 in Topeka, KS. News of her birth was printed in the Topeka Daily Capital.
At the age of 19, on March 6, 1931, she was united in marriage with 30-year-old Ignacio John "Jack" Santa Maria (1901-1989) in Calaveras County, CA.
The family remained in California for the rest of their lives. Jack and Helen had three children, Terry Helen Santa Maria, John Santa Maria and Cecil William Santa Maria.
Elizabeth passed away October 28, 2006 in Happy Valley/Anderson, Shasta County, CA, at the age of 94.
Daughter Terry Helen Santa Maria (1928- ? ) was born on Dec. 15, 1928.
Son John Santa Maria (1931-2005) was born on Nov. 2, 1931. He resided in Simi Valley, Ventura County, CA. John passed away on May 19, 2005, at the age of 73.
Son Cecil William Santa Maria (1932-1962) was born on Dec. 18, 1932. At the age of 29, he died on May 6, 1962. Details of his untimely passing are not yet known.
~ Daughter Mary Jane (Minard) Dean ~
Daughter Mary Jane Minard ( ? - ? ) was born in (?).
She was married to (?) Dean.
In 1978, her home was in Anderson, CA.
Copyright © 2001-2003, 2005, 2009-2011, 2015-2016, 2022 Mark A. Miner
Many thanks for Victoria (Smith) Clingman Gundersen and Charles & Patty Lacy for sharing material for this biography.