The Life of Edna Lola
(Walling) Dwyer Mundt
By James M. Phebus
Preface: This is a story about my maternal great-grandmother Edna Lola Walling Dwyer Mundt of the family of John and Louisa (Emerick) Korns Too often the details about the lives of individuals are lost over time with only bits and pieces passed down through the generations. The further back they lived, the less we remember. Fortunately, a significant part of the Edna's life was recorded and preserved by her eldest child, Lucille Viola Dwyer Gutzwiller. Lucille had written a family history; a recollection of her childhood years which covered the period roughly 1905 to 1920. She also included a few stories she was told by her parents for the years prior. In addition, this story includes some information provided by one of Edna's grandchildren who met her often as a child when Edna periodically came to visit and live with her family. Their willingness to conserve and share their personal accounts has prevented many aspects of Edna's life from being forgotten. For this I am greatly indebted. The parts of this story covering those years, unless otherwise noted, are drawn heavily from those remembrances.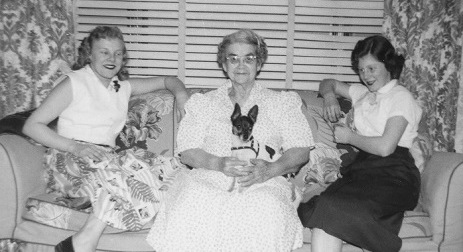 Edna and granddaughters, 1953

Edna Lola Walling was born on the 10th of June in 1882, on her families' farm in Tama County, Iowa. She was the fifth of twelve children born to Alwin Carlton Walling and Christina Ann (Korns) Walling. Both of Edna's parents had come to Iowa as children at roughly the same time - around 1856. Her father's family had relocated to Linn County, Iowa from St. Lawrence County in upstate New York. Her mother's family (which included at that time her parents John D. Korns and Louise (Emerick) Korns and their first three children John, Christina, and Mary Ellen) had come from Somerset County, Pennsylvania. The family initially moved to Poweshiek County, Iowa but ultimately settled a little further north in Tama County. Both families had joined the thousands of other settler families who had poured into Iowa during the 1850's to take advantage of the inexpensive government land available to those willing to establish a homestead. One description, published at the time, stated: "Immigration to Iowa was unparalleled. In the papers of 1854 long accounts, full of exclamation points, are printed, telling of the vast crowds of people entering the state. The roads were thronged with teams, and the groves and woodlands and prairies were alive with figures, and white with tents and canvas topped wagons. Ferries over the Mississippi were busy day and night conveying the pioneers from Illinois to Iowa. Cabins were going up like magic."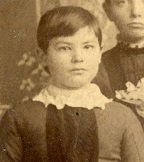 Edna as a schoolgirl, 1890
Edna's father, Alwin Walling, had grown up in Linn County where his father, George Walling, and his mother, Lydia Miles (Coomes) Walling, had settled the family. When Alwin was just a young man, his parents divorced. After which, sometime before 1870, he moved to Tama County, Iowa, with his mother. It is there that he had found work as a farm laborer. Her mother, Christina Korns, grew up on the large farm her uncle, Jacob Korns, and her father, John D. Korns, had established in Tama County. Her father and uncle were true pioneers and among the first settlers in the county. During the mid-1800's the average farm size in Iowa was around 160 acres, the equivalent of one-half mile by one half-mile. The farm Christina grew up on was initially 160 acres (80 acres from a purchased military warrant and another 80 acres a homestead claim) but was gradually expanded over time and eventually encompassed 320 acres.
It is unknown how or where Alwin Walling and Christina Korns met, but they did, and their relationship culminated in their marriage on March 20, 1873. They made their home in Highland township, Tama County, Iowa and in time they had established their own 120-acre farm near Christina's parents. Farm families in Iowa lived in relative seclusion due to the distance from neighbors and the only times to socialize with others were during irregular trips to visit the nearest town, neighbors or to attend church services.

It was there, in this isolated rural setting, that Edna Walling and her siblings were raised. There are no records to document Edna's early life, but it is doubtful it would have been much different from the thousands of other children raised on Iowa farms during the late 1800's. With no electricity or machines, everything was done through manual labor and as the children came of age, they were required to work as well. Everyone pitched in. The children also attended school. By the time Edna was born, there were nine small schools established in the Township. The closest school to the Walling farm (roughly a mile away) was the district 5 school, also called Center school because of its location at the center of the township. This was the school where Edna and her siblings attended. To help the family, when Edna was a little older, she found a job working away from the farm at a hotel in the town of Le Grand, Iowa.

It was there, around 1898, that Edna met a transient laborer named John Patrick Dwyer. John Dwyer was working on the railroad which had been built through Tama county. He happened to be staying at the hotel where Edna worked. Of John Dwyer's early years, relatively little is known. The one item that can be documented was that he had been orphaned at a young age and grew up in the Roman Catholic Orphan Asylum in Brooklyn, New York. A glimpse into his early life is from the stories recalled by his oldest daughter Lucille who wrote the following about him: "His mother and father came to this country by boat to find a new life. He was born on the boat on the way over from Ireland. Within two years both his mother and father died, and he was placed in a Catholic orphanage in New York City. He stayed till he was 16 then ran away. After that he wandered all over the country till he met and married our mother." Obviously, these stories were told to Lucille by her father, but because he had gone into the orphanage at such a young age it is unlikely that he knew whether he was born on a boat or after they arrived in America (I tend to believe the latter but more research needs to be done). Even his birthdate is suspect, but it is believed to have been on Christmas Eve 1868.
There was, however, other information that can be attributed to John Dwyer himself. During one of his many appearances before a judge (all for public drunkenness which will be highlighted later in the story), he provided the following information about his younger years. "I have never known a mother's love since five years old and never had a home until I made my own. At the age of five I was snatched out of my mother's arms and put into an orphanage. Then I became a waif upon the streets of New York. Many's the time, judge, that I saw my poor mother thrust into the Tombs [the New York City jail]. I was young then but, great God, those horrible scenes were indelibly impressed upon my mind." It should be noted that this was said while he was seeking leniency from the judge for his latest offence and may have been embellished. During another court appearance the following account of his persona was given: "He was cultured and, when sober, a kind-hearted man and devoted husband and father, but booze dragged him down. He studied when a young man for the priesthood, and is well educated. He can quote nearly the entire contents of the Bible, and has in his memory many of the writings of the best authors." His daughter Lucille also gave the following physical description of her father: "He was a small man, a little taller than our mother [who Edna's granddaughter described her as being not much more than 5 foot tall if at all]. Black curly hair, blue eyes and fine features, no mustach[e] or beard that I can recall."

John Patrick's "wanderings" after leaving the orphanage eventually carried him to Tama County, Iowa and it was there he met Edna Walling, who was then just 16 years old. Their relationship resulted in Edna becoming pregnant and on the 24th of July the following year they were married. Four weeks after the wedding, on Aug. 22, 1899 their first child, Lucille Viola Dwyer, was born. It was not long after the birth of Lucille that they (John, Edna and Lucille) returned to the small town of LeGrand, Iowa to begin their life as a young family. It would become the first of many moves Edna would make. Throughout John Dwyer's adult life, he had drifted from town to town and job to job without setting down any roots. Even though he now had a family, that pattern did not change. For Edna, the change was drastic. At seventeen, married with an infant child, she left the stability of the life she had known behind. Roughly two years later, on Aug. 7, 1901, Edna gave birth again. Twin boys were born, but this joy soon turned to sadness. Within a few short months both had died, one after three months and the other after four. Their names remain unknown.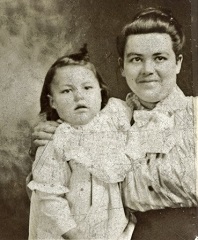 Edna and daughter Lola, 1905
It is also unknown whether this occurred in LeGrand or after the family had moved again. By 1902 the family was living in Sioux City, Iowa where there next two children were born. Lola Beatrice was born on Sept. 20, 1902 followed almost exactly two years later by, John Patrick Jr., who was born on the 19th of September 1904. It was around this point in time that the oldest daughter Lucille began the recollections of her early childhood. She wrote: "At that time we were living in two rooms. One large for sleeping and a small one for cooking and dining – near railroad tracks in Sioux City, Iowa. The bedroom was fairly large and contained one large bed, a small bed for Lola (3) and me (5) and a crib for John. Both John and Lola had whooping cough. John was about 6 months old, and the doctor had him in a cast around his chest. Both were quite sick for a while. The kitchen was small, just room for a table and chairs and a flat top cook stove." In 1905, the family moved again. This time they traveled roughly forty miles north of Sioux City to the town of Hawarden, Iowa. But their stay here was short and soon the family was on the road once more, this time to Slayton, Minnesota..

In Slayton, the family lived in a small house on the edge of town. John made a living picking up junk and reselling it. On the 19th of December 1906 Edna brought her next child into the world, a daughter she named Mildred Bertha. Barely half a year later, in the summer of 1907, it was time to move yet again. A lumber mill in northern Minnesota was looking for workers. The family packed what they owned and moved to Akeley, Minnesota where John had found work with the Red River Lumber Company. It was a boom town which had grown from a handful of settlers at the turn of the century to nearly 2000 people when the Dwyer family arrived in 1907.
The house they lived in was a wood building covered in tar paper. Typical for the town at the time, though some more permanent structures were being built. One of which was the school which accommodated roughly 500 children including Lucille and possibly her sister Lola. In the early spring of 1908, a forest fire began in that area of northern Minnesota and was close enough to threaten the town. In late April a description of the fire was reported by a nearby newspaper: "Forest fires are raging all around Akeley, and much apprehension is felt for the safety of property surrounding the village with a possible prosect of burning the town." It was feared that it would do just that and a train was prepared to evacuate the women and children if needed. The fire was eventually brought under control. The damage stayed away from the town, but the fire destroyed much of the logging operation. Workers for the lumber company began to rebuild, but John became ill suffering from what was described as typhoid pneumonia. He recovered but in his weakened condition, could not continue the hard labor his job there required. John had no choice but to look for work elsewhere. He headed alone back to Iowa while Edna and the family stayed in Akeley until he sent for them. Word arrived and Edna packed and shipped all the belongings she could not carry. Not long after, on Sept. 2h, 1908, Edna and her children boarded the Chicago Great Western train the take them from northern Minnesota to Waterloo, Iowa.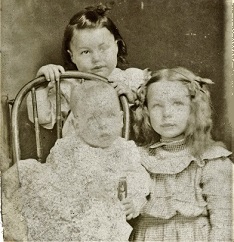 John and Lucille, front, and Lola, 1905
However, when she and the children arrived early on the morning of the 30th, her husband John was not there to meet them. She had no address and no idea how to find him. Pregnant, with four children in tow, she began the search for her husband through the unfamiliar town. She contacted the police, an employment bureau she knew he had used and even had a notice posted on the front page of the local newspaper to help find him. Edna was so discouraged that she had contemplated leaving Waterloo and traveling to Kellogg, Iowa to stay with her sister if her husband could not be located. It was not until the following day that the family was reunited. Her husband John had found work with the Litchfield Manufacturing Company and their first home in Waterloo was a tiny four room house on the edge of town.
After only six weeks in Waterloo, the family had no money left to buy food and Edna had to request assistance from the city to feed her family. Apparently, her husband John had already lost his new job and the family was broke. After a short period without work he found employment with the Galloway Company. The company had just expanded its production of farm and light industrial equipment to include the manufacture of automobiles and needed workers. It was there in their first home in Waterloo that their next child, Dorothy Elizabeth was born on Jan. 26, 1909. By the summer of 1909, the family had moved into the two-story home located at 200 Sullivan Avenue near the Elmwood Cemetery. The following spring the family then moved once again to a house at the edge of town. From this house, the older children would walk along the railroad track about a half a mile to attend school.

Edna's husband John always had a problem with alcohol. In Waterloo, the trouble only worsened. By the end 1909, just over a year after arriving, he had appeared several times before the court for public intoxication. He paid fines, spent short periods of time in jail or doing community service. Money that should have been used to support Edna and the children often was spent on liquor. In November 1909, a judge admonished him for this pattern of behavior and ordered him to go to the 'inebriacy hospital' in Knoxville, Iowa to help with his alcohol addiction. The city ensured that Edna and the children were taken care of while he was gone. John returned from the hospital in late January 1910 and returned to work at the Galloway Company. His sobriety, however, did not last. On the 2nd of April, John decided to leave Edna and the family and travel to South Dakota for a while.
During the time he was away Edna decided to pack up the family and move to a house near the downtown area. It was their fourth move during their short stay in Waterloo. Because of this, when John returned from his trip roughly six weeks later, he could not locate Edna. Completely intoxicated, he went to the house of a person, that could be described as a social worker, who had been assigned to him by the court several times before. There he hoped to find information on Edna and the children. The social worker promptly contacted the police, and he was arrested once again. During this trial, the judge severely chastised him stating: "You are a disgrace to humanity, to leave your wife and children to get along as best they may while you drink whisky and roam over the country." The judge ordered that all his wages for six months were to be collected by the social worker and turned over to Edna. Edna finally had some reprieve from worrying how to feed her children. Over the course of her marriage, she had become adept at managing money. During this six-month period, she not only took care of the expenses, but she was also able to save some money as well.
With no money to spend on alcohol, John did sober up, at least somewhat, and by Christmas 1910, John began to consider moving again because he had heard about work in Illinois. But his demons returned and shortly after regaining control of the money, he began to drink again. In January 1911, John removed a quarter of their savings and went out for a night of binge drinking for which he was once again arrested for public intoxication and appeared before a judge. He was sentenced to 30 days community labor. He was also prohibited from drinking any alcohol and was to be reported if he did so. Only a week later, he came home after stopping for a couple of drinks after work (just two beers because he only had ten cents in his pocket when he left the house that morning). Arriving home, he was confronted by Edna and he became verbally abusive toward her. It was Edna this time that called the police to have him arrested, following the judges' directions. The judge promptly sentenced John to ten days confinement.

Edna had come to the end of her rope. While her husband was incarcerated, Edna decided to go to the district court in Waterloo and petition for a divorce. For reasons, she stated that John had "become a habitual drunkard since his marriage, that he is cruel to her and that he has failed to provide for her and the five small children." However, the divorce was never finalized because just a month later, in March of 1911, the entire family John, Edna and the five children, packed up what little they had and boarded a train to take them to Rockford, Illinois. The reason for this change of heart on Edna's part is unknown. However, it was likely the fact that shortly after she filed for divorce, she became aware that she was pregnant once again.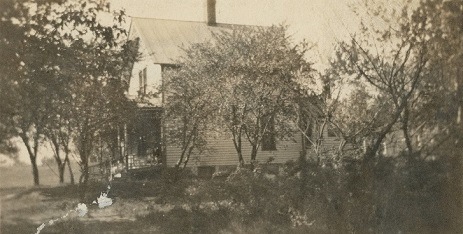 House on North Main Street, Rockford, IL, the family home in 1913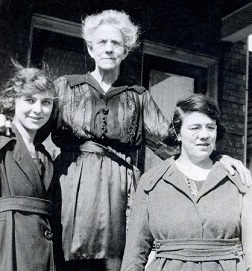 Agnus Gutzwiller (center) and
Lucille Dwyer (left), circa 1918
John decided to relocate and to change his luck, and maybe try and escape his past, with the hope of work in Rockford, Illinois. A chance encounter on the train ultimately produced a major change in their children's lives. Seated in the train car with the Dwyer family during the trip were a pair of Catholic nuns. From what is known, John and Edna did not take part in any religious practices at this point, and it is likely their children rarely attended church if at all. When John saw the nuns, he recalled his time in the orphanage and remembered it warmly. He had also contemplated becoming a priest while he was there. Sadly, it may have been the only time when he had any stability in his life. (While not truly known, it is believed that the reason he ran away from the orphanage, apparently, was due to being caught playing a prank for which he was ashamed). He decided there on that train to have all his children baptized as Catholic once they arrived in Rockford.
After a few weeks living in a hotel, upon their arrival in Rockford, the family found a more permanent place to stay. John began his search for work. Edna enrolled the school age children in the Catholic elementary school located next to the St. Mary Oratory church. After quite a bit of time searching, John was not successful in finding the work he hoped for. He decided to leave the city and look elsewhere while Edna and the children remained in Rockford.
From this point on, her husband John would only return to the family periodically, stay for a short period of time, then leave again in search of other work. The family had always been poor but living became even more difficult for Edna and her children as they had to now fend for themselves. Unfortunately, Edna had already become used to it. To support the family, Edna took in laundry, sewing work and any other small jobs she could find (she was also known to have been quite skilled at needlepoint and embroidery).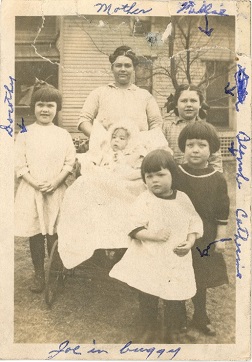 Edna and her 5 children, 1915
In the summer of 1911, Edna moved the family into a four-room house on Horseman Street. It was here, on the 19th of August 1911 that Edna gave birth to Blanche Margaret. By 1913 the family had moved to the 1500 block of North Main Street which bordered the southwest edge of Greenwood cemetery. On June 30 of that year, Catharine June was born. The following year, on Aug. 27, 1914, their daughter Marion was born. However, Marion only lived for two months and died from spinal meningitis. By the fall of 1914, the family had again moved. This time onto School Street.
Edna's daughter Lola had by become good friends with a classmate at St. Mary's school by the name of Marguerite Gutzwiller. The Dwyer's home on School Street was located fairly close the Gutzwiller home on Peach Street, and through these girls, their mothers, Edna Dwyer and Agnus Gutzwiller, had also become good friends.
In May of 1915, Lola had contracted scarlet fever. At the time entire families were quarantined in the home of where the patients lived. Edna's oldest daughter, Lucille, was on track to graduate from the eighth grade that year. [In the early part of the 1900's many schools finished their curriculum at the eighth grade except for those students planning on continuing to college] The doctor told Edna that her daughter Lucille needed to stay away from the house if she wanted to attend school and finish on time. The Gutzwiller family allowed Lucille to live with them through the quarantine and therefore enabled her to graduate on time.
It was only a few months after the quarantine was lifted, on Sept. 4, 1915, that Edna gave birth to her son Joseph Calvin. It was not an easy delivery and there were serious complications. The attending physician offered little help because it was considered a "poverty case." It was her friend Agnus Gutzwiller that stepped in and cared for Edna. She nursed Edna back to health and is credited with saving her life. Though she had had survived the delivery, it was not the only medical scare Edna would face that year. Only a month later she had to return to the doctor to have a tumor removed from her arm. Fortunately, it was determined to be benign, and Edna made a full recovery.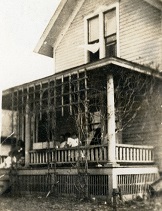 Lapp Court home, Rockford
Not long after Joseph was born when, following one of his long absences, her husband John returned to Rockford. By this point he was rarely with the family, offered them little financial support and never stopped his drinking. Edna, having only recently recovered from her latest health scare, told John to just stay away. (Though there is another story where it was his daughter Lucille that told him to leave and not come back).
From the little that is known about John Dwyer it is apparent that he was not ready for a family and could never be considered a model father. He was an alcoholic and would often leave his family for extended periods of time. It was up to Edna to find ways to support her children and herself during his absences. In her memories about her father, Lucille put it much more diplomatically writing: "… married life was too confining for him. ... He was not a mean man to our mother or to his children. Occasionally we got a spanking when we needed it. I can't recall him quarrelsome. He like[d] his liquor and it controlled him, and when he travelled around, he was free to do what he wanted to, and all his earnings went for liquor. I did notice that each time he came home a new baby arrived before he came again. He didn't seem to drink much when he was home but couldn't resist long at a time."
Sometime before the spring of 1917 Edna and the children had moved onto Lapp Court in Rockford. It was roughly then that Edna faced yet another health problem. This time she underwent a major operation, though it is not known for what, and she had to be hospitalized for seven weeks. Because there was no one to care for all the children, most were temporarily placed in a children's home or placed with other families. The oldest, Lucille, who was working by this time, rented a room. The infant, Joseph, was taken in by the Gutzwiller family while Edna recuperated. After Edna was released from the hospital, the family moved once again, this time to Evelyne Street. They remained at their Evelyne Street home until 1919 when Edna received word that her mother was dying and needed her help.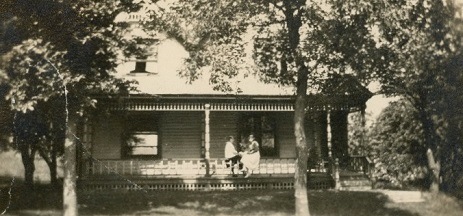 Dwyer residence on Evelyne Street, Rockford, IL, circa 1918
Nine years earlier, Edna's father Alwin had moved from his farm in Iowa to just outside Dupree, South Dakota. He had taken advantage of the government offer of free land to individuals who were willing to homestead on former Indian reservation land recently opened for settlement. The lands were opened in 1909 via a lottery type system and Alwin Walling was one of those selected. Even though he was over sixty years old, he left to establish his homestead in 1910 with the help of his sons. His wife stayed in Iowa until a home was built. Because this was prairieland, the original dwelling built on the homestead, was a sod house.
Edna's mother arrived at the homestead in April 1911. With the improvements and time requirement met, Alwin Walling was granted title to his 144-acre homestead in 1917. But only a couple of years later her mother's health began to deteriorate. After hearing of this, Edna offered to help and moved to her parents' home near Dupree in early 1919. Most of her children followed shortly after. Her oldest daughter Lucille placed all her siblings, with the exception of Dorothy, on a train in Wisconsin for the trip to South Dakota. After she had finished the school year, Lucille took her sister Dorothy to Dupree to join her mother. Lucille, however, returned to Rockford later that summer to live and work.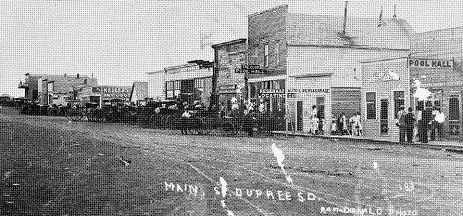 Dupree, South Dakota, 1910s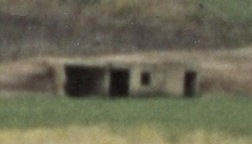 Sod house built by Edna's father, near Dupree, SD, 1910-1911, as seen in 1992
Edna's mother's health worsened rapidly. It was only a few months after Edna's children arrived that her mother Christina Ann died of dropsy [oedema/edema/congestive lung failure] on 25th of August 1919. After her mother's death, Edna chose to remain in South Dakota to take care of her father. He was then seventy years old, and his health and eyesight were beginning to decline. Two of her younger brothers, Ralph and Russell, were also still living on the homestead working the farm.
The first of Edna's children to marry was her oldest daughter Lucille who had remained in Rockford, Illinois. She married John Henry Gutzwiller, who was the son of Edna's old friend Agnus Gutzwiller, on April 26, 1921. It is also likely that around this time that Edna began a relationship with a neighbor named Frederick (Fred) Henry Mundt. Frederick Mundt was a German immigrant who had also been previously married.
In due course, they contemplated marriage. There is uncertainty as to Edna's marital status at this time; was she still married or was she divorced. On the 1920 census she listed herself as divorced. There is a family story that Edna had John declared dead to be able to remarry. However, it is more likely that she was divorced. Either Edna and her husband John filed before he left Rockford for the last time or Edna, not knowing where her husband was, filed for divorce on the grounds of desertion/abandonment. On the 27th of November 1924, Edna married Fred Mundt.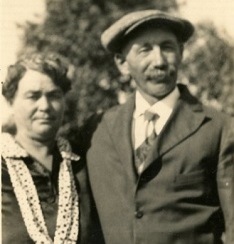 Edna and Fred Mundt
During the next few years, the family faced some new difficulties. The first was the death (or institutionalization) of her oldest son. There is another family story that somewhere around 1925/1926 Edna's son, John Patrick Jr., died from complications from a medical problem, but no death record has been found. But then there is a record of a John P. Dwyer, born in Iowa around 1905, who was institutionalized in the Yankton State Mental Hospital and that this John Dwyer had later died on November 25, 1939. If this was Edna's son, it may have been that he was sent away around 1925/1926. Unfortunately, John Dwyer is not an uncommon name, and it is not known which is true.
With Edna now living with her new husband, her father decided to move to Baxter, Iowa, around September 1926. He went to live with, and be cared for by, his daughter Nellie Hamilton and her husband. Less than five months after her father had moved to Baxter, feeling hopeless over his poor health and now completely blind, Alwin Walling took his own life on the 24th of January 1927.

Over the next few years several more of Edna's children were married. Her daughter Blanche was married on Feb. 24, 1927. She had married George Wellington Sargent. Blanche was soon followed into matrimony by Edna's daughter Dorothy Elizabeth who wed Ralph Archibald Gale on June 23, 1928. Next was Edna's youngest daughter Catharine June who married Sigfred E. Berns. The wedding possibly occurred around 1931 based on census records but the exact date is unknown. The only child remaining at home with Edna and her second husband was her youngest, Joseph.
At some point in 1931 Edna became quite ill. Due to her previous medical problems, and fearing the worst, her oldest daughter Lucille (and her family) moved from their home in Michigan to help take care of her. The illness was not as severe as initially thought and Edna did make a full recovery. However, her daughter's family, due to the economic conditions found during the depression, were prevented from returning to Michigan for several years. Lucille's husband, John Gutzwiller, had to become a tenant farmer on a nearby farm to support the family during those difficult years.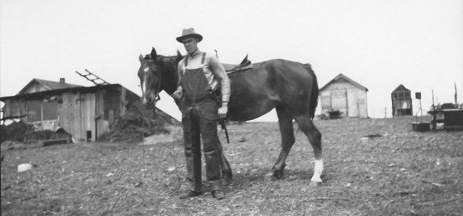 John Gutzwiller on the Burgee farm in South Dakota, circa 1934

And there in South Dakota, those years were extremely difficult. Not only the depression, but that part of the country was affected by severe drought, part of what was considered the "dust bowl." Farming was nearly impossible. One written account in South Dakota's Ziebach County described life then: "We lived through drought and dust storms, blizzards and grasshoppers that ate everything. They were just black on the side of the house, fence posts and everywhere else." Those lean years of the early thirties were more about survival than farming for profit. Many left of their own means or were forced out due to foreclosure. During that time, over a third of the farms in Ziebach County, South Dakota were reclaimed and owned by Rural Credit, the regional finance agency. Hard times indeed.

On the 24th of June 1936, Edna suffered another great loss when her second husband Frederick Mundt passed away. The following spring her daughter Lucille and her family returned to Michigan to live. With her children grown, Edna left South Dakota and began living with her children, several of whom were in the Minneapolis, Minnesota area. It was around this time, or at least before 1938, that her daughter Lola Beatrice married Raymond Jacob Reiter. On the 13th of October 1940, her youngest child Joseph, who had remained in South Dakota, married Edythe Mae Sever. On the 1940 census, Edna was found living in Minneapolis, Minnesota with her daughter Lola and her husband Raymond.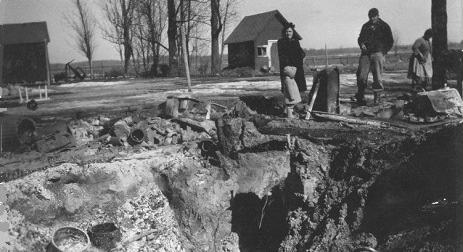 Aftermath of the Koehn Road farm fire, February 1942

In 1942, Edna went to Michigan and stayed with her daughter Lucille and her family. Lucille's husband John had leased a small farm where they grew vegetables which they canned and sold. Edna and Lucille spent the fall and early winter canning that year's crop. At the beginning of the following year a devastating incident occurred. Early on the morning of February 14, 1942, Valentine's Day, Edna and her daughter Lucille were returning to the farmhouse after milking the cows in the barn. They were carrying the milk pails to the house to skim off the cream. On their way back they noticed a chimney fire had started at the farmhouse. They dropped the pails and ran to the house to let Lucille's husband John know and wake up the two young children asleep in the house. They got the children dressed and out before the house was fully engulfed. John, Edna and Lucille tried to put out the fire, but it had spread too quickly. The fire department had been called, but the heavy snow on the roads prevented the help from arriving at the farm in time. The farmhouse, including that seasons' worth of canning, which had been stored in the basement, was completely destroyed.
Edna stayed a little while longer before leaving to visit/live with others. She continued to move from family to family; some were short visits while others were longer. In March 1952, Edna moved for the last time. She traveled back to Capac, Michigan to live with daughter Lucille. It is likely she had health issues at the time because just three weeks after she arrived, Edna drafted her will. She remained there, with her daughter Lucille, for the final two years of her life. At the beginning of 1954, her health began to quickly fade. She was taken to the nearby Yale community hospital. On Jan. 21, 1954, at the age of 71, Edna Lola Walling Dwyer Mundt passed away. Per her wishes, her body was returned to Dupree, South Dakota. She was buried in the Dupree cemetery next to her second husband Fredrick Henry Mundt.
Edna's oldest daughter Lucille ended her family history writing the following about her mother: "Must say, mother worked all her life to earn our keep, and clothed us with clothes given her. Medical help for her came as County care." Edna did not have an easy life. She married young to a man with many flaws. During her life, she bore 11 children and for much of their lives she raised them on her own. Her life was a struggle with poverty, personal health, and an alcoholic spouse. Edna was able to eventually overcome these obstacles, a testament to her strength and character. And her story has not been lost to time.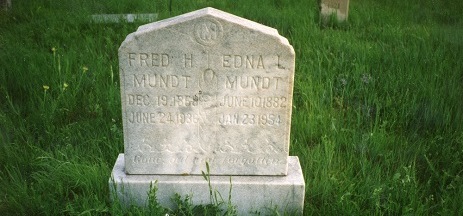 The Mundts' final resting place in Dupree, Soiuth Dakota
~ Bibliography ~
1892 Tama County Map. Indexed County Land Ownership Maps, 1860-1918. Database on-line. Ancestry.com Operations, Inc. Provo, UT. 2010.
1969 Census of Agriculture Regions and States, Farms: Number, Use of Land, Size of Farm, Table 14. Average Size of Farms: 1850 to 1969, pg 64, http://lib-usda-05.serverfarm.cornell.edu/usda/AgCensusImages/1969/02/02/570/Table-14.pdf
Bureau of Land Management, "Land Patent Search," database, General Land Office Records (https://glorecords.blm.gov/search/default.aspx: accessed 18 April 2021), Jacob Korns, Tama County, Iowa, May 1, 1855, patent no. MW-0868-066.
Bureau of Land Management, "Land Patent Search," database, General Land Office Records (https://glorecords.blm.gov/search/default.aspx: accessed 18 April 2021), Jacob Korns, Tama County, Iowa, May 5, 1860, patent no. MW-0937-057.
Bureau of Land Management. "Land Patent Search." Database. General Land Office Records Alvin C. Walling. Ziebach County, South Dakota. patent no. 598930. https://glorecords.blm.gov/search/default.aspx. accessed 18 April 2021.
Division of Vital Statistics, Ziebach County. Marriage Certificate no. 103685 (1924), Mundt-Dwyer. South Dakota Department of Health, Pierre, South Dakota. South Dakota Marriage Records, 1905-2016.
Division of Vital Statistics, Ziebach County. Marriage Certificate no. 117024 (1927), Sargent-Dwyer. South Dakota Department of Health Pierre, South Dakota. South Dakota Marriage Records, 1905-2016.
Division of Vital Statistics, Ziebach County. Record of Marriage no. 215861, (1940) Dwyer-Sever. South Dakota Department of Health Pierre, South Dakota. South Dakota Marriage Records, 1905-2016.

Fleming, Ann. South Dakota's Ziebach County, History of the Prairie. Ziebach County Historical Society. 1982. pg 573.

Genealogy Trails. Winnebago County Marriages 1836-1956. John Gutzwiller and Lucille Dwyer. Database. http://genealogytrails.com/ill/winnebago/marriages/marriages-G2.html.

Gutzwiller, Lucille Dwyer. "Dwyer Family History." June 1985. Privately held by the author.
History of Tama County, Iowa, Union Publishing Company (Springfield, IL, 1883) Archive.org. https://archive.org/details/historyoftamacou00unio/page/770/.
http://iagenweb.org/history/moi/moi19.htm. accessed: 17 April 2021.
Illinois, Winnebago County. Winnebago County Clerk Genealogy Records. Birth Records 1913/1914. Winnebago County Clerk. Rockford, Illinois. 2008.
Indiana, Tama County. 1870 U.S. Census, population schedule. NARA microfilm publication M593 roll 420. Washington D.C.: National Archives and Records Administration, n.d.
Iowa Department of Public Health, Des Moines, Iowa. Iowa Marriage Records, 1880–1922. Record Type: Marriage, Volume: 399 (Page - Wright).
Iowa History Project. The Making of Iowa. Chap. 19: The Rush for Land in Iowa.
Iowa State Department of Health. Delayed Certificate of Birth no. 120631. Edna Lola Walling (1946). State Historical Society of Iowa; Des Moines, Iowa. FHL DGS: 101713541.
Iowa State Department of Health. Delayed Certificate of Birth, 25 Apr 1944. State Historical Society of Iowa; Des Moines, Iowa. FHL DGS: 101713788
Iowa State Department of Health. Delayed Certificate of Birth. 17 Jun 1942. State Historical Society of Iowa; Des Moines, Iowa. FHL DGS: 101693739.
Iowa, U.S., Births and Christenings Index, 1800-1999. Database on-line. Provo, UT, USA: Ancestry.com Operations, Inc., 2011.
Iowa, U.S., Select Marriages Index, 1758-1996. Database on-line. Provo, UT, USA: Ancestry.com Operations, Inc., 2014.
Iowa, U.S., State Census Collection, 1836-1925. Database on-line. Provo, UT, USA: Ancestry.com
Minnesota Association of County Officers; Saint Paul, Minnesota; Minnesota Official Marriage System Ralph Gale and Dorothy Dewyer. June 23rd, 1928. https://moms.mn.gov.
Minnesota Historical Society. Minnesota Birth Certificates Index. Mildred Dwyer. December 19, 1906. https://www.mnhs.org/people/birthrecords/1906-16225
Minnesota, Hennepin County, Minneapolis. 1940 U.S. Census, population schedule. NARA microfilm publication T627 Roll: 1992; Page: 2A. Washington D.C.: National Archives and Records Administration, n.d.
New York, Kings County, Brooklyn; 1880 U.S. Census, population schedule. NARA microfilm publication Roll: 850; Page: 355A; Enumeration District: 150. Washington D.C.: National Archives and Records Administration, n.d.
Port Huron Times Herald. Port Huron area deaths – funerals. Port Huron, Michigan. Jan 22, 1954. Pg 17. Newspapers.com. https://www.newspapers.com/image/209761555/?article=61d1c69f-f480-43d8-94ef-47c20d28e455&focus=0.37658083,0.65180254,0.49750277,0.7936269&xid=2378.
Social Security Administration. Social Security Death Index, Master File. Washington D.C.
South Dakota Department of Health. Index to South Dakota Death Records, 1905-1955. Database. Christina A. Walling, 25 Aug 1919. South Dakota Department of Health. Pierre, SD. https://www.ancestry.com/imageviewer/collections/8659/images.
South Dakota Department of Health. South Dakota, Death Index, 1879-1955. Database. Frederick Mundt, June 24, 1936. South Dakota Department of Health. Pierre, SD. Ancestry.com. https://www.ancestry.com/imageviewer/collections/8659
State Historical Society of Iowa. Des Moines, Iowa. Iowa Death Records. Database online. Alwin Walling January 24, 1927. Reference Number: 101784559. Ancestry.com. Provo, UT.
The Bemidji Daily Pioneer. Bad Forest Fires at Akeley. 21 Apr 1908. Bemidji, Minnesota. Newspapers.com. https://www.newspapers.com/image/83474148.
The Waterloo Evening Courier. Announcements. Waterloo, Iowa. Jan 24, 1910. pg 3. Newpapers.com. https://www.newspapers.com/image/356614462/.
The Waterloo Evening Courier. Drunk on 10 cents, Wife Causes Arrest. Waterloo, Iowa. Feb 1, 1911. pg 5. Newspapers.com. https://www.newspapers.com/image/356504631.
The Waterloo Evening Courier. John Dwyer Fell Off Water Wagon. Waterloo, Iowa. Jan 21, 1911. pg 5. Newspapers.com. https://www.newspapers.com/image/356454347.
The Waterloo Evening Courier. John Dwyer is Again in Court. Waterloo, Iowa. May 27, 1910. pg 8. Newspapers.com. https://www.newspapers.com/image/355693063.
The Waterloo Evening Courier. Mrs. J. Dwyer Wants Divorce. Waterloo, Iowa. Feb 7, 1911. pg. 5. Newspapers.com. https://www.newspapers.com/image/356505341/.
U.S., Social Security Applications and Claims Index, 1936-2007. Database on-line. Provo, UT, USA: Ancestry.com Operations, Inc., 2015.
Waterloo Daily Courier. A Contrite Way Bares His Life. Waterloo, Iowa. 30 Nov 1908. Newpapers.com. https://www.newspapers.com/image/355686505/.
Waterloo Daily Courier. John Dwyer Apprised of Family's Presence. Waterloo, Iowa. Oct 1, 1908. pg 8. Newpapers.com. https://www.newspapers.com/image/355684510/.
Waterloo Daily Courier. John Dwyer is Again in Court. Waterloo, Iowa. May 27, 1910. Newspapers.com. https://www.newspapers.com/image/355693063/.
Waterloo Daily Courier. Other Police Court Cases. Waterloo, Iowa. Nov 9, 1909. pg. 8. Newpapers.com. https://www.newspapers.com/image/356604444/.
Waterloo Daily Courier. Poor and Needy Always Present. Waterloo, Iowa. Oct. 16, 1908. pg 8. Newspapers.com. https://www.newspapers.com/image/355685132/.
Waterloo Daily Courier. The Courts Talk as 'Man to Man.' Waterloo, Iowa. Nov 12, 1909. Newspapers.com. https://www.newspapers.com/image/356604780/.
Waterloo Daily Courier. Wife Seeks for Husband. Waterloo, Iowa. Sept. 30, 1908. pg 1. Newspapers.com. https://www.newspapers.com/image/355684434/.
Copyright © 2021 James M. Phebus. Republished with consent.
Page copyright © 2021 Mark A. Miner