Home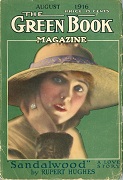 In 1915, independent filmmaker Katharine Russell Bleecker produced a series of silent moving pictures involving actors drawn from the community summering in the Thousand Islands region of New York State. Among the actors was Cotton "Allen" Hayden, son of industrialist William B. and Matilda (Langdon) Hayden, and step-grandson of Daniel Minor Jr., all of Columbus, Ohio. Allen is seen in this still image from Bleecker's film Skeins of Destiny, front row, fourth from left, wearing an upturned hat. In this scene, he and fellow spectators watch a polo match which apparently had some sort of tragic outcome. He also had a role in Bleecker's movie Smuggler's Revenge.
This image was published in the August 1916 edition of the film industry journal, The Green Book Magazine, one of three depicting Allen in the issue. The accompanying headline of the story, authored by Nanette Lincoln, was "Society Goes in for the Films." An original copy of the magazine is preserved in the Minerd.com Archives.
Among Allen's friends appearing in these productions were Allen's cousin Marie Hayden, Ira A. Kip, Billy Vilas, Douglas Nichols, R. Lockhart Wilbur, Mrs. George C. Boldt Jr., R.H. Eggleston Sr., Helen Eggleston, Marie Jenney, Jack Engles, Margaret Nichols and Helen Wilbur. Skeins of Destiny was distributed selectively throughout the country. In September 1916, it was shown at a fundraising benefit event to benefit the Sewickley Valley Hospital near Pittsburgh. The Sewickley audience is said to have oohed and aahed when they spotted their summer homes in the picture.
The whereabouts of these films today are unknown. They are not listed in the industry's standard online source, the Internet Movie Data Base (IMDB), nor the Library of Congress' online Performing Arts Encyclopedia. If you have any suggestions on how to track them down, please contact us.