Cotton 'Allen' Hayden
(1877-1946)

Allen Hayden
Cotton "Allen" Hayden was born on May 19, 1877 in Columbus, Franklin County, OH, the son of William B. and Matilda (Langdon) Hayden.
He was tall, with a medium build, and had blue eyes, and appears to have been named for Cotton H. Allen, Mayor of Columbus who was employed at the Hayden family's saddlery and hardware company.
Allen grew up and spent considerable time as an adult in New York, both in Manhattan where his parents maintained a residence, and at Fairyland, the family's prominent "Fairyland" vacation home on the St. Lawrence River in the Thousand Islands region of New York, near Alexandria, Jefferson County.
Allen was a part-time inventor, part-time businessman and active socialite. A 1900 graduate of Princeton University, he was a member of the New York Athletic Club. He is known to have been a lawyer at age 23 in Manhattan, in 1900, but he did not pursue the profession as a career.
Allen made sensational society news in mid-August 1911 when, at age 34, he eloped to Reno, NV with Ida (Willis) Werner ( ? - ? ). She was the "wife of a New York attorney," said the New York Times, "who obtained a divorce in this city last week." At the time, Allen resided at 150 West 59th Street. Said the Times, "the couple will spend their Summers on the island, and Winters in New York City. They plan to leave for New York in a few days."
The couple remained married for 35 years, ending only at Allen's passing in 1946.
~ Summer Life in the Thousand Islands ~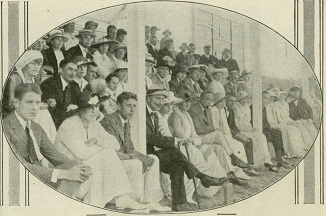 In the film Skeins of Destiny, Allen is 4th from left, front row, in a turned-up hat, watching a "tragic" polo match. Below: Allen, 2nd from right and with a cane, in the movie Smuggler's Revenge. He was age 39 at the time.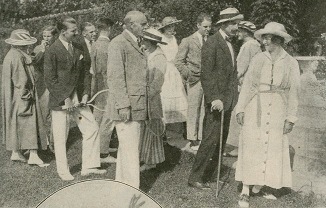 Allen took part in a craze involving Thousand Island residents in the summer of 1915 by acting in locally made films. He is pictured and mentioned in a full-page feature Feb. 6, 1916 in the New York Sun headlined "To Act Before the Movie Camera Is the Latest Fad of Society." The photograph shows him sprawled on the ground with Mrs. George Boldt Jr. in the silent film, The Smuggler's Revenge.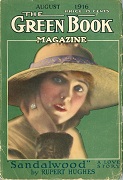 Magazine picturing
Allen in the movies
In the July 1916 edition of The Green Book Magazine (seen here), Allen is pictured several times in an article headlined "Society Goes In for the Films," authored by Nanette Lincoln. In addition to Smuggler's Revenge, he was acknowledged for his role in another film, Skeins of Destiny, both produced by Katharine Russell Bleecker. Other of the multimillionaires appearing in these movies were Allen's cousin Marie Hayden, Ira A. Kip, Billy Vilas (John "Harold" Hayden's brother in law), Douglas Nichols, R. Lockhart Wilbur, Mrs. George C. Boldt Jr., R.H. Eggleston Sr., Helen Eggleston, Marie Jenney, Jack Engles, Margaret Nichols and Helen Wilbur.
Skeins of Destiny was distributed selectively throughout the country. In September 1916, it was shown by the social set at a fundraising benefit event to benefit the Sewickley Valley Hospital near Pittsburgh.
A lover of yachting and fast motorboat racing, Allen and his brothers sponsored the "Hayden Yachting Cup" held at Chippewa Bay, Watertown, NY. Allen's boat Akace, and his father's boat The Navajo, competed in cup races in July 1900. In August 1916, Allen served as chairman of the Regatta Committee of the Thousand Islands Yacht Club's Championship Challenge Cup, and was a judge for a challenge cup race on the St. Lawrence River won by brother Harold at the helm of the P.D.Q. IV. They were mentioned in a related article in a 1916 issue of a publication for racing enthusiasts entitled The Rudder.
In 1917, Allen (rear-commodore), brother Langdon (treasurer) and cousin C. Leverett Hayden (secretary) were listed in Lloyd's Register of American Yachts as 1917 officers of the Thousand Islands Yacht Club. Other leaders of the yacht club were president Charles S. Rees and vice-commodore J. Norris Oliphant. The club, organized and incorporated in 1894, maintained a summer address of Alexandria Bay, NY, and a winter address of 27 West 44th Street, New York City. Annual dues were posted as $60 and $30.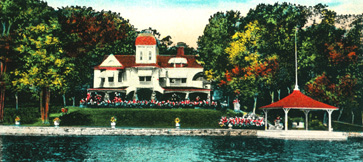 Postcard of Fairyland, captioned "One of the Many Beautiful Homes at Thousand Islands, N.Y."
~ Community Volunteer Leadership in Catskill, NY ~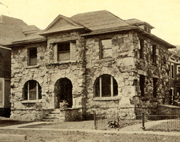 Holland Library
Allen and Ida maintained a longtime home at "Powers Place," on Prospect Avenue in Catskill, Greene County, NY.
Ida was active in volunteer committees and philanthropy in the Catskill region. She is noted in a history of Greene County for her service as recording secretary of the Home for Aged Women. In 1915, she and Allen, Allen's parents and nephew Hamilton Hayden were named in a Catskill Recorder article for having attended a society ball benefitting the Home for Aged Women. Attending the ball at the State Armory, the family sat in their reserved Box No. 1. The Recorder observed that Ida was dressed in "flesh-colored satin, tulle waist, trimmed with opalescent spangles," while Allen's mother wore "peacock blue chiffon velvet."
In 1933, as noted in the Catskill Recorder, she was elected along with fellow officers Mrs. James P. Philip, president; Miss Ruth Hall, first vice president; Mrs. J.A. Deane, second vice president; Mrs. Howard C. Smith, third vice president, and Miss Emily F. Becker, corresponding secretary.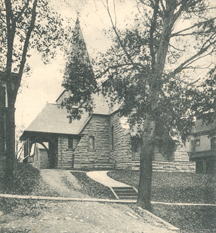 St. Luke's Episcopal Church
As well, Ida was deeply involved with the American Red Cross' Greene County Chapter during World War I, when the organization nationally was providing medical supplies to the U.S. military branches. The chapter comprised Catskill, the parent branch and 27 branch and auxiliary units, with total membership of 6,500 individuals. As chair of the Knitting Committee, she oversaw the production of 11,874 knitted items such as helmets, mufflers, socks, sweaters and wristlets. Said the Recorder, "The drafted men were supplied with such knitted garments as they needed when they left for camp, until this order was revoked by the Atlantic Division, after which everything was shipped to headquarters." Ida served in this role until the spring of 1918, when she was succeeded by Mrs. Charles Van Lean.
It may have been Ida who persuaded her newly widowed brother in law John "Harold" Hayden to underwrite the cost of a Red Cross activity room in the unused second floor of the Holland Library, in memory of his deceased wife, Elsie (Vilas) Hayden. The old library building is seen here.
Allen himself was charitably minded and made significant contributions to community leadership. In 1926, he was re-elected as a vestryman of St. Luke's Episcopal Church, for a term of three years. A postcard view of the stone church building is seen here.
He also was instrumental in the creation of the local Red Cross chapter. In 1917, he signed a petition making the request, and made a related donation. He was elected as the very first chairman, with Clarence Howland serving as vice chairman, Miss Louise Driscoll as secretary and Jeremiah Day as treasurer.
When World War I broke out, Allen and his brother Harold both took an examination to become ensigns in the U.S. Navy, reflecting their expertise on the water. Allen also registered for the military draft, and disclosed that he had no occupation. There is no evidence that they went overseas, but rather remained stateside as members of the Naval Reserve. Allen was stationed at one point with the reserves at Newport, RI.
In October 1917, as an increasing number of American men were shipping out to Europe, Ida presented "a large, handsome service flag" to St. Luke's Episcopal Church. "It holds seventeen stars, one for each man called thus far to the colors from this parish," said the Recorder.
~ Play and Speed in Europe ~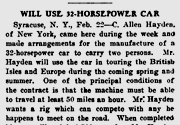 Motor Age, 1904
The Haydens enjoyed many extended holidays touring Europe. Allen made news in February 1904 when he went to Syracuse, NY to special-order the manufacturer of an especially fast automobile, to be used "in touring the British Isles and Europe during the coming spring and summer," said the trade journal Motor Age.
C. Allen Hayden of New York, came here during the week and made arrangements for the manufacture of a 32-horsepower car to carry two persons... One of the principal conditions of the contract is that the machine must be able to travel at least 50 miles an hour. Mr. Hayden wants a rig which can compete with any he happens to meet on the road. When completed his car will weigh 1,700 pounds. Mr. Hayden is a member of the Automobile Club of America and will use his new machine in New York until May 167, when it will be crated and shipped to Europe. The continent will be visited and early in June Mr. Hayden will go to Germany to witness the cup race.
Added the Syracuse Post-Standard: C. Arthur Benjamin says that this new machine, which will be the third manufactured by the company, will undoubtedly exceed the rate of speed named considerably. This is the second car which Mr. Hayden has purchased from the local manufacturers." He was to sail with a relative to Europe. After viewing the James Gordon Bennett International Cup Race in Germany in mid-June, they were going to motor to England, Scotland and Ireland.
In the winter of 1928, the Catskill Recorder note that Allen would be sailing from New York City on Feb. 11 by the Italian Line to join Ida, who was already in Rome awaiting his arrival.
~ Business Life ~
Business directories of the era show that he and his brother Harold were involved on the boards of several New York companies. Among these were Hayden Automatic & Equipment Company, of which Allen was president, and Harold secretary, with Allen, Harold and Harold's wife Elsie serving as directors. Offices were located at 26 Cortlandt Street, with the company's capital in 1908 valued at only $500. Also in 1908, the brothers were officers and directors of New York Vitak Company, located at 180 Lafayette, capitalized at $50,000. Other New York Vitak board directors were William E. Waddell and Thomas M. Hardesty. The success or fates of these businesses is unknown.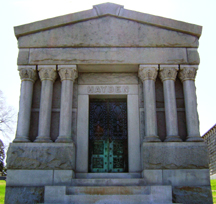 Hayden Mausoleum, Kensico Cemetery
~ Final Years ~
When the federal census was enumerated in 1930, Allen and Ida resided in Catskill on Prospect Avenue. His occupation was listed as "trustee - estate," and when he declined to or could not disclose his worth, the census taker wrote: "Don't know." Living next door was Allen's widowed sister, Mabel Burr, whose estate value also was recorded as "Don't know."
In 1946, Allen was named in the Ohio State Journal obituary of his step-aunt, Mary "Eva" (Minor) Perry. The newspaper reported that he had been a "prominent Catskill resident" for more than four decades.
At the age of 69, Hayden fell at his home in Catskill and fractured his hip. Death came within a few days. He passed away on Sept. 25, 1946. His passing was front page news in the Greene County Examiner Recorder, which reported that the funeral was led by Rev. L. Dudley Rapp, rector of St. Luke's Episcopal Church, followed by interment at Kensico Cemetery. His remains were placed in the family mausoleum.
In settling her husband's estate, Ida published a legal notice in the Greene County Examiner Recorder alerting all of Allen's nieces and nephews that probate filings would be forthcoming. This document is valuable because it lists their names and locales with precision, showing who was where in 1946.
Ida survived Allen by five years. She died on May 25, 1951, in New York. She rests with her husband and in-laws at the Hayden mausoleum at Kensico Cemeetery.
Copyright © 2009-2010 Mark A. Miner
Motor Age article courtesy of Google Books. Hayden mausoleum photograph courtesy of Linda Burton Kochanov.