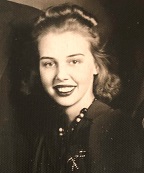 Soprano Eloise Farrell
Courtesy Marcia Farrell
Thirteen months after the end of World War II, soprano Eloise Farrell stands in line with five other bridesmaids in light-colored dresses, left to right in the center of this image, right arms held aloft, in the San Francisco Opera Association's performance of Lohengrin. The storyline, composed by Richard Wagner in the mid-1840s, involves the struggle between good and evil in a community rooted in Germanic and pagan influences, where an angel sent by God ultimately intervenes.
It is Eloise's first season with the Opera in a career there spanning two decades, until 1966. In the fall of 1953, at San Francisco's War Memorial Opera House, she and legendary soprano Beverly Sills were on stage together in a string of performances, among them Richard Strauss's masterpiece Elektra followed by Wagner's equally famed Die Walküre, part of the composer's "Der Ring des Nibelungen." Among other career highlights, for which she received name credit, are Giacomo Puccini's Madama Butterfly (1946-1947) and Modest Mussorgsky's Boris Gudonov (1951-1954; 1956-1962).
As well, Eloise is known to have performed in 1946 with the Pasadena Grand Opera -- in 1951-1956 with the Pacific Opera Company in stagings of Giuseppe Verdi's La Traviata -- Charles Gounod's Faust -- and Engelbert Humperdinck's Hansel and Gretel -- and in 1957 with the San Francisco Männerchor, a German heritage singing club. She also is known to have served a term as board secretary of the San Francisco Chapter of the American Guild of Musical Artists Inc.
A native of Council Bluffs, IA, who relocated to California as a young woman, Eloise was the daughter of Harvey Albert and Laura "Lottie" (Miner) Farrell of the family of Civil War veteran David "Nesbit" Miner. She never married, once telling an inquiring niece, "The men I loved didn't love me, and vice versa."
Copyright © 2022 Mark A. Miner
Image courtesy San Francisco Opera Archives, R. Strohmeyer, photographer, Barbara Rominsky, director of archives. This year, the San Francisco Opera is celebrating its centennial season.