Home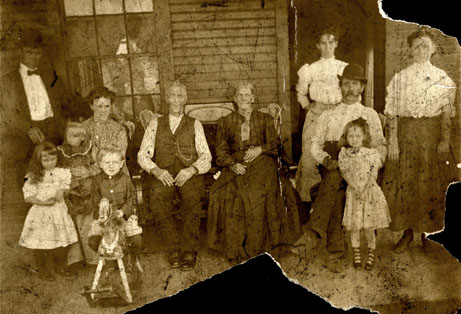 The story of Civil War veteran Henry A. Miner (1827-1912) and his wife Matilda (Rose) Miner, seated at center, provides an interesting window into the lives of Western Pennsylvanian laborer families during the mid and late 19th century. The Miners began married life near Kingwood, Somerset County, PA, and later migrated to Connellsville, Fayette County, PA. The eldest son of an eldest son, Henry was older than two of his uncles -- Joel Minerd and Eli Minerd. He served with the 171st Pennsylvania Drafted Militia during the Civil War, and saw active duty in West Virginia, Virginia and North Carolina.
Henry was a talented stone mason, and likely helped construct the empire of coke ovens that were built in the Connellsville region during the postwar years. The Miner and Rose families were close -- two of Henry's sisters (Catherine and Susanna) married two of Matilda's brothers (Charles and Andrew "Jackson"). Having been raised in a Pennsylvania-German family, Henry spoke fluent German, and once was sued for slander, for harsh words spoken in German that allegedly besmirched the reputation of a young maiden lady.
The adults and children posed beside Henry and Matilda are not known, but must have been two sets of their married children, with grandchildren. Note the little boy at left, perched on a rocking horse.
Copyright © 2006 Mark A. Miner