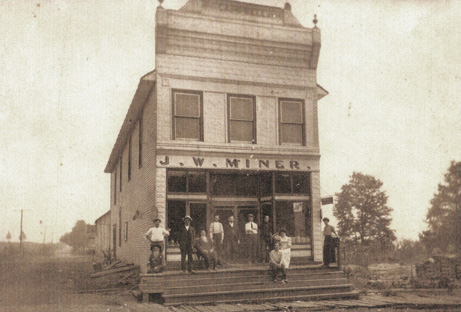 When he died in 1948, longtime general store owner John Walter Miner of Normalville, Fayette County, PA, was eulogized in poem published in a local newspaper. Authored by Homer Fullem, the "village poet" of Normalville, the work was entitled He Served Us Well. It reads:
The little town's in sadness,
For one has crossed the tide
To heavenly fields, abundant life
Beyond the Great Divide.
For 50 years he served us well,
His toils were like a rhyme,
Departing he left behind him
Footprints on the sands of time.

Advertisement for the store
The son of Civil War veteran Martin and Amanda (Williams) Miner, John purchased his store in 1907 from George W. Campbell, who had founded the business in 1873 and was retiring after a long career. John ran the enterprise for many decades, always interested in enhancing business opportunity and community development. In 1927, when the 26-mile stretch of mountain road leading from Connellsville to Normalville to Ohiopyle to Farmington was paved (today Routes 711 and 381), John served on the finance committee of the "Connellsville to Farmington Good Road Association," and his wife Mary (Miller) Miner was on the reception committee. Earlier in his career, in 1902, he was elected as Clerk of Springfield Township, where Normalville is seated.
Retail entrepreneurship apparently runs in this branch of the family. The original of this photographic image today is displayed in S.M.R.H.S., Normalville's Hardware, Heating and Farm Store, founded in June 2006 by great-grandson Shawn Roberts. The store is located just a short distance away from the old Miner store site along the Springfield Pike in Normalville.

This is one in a series of photographic images published on Minerd.com in 2007-2008 to acknowledge the family's collective, long-term contributions to Western Pennsylvania, and to help the Allegheny Conference on Community Development celebrate the city's 250th birthday.
Copyright © 2007 Mark A. Miner