John Walter Miner
(1874-1948)


John and Mary Miner
John Walter Miner was born on Feb. 19, 1874 at Normalville, Fayette County, PA, the son of Martin and Amanda (Williams) Miner.
He was an entrepreneur who ran his own general store for many years in Normalville and was active in the region's politics and economic development.
John loved weekend getaways in the outdoors. In August 1899, said the Courier, he and friends Lloyd and John Sparks, O.J. Hepler and August Stickel "visited the camp of Campbell and Sipe at Victoria [and] report a good time and large crowds…." In the dead of winter 1902, reported the Courier, John and a "sled load of young folks from Normalville … attended the entertainment at Ohiopyle Saturday night."
In May 1903, at the age of 29, John married 18-year-old Mary May Miller (1885-1979), the daughter of Samuel P. and Sarah M. (Miller) Miller. In reporting on the event, the Connellsville Weekly Courier said: "Their many friends extend congratulations for a long and happy wedded life over life's stormy seas."
The Miners were nine years apart in age and resided at Normalville for the rest of their married lives.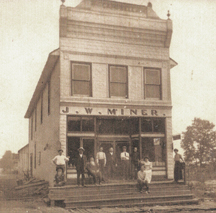 John's store, Normalville - enlarge
The couple produced four children – Russell W. "Billy" Miner, Eleanor Miner, Helen Luckey and Mildred Zenella "Midge" Roberts.
In February 1902, John was elected clerk of Springfield Township, and his second cousin William Henry Miner was elected justice of the peace of the same municipality. The same year, John purchased a 25-acre farm from his great-uncle, James M. Gallentine.
John accepted employment as a clerk in the well-known general store of George W. Campbell for more than two decades. The June 29, 1906 Connellsville Courier reported that he had formed a partnership with Campbell's son Clyde and that the "new firm, known as Campbell & Miner, have opened up a general store in the Creamery building. They have a full line of dry goods, groceries, shoes, etc." A month later, the Courier said "The new firm of Campbell & Miner are doing a good business."
Within a year or so, John purchased the business outright. The store remained in his operation until his death in 1948, with his name prominently displayed on the front. He was always interested in enhancing business opportunity and community development. In his spare time, he also was active in farming and the lumber industry.

Store advertisement
An advertisement for John's store is seen here, published in a booklet, Early History of Salt Lick and Springfield Townships, produced by the First National Bank of Indian Head. The booklet was reprinted in the early 2000s to benefit the Mt. Zion Cemetery Trust Fund.
One of the keys to the economic development of Normalville was the paving of the "Mountain Road" between Connellsville and Normalville, and thence to Farmington. Planning for the "largest and most successful road opening celebration ever held in this section of the State," said the Connellsville Daily Courier in 1927, involved "the live, energetic and public-spirited organization of mountain township folks who conceived and have carried thus far toward completion the project of a modern highway…." John served on the finance committee, and Mary served on the reception committee, of what was called the "Connellsville-to-Farmington Good Road Association."

Connellsville Daily Courier, Aug. 2, 1927. Below: unpaved mountain road passing through Normalville.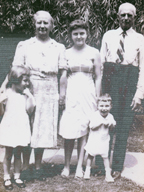 Mary, John & grandchildren
John and Mary are seen here with their grandchildren, left to right: Carol Luckey, Patricia Miner and Richard Roberts.
Heartache cascaded over the family in about 1945 when John was diagnosed with cancer of the tongue and pharynx. He suffered for three years and, on March 23, 1948, succumbed at the age of 74. His remains were laid to rest in the Normalville Cemetery.
He was eulogized in poem published in a local newspaper. Authored by Homer Fullem, the "village poet" of Normalville, the work was entitled He Served Us Well. It reads:
The little town's in sadness,
For one has crossed the tide
To heavenly fields, abundant life
Beyond the Great Divide.
For 50 years he served us well,
His toils were like a rhyme,
Departing he left behind him
Footprints on the sands of time.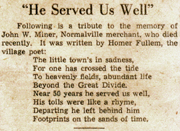 Poem, Daily Courier, 1948
Mary outlived John by more than three decades.
She passed away 10 days into the new year, on Jan. 10, 1979. At the time of her death, at age 93, she was the oldest member of the Indian Head Church of God.
John and Mary are rest together at the Normalville Cemetery.
~ Daughter Helen (Miner) Luckey ~
Daughter Helen Miner (1905-2003) was born on Feb. 11, 1905 in Normalville, Fayette County.
Helen was an early school vteacher, receiving her education and graduating in 1927 from Indiana Normal School (now Indiana University of Pennsylvania). Said the Connellsville Daily Courier:
She began her teaching career in a one-room schoolhouse at Poplar Run. She taught in the Connellsville School System's Third Ward, Bullskin Township, Saltlick Township and Normalville Elementary Schools. She was a member of the Presbyterian Church USA of Connellsville, where she taught Sunday School classes for many years.
On June 17, 1936, the 31-year-old Helen was united in holy matrimony with 31-year-old James H. Luckey (1905-1996), son of Alta Luckey of 413 North Prospect Street in Connellsville. The nuptials were held on the lawn of her parents' home in Normalville, officiated by Rev. L.S. Elliott of the First Methodist Episcopal Church. A story about the wedding in the Daily Courier noted that the ceremony was held "by an arbor banked with rhodendron, daisies and fern. Given in marriage by her father, the bride was attired in an aqua blue lace gown and carried an arm bouquet of Johanna Hill roses, pink and wuite larkspur. Miss Melda Croyle of Stoyestown, as maid of honor, wore a peach chiffon gown and carried an arm bouquet of briarcliff roses and blue delphinium."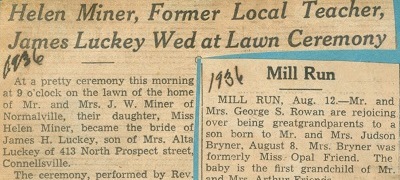 The Luckeys' wedding story in the Connellsville Daily Courier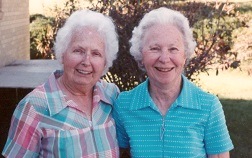 Sisters Helen and Eleanor, Sept. 1989
At the time of marriage, Helen was teaching in a Connellsville school, while James was employed by Fayette Baking Company. The newlyweds' first home was at 505 East Murphy Avenue in town. Their union endured for six decades.
The couple went on to produce an only daughter, Carol Luckey.
The federal census enumeration of 1940 shows Helen and James in Connellsville. His work that year was "salesman - wholesake bakery."
Helen is listed in the State Teachers College of Indiana Alumni Directory of August 1940, which gave their address as Rear 333 North Pittsburgh Street in Connellsville, with Helen named as a substitute teacher.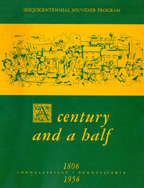 Connellsville anniversary
James later was employed as director of Connellsville's Department of Parks and Public Property under Mayor Abe I. Daniels. On Nov. 20, 1953, the city dedicated a new bridge, and James' name was printed on the back of a commemorative card handed out that day to everyone in attendance.
Later still, he served as "treasurer of the Connellsville Little League from its inception until 1970" and served for two terms of four years each "on Connellsville City Council, one as director of the street department and the other as director of buildings and parks," said the Daily Courier.
He also was a trustee of the board and session of the Connellsville Presbyterian Church. In 1956, when Connellsville celebrated its sesquicentennial (150th) anniversary, Jim served on the Opening Night Committee and was named in the official program booklet, today preserved in the Minerd.com Archives. In September 1989, Helen and James graciously hosted a visit in their home from the founder of this website.
Sadly, James died in March 1996, ending a marital union of 60 years.
Helen survived him by seven years. She passed away at age 98 on Dec. 11, 2003 as a patient in Uniontown Hospital. Rev. Mark Juengel officiated at her funeral followed by burial in Normalville Cemetery. An obituary was published in the Daily Courier.
Daughter Carol Luckey ( ? - ? ) lived in Mayfield Heights, OH in 2003.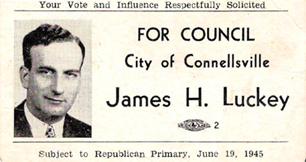 Above: James' campaign card circa 1945. Below: souvenir naming James from a new Connellsville bridge dedication, 1953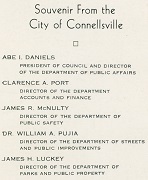 ~ Son Russell W. "Billy" Miner ~
Son Russell W. "Billy" Miner (1903-1987) was born in 1903.
At the age of 27, on Oct. 22, 1930, he married 25-year-old V. Mildred Hall (1905-1985), daughter of Sarah "Sadie" Hall.
They had one daughter, Patricia Ann Bruening, RN.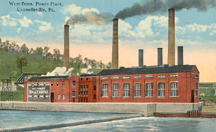 West Penn Power plant
He began working as a lineman for the West Penn Power Company in 1936, was promoted to foreman in 1949, and served with the company for 32 years. He was one of many cousins who were employed at West Penn Power over the years.
The Miners resided at 1221 Isabella Road in Connellsville and were members of the Normalville United Methodist Church.
Mildred died at the age of 79 on May 28, 1985.
Billy outlived her by two years, and passed away at age 84 on Oct. 9, 1987. They are interred in Normalville Cemetery.
Daughter Patricia Ann Miner, RN (1931-1971) was born on Nov. 30, 1931 in South Connellsville. At the age of 20 in 1951, she received a nursing degree at the Allegheny General Hospital School of Nursing in Pittsburgh. Then in 1953, she took specialized training in psychiatric nursing at Warren (PA) State Hospital and then returned to Allegheny General to complete additional studies. She then began working at Childrens Hospital of Pittsburgh, passed her state board examination in 1954 and was designated a registered nurse. She married Donald F. Bruening (Aug. 11, 1920-2022), son of Edmund A. and Rachel (Manges) Bruening of Everett and Melcroft, PA. They were the parents of four offspring -- Deborah Jeanne Thomas Rodman, Marsha Lynne Bruening, Russell Edmund Bruening and Frederick Scott Bruening. Donald was a 1949 graduate of Connellsville High School. He went on to serve as a U.S. Air Force staff sergeant during the Korean War, based at Fairchild Air Force Base, Washington as a member of the 92nd Bomb Wing H. 92nd Field Maintenance Squadron. Donald made news when he "risked his life on July 11, 1955 by dragging an unconscious companion caught in an electric relay from a tail section of a B-36 plane at Fairchild," reported the Connellsville Daily Courier. In recognition, he received the nation's highest peacetime decoration from Secretary of the Air Force Donald A. Quarles. After returning to life as a civilian in January 1956, he found a job as a steelworker with Republic Steel Corporation in Youngstown, OH. Later that year, however, he and his fellow steelworkers are known to have been on strike. They remained in Youngstown in 1957 but by 1963 had relocated back to Connellsville and had an address of 309 Kell Lane. Donald spent many years working in the shipping department of Anchor Hocking Glass Corporation in South Connellsville. Patricia was employed as a registered nurse at Connellsville State General Hospital, in the office of Dr. Eleanor Morris of Jones Mills, Fayette County and finally at Camp Easter Seal at Trent. Donald held a membership in the Connellsville post of the Veterans of Foreign Wars. Grief blanketed the family on July 26, 1971 when the 39-year-old Patricia became seriously ill at home. She was rushed to the Connellsville hospital, where she was pronouced dead on arrival. The Daily Courier printed an obituary, and burial was in Normalville Cemetery. Donald outlived his wife by decades. He wed a second time to a distant cousin of Patricia's, Shirley (Younkin) Cornell (June 14, 1938-2014), daughter of Warren Dempsey and Prudence (Albight) Younkin Sr. of Connellsville. Shirley also had been married previously and brought a son of her own to the union, Lee D. Cornell. Shirley was a 1956 Connellsville High alumna and belonged to the Connellsville Presbyterian Church. The Bruenings maintained their residence in Connellsville. Sadly, Shirley passed away at home at the age of 75 on Sept.. 8, 2013. Her funeral was conducted by Rev. Suzanne Zampella, with interment in Green Ridge Memorial Park. Donald survived his second bride by eight years. At the age of 91, he surrendered to the angel of death at home on June 14, 2022. After a funeral led by Rev. Stuart Adams, his remains were laid to rest with military honors at Green Ridge. His survivors included 16 grandchildren and 25 great-grandchildren.
Granddaughter Debra Jeanne Bruening (1954-2020) was born on Sept. 7, 1954 in Connellsville. She grew up in Youngstown, OH before returning to Connellsville and graduating there from high school. She attended Durbin's Secretarial School and accepted an offer to work for the U.S. Department of Defense in the Pentagon. In 1979, at the age of 25, she was joined in wedlock with her first spouse, Robert "Tony" Thomas ( ? - ? ). They were the parents of Melanie Griffin, Kimberly Carver, Rebecca Webb and Amy Wilson. After extensive travel across the United States, the Thomases settled in Salisbury, MD. In 1999, she married her second husband, Robert "Bobby" Rodman Jr. ( ? - ? ). Said the Connellsville Daily Courier, Debra "shared her love for the Lord with her gift of music: playing piano and directing adult and youth choirs at the churches she attended faithfully. She loved being on the water, spending countless weekends on the family boat, making memories with her daughters that will last their lifetimes. Her unconditional love for her husband and daughters was unwavering through her last breath on earth." Sadly, she suffered a massive stroke in October 2016 after which time she needed round-the-clock care. After enduring this paralysis for three-and-a-half years, she passed away on Feb. 21, 2020 while a resident of Aurura Senior Living in Princess Anne, MD. An obituary was printed in her hometown newspaper, the Daily Courier.
Granddaughter Marsha Lynne Bruening (1957- ? ) was born in 1957 in Connellsville State Hospital. News of her birth was printed on the pages of the Connellsville Daily Courier. Circa 1975, she was a freshman at Goucher College of Baltimore, MD. She was united in holy wedlock with Martin Vinoverski ( ? - ? ). The Vinoverskis dwelled in West Leisenring, Fayette County circa 2022.
Grandson

Russell Edmund Bruening

(1965- ? ) was born in about 1965. He resided in New Mexico in 2013 and in Connellsville in the early 2020s. His children are believed to be Phoebe Bruening and Alexander Bruening.
Grandson Frederick Scott "Fred" Bruening

(1967- ? ) was born in 1967. He was pictured in the

Connellsville Daily Courier

on his first birthday. He was joined in matrimony with Kristen ( ? - ? ). Circa 2022, the pair made a home in New Enterprise, PA.
~ Daughter Mildred Zenella "Midge" (Miner) Roberts ~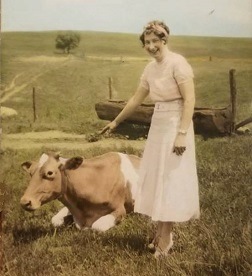 Midge Roberts. Courtesy Brittney Roberts.
Daughter Mildred Zenella "Midge" Miner (1907-1999) was born on Nov. 22, 1907 in Normalville.
She married Arthur L. Roberts (1912-1991), a native of Ashington, England.
They were the parents of one son, Richard Lewellen "Dick" Roberts.
They resided in Pittsburgh in 1938-1941 and later in Normalville.
Arthur was a longtime inspector for Westinghouse Electric Corporation's East Pittsburgh plant and a member of the Clerks and Foremen Association.
Said the Daily Courier, "He was also a member of Normalville Fire Department and Normalville United Methodist Church. He taught the Men's Bible Class at Otterbein United Methodist Church, Connellsville."
Midge, a graduate of the West Penn Hospital School of Nursing, was employed by West Penn Hospital in Pittsburgh and by Connellsville State General Hospital. Circa 1954, she served as "Normalville News Notes" correspondent for the Connellsville Daily Courier. She helped to dedicate the newly constructed Normalville Elementary School when it opened in November 1954, making remarks on behalf of the parents and community, while her niece Freda (Miller) Channing spoke on behalf of the teachers.
In recognition of his three decades of work at Westinghouse, Arthur received a pair of gold cufflinks in March 1963 and was pictured in the Daily Courier.
Arthur and Midge were very socially outgoing and often mentioned in the gossip columns of the Daily Courier for their hosting of guests or weekend trips to visit others.
The Daily Courier reported in September 1956 that The Robertses had traveled to visit with Pittsburgh nurse Felicia Flanigan, at her summer home in Confluence, who was convalescing there after having suffered a coronary occlusion and was bedfast. It's likely that Felicia and Midge knew each other from nursing circles, but what they may not have known is that they were distantly related through the Younkin branch of the family, with Felicia the daughter of Charles Norton and Susan E. (Schrock) Flanigan of the family of Andrew and Susanna (Younkin) Schrock. In June 1957, Felicia paid a return visit with her sister Alta to the Roberts home in Normalville.
Midge also shared her nursing services in community projects, such as a weeklong stint in June 1959 at the Church of God Camp at Laurel Hill State Park.
Arthur made news in January 1968 when he won a Christmas lighting contest, sponsored by the Indian Creek Valley Lions Club, and received a lamp donated by West Penn Power Company.
Arthur passed away on Oct. 6, 1991.
Midge outlived him by eight years. She died at the age of 91 on March 5, 1999, at Hoffer's Personal Care Home in Acme. They rest together for all time in Normalville Cemetery.
Son Richard Lewellen "Dick" Roberts ( ? - ? ) was born in (?). As a young man, in 1963, he attended the Vocational Trade School in Pittsburgh and also the Williamsport (PA) Technical Institute. He was joined in wedlock with Barbara Maxine Roberts ( ? - ? ), daughter of Roy C. and Dorothy (Henry) Bowers of Mill Run and Ursina. Barbara was a 1963 alumnae of the Michael Jordan Beauty School in Connellsville. The couple bore two known children, Robin Michelle Roberts and Shawn Matthew Roberts. Richard was honored at our 2004 national family reunion for his work, among many other cousins, at Fallingwater. Click here to see our published report, Fallingwater: A Long Family Affair.
Grandson Shawn Matthew Roberts (1975- ? ) was born in 1975. He too was pictured in the Daily Courier as a child on his birthday. He married Jennifer Saylor. They have at least one daughter, Brittney Roberts. Circa 2006, the Robertses owned and operated S.M.R.H.S., Normalville's Hardware, Heating and Farm Store, and graciously entertained a drop-in visit by the founder of this website. In September 2017, daughter Brittney was named the Jubilee Queen at the 39th New Centerville Farmers and Thresherman's Jubilee in Somerset County.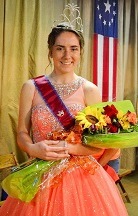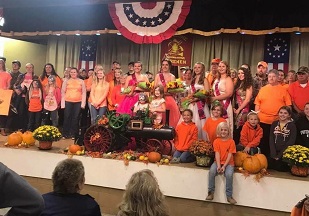 Brittney Roberts, 2017 Queen of the Farmers and Thresherman's Jubilee
~ Daughter Eleanor Miner ~
Daughter Eleanor Miner (1913-1994) was born in 1913.
She never married and lived at home with her parents as long as they were alive.
Eleanor lived a relatively quiet life. She served as secretary of the Springfield Township Elementary School for many years. She also ran for inspector of elections in Springfield Township in 1961 and 1973.
She also was a member of the Normalville United Methodist Church. In March 1957, she and her married sister Midge Roberts are known to have attended a youth rally service at the Jacobs Creek Church.
She passed away at the age of 81, on Nov. 21, 1994, at the Hoffer Personal Care Home in Acme, PA.
Copyright © 2000, 2005, 2007, 2017, 2019-2020 Mark A. Miner.
Many thanks to Donna Murray, founder of RootsDetective.com, for sharing the campaign card image.