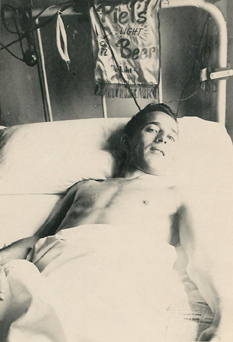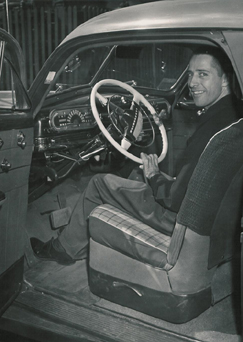 FROM NEAR DEATH ... TO ACTIVE LIFE. In a remarkable recovery from a devastating World War II battle wound, Private First Class Walter Kenneth "Dick" Bedillion faced a lifetime of paralysis while serving as a law enforcement leader in his hometown of Washington, Washington County, PA. He was the son of Norton M. and Mary Margaret (Fisher) Bedillion. Dick used his mind, positive attitude and limited physical resources to become a life member of the North Franklin Township Volunteer Fire Department, and become president, director and chief of police in North Franklin, near Washington.
In the haunting image at left, Dick convalesces in a European hospital after being hit in the neck with enemy mortar fire at the Battle of the Hurtgen Forest in Belgium in November 1944. The shrapnel severed key nerves controlling use of his legs and arms. He lay in a snowy foxhole for six hours until he was evacuated by a team of Army medics and taken to a barn for initial treatment. For the remaining 50-plus years of his life, Dick tackled life every day as a quadriplegic, always with grit, determination and a smile.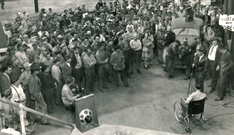 Dick receiving gifts from co-workers
The image above right shows Dick in 1946, in a specially equipped automobile funded by federal government, that allowed him to fully operate the vehicle and thus be mobile. As well, the Veterans Administration underwrite the cost of a new "wheelchair house" for the Bedillions that greatly enhanced their quality of life. The house was featured in the July 27, 1949 edition of the Pittsburgh Press with photos of Dick and their new revolutionary electronic garage door opener.
Employed as a hammer driver at Jessop Steel in Washington before the war, Dick was well-liked by his fellow workers. They took a collection and raised $2,400, as a gesture of their commitment and support, as he was the only one of hundreds of Jessop veterans to return from the war fully unemployable. The photo at far right shows Dick, in the lower right hand corner, seated in his wheelchair while co-workers present the check, circa 1946.
He passed away at the age of 82 on Nov. 6, 1999. His wife, Betty (Roach) Bedillion, died on Oct. 1, 2005.
Copyright © 2006-2007 Mark A. Miner