Home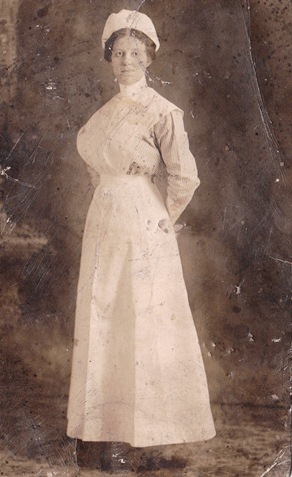 Mahala "Hallie" McKnight -- namesake of her grandmother Mahala (Minerd) McKnight -- was an early nurse in our family at a time when nursing, stenography and teaching were among the few professional occupations open to women in our society, especially in heavily industrial regions such as Pittsburgh and Western Pennsylvania. She never married.
Having received her education at the Uniontown (PA) Hospital School of Nursing, Hallie then spent the early part her career as a private duty nurse at the hospital. Other cousins known to have been Uniontown Hospital nurses over the years were Edith (Inks) Toward, Alma L. Kern and double first cousin, Emily " Ella" McKnight, daughter of Alford S. and Mary L. (McGovern) McKnight.
During the early 1930s, Hallie resigned from the hospital and went to live with her wealthy, beloved uncle, James Hart McKnight, on his farm near Fayette City. Her divorced sister Mary E. Prewett joined her there in the McKnight household, providing care for their uncle, who was widowed and in his 70s at the time. [ More ] >>>

VisitPittsburgh.com is the promotional sponsor of this page.

In Memory of Frank Ferling Gary
For the month of February 2012, thanks to the love and generosity of his family, Minerd.com is dedicated to the memory of the late Frank Ferling Gary, son of Jacob and Minnie (Miner) Gary of Somerset County, PA, born Feb. 27, 1918, died Feb. 16, 2004.
Copyright © 2012 Mark A. Miner