Mahala J. 'Hallie' McKnight
(1883-1968?)

Hallie McKnight
Mahala Jane "Hallie" McKnight was born in February 1883 in or near New Salem in Menallen Township, Fayette County, the daughter of Arthur Austin and Elizabeth Jane (McGovern) McKnight.
Having apparently graduated from the Uniontown Hospital School of Nursing, Hallie spent her career as a private duty nurse in connection with hospital. She never married.
Hallie is named in several Uniontown newspaper articles, circa the 1920s, for attending newlywed showers and going-away parties for fellow nurses at the hospital.
Circa 1930, Hallie made her home on Walnut Street in Uniontown, and made news when she returned home "having spent the last two months visiting friends and relatives in Columbus, Ohio," said the Morning Herald. The identity of the Ohio kin is not known. Again in the late summer of 1939, she spent a vacation of two weeks in Columbus.
Hallie provided private duty care for Merchant Collier of Georges Township, Fayette County, in the late 1920s and/or early '30s. The Uniontown Daily News Standard reported in April 1931 that she had been awarded the sum of $176.40 by court decree, "the settlement having been effected by agreement of attorneys."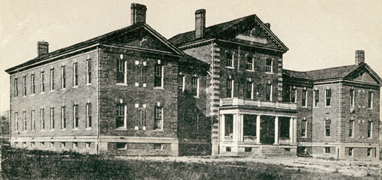 Uniontown Hospital, early 1900s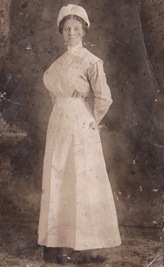 Hallie in her uniform --
click for enlargement
Other cousins known to have been trained or employed as nurses at Uniontown Hospital over the years were Edith (Inks) Toward, Alma L. Kern and her own double first cousin, Emily " Ella" McKnight, daughter of Alford S. and Mary L. (McGovern) McKnight. When Ella died in May 1951, Hallie attended the funeral.
During the early 1930s, Hallie resigned from the hospital and went to live with her beloved uncle, James Hart McKnight, on his farm near Fayette City. Her divorced sister Mary E. Prewett joined her there in the McKnight household. The two sisters provided care for their uncle, who was widowed and in his 70s at the time.
The Daily News Standard reported in May 1933 that Hallie was "formerly associated with the private nursing staff of the Uniontown hospital... [and] for the last six months has been making her home with relatives in Fayette City."
They remained in their uncle's home providing care for more than a decade, until his death on July 1, 1945, at the age of 89.
Hallie, right, with sister Isabelle Longfoot
She enjoyed doing her shopping in Uniontown and was often mentioned in Uniontown newspaper gossip columns -- such as, "Misses Hallie McKnight of Fayette City and Nellie Swartz of Mount Pleasant were shopping in the local stores yesterday..." (Oct. 18, 1940).
Hallie enjoyed occasional visits with her sister Isabelle Longfoot, who resided for decades in Cuylerville, NY and Wilkes-Barre, PA, but who was blind toward the end of her life.
Upon the death of the uncle, Hallie and her sister were awarded $119.50 from his estate. Hallie at some point moved into the city of Uniontown. One of her best friends over the years was Louise Bean, said to have been the owner of one of Uniontown's newspapers.
As a member of the Alumnae Association of the Uniontown Hospital School of Nursing, Hallie in February 1956 served on a "Candy Committee" for a card party and style show, to be held at the Veterans of Foreign Wars Post Home in Uniontown. Among the other committee members were Mary Alice Bryan, Margaret West and Helen Brooks. She was pictured in a Morning Herald article in April 1956 for her role in helping observe the 50th anniversary of the nursing school, and was "in charge of compiling names and addresses of graduates from 1907 to 1920, inclusive." Later that year, she also served on a nursing school committee on refreshments for an evening of films devoted to cancer.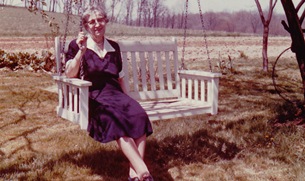 Hallie enjoying a leisurely swing while visiting
with her Folkens relatives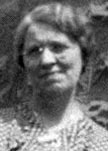 Hallie
In August 1958, she again was pictured in both the Morning Herald and Evening Standard among a large group of private duty nurses of the Uniontown Professional Nurses Registry attending the annual picnic, at the home of Dr. and Mrs. James E. VanGilder on Belmont Circle. The group watched movies of the VanGilders' vacation to Europe.
In 1961, Hallie made her home on Lincoln Street in Uniontown. She was mentioned in an October 1962 Evening Standard story about the marriage of her niece Anita Grace Prewett. At the time, said the Evening Standard, Hallie lived on Mount Vernon Avenue.
She may have died at the age of 85, in Clayton, Montgomery County, OH, in September 1968, but this needs to be confirmed.
Copyright © 2011, 2012, 2019 Mark A. Miner