Home

CONTINUING OUR SERIES OF PHOTOGRAPHERS IN THE FAMILY -- Clarence "Edward" Grove (1877-1949), who married Sarah Margaret Ferrell (1877-1939) of the family of John William and Catherine (Gillespie) Miner -- was a professional photographer who operated his own studio in Uhrichsville, Ohio in the 1910s.
An example of his work is seen here, showing a subject named William on his first day of school. The embossed stamp reading "GROVE, UHRICHSVILLE, O." appears centered at the bottom, but not perfectly horizontally aligned. On the back is a handwritten note by "Laura" (presumably the boy's mother), addressed to Mrs. Karl Bratschi of R.F.D. #2, Alliance, OH, and postmarked Sept. 30, 1918.
Other cousin-photographers whose work has been featured as a "Photo of the Month" have included Ward C. Miner of Louisville, CO (November 2005), Harold S. Fawcett of Grafton, WV (September 2006), Charles Henry Rose of Normalville, PA (November 2006) and Harry G. Bowman of Hartford City, IN (April 2012).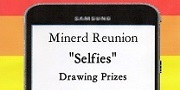 Mark your calendar -- Our next national reunion of the Minerd-Minard-Miner-Minor family -- devoted to "SELFIES" -- will be held the weekend of June 23-25 at Donegal, PA. Everyone will be engaged in creative selfie-taking and being part of our first-ever, historic national broadcast via Facebook Live. Your best selfie will be uploaded to a reunion selfie collage on award-winning Minerd.com for posterity. You'll have more than your 15 seconds of fame -- your legacy photo will live forever! Depending on the turnout, it may be our last reunion.


VisitPITTSBURGH is the promotional sponsor of this page. Be sure to get your copy of the Greater Pittsburgh Convention & Visitors Bureau's Official Visitor's Guide, a 25-page workbook to help event organizers stay on track, no matter what type of reunion or meeting they are planning to hold. The booklet features a page of ideas by the founder of this website, headlined "Take It from a Professional."
Full text>>>
Copyright © 2017 Mark A. Miner