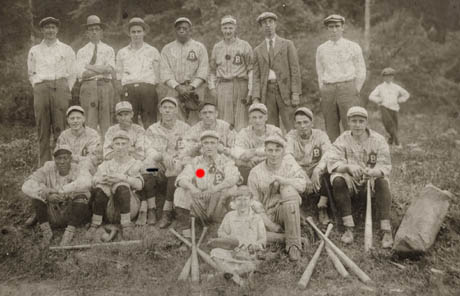 Ralph Charles Minerd, one of three baseball-playing sons of Charles Marion and Sabina (Pierce) Minerd of Mt. Pleasant, Westmoreland County, PA, sits at center (marked with a red dot) with with his Belltown teammates circa 1915. His brother William Mullen Minerd played for H.C. Frick Coke Co.'s Brinkerton Works Club, of near Mt. Pleasant, circa 1910, and their brother Harry Oliver Minerd Sr. is known to have been an outfielder for the Buckeye coal company team, also circa 1910. Box scores of some of their games were published in the Connellsville (PA) Daily Courier and are preserved today in the Minerd-Minard-Miner-Minor Archives.
Ralph is said to have been scouted by the Pittsburgh Pirates before giving up his baseball career. He later made his own sort of history when he and his wife, Violet (Summy) Minerd, were one of the first families to make their home in the newly created "Westmoreland Homesteads" (now known as Norvelt), a pioneering new type of community created by First Lady Eleanor Roosevelt, wife of President Franklin Delano Roosevelt, for families of unemployed coal miners. Also see our Photo of the Month feature for July 2005.
Sadly, two of Ralph and Violet's adult children, Dorothy (Minerd) Podraza and James Allan Minerd, who attended our reunions in past years, died in 2006.
Copyright © 2006-2007 Mark A. Miner