Home

Rev. William Mullen Minerd
(1885-1948)
See "Praying Billy" by Elaine (Monticue) Brawdy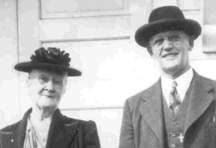 Violet and Will
Rev. William Mullen Minerd was born on Feb. 18, 1885 at Bridgeport, near Mount Pleasant, Westmoreland County, PA, the son of Charles Marion and Sabina (Pierce) Minerd.
He began his worklife in the local coal mines and coke ovens but went on to a 35-year career in Christian ministry.
On Christmas Day 1903, 19-year-old Will was united in holy matrimony with 20-year-old Violet Pearl Johnson (Jan. 1, 1883-1964) in a ceremony officiated by Howard S. Wilson in Mt. Pleasant. She was the daughter of Jesse and Olive (Murtland) Johnson and resided at Bridgeport at the time. Their respective fathers had to give consent to the marriage, and the signed permission forms today are on microfilm at the Westmoreland County Courthouse in Greensburg.
In an interesting twist, Violet's sister Leona Beatrice Johnston was married to Will's step-cousin, Joseph Marshall Piper of the family of Jessie (Thurston) Piper.


Will (2nd from left, standing) with the Frick
Brinkerton Coke Works baseball squad
The Minerds went on to produce a brood of 10 children -- Ruth Virginia Shaffer, Nellie Inez Bish, Lillian Bailey, Violet Pearl Sanner, William "Melvin" Minerd, Bertha O. Blubaugh, Ethel Bernell Hetzer, Paul Wayne Minerd, Donald E. Minerd and Esther Bell Williams Vesek. The eldest was born in about 1906, and the last living child did not pass away for another century, until 2006.
In 1905, the Minerds lived in Morgantown, Monongalia County, WV, where Will worked as a glass cutter in a factory, and Violet was a "designer." Their eldest daughter Ruth was born in Morgantown.
Will loved to play baseball, as did his brothers Ralph and Harry. Will is seen here, second from left in the back row, posing with his baseball teammates of the H.C. Frick Coke Company's Brinkerton Works Club, of near Mt. Pleasant, circa 1910. This image was our "Photo of the Month" in August 2000 - click to see an enlarged version.
In 1910, the Minerds lived at Bridgeport, next to Will's sister Bertha Reese. There, he worked as a "tipple man" at the local coal mine. After attending a religious revival in about 1915, however, he was converted to the Christian faith. He thus decided to study for the ministry, and spent the rest of his years as a clergyman.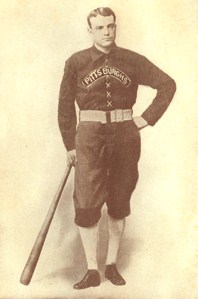 Will's idol, ballplayer Billy Sunday
Will was a great admirer of famed preacher Billy Sunday, who had played professional baseball for the Pittsburgh Pirates before entering the ministry. Sunday is seen here in his dark Pittsburgh uniform, during the 1888-1890 era that he played in the "Smoky City," at a time when Will would have been a young and impressionable age.
As a clergyman, Will was licensed to preach in 1916, according to a typed manuscript history of the Calvary United Evangelical Church of Freedom, Armstrong County, PA. He is known to have had charge of churches in these towns: Jennerstown, PA (1918-19); Bethany, PA (1919-24?); Freedom and Salem, Armstrong County (1924-27?); Valencia, PA (1930); and Harnedsville, Somerset County, PA (1930-1936).
In the fall of 1919, when preparing to depart Buckeye for his first assignment, the members of the United Evangelical Church of Bridgeport held a farewell party. Reported the Daily Courier, "Mr. Minerd has been called to preach on a circuit near Johnstown. The people of this place will miss him very much, where he has been noted for his zeal and work for the cause of Christ." Among those attending the party were Mr. and Mrs. William Morgan and family, Mr. and Mrs. Charles Stuben, Mr. and Mrs. Ralph Minerd, Mr. and Mrs. Charles Minerd, Mrs. Mary Ann Deomer, Mrs. Charles Rhomes, Mrs. John Queer, Mrs. John Clansner, Mr. and Mrs. Elmer Slonecker and family, Mrs. Silas Miller, Mrs. Charles Jones, Misses Bess, Harriet and Mary Jones, Harry Rhome, Campbell Glassburn, Cigale Weaver, Frances Miller, Dewey Miller, Marshall Shaffer, Edward Switkey, Kenneth Jones and Mrs. A.M. Shaffer.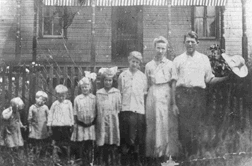 Will & Pearl with 5 of their kids and a niece
A 1999 Somerset Daily American article said that while at Bethany, he "felt the need for a better and larger building. The present stone structure was started Feb. 3, 1921 and was completed in 1922." The church today has a stained glass window bearing his name.
Will and Violet are seen here with their five children, and one niece, posed in order of their height at the time. They include Ruth, Nellie, Violet, Bertha and Mel, as well as niece Marie (Minerd) Price Plannett, daughter of Ralph Charles and Violet (Summy) Minerd. The estimated date of this image is 1918 in Garrett, PA.
While at Salem in the '20s, Will was responsible for three churches. He was known to have preached at all three of them in a single Sunday, giving a completely different sermon each time. Often, when funds were low, members paid Will in vegetables and chickens. There were other times when the family ran out of food, but he assured them that "God will provide," and inevitably someone would bring some chickens, or some potatoes, to feed the family.
Three of their daughters married men from Armstrong County, and there is a large concentration of descendants there today.
Will and Violet later moved to Rockwood, Somerset County, PA, where for 15 years he was pastor of the four-church Somerset Circuit of the Evangelical United Brethren Church -- Husband, Pleasant Hill, Beulah and Mostoller. One of the local families he ministered to was Russell and Sadie (Hechler) Sterner, cousins in one of the Younkin branches of the family tree.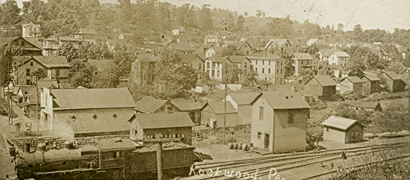 Old postcard of Rockwood showing the railroad in the foreground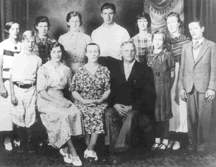 Will and Pearl and their brood
Will is said to have been an inspiring preacher. When a popular Rockwood teenager, Merle Evan Miller, died suddenly of appendicitis, the community mourned, and Will "delivered an impressive discourse" at the funeral, said the Rockwood newspaper. "His text was 'I have fought the good fight.' This text was chosen upon request of Mrs. Miller, mother of the young man..."
Seen here, Will and Violet pose in a formal studio photograph portrait with all of their 10 children.
A 1930 article in the Mt. Pleasant Journal that Will's Bible messages:
... are stirring the deep foundations of his hearers' souls. [He] believes home influence are among the mightiest of all influences upon the soul. There are countless thousands of men who have maintained their integrity and morals, not because they were any better naturally than other people, but because there were home influences praying for them all the time. They got a good start. They were launched on the world with the benedictions of a Christian mother. When you want the grandest idea of a queen, look at your mother.
While in Rockwood, Will also oversaw the funerals of many local citizens, including his father's first cousin, Daniel Martin Younkin (1935) and a second cousin, George Wingerd.
Invitation to 1944 camp meeting
A 1943 Connellsville Daily Courier article said that Will had held revival services at the Paradise Evangelical Church near Connellsville, which featured "special music by a senior choir and boys' and girls' sunbeam choirs and appearances of ministers from other churches."
The following year, from July 2-16, 1944, Will served as a song leader for an Evangelical Camp Meeting at Pine Ridge Camp, located between Lickingville and Tylersburg, Clarion County, PA. The gathering was led by Rev. A.H. Doescher of Cleveland, OH, and by Rev. P.E. Pyle of Brookville. A self-mailing promotional flyer from the camp meeting is seen here.
In about 1936, the Minerds resided at 396 West Race Street in Somerset, Somerset County, PA. They remained there for the balance of Will's life.
Having suffered with hypertensive heart disease, Will was stricken with a cerebral hemorrhage and died two hours later at home on Jan. 26, 1948, at the age of 62. Daughter Ethel Hetzer signed the death certificate. Burial was in Pleasant Hill Cemetery in Somerset.
Interestingly, an original copy of Will's newspaper obituary has been found in the family Bible of a second cousin, Sadie (Hechler) Sterner in Rockwood.

Somerset's skyline, marked by the towering courthouse dome at center. Below, Pearl at Christmas, 1958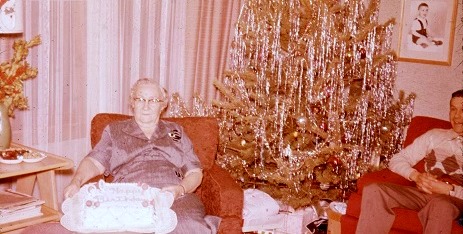 Pearl, later years
Pearl outlived Will by 16 years, and is seen here in a color-tinted portrait.
Having been stricken at the age of 81 with a complete vascular collapse, including an insufficient blood flow to the heart, and added to hardening of the arteries, Pearl passed away at the home of daughter Ruth Shaffer at Distant, Armstrong County, PA, on July 22, 1964. She was buried with Will at the Pleasant Hill Cemetery. At the time of her death, they had 45 grandchildren and 46 great-grandchildren.
Will's legacy has lived on in many ways. He was mentioned several times in the volume, 'Mongst the Hills of Somerset. For more than 50 years now, their descendants have had a reunion either near Somerset, Somerset County, PA or New Bethlehem, Armstrong County, PA, on the first Sunday of August.
~ Daughter Lillian (Minerd) Bailey ~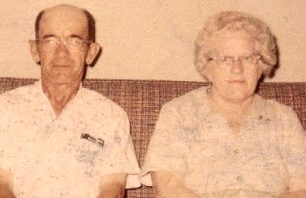 Mervin and Lillian Bailey
Daughter Lillian Mae Minerd (1906-1994 ) was born on Aug. 28, 1906 in Stauffer near Mount Pleasant. Serving as midwife in the birth was S.M. Crosby, also of Mount Pleasant.
On March 6, 1925, when she was 19 years of age, Lillian was united in matrimony with Mervin Charles Ralston Bailey (1902-1971), the son of Jesse M. and Tabitha L. (Kelso) Bailey. Their wedding took place at Salem, Armstrong County, PA. The groom was 14 years older than the bride.
The Baileys bore a brood of seven children -- twins Geraldine Bailey and Gerald Lee Clifford Odel "Kip" Schritchfield, Dona Belle Davis, William Eugene "Husky" Bailey, Jack Mervin Bailey, Glen Minerd "Dody" Bailey and Velma Lucille Hetzer.
Sadly, the twins were born prematurely. Geraldine died at the tender age of two days on April 13, 1938. Gerald survived for four more days, but his body gave out on April 17, 1938. Their remains were placed into rest in the Alcola Cemetery in Clarion County.
In the 1930s, they lived in Oak Ridge, Armstrong County. The federal census enumeration of 1940 shows that in 1935-1940, the Baileys dwelled in Redbank, Armstrong County, with Mervin employed as a laborer on a local road project.
Mervin passed away in Oak Ridge at the age of 69 on Nov. 10, 1971.
Lillian outlived him by 23 years. She died in Oak Ridge On Aug. 2, 1994, at the age of 87. They rest for eternity at Mount Zion Cemetery.
Son Clifford Odel "Kip" Schritchfield (1924-1987) was born in 1924. On June 14, 1948, he married Kathryn Jane "Kass" Wensel (Jan. 16, 1922-2005), daughter of Robert and Nettie (Neese) Wensel. Their four children were Cheryl Schitchfield, Denise Newman, Randy Schritchfield and Barry Schritchfield. They resided in Lima, Allen County, OH. Kathryn attended Garden City Christian Union Church and belonged to the Order of Eastern Star. Sadly, Kip died at age 63 on June 21, 1987. Kathryn outlived him by about 18 years. She passed away at home on June 3, 2005 at the age of 83. Rev. Kate Reitz led the funeral service, with interment in Mount Zion Cemetery in Oak Ridge, PA.
Daughter Velma Lucille Bailey (1926-2007) was born in 1926. She married Ray William Hetzer (March 17, 1923-1963), son of Jacob C. and Nellie Mary (Ogline) Hetzer. Ray was a veteran of World War II and in January 1944 was stationed in the British Isles. After the war, the Hetzers made a home at 319 South Center Avenue in Somerset, where Ray was employed in maintenance by a railroad. Tragically, he was plagued with chronic pancreatitis. When the pancreas began to hemorrhage, he was rushed to Somerset Community Hospital. He died there at the age of 40 on July 19, 1963. Velma worked as a licensed practical nurse at Somerset Hospital for many years, retiring in 1983. The Hetzers are buried at Beulah Church Cemetery.
Son Jack Mervin Bailey (1929- ? ) was born in about 1929.
Daughter Dona Belle Bailey (1930-2009) was born, lived and died in Oak Ridge over a timespan of many decades. She married Guy Willard "Tag" Davis (1921-1984) on Nov. 26, 1948. Their three children were Vaughn A. Davis, Ellen M. Davis-White and Lana J. Smith. They were members of the Oak Ridge United Methodist Church, with Dona serving on the Ladies Aide Society and Hawthorn Area Fire Department Ladies Auxiliary. She also volunteered her time at the Thrift Shop and on the local election board. Said the Leader Vindicator newspaper, she "loved her church and was a faithful member. She touched many lives including friends and her extended family." Tag passed away at age 62 on Leap Day 1984. Dona outlived him by a quarter of a century. She died at the age of 79 on Aug. 20, 2009, at UPMC Shadyside Hospital in Pittsburgh. They are buried at Mt. Zion Cemetery in Mahoning Township, Armstrong County.
Son William Eugene "Husky" Bailey (1934-2014) was born on Dec. 2, 1934 in Red Bank Township, Venango County, PA. On Dec. 11, 1959, he was united in marriage with Mary Alice Whitaker (Feb. 9, 1932-2012), the daughter of Bennie and Thelma (Presson) Whitaker of Livermore, KY. The couple produced these offspring -- Paula Cross, Vicki Lenzi, Laura Rager, Barbara Yavorsky and Dee Dee James. They also raised a grandson, Christopher W. Kaska. Over the years, he worked for Reville Automotive Warehouse in Hermitage and National Bank Data Center, also in Hermitage. His final position, from which he retired, was the Farrell Plant of Sharon Steel Corporation. They were members of Sharon Baptist Church of Hermitage. In his free time, he like to hunt, golf and follow the Pittsburgh Pirates, while Mary "enjoyed crafting, sewing, making porcelain dolls, flower gardening and loved to watch the hummingbirds," said a newspaper. He also was a member of the Masons lodge in Sharpsville. Sadly, Mary died on July 12, 2012, after a marriage which had endured for 52 years. As a widower, William relocated to Warren, Trumbull County, OH. He died at home at the age of 79 on Aug. 25, 2014. Interment was in Morefield Cemetery in Hermitage, with Rev. Thomas E. Morgan officiating at the funeral service. In an obituary, the family asked that any memorial donations be made to the American Cancer Society.
Granddaughter Vicki Bailey wedded Rev. Robert Lenzi (April 21, 1948-2012), the son of Phillip and Jennie Lenzi. They bore three children -- Michael Lenzi, Michelle Piccirilli and Matthew Lenzi. He was a graduate of the Baptist Bible College of Scranton, PA. The couple resided in Sharpsville. Said the Sharon Herald, Robert was "pastor at Hilltop Baptist Church, Johnstown, Pa.; Open Bible Fellowship, Lake Ariel, Pa.; and Tidioute (Pa.) Baptist Church. Robert had previously worked for Prudential Insurance and the former Sharon Transformer Division of Westinghouse Electric Corp. Robert loved spending time outside. He enjoyed gardening, camping, hunting and fishing." In about 1999, they relocated to Arizona and put down roots in Kingman. There, Robert was the pastor of Calvary Baptist Church and was a member ofthe Council of Five for the General Association of Regular Baptist Churches. Sadly, at the age of 63, Robert died at home on Jan. 2, 2012. An obituary was printed in the Kingman Daily Miner and the Sharon Herald. Vicki returned east and established a home in Hermitage.
Granddaughter Barbara K. Bailey also used the surname "Cozine." On June 20, 1970, she was joined in wedlock with William "Hamburger" Yavorsky (Feb. 17, 1948-2010), son of Francis Albert and Rose (Trebus) Yavorsky. One daughter was born to this couple, Stephanie J. Schultz. After graduation from Sharpsville High School, William spent 27 years working at the Farrell plant of Sharon Steel Corporation, a position which ended when the plant closed. He then obtained employment at Turner Steel in Sharon, where he spent five years, and then joined Duferco Steel in Farrell, where he labored in the pickling operation for 11 years. They belonged to First Baptist Church of Sharon and lived on North Buhl Farm Drive in Hermitage. William died at home at the age of 62 on Nov. 11, 2010. Funeral services were led by Rev. Thomas Morgan, with burial in Morefield Cemetery in Hermitage. The widowed Barbara remained in Sharpsville.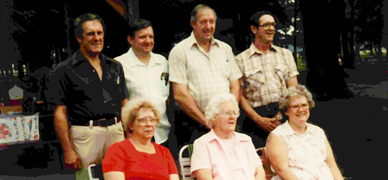 Lillian Bailey (seated, center) surrounded by her adult children. Clockwise, from upper left: Clifford Schritchfield, Jack Bailey, Glen Bailey, William Bailey, Dona Davis and Velma Hetzer.
Son Glen Minerd "Dody" Bailey (1933- ? ) was born in about 1933.
Son William Bailey (1935- ? ) was born in about 1935.
~ Daughter Nellie Inez (Minerd) Bish ~
Daughter Nellie Inez Minerd (1909-1935) was born on March 31, 1909 in Bridgeport, Westmoreland County.
She married Robert "Jay" Bish Sr. (1905-2005), the son of James W. and Maggie A. (Shick) Bish of Alcola, Clarion County, PA. The wedding took place on June 30, 1926, when she was 17 years of age, and he 21. He was a longtime coal miner and a member of the Shannondale Grange and Christian Fellowship Church of Fairmount City.
The couple made their home in rural Mayport, Red Bank Township, Clarion County, PA. They had at least one daughter, Gloria M. McCoy.
Sadly, Nellie was afflicted with chronic disease involving faulty heart valves. The problem became worse in 1935. Tragically, on Dec. 15, 1935, at the age of 26, she died suddenly of a heart embolism. She was laid to rest in Alcola, PA.
Jay married his second wife, Rebecca Betty Reade, on Sept. 30, 1937. In all, he had eigh tother children -- Ruth Slagle, Bettie Miles, Beverly Hetrick, Rhonda Slagle, Robert Jay Bish Jr., Roger Bish, Monte Pearl Bish and Lynda Slagle.
Heartache shook the family again in the autumn of 1958. Daughter Gloria, married to Milton McCoy, resided in Portersville, Slippery Rock Township, Lawrence County, PA. She was afflicted with cancer of the uterus which spread elsewhere in her body. She died at the age of 26 on Oct. 12, 1958. Burial was in Kittanning, Armstrong County.
Jay remained close with his former Minerd in-laws and attended their reunions over the years. He passed away at the age of 99, just three months shy of his 100th birthday, on March 16, 2005. He was laid to rest at the Alcola Trinity Cemetery. At the time of his passing, the Leader Times newspaper said he was survived by 19 grandchildren, 39 great-grandchildren and 13 great-great grandchildren.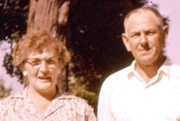 Violet and John Sanner
~ Violet (Minerd) Sanner ~
Daughter Violet Pearl Minerd (1912-1991) was born in 1912.
She married John Henry Sanner Sr. (1910-1998), the son of George W. and Ella (Cramer) Sanner of Rockwood. The wedding took place in the Minerd home on Jan. 23, 1932, with her father officiating.
The Sanners' marriage lasted 60 years.
They had seven children -- Dolores McDaniel, John Henry Sanner Jr., Kenneth Sanner, Iva Lorraine Lichty, Glenda Moore, Audrey Zoldey and Christine Michaud.
John was a railroad laborer in Rockwood for many years, working as a yard foreman and brakeman for the Baltimore and Ohio Railroad. He retired in 1974. He also enjoyed fishing and hunting and was a member of the Somerset County Fly Fisherman's Association.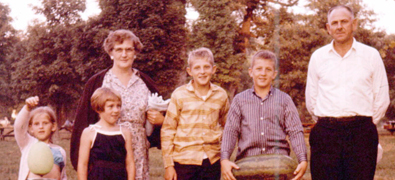 The Sanners with some of their children at a family picnic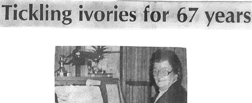 1987 news story about Violet
Violet was pictured and profiled in a 1987 feature article in the Somerset Daily American, headlined "Tickling Ivories for 67 Years," for her longtime work as an organist and pianist at the Rockwood Church of the Brethren, and as a Sunday School teacher. The story said that as a "self-taught musician, Violet has been tickling the ivories for more of her 76 years.... Because her father was a minister, ... she 'played everywhere in every church around'."
Violet passed away at the age of 80 in Rockwood on June 28, 1991, and was laid to rest in the Rockwood IOOF Cemetery.
John outlived her by seven years, and lived on Rockdale Road in Garrett, Somerset County. He died on May 8, 1998, at the age of 87. The Daily American noted that he was survived by 18 grandchildren and 15 great-grandchildren.
Daughter Dolores Sanner wed Donald McDaniel. They dwelled in 1972 in Crown, WV and in 1976, their home was in Lumberport, WV. She was deceased by 1994.
Daughter Iva Lorraine Sanner (1934-1994) was born on April 1, 1934 in Rockwood. She married Charles Robert Lichty Jr. (1925-1972), son of Charles Robert and Frances Mae (Burkholder) Lichty of Rockwood. As a young adult, Charles worked for his father and drove a truck. During World War II, he joined the U.S. Navy in November 1943 and took part in the Allies' invasion of France. After the war, they resided in Volant, PA. Their children were Scott Lichty, Charles B. Lichty and Marsha M. Lichty. They were members of the Rockwood Church of the Brethren. Sadly, Charles died in 1972 at the age of 47. Iva survived as his widow for 22 years, and lived in Somerset. She died at the age of 60 in Johnstown's Conemaugh Hospital on Aug. 6, 1994. Burial was in the Rockwood Odd Fellows Cemetery, with Rev. Jay Christner officiating.
Daughter Glenda Sanner (1939-2010) was born on Jan. 28, 1939 in Rockwood. She wed Larry Moore Sr., and they had two sons, Larry Moore Jr. and Scot Moore. In 1976-2010, she lived in Akron, OH. Glenda passed away at the age of 71 on Nov. 26, 2010. Her obituary was published in the Akron Beacon Journal.
Son John Henry Sanner Jr. married Janet. They had one known daughter, Jonna Sanner. The family resided in 1976 in Pensacola, FL and in 1998 in Jacksonville, FL.
Son Kenneth L. Sanner married LaVonne (?). The couple had three known children, Laura I. Grossman, Jennifer Spano and Kenneth Sanner. They made their home in Boardman, near Youngstown, Mahoning County, OH. By 2009, they had relocated back to Markleton, Somerset County.
Granddaughter Laura I. Sanner obtained her degree from Youngstown State University. In 1994, she worked as assistant manager with Bombay Company in Pittsburgh's South Hills. On April 30, 1994, she married podiatrist Adam Grossman, son of Dr. and Louis Grossman of Washington, Washington County, PA. News of their wedding was published in the Washington Observer-Reporter. Adam was a chemistry graduate of Washington and Jefferson College and the Cleveland College of Podiatric Medicine.
Grandson Kenneth Sanner received a degree in conservation social science from the University of Idaho. In 2009, he resided in Boardman and was employed as a general manager with Canfield Motorsports in Canfield, OH.
Daughter Audrey Sanner (1951- ? ) was born in about 1951. In December 1968, at the age of 17, she was united in marriage with 18-year-old Stephen Zoldey (1950- ? ). They had one known son, Adam Zoldey, who died young. Circa 1976, their home was in Gray, Somerset County. The couple divorced in 1987. Audrey's home in 1998 was in Denton, TX.
Daughter Christine Sanner wed Joseph Michaud. In 1976, her home was in Boswell, Somerset County and in 1977 in Holsopple. Later, she lived in Farmers Branch near North Dallas, TX.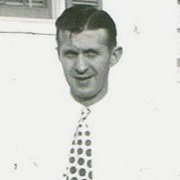 Mel Minerd
~ Son William "Melvin" Minerd ~
Son William "Melvin" Minerd (1913-1986) was born in 1913 in Mt. Pleasant, Westmoreland County, and was married twice.
His first wife was Marguerite Eleanor Temke ( ? - ? ), of Hyndman, Somerset County.
They had one son, Lynn Kelly Minerd, born in 1936 in Cumberland, Allegany County, MD.
The couple soonafter divorced, and the boy was adopted by his stepfather, George Winters, and given the surname "Winters."
On Oct. 1, 1938, at the age of 25, Mel married his second bride, 23-year-old Hannah Guzzy (1915-1997).
Mel and Hannah produced six children -- Timothy Melvin Minerd, William Mullen Minerd II, Jon Joseph Minerd, James Ronald Minerd, Kathleen Ann Consler and Ronald Patrick Minerd.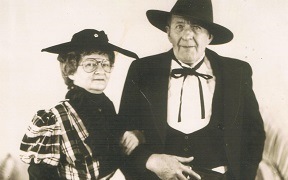 Hannah and Mel Minerd
When the federal census enumeration was made in 1940, the Minerds made their home in Butler, Butler County, PA, where Mel was employed as a salesman in a tire shop. They also resided for a time in Punxsutawney in Hannah's home region of Jefferson County, PA and in 1942 in Philadelphia. In time they migrated into upstate New York, settling in Buffalo, NY (1959), Springville (1962-1970) and later in Rochester.
The Minerds traveled to attend the annual reunion of the W.M. Minerd family in August 1962, held at Greenwald Park in Putneyville, PA, and again in August 1970, held at Laurel Hill Park, among 70 who were in attendance.
Mel passed away at the age of 73 on March 3, 1986, in Rochester, Monroe County, NY.
Hannah survived him by more than a decade. She died at the age of 82 on Jan. 13, 1997, also in Rochester.
Son Lynn Kelly Winters Sr. (1936-2017) was born on May 27, 1936 in Cumberland, Allegany County, MD. He grew up with George Winters as his father. On March 8, 1958, he was joined in marriage with Mary Louise Golden ( ? - ? ). They were the parents of Lynn "Kelly" Winters Jr. and Karen Glass. Said the Cumberland Times News, Lynn "was a lineman for the Potomac Edison Power Company. In 1992, he received the Gatekeeper Award from the State of Maryland, Office on Aging. He enjoyed traveling, old rail road steam engines and mall walking." In 2000, he read a newspaper article about the upcoming "21st Century Families" national Minerd Reunion in Kingwood, Somerset County, PA, which named his birth grandfather, and came to the event, where he met his uncle Donald Eugene Minerd and nephew Jeffrey Timothy Minerd. Over the ensuing years, he worked to develop relationships with his half-brothers and half-sisters. Sadly, Lynn died in Frostburg Nursing and Rehab Center in Cumberland on June 13, 2017, at the age of 81. Several of his half-siblings traveled to attend the funeral service. Interment was in Madley Cemetery in Buffalo Mills, PA.
Son Timothy Melvin Minerd (1938-living) was born in about 1938. He married Geraldine "Geri" ( ? ). Working for Xerox Corporation, he secured at least 12 patents for his inventions involving connector modules and other related technology. He received these patents over a 17-year span, between 1980 and 1997. Copies of his patents may be found on the U.S. Patent and Trademark Office website. His patents have been cited in at least 49 patents obtained by other inventors. In March 2006, he made news in the Rochester Democrat and Chronicle about concerns over reliable voting booth technology in connection with the federal Help America Vote Act.
Grandson Jeffrey Timothy Minerd is a published author of science fiction titles

The Sailweaver's Son

and

The Wizard's Daughter

. He was an award-winning author and a staff writer with MedPageToday.com, filing daily analyses for "the only medical news service for physicians that links consumer medical news and the professional medical analysis needed by clinicians." Earlier, he worked in media relations for the National Institutes of Health, and was a staff editor with

The Futurist

Magazine. Jeff was guest speaker at our

2000 National Minerd-Miner-Minor Reunion

.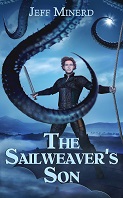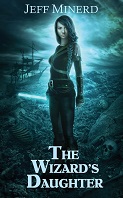 Jeff Minerd's books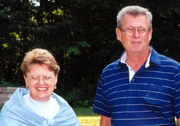 Bill and Clara Minerd
Son William Mullen "Bill" Minerd II (1943-2010) was born in 1943. He was married twice. He and his first wife, Anita (Nicholas) Minerd, had two children -- April Leytem and Todd Minerd. Residing in La Fayette and Elbridge, NY, Bill served for many years with the State University of New York, Health Science Center, becoming Dean of the Office of Continuing Education. He also was president of the New York State Forest Owners Association, and is said to have "read the Scientific American from cover to cover" and "enjoyed making furniture," said Syracuse.com. Retiring in 1998, Bill and his second wife Clara moved to Venice, FL, where he was president of the Community Associations Institute in Sarasota County. He passed away suddenly of a heart attack on Aug. 22, 2010, in Venice. Bill and Clara are seen here at the 1999 W.M. Minerd Reunion, held in Somerset, PA.
Son Jon Joseph Minerd (1946-2021) was born on Feb. 27, 1946 in Hatboro, PA. He married Marion "Jean" Stevens ( ? - ? ). The couple were the parents of Jessica Minerd-Massey, Shawn Minerd and Alicia Zwieg. Jon amassed more than 27 years of work experience as a technical specialist in the fields of electrical and hydraulic closed loop control. Although he worked primarily in upstate New York, at one time he was transferred to the Pittsburgh region and got to know the founder of this website. Jon also attended the 2003 National Minerd-Minard-Miner-Minor Reunion. In time he and Jean divorced. His final residence was in Edgewater, FL, where he moved to help provide necessities of life for his disabled daughter Jessica. He died in a hospice environment at the age of 74 on Jan. 9, 2021. His obituary in the Buffalo News remarked that he would be missed for his "love of adventure, laugh, and smile." Jean has made her residence in New Smyrna Beach, FL.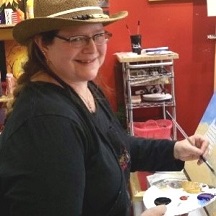 Jessica Minerd-Massey and her damaged spine.
Courtesy of the family
Son James Ronald Minerd dwelled in New York in 2021.
Daughter Kathleen Minerd married William Consler. They migrated to North Carolina.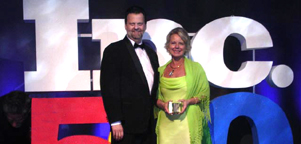 Ron Minerd and his business partner Sharyn Lee accept their Inc. 500 award in Savannah, GA

Ron Minerd
Son Ronald Patrick Minerd ( ? -living) was born in (?). He was joined in holy wedlock with Cheri Cothran ( ? - ? ) of Farmington Hills, MI. They are the parents of a family of children -- Amie Bard, Benjamin Minerd, Sara Minerd, Andrew Minerd and perhaps one or two others. For many years, the Minerds resided in Merrimack, Hillsborough County, NH. There, Ron pursued a career as an entrepreneur in the medical education field. In 2005, the virtual New Hampshire company he founded -- Medical Education Broadcast Network (MEBN) -- was named to the prestigious Inc 500 list of the nation's fastest growing private companies. Its Ceoncd.com website provides continuing education and distance-learning programs and materials for medical professionals. The award generated news media coverage in the New Hampshire Union Leader newspaper. He also has owned the Minerd.net website, which featured current events about his large, ever-expanding family. In more recent years the Minerds have lived in Florida and in Indian Land, SC.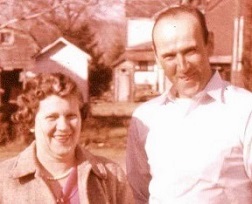 Ethel and Jake Hetzer
~ Daughter Ethel Bernell (Minerd) Hetzer ~
Daughter Ethel Bernell Minerd (1918-1996) was born in 1918 in Robison, Indiana County, PA.
She married Jacob Robert Hetzer Sr. (1919-1972), the son of Jacob C. and Nellie (Ogline) Hetzer of Somerset. The ceremony took place on June 1, 1940, and was officiated by her father.
At the time of their marriage, Jacob was employed as a railroad trackman in Somerset. In time he was promoted to a B&O conductor.
The Hetzers lived in Somerset and had produced a brood of four -- Patricia Ann Critchfield, Jacob Robert "Jake" Hetzer Jr., Phyllis "Kay" Laughlin and Donald Ray Hetzer.
The family address in the early 1970s was on West Fairview Street in Somerset.
Jacob Sr. died in Somerset Community Hospital on Feb. 21, 1972, at the age of 53.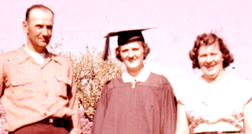 Jake and Ethel Hetzer with daughter Kay
Ethel outlived him by nearly a quarter of a century. Said the Daily American, she was a "member of Beulah United Methodist Church and Somerset Fire Department Auxiliary, 1937 graduate of Somerset High School [and a] faithful crossing guard for the Somerset Borough Police Department with 18 years of service, retiring in 1994."
She passed away at home at the age of 78 on Nov. 9, 1996, and was buried at Beulah Cemetery.
Daughter Patricia Ann Hetzer (1941-2014) was born on Jan. 26, 1941 in Somerset. She was a 1958 graduate of Somerset High School. Patricia married Thomas Lynn Critchfield ( ? - ? ). Their marriage endured for 36 years. The pair made their home for decades in Berlin, Somerset County. Two daughters of this couple were Elaine Long and Barb Lambert. Patricia earned a living through her work at Foodland, Newberry's, Neilan Engineers and the EADS Group, where she spent the final 17 years of her career. The Critchfields were members of Beulah United Methodist Church. In her free time, Patricia enjoyed playing bingo. The angel of death gathered Patricia away at the age of 73, as a patient in Somerset Community Hospital, on Feb. 24, 2014. The Somerset Daily American published an obituary. Funeral services were held in the family church, led by Rev. Thomas Brown, and burial followed in Beulah Cemetery.
Son Donald Ray Hetzer (1944-2011) was born on July 3, 1944, in Somerset. He was a 1962 alumnus of Somerset High School. Donald served in Vietnam with the U.S. Air Force from 1963 to 1967. After returning to the states, he married Arlene Derecin ( ? - ? ) in 1968. They remained together for 43 years. They resided in Arlene's hometown of Westerville, OH and bore two sons -- Brian Hetzer and Adam Hetzer. In 1994, he taught the subject of computers in Cleveland. He is known to have worked over the years in Willoughby with Figgie International and Ohio Rubber Company and later with Nalco of Chagrin Falls, OH, from which he retired. Donald died at the age of 67 on Oct. 15, 2011, with an obituary appearing in the Somerset Daily American.
Grandson

Brian Hetzer

has lived in Hilliard, OH.
Grandson Adam Hetzer

has made a home in Willoughby, OH.
Son Jacob Robert "Jake" Hetzer ( ? - ? ) - On May 10, 1963, he entered nito marriage with Joyce Shaffer ( ? - ? ), daughter of Delver Franklin and June Eleanor (Reckner) Shaffer. Their wedding ceremony was led by Rev. Richard Schallenberger at St. Paul's United Church of Christ. They have resided in Somerset. They have three known children, among them Mark Allen Hetzer and Susan Caldrone. As of 1994, Jacob earned a living as supervisor of engineers with Penelec in Somerset. In May 21, 1988, the couple marked their silver wedding anniversary, with a related article printed in the Somerset Daily American.
Grandson Mark Allen Hetzer ( ? - ? ) served in the U.S. Army infantry in 1986, taking advanced individual training in light weapons and indirect fire at Fort Benning, GA. He married Penny and in 2003 dwelled in Lambertsville, PA.
Granddaughter Susan Hetzer ( ? - ? ) was a 1990 graduate of Somerset High School. In 1992, she received an associate in specialized technology degree, in architectural computer aided drafting and design, from the University of Pittsburgh at Johnstown. She was employed at the time with Applied Control Systems of Pittsburgh. She wed Joseph Caldrone Jr., son of Joseph and Alyce Caldrone of Stoystown. The couple planted themselves in Somerset and were there in 2003.
Daughter Phyllis "Kay" Hetzer ( ? - ? ) was a Somerset Area High School graduate. In young womanhood she was employed as second deputy for the clerk of criminal courts in Somerset County, with an office in the courthouse. On Oct. 30, 1971, in nuptials held at the Beulah United Methodist Church in Friedens, she wed Daniel Lmoyne Laughlin (Aug. 20, 1943-2000), son of Carl Lemoyne and Ellen A. "Toots" (Breckons) Laughlin of Canonsburg/Houston, PA. Rev. J. Wesley Spahn officiated. In announcing the marriage, the Somerset Daily American said that she wore a "white, street-length dress of taffea with chiffon sleeves, trimmed with Italian lace. A multi-bow headpiece with pearl trim held in place a shoulder-length chiffon veil with matching lace. She carried a nosegay of white carnations, pompoms and miniature pink rosebuds." They stayed together for 28 years until the interruption of death. Daniel was a 1961 alumnus of Chartiers-Houston High School, served in the U.S. Air Force in Italy and Japan during the Vietnam War. After his service was completed, he graduated in 1968 from the Pennsylvania State Police Academy and was employed at the Somerset County Barracks of the Pennsylvania State Police. The Laughlins resided in Somerset and bore two known offspring, Jennifer Kay "Jen" Georg and Jeffrey Carl Laughlin. Daniel retired with 25 years of service on Jan. 1, 1993. He belonged to the Pennsylvania State Troopers Association and the local post of the American Legion. The family attended Beulah United Methodist Church. Sadly, he died in Somerset Hospital at the age of 56 on Jan. 4, 2000. Rev. Dennis A. Fetter led the funeral service, with interment of the remains in Beulah Cemetery. An obituary appeared in the Daily American.
Granddaughter Jennifer Kay "Jen" Laughlin ( ? - ? ) graduated from Somerset Area High School in 1994 and two years later from Central Pennsylvania Business School. Jen then became employed as an administrative assistant with Mental Health/Mental Retardation of Bedford-Somerset. On Oct. 5, 2002, she married Richard "Rich" Georg ( ? - ? ), son of Richard W. and Pauline Georg of Stoystown. Rev. Peter Nordlund led the nuptials held at Emmanual Baptist Church.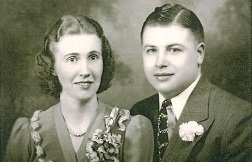 Bertha and Glenn Blubaugh wedding day
~ Daughter Bertha (Minerd) Blubaugh ~
Daughter Bertha Ora Minerd (1915-2006) was born in 1915.
She married a distant step-cousin, Glenn B. Blubaugh (1916-2002), the son of Lloyd Newton and Jennie M. (Yutzy) Blubaugh of Somerset of the family of George Washington "Wash" Younkin. Their wedding was solemnized on March 20, 1941, in the United Brethren High Street Church of Lima, Allen County, OH.
Bertha worked prior to marriage at the J.C. Penney Store in Somerset. At the time of marriage, Glenn was employed in Lima, having left his position as manager of the auto supply department of the Montgomery Ward Store at Somerset.
They remained in Lima and nearby Cridersville for the rest of their lives, working together at Blubaugh Service Master, and attending the Shawnee United Methodist Church. Glenn passed away at the age of 86, in Cridersville, on March 13, 2002.
Bertha lived another four years, and died at the age of 90 on Jan. 8, 2006. She was laid to rest at the Memorial Park Cemetery in Lima. She was the last of her family.

Bertha and Glenn Blubaugh and son Kenneth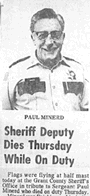 Paul Minerd's obit
~ Son Paul Wayne Minerd ~
Son Paul Wayne Minerd (1920-1978) was born in 1920.
He married Anne (Manquero) Otero (1916- ? ). She brought a son to the marriage, Donald C. Otero.
Paul was a longtime soldier in the US Army, and Anne was a registered nurse.
They resided in Staten Island, NY circa 1954 and later in New Mexico, where Paul was a sergeant on the police force of the Sheriff's Office of Grant County, Pinto Altos, NM.
On Aug. 19, 1954, they suffered heartbreak when son Donald -- a native of Silver City, NM but a resident of Los Angeles -- died in L.A. of injuries received in an automobile accident. He was buried at Pinos Altos Cemetery.
Paul passed away at the age of 58, on Dec. 14, 1978 while on duty. A news article said he "was an asset to the morale and spirit of those he came in contact with." A former master sergeant in the Army artillery, Paul is buried at Fort Bayard, NM. His wife Anne later was employed as a radio dispatcher. Her fate is unknown.

Esther Williams
Vesek
~ Daughter Esther (Minerd) Williams Vesek ~
Daughter Esther Bell Minerd (1922-1998) was born in 1922 in Jennerstown, Somerset County.
Esther was a member of the 1941 graduating class of Somerset High School.
She married twice. Her first husband was Lester Grant Williams Sr. (Oct. 1, 1925-1955), the son of Ralph and Anna (Fritz) Williams.
They resided in rural Lincoln Township in Somerset County and bore a family of seven children -- Anna Pearl Williams, William Ralph Williams, Shirley A. Shaulis, Lester G. Williams Jr., Clifford W. "Kip" Williams, Edward James Williams and Linda Mae Weitz.
Sadly, daughter Anna died in infancy at the age of five months, on March 8, 1952, having an incurable case of bronchial pneumonia and influenza. The baby's remains were interred in the Weller Cemetery in Somerset Township.
Lester served during World War II with the 16th Armored Infantry Battalion. After the war, he labored as a coal miner. He belonged to the Jennerstown post of the Veterans of Foreign Wars andthe Jenners Rod and Gun Club.
Sadly, Lester died at the age of just 30 on Nov. 20, 1955. His obituary was printed in the Somerset Daily American. Rev. W.C. Beal officiated the service, with burial in Weller Cemetery.
Esther outlived her first husband by more than four decades. Said the Daily American, she was a "member of Roof Garden Christian Church, Third Society of Farm Women, 55 and Over Speeders [and a] retired crossing guard for Somerset Borough."
In time, she married again to widower George "Swope" Vesek (April 30, 1904-1977), a native of Scalp Level, PA and the son of Michael and Anna (Tkach) Vesek. He brought these three offspring from the first marriage into his union with Esther -- George Vesek Jr., Dolores Dutkofski and Rose Marie Metzgar. Their address in the 1970s was at 37 Nichol Street in Jenner.
George spent his working career with General Water Company and the Hoffman Funeral Homes, and as a coal miner with Pittsburgh Consolidation Coal Company. He belonged to Local 1702 of the United Mine Workers of America. He also held memberships in the Greek Catholic Union, Sloval Catholic Union, St. Joseph's Catholic Church in Jenner and the Jenner Rod and Gun Club.
At the age of 73, George died in Somerset Community Hospital two days after Christmas 1977. Burial of his remains was in St. Stanislaus Cemetery in Boswell, with an obituary appearing in the Daily American.
Esther passed away at the Easy Living Estates in Somerset at the age of 75 on Jan. 12, 1998, with burial at Weller Cemetery. At the time of her passing, she had 14 grandchildren and 14 great-grandchildren. Roy A. Worsham led her funeral service, with burial in Weller Cemetery.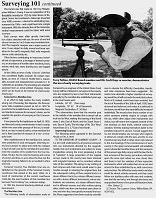 Terry Tallion pictured in the Laurel Messenger of the Somerset Historical Center
Daughter Shirley Williams ( ? -living) has been wed twice. In childhood she attended the Belltown School in Lincoln Township. Her first spouse was Elwood W. "Woody" Shaulis ( ? - ? ). They were the parents of four sons -- Cary Shaulis, Michael Shaulis, David Shaulis and Kevin J. Shaulis. Elwood was a 1954 alumnus of Somerset High School and earned a living with Talbert Tire Service in Somerset. He was active in the community, volunteering his time as recording secretary for the Listie Volunteer Fire Department and secretary for the Listie Water Association, and as chairman of the administrative board of Husband United Methodist Church and board director of the Somerset Swimming Pool Association for Somerset Township. The Shaulis residence in 1977 was in Listie, PA. Elwood is known to have stood for election in 1977 for the office of Supervisor of Somerset Township. The couple eventually separated and divorced. In about 2000, at the age of 58, she entered into marriage with 49-year-old Terry Andrew Tallion ( ? -living). Terry has spent more than four decades as a local surveyor and engineer, working for Gusbar and Associates, Crouse & Company of Somerset LLC, Paul C. Rizzo Associates, Inc. and Franklin Associates. He also has been involved with the Somerset Conservation District as a dirt and gravel road expert and as treasurer of the Somerset Township Municipal Authority. Terry also is a well-known historical re-enactor and a member of the board of directors of the Historical & Genealogical Society of Somerset County (PA) -- also known as the Somerset Historical Center. He has been involved with the Center's Mountain Craft Days, demonstrating antique land surveying tools, and in school visits portraying a French and Indian War soldier.
Grandson

Cary Shaulis

( ? - ? )
Grandson Michael Shaulis

( ? - ? )
Grandson David Shaulis ( ? - ? )
Grandson Kevin James Shaulis

resided in young manhood in Listie. He served in the U.S. Navy as petty officer third class in 2000-2001, when he completed a six-month tour aboard the amphibious assault ship

USS Tarawa

in the Western Pacific Ocean and Arabian Gulf. Reported the Somerset Daily American, "During the deployment, Shaulis' ship participated in a noncombatant evacuation operation exercise off the coast of Kuwait. Marines from the 13th Marine Expeditionary United landed at the American embassy and a beach evacuation site where they worked hand-in-hand with embassy officilas and the U.S. Army," allowing 200 citizens and embassy employees to be evacuated.

Kip Williams
Son Lester Grant Williams Jr. (1943-2014) was born on Aug. 3, 1943 in Somerset. He served in the U.S. Marine Corps during the Vietnam War. Later, he was a carpenter and owned Williams Remodeling and Home Improvement. He was united in the bonds of holy matrimony with Marlane Myers ( ? - ? ) and together bore one son, Lester G. Williams III. They resided for many years in Latrobe, Westmoreland County. In his spare time Lester enjoyed fishing and hunting and vacationing at Myrtle Beach and Disney World. He died at Excela Health Latrobe on Feb. 18, 2014, at the age of 70. Interment was at St. Vincent Cemetery following a funeral mass held at St. Vincent Basilica led by Rev. Justin Matro.
Son Clifford W. "Kip" Williams (1945-2011) was born on April 14, 1945 in Somerset, Somerset County. At the age of 18, he was united in matrimony with Fay Horner ( ? - ? ) on Oct. 31, 1963. The couple went on to produce four children -- Brian Williams, Steve Williams, Marshall Williams and Brenda George. Circa 1977, the Williamses made a home in Schwenksville, PA. Clifford was employed for many years for the Pennsylvania Game Commission, and following retirement worked as a security guard for Allied Barton of St. Marys, PA. He loved outdoors activities such as hunting and camping. Circa 1998, they resided in Mayport, PA. He passed away at the age of 66, at the DuBois Regional Medical Center, on Dec. 3, 2011. He was laid to rest in the Shannondale Union Cemetery in Redbank Township, Clarion County, PA, following a funeral led by Pastor Tim Tucker of the Springdale Baptist Church.
Brenda George's campaign card, 1990s

Granddaughter Brenda (Williams) George has served for a number of years as Armstrong County (PA) Prothonotary and Clerk of Courts. She has been re-elected to several terms in the office, which is charged as the chief custodian for the civil records of the Court of Common Pleas with the administrative responsibility for their safekeeping and preservation.
Son Edward James Williams Sr. (1948-2012) was born in 1948 in Somerset. He married Candace J. "Candy" Bugnacki ( ? - ? ). Residing in Middletown, CT, they had three children -- Amy Williams, Jacquelyn Williams and Edward James Williams Jr. He served in the U.S. Armed Forces in Vietnam, and later built a career in the aeronautics industry, with employment as a Leadman inspector with the Pratt & Whitney Company. They dwelled in Pittsburgh in 1977. Said the Somerset Daily American, he "was an avid Steelers fan and enjoyed stamp collecting, fishing and studying the Civil War. Most of all he loved spending time with his family." Edward died on Jan. 20, 2012 in Middlesex Hospital, with burial in the Connecticut State Veterans Cemetery.
Daughter Linda Mae Williams was joined in wedlock with (?) Weitz. The couple was in St. Petersburg, FL in 1977. She is known to have remained there as of 2017. In September 2017, she returned to Somerset to take part in the Somerset Historical Center's Mountain Craft Days and helped a magician appear to make a scarf pass through her arm.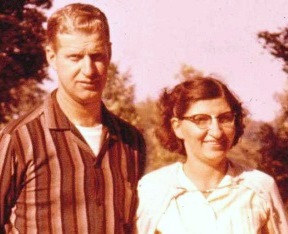 Don and Lucille Minerd
~ Son Donald Eugene Minerd ~
Son Donald Eugene Minerd (1925-2003) was born in 1925.
He was joined in the sacred bonds of wedlock with Lucille Schrock (1927-2012), a native of Friedens, Somerset County, and the daughter of Kellar and Pearl (Altmiller) Schrock.
The Minerds made their home in Berlin, Somerset County, and became the parents of two children -- Dorothy Marie Maurer and James Edward Minerd.
Donald served in the US Army during World War II. He also was a longtime mechanic for Pickings Repair Shop, a position from which he retired. Lucille was employed with the Somerset School District as a cafeteria worker.
In 2000, Donald and Lucille attended the National Minerd-Minard-Miner-Minor Reunion in Kingwood, Somerset County. At that reunion, Donald's grand nephew, Jeffrey Timothy Minerd, was the guest speaker, presenting his views on "Families of the Future."
Donald passed away at the age of 78 on Aug. 24, 2003, at the home of his daughter in Fairhope, PA. He was laid to rest in the Pike Cemetery.
Lucille outlived her husband by almost nine years. She died at In Touch Hospice in Somerset on July 26, 2012, at the age of 85. At the time of her passing, she was survived by five grandchildren and six great-grandchildren.


James E. Minerd and Dorothy Marie Mauer
Son James Edward Minerd (1948-2010) was born in 1948. In high school, he was a member of the orchestra and enjoyed planing the guitar. He married Barbara L. Brubaker ( ? - ? ), and they had two children -- Terry Minerd and Crystal Cochran. They lived in O'Fallon, St. Clair County, IL, where James was manager of the O'Fallon Texaco Station, a stocker at Southview Foods and security officer for Whelan Security. He served in the U.S. Air Force and retired as a sergeant after 22 years of service. He was a member of the O'Fallon Boosters and the O'Fallon Volunteer Fire Department. Suffering from kidney disease and/or diabetes, he died at the age of 62, in O'Fallon, on July 5, 2010.
Daughter Dorothy Marie Minerd ( ? - ? ) was born in (?). She enjoyed sewing and drawing. Dorothy wed Timothy Maurer ( ? - ? ).
~ Rev. W.M. Minerd Reunions ~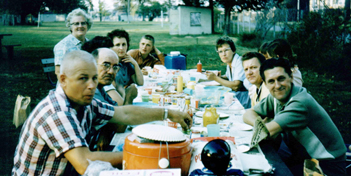 Reunion, 1958. Left, front to back: Glenn Blubaugh, Mervin Bailey, Kass Schritchfield, Lillian Bailey (standing), Kenneth Blubaugh. Right, front to back: Clifford Schritchfield, Jack Bailey, Bertha Blubaugh.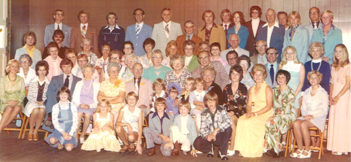 Will and Pearl Minerd Reunion, 1980s. Too many to name!

Festive reunion in 2000 in Kittanning, PA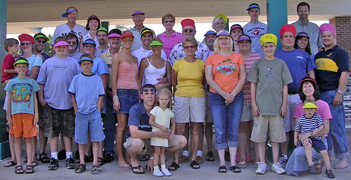 Mel and Hannah Minerd's offspring, Rochester, NY, 2005
Copyright © 2000-2011, 2014, 2021Mark A. Miner
Photograph of Billy Sunday copyright Goodwin & Co., New York; as published in "Billy" Sunday: The Man and His Message, by William T. Ellis, LL.D. (Philadelphia: John C. Winston Co., 1913).