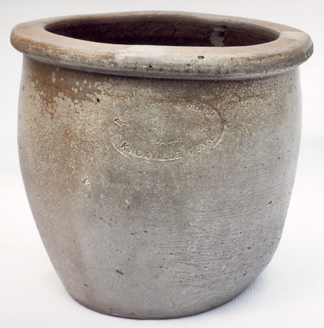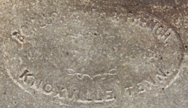 Detail of the lettering
Civil War veteran Samuel Dawson Miner, formerly of the 9th Ohio Infantry, spent some of his postwar years in Knoxville, Tennessee. There, he was a partner in a business with Major Lewis Bowlus, a friend from their old military regiment. The company included a pottery at the foot of Gay Street near the Tennessee River, which produced stoneware such as this rare, excellent example -- one of only two known surviving pieces. It is stamped, "Bowlus, Miner & French, Manufacturers, Knoxville, Tenn."
According to research done by P. Edward "Eddy" Pratt, an attorney and collector in Knoxville, Samuel sold a part interest to his brother Robert Sanford Miner, who in turn sold an interest to Hugh French. The operation was located in a warehouse in what was then and still is now the main business district of Knoxville. The pottery apparently was destroyed in March 1867 during a week-long flood in which the Tennessee River swept away bridges and businesses. While the warehouse itself was not destroyed, there was sufficient damage to end the pottery business.
Samuel and Robert were the sons of Henry and Matilda (Morton) Miner of Zanesville, Ohio and Fountain County, Indiana. We have strong evidence suggesting that Henry's parents were Ohio pioneers Frederick and Elizabeth (Sechman) Miner Sr. of Sego, Perry County, Ohio
We are grateful to Mr. Pratt for sharing this image of stoneware from his private collection.
Copyright © 2007 Mark A. Miner