Home

Henry Miner was born in about 1807, most likely in or around Fayette/Somerset Counties, PA, the son of Frederick and Elizabeth "Betsy" (Sechman) Miner Sr.
As a young boy of about five, he migrated to Ohio with his parents and siblings and grew up in or near Sego, Perry County.
The rest of this biography is conjectural, based on compelling evidence found to date, but is not yet proven with exact precision.
At the age of 26, Henry is believed to have married 25-year-old Matilda Morton (1808-1892). The ceremony took place on March 10, 1833, in Muskingum County, OH, by the hand of J. Goshen. This marriage is recorded in the book, Muskingum County, Ohio, Marriages Book II, published by the Muskingum County Genealogical Society.
Matilda was a native of Rockport, Maine. Her parents are not yet known. Said a newspaper, "She was one of a large family distinguished for their intelligence, enterprise, Christian character and longevity," and was outlived by two of her siblings.
The Miners had four known children, and perhaps more -- Samuel Dawson Miner, Robert Sanford Miner, Eunice "Flora" Cummings Sayle and Catherine "Kate" Hill Newton.
During the 1830s through the 1850s, when the federal census was enumerated, the family resided in Putnam Township, Muskingum County, OH. In 1850, Henry was listed as a "boatman."

Wabash River and canal bridges of Attica, 1869. Courtesy Library of Congress
In about 1852, the family migrated to Indiana, among of a number of cousin-families to migrate there as pioneer settlers in the early to mid 19th century. The federal census enumeration of 1860 shows the Miners making their home on a farm near Williamsport, Washington Township, Warren County, IN, with 19-year-old son Robert assisting with farm labor. The census-taker recorded Henry's birthplace as Pennsylvania and the value of the family's real estate at $10,000. Two others boarded in their home that year, including day laborer Charles Gunn (age 28) and blacksmith Douglas Brosly (18), both of whom were natives of Michigan.
When the census was taken in 1870, the Miners lived in Logan Township, Fountain County. Henry, age 61 at the time, made a living as a "bridge tender." In about that year, Matilda lost her eyesight, and remained blind for the rest of her life. Said the Fresno (CA) Weekly Republican, she was "blind for twenty two years [until her death], without the possibility of discovering one ray of light but during all that time had never been known to murmur or complain of the sad affliction."
In 1871, at the death of his aged father back in Ohio, Henry was named in the will and received 1/11 of the estate, receiving a cash payment of $68.87.
At some point, Henry and Matilda purchased lots in the Riverside Cemetery in Attica, IN. Henry is believed to have died sometime in the decade between 1870 and 1880. No grave marker is known at Riverside. And nothing more about his demise has been found.
In May 2009, a search of the vast genealogical archives at the Allen County Public Library in Fort Wayne -- specifically its holdings of Fountain County vital statistics volumes -- found no mention of Henry in records of deaths (1882-1920), marriages (1848-1920), cemetery inscriptions, wills (1827-1851) and the Civil War draft (1864). The only reference to the family was found in the History of Fountain County, published in 1881 and authored by H.W. Beckwith, citing son Robert Sanford Miner as a member of the Attica lodge of the Masons.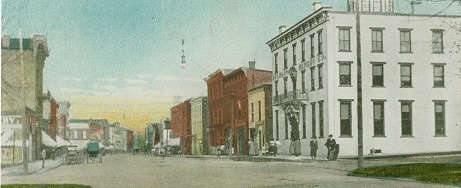 Attica's Perry Street
Matilda survived Henry, and made her home with their married daughter Kate Hill in Delphi, Carroll County, IN when the federal census was taken in 1880.
Matilda spent her widowed years in the Fresno area of Northern California, where her adult sons and married daughters also migrated. She died in March 1892, with the funeral held at the home of her son in law, Judge Claudius G. Sayle in Fresno. Rev. DeWitt preached the funeral sermon, based on the biblical passage of Deuteronomy 11:21, which he thought was appropriate because it "was fully illustrated in the life of this remarkable and aged woman," said the Weekly Republican. The scripture reads: "That your days may be multiplied and the days of your children in the land that the Lord sweareth unto your fathers to give them as the days of heavens upon the earth." An obituary was printed in the Weekly Republican, saying the funeral services were "impressive."
The famed song On the Banks of the Wabash, Far Away, written by Paul Dresser, is thought to be based on the author's impressions of scenery in or near Attica.
~ Son Samuel Dawson Miner ~
Son Samuel Dawson Miner (1837-1906) was born on April 7, 1837 in Putnam, Muskingum County, OH.
As an adult, he stood 5 feet, 5 inches tall, and weighed 150 lbs. He had a dark complexion and brown eyes, with dark brown hair.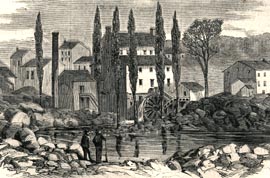 Typical river-side mill in Knoxville, during
the Civil War. Harper's Weekly
Before the Civil War, he worked as a clerk in a merchant store. After the war broke out, he served in two Ohio regiments -- the 88th Ohio Infantry (Company A), enlisting in Lafayette, IN; and the 9th Ohio Cavalry (Company A), enlisting in Zanesville, OH.
While in the line of duty at Waynesboro, GA in the fall of 1864, he was thrown into a ditch by his horse, and then crushed by the horse, in a charge ordered by General Kilpatrick against Wheeler's Cavalry.
The freak accident injured him including "a weakness in the rectum," he wrote. He was bedridden for two months in Knoxville in 1865, and never fully recovered, suffering extreme hemorrhoid problems in later years. After being discharged at the end of the war, he moved to Knoxville, TN.
Samuel married Tennessee native Louise Lones (1837- ? ) in Knoxville in 1864, when both were 27 years of age. Her maiden name also has been spelled "Lomas."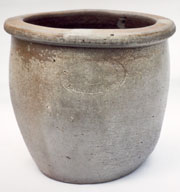 Bowlus, Miner & French ware

Courtesy Eddy Pratt
The Miners produced three known children -- Harry G. Miner (born 1865), Maude G. Abbott (born 1868) and Charlie Miner (born 1870).
Samuel and Louise spent the first seven years after the war in Knoxville. There, he was a partner in a business venture with Major Lewis Bowlus, a friend from their old military regiment. The company included a pottery at the foot of Gay Street near the Tennessee River, which produced stoneware.
According to research done by P. Edward "Eddy" Pratt, an attorney and collector in Knoxville, Samuel sold a part interest to his brother Robert, who in turn sold an interest to Hugh French. The operation was located in a warehouse in what was then and still is now the main business district of Knoxville.
The Bowlus, Miner & French company produced the rare, excellent example seen here, one of only two known surviving pieces. It is stamped, "Bowlus, Miner & French, Manufacturers, Knoxville, Tenn." (Click for an enlarged view -- our "Photo of the Month" for June 2007.)
[Note -- the site of the pottery was within a one-mile radius of a proposed Knoxville South Waterfront project in the 2010s. It was given the designation 40KN286 and had been studied by an archaeologist named Smith circa 2005. The report states that the "pottery and store occupied a previously standing building 'at the foot of Gay Street, immediately west of the current Gay Street Bridge' (Smith 2005-site form). Nathan Smith likely ran the store for approximately one year, as the owners are not documented as potters by trade."]

Artist's view of Knoxville, ca. 1886, with the Gay Street pottery site circled
Courtesy Library of Congress
The pottery apparently was destroyed in March 1867 during a week-long flood in which the Tennessee River swept away bridges and businesses. While the warehouse itself was not destroyed, there was sufficient damage to close the enterprise.
Federal census records for 1870 show Samuel and Louise residing in Knoxville, with his occupation as "Farmer" and his worth estimated at $12,000.
Leaving Knoxville in 1872, the Miners migrated westward to Kansas; and thence to Fort Scott, CO; San Juan Country, CO; Hot Springs, Rio Grande County, CO (1880), and thence to California to Fresno (1895), San Francisco (1896-1899), Oakland (1899-1900, living with his married daughter) and San Diego (1903). His occupation in Hot Springs, CO in 1880 was freighting. In 1903, he was in San Diego and in the oil business and real estate agency business with Famosa Oil and Investment Company.

San Diego, California
In April 1901, Samuel's daughter Maude Abbott and her two young children traveled for a visit from their home in Oakland.
Samuel died in San Diego on Dec. 4, 1906, or on Jan. 9, 1906 (the dates differ), at the age of 69, of "acute alcoholic poisoning." His official death certificate gives his father's name as "Samuel Miner" rather than "Henry Miner," with "Mrs. E.F. Barlow" as the source of the information, so this disparity is being explored further. Samuel's final resting place is believed to be the Masonic Cemetery in San Diego. Samuel's pension paperwork file still exists today in the National Archives in Washington, DC, with a copy in the Minerd-Minard-Miner-Minor Archives.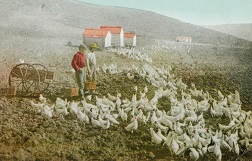 Chicken farm in Petaluma, CA
Son Harry G. Miner (1865- ? ) was born on May 9, 1865 or 1867 in Knoxville. He migrated to California and in 1920, single at the age of 54, was a farmer and boarded with his married sister Maude G. Abbott and her family in Vallejo, Sonoma County. In the early 1940s, he resided on a farm in Petaluma, Sonoma County, CA. At the age of 76, Harry sent a letter to the editor of the Amarillo (TX) Globe-Times, printed April 25, 1941. It said that "I am trying to locate my brother, Charlie Miner, who was a blacksmith in Amarillo some years ago. I have not had any word from him for several years but feel sure that some blacksmith in Amarillo would perhaps know where he is. He was at one time in the Eagle Lodge in Amarillo and members of the Lodge might know his whereabouts." the letter was signed "H.G. Miner, No. 2, Seventh Street, Petaluma, California." Again on June 4, 1954, he placed a classified ad in the Lubbock (TX) Morning Avalanche, asking "Anybody know the where abouts of Charlie Miner, please drop a postal card to H. Miner, address 2-7th Street, Petaluma, California." He died on March 25, 1961, at the age of 93. His remains are interred in the Santa Rosa Memorial Park in Sonoma County.
Daughter Maude G. Miner (1868-1936) was born in May 1868 or 1870 or 1872 in Knoxville. (Sources differ.) She migrated to California and in 1893, at age 25, married 45-year-old New Hampshire native George F. Abbott (1848- ? ). George was 20 to 22 years her senior. They produced two offspring -- Eugene Miner Abbott and Sylva M. Purvis. They made their home in Oakland, Alameda County in 1900, with George working as a shoe maker, and Maude's father living under their roof. In April 1901, Maude was named in the gossip columns of the Oakland Tribune when she and the children traveled to San Diego to visit her father. When the federal census was taken in 1910, the Abbotts continued to dwell in Oakland, and George earned a living as a real estate agent. The couple moved during the decade of the 1910s to Vallejo, Sonoma County. George supported the family as a "poultry man" as shown in the 1920 census. That year, Maude's 54-year-old, unmarried brother Harry lived under their roof. George is believed to have died in Oakland on Jan. 25, 1927. Maude died in Petaluma, Sonoma County on Oct. 7, 1936, with her son Eugene traveling to the funeral from his home in Woodland, CA. Her remains were returned to Oakland to rest in Mountain View Cemetery.
Grandson Eugene Miner Abbott (1894-1964) was born in February 1894 or on Dec. 18, 1894 in California, most likely in Oakland, Alameda County. At age 25, unmarried, he lived at home with his parents and was employed by the "U.S. Service." Circa 1936, he made his home in Woodland, Yolo County, CA. He died in the Oakland area on Jan. 12, 1964.
Granddaughter Silver M. Abbott (1896-1976) -- also spelled "Silva" -- was born on March 20, 1896 in California, possibly in Oakland, Alameda County. At the age of 40, in 1936, she was single and lived with or near her mother in Petaluma, Sonoma County. After her mother's death in 1936, Silver was free to marry David L. Purvis (1881- ? ), a wholesale poultry produce manager of Petaluma. He was of medium height and build, with grey eyes and brown hair. During World War I, at the age of 39, he had worked as a foreman at Western Refining Company in Petaluma, at the corner of Hopper and East Streets. The 1940 shows this couple living in Petaluma, with no children. She died in Santa Rosa, Sonoma County in July 1976.
Son Charles "Charlie" Miner (1873- ? ) was born in about 1873 or 1871 in Knoxville. In 1898, at the age of 25, he married Illinois native Bessie A. (1875- ? ). They moved to Valley Mills, Bosque County, TX and in 1900 was a blacksmith, producing horse shoes. He apparently was estranged from his brother Harry, and the brother tried to locate Charlie in the 1940s and '50s by placing classified ads in the Amarillo and Lubbock newspapers.
~ Son Robert Sanford Miner ~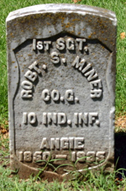 Oak Hill Cemetery
Son Robert Sanford Miner (1840-1918) was born in 1840 and claimed his own birthplace as Putnam, near Zanesville, Muskingum County, OH.
He came with his parents and brother to Fountain County, IN in 1852, at the age of 12. As an adult, he married Angie Sherman (1848-1935), a native of Maine, on June 8, 1869 in Fountain County, IN.
He was a veteran of the Civil War, having first served in the 10th Indiana Infantry, Company G. His tour of duty lasted from Sept. 18, 1861 to Sept. 19, 1864. Said the San Jose (CA) Mercury newspaper, he "served his three years' enlistment ... as a member of Co. G, 10th Indiana Infantry volunteers. He was honorably discharged with the rank of first sergeant. After his discharge he re-enlisted for the period of the war, and became a member of Hancock's veteran corps, enlisting in Nashville Tenn., his total service in the Army being four and a half years."
In later years, Robert applied for and received a federal pension in later years as compensation for his Civil War disabilities.
In the 1870 federal census, the Miners lived in Attica, Fountain County, with a two-month-old son Ralph W. Miner, at a time when Robert was employed as a clerk in a grocery store. Circa 1881, he was one of 73 members of the Attica Lodge of the Masons, and was mentioned in this capacity in the book, History of Fountain County, published in 1881 and authored by H.W. Beckwith.

Sketch of Knoxville and the Tennessee River, as seen during the Civil War from Keith's Heights, from Harper's Weekly
From Attica, said the Mercury, he went "to Illinois, and then became a resident of Fresno in this state. In 1900 he returned to Chicago, and in 1903 came to San Jose, where he has since resided." By 1910, when Robert was 69, they were still in San Jose, Santa Clara County, residing at 310 South Eighth Street.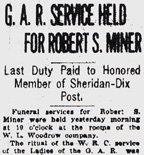 Oakland Tribune, 1918
Robert passed away on Oct. 14, 1918, at the age of 72. He was laid to rest in Oak Hill Cemetery, with pallbearers including C.L. Burdick, W.B. Coates, J.P. Fulmer, S.A. Seymour, L.A. Talcott and S. Williams. His obituary, published in the San Jose and Fresno newspapers, said he "will be greatly missed by a large number of warm friends, especially those of the San Jose families of old soldiers, he at the time of his death being an honored member of the Sheridan-Dix Post, G.A.R."
After his death, Angie began receiving the federal pension payments and then sometime before 1930 married Henry P. Salisbury ( ? -1934), himself a Civil War veteran of the 15th Kansas Cavalry.
Henry died in Santa Clara County on Jan. 7, 1934, and Angie passed away the following year, on March 25, 1935, in San Jose. Angie's brief obituary was published in the Oakland Tribune newspaper, stating that she was a native of Ohio and the mother of Ralph W. Miner.
The file of Robert's pension paperwork today is in the custody of the Department of Veterans Affairs.
Son Ralph W. Miner (1870-1935?) was born in about 1870 in Attica, Fountain County, IN. He seems to have never married. Circa 1912, he was employed as manager of the Pacific Telephone & Telegraph Company of Napa, CA. When the U.S. census was taken in 1920, he boarded with the family of Edward and Lillas Henry in Napa, and was employed as a manager of a telephone and telegraph firm. He was a charter member of the Rotary Club of Napa and in October 1921 attended a statewide conference in Santa Ana. He lived by himself on Bush Street in San Francisco in 1930. He may be the same Ralph W. Miner, born in 1870, who died in San Francisco on Sept. 16, 1935, at the age of 65.

Kate Miner, 1870
~ Daughter Kate (Miner) Hill Newton ~
Daughter Kate Miner (1849-1931) was born in March 1849 in Ohio and migrated with her parents to Fountain County, Indiana as a young girl and was raised to adulthood in the town of Attica.
Circa 1870, she had one or more photograph portraits taken at the studio of J.W. Ennis in Attica. Both were reproduced as albumen prints mounted on a cardboard backing, in a carte de visite format, or "CDV" for short.
She married John Hill (1849- ? ). The wedding took place in Fountain County, IN on May 16, 1871. They had at least one son, Charles Lawrence Hill. Census records later suggest that she may have had two other children who died by 1900.
Kate, by J.W. Ennis, Attica, IN
In 1880, when the federal census was taken, the Hills resided in Delphi, Carroll County, IN, where John worked as a baker. Residing in their household that year was Kate's 72-year-old mother, Matilda.
Kate later migrated to Northern California and married (?) Newton. She lived in Fresno circa 1892-1893. In 1900, as a widow, she resided with her son Charles in the household of her married sister and brother in law, Eunice and Judge Claudius Sayle in Fresno County, CA. She remained in the Sayle residence over the years, including a collective move to Oakland, Alameda County, CA by 1920.
In 1917, she signed an affidavit with her brother Robert testifying in the Civil War pension application of their sister Flora. The 1930 census shows Kate (age 82) living with widowed sister Flora Sayle (age 88) and unmarried nephew Ralph W.C. Sayle (49) in Oakland, Alameda County, CA.
Kate died in San Francisco on Jan. 20, 1931, at the age of 82. A short obituary in the Oakland Tribune said she was "loving mother of Charles L. Hill, Balboa Beach, California, only sister of Mrs. E. Flora Sayle, aunt of Mrs. Ethel C. Wright, Mrs. Agatha G. Southern, Ralph W. Sayle and Ralph W. Miner, of San Francisco." Her burial site is not known.
Son Charles Lawrence Hill (1874- ? ) was born in April 1874 in Indiana. He migrated with his mother to California as a boy. At the age of 22, in about 1897, he was united in holy matrimony with 16-year-old Ethel B. (1881- ? ), a California native whose father was from New Hampshire and mother from Illinois. In 1900, census records show that he had been married for three years, with no children, and residing with his mother and step father, but without Ethel in the household. The 1900 census-taker listed him as a salesman. By 1910, he and Ethel had re-united, but they apparently had not reproduced. Their rented home in 1910 was in Los Angeles Assembly District 73. By 1918, they dwelled in Balboa Beach, CA. As a traveling salesman, Charles' employer was the Paraffin Company. The couple has not yet been located on the 1920 census.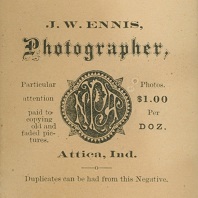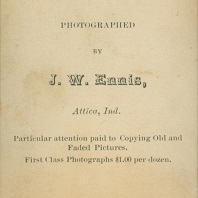 Imprints on the back of Kate's portrait CDVs from the Ennis studio in Attica
~ Acknowledgements ~
Many thanks to Krystal Kelley and Eddy Pratt for freely sharing a wealth of their research material.
Copyright © 2006-2007, 2009, 2013, 2016 Mark A. Miner