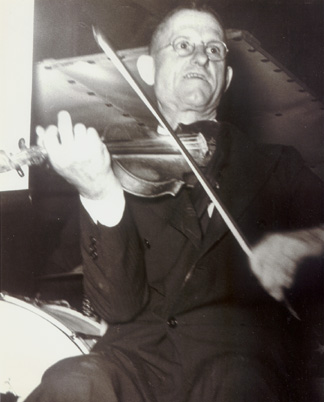 Left-handed fiddler Fred Younkin (1891-1983), the son of Horton H. and Dorothy (Thrush) Younkin of Ashville, South Bloomfield Township, Pickaway County, Ohio, loved to entertain with his music. A longtime farmer, he is known to have played, among other engagements, at the National Younkin Home-Coming Reunions of the 1930s and early '40s, held in Kingwood, Somerset County, PA.
Fred specifically is mentioned in a 1936 article about the reunion in the Somerset County Leader, among 1,200 relatives and guests who attended during the heart of the Great Depression. The Younkins also were regular subscribers to, and frequently mentioned in, the Younkin Family News Bulletin, a unique family newspaper published by cousin Charles Arthur Younkin in conjunction with the reunions.
In 1976, Fred received the Ashville Community Club Distinguished Service Award. Fred died on May 23, 1983, at the age of 92. In the years just before his death, Fred was interviewed on tape by his grandson, Ronald Melvyn Younkin, providing memories of his family from the early days. Fred's wife, Alna E. (Dudleson) Younkin (1892-1992), lived to the age of 100. Said the Circleville Herald, she "was a 55-year member of the Ashville Church of Christ in Christian Union, where she served as Sunday school teacher for many years."
Copyright © 2007 Mark A. Miner