Horton Howard Younkin
(1860-1950)

Horton Younkin

Horton Howard Younkin was born on Feb. 16, 1860 in Athens County, OH, the son of William and Catherine (Knight) Younkin.
On Sept. 25, 1884, when he was 24, Horton married 20-year-old Dorothy Thrush (1864-1939), a native of Pickaway County, OH.
They bore a brood of eight children -- William "Earl" Younkin, Everett Hobart Younkin, Fred Younkin, Howard Wilson Younkin, Nora May Furniss Harris Crabbe, Edith Edna Mithoff, Clara "Mildred" Hoover and Ora "Bernice" Drake.
Early in their marriage, the Younkins resided in Pherson, Pickaway County, where their daughter Nora was born. Later they moved to Jackson Township, Pickaway County, and eventually settled in Ashville, South Bloomfield Township, Pickaway County, where they were longtime farmers.
Interested in keeping family connections alive, they regularly traveled with their sons to the Younkin National Home-Coming Reunions of the 1930s, held at Kingwood, Somerset County, PA. Their son Fred, a talented left-handed fiddler, entertained at these events. They specifically are mentioned in a 1936 article about the reunion in the Somerset County Leader, among 1,200 relatives and guests who attended. When they went to the reunion in 1940, they stayed at the home of Mollie (Younkin) Lenhart near Kingwood.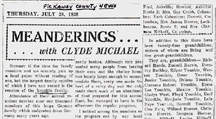 Pickaway County News, 1938

The Younkins also were regular subscribers to, and frequently mentioned in, the Younkin Family News Bulletin, a unique family newspaper published by cousin Charles Arthur Younkin in conjunction with the reunions. The March 15, 1940 issue ran a prominent article about grandson Delano Younkin's marriage to Mildred Ward.

In 1938, when Horton was 78, he showed a copy of the News Bulletin to newspaper columnist Clyde Michael of the Pickaway County News, who had stopped by the Younkin home for a visit. Visibly impressed with what he had seen, Michael later devoted an entire "Meanderings..." column to the Younkin reunion and the family newspaper (seen here, dated July 28, 1938).

In the column, Michael wrote:

[Horton] showed me what I believe to be the only newspaper whose news is devoted entirely to one family and which is written and published as a family newspaper.... [He] told me when he gave me this paper that he attended the reunion in 1935 and 1936 but that in 1937 only his sons, Fred and Howard and their sons of Ashville represented this line of the Younkin family.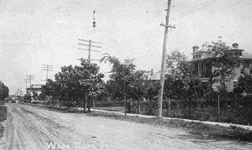 Ashville, Ohio

The Younkins were members of the Scioto Chapel United Brethren Church of Robtown, OH. Seen here is a rare old postcard view of Ashville circa 1913, showing new telephone poles and suspended street lights but when the roads were still unpaved.

In the fall of 1931, Horton and Dorothy were among 163 guests at the golden wedding anniversary celebration of Mr. and Mrs. R.A. Dixon of Pleasant Valley. Their son Howard and his wife also attended. The news was reported in the Sept. 15, 1931 issue of The Athens Messenger.

The following year, in 1932, Horton was rocked with the untimely death of his brother Edward Ellsworth Younkin in Mt. Sterling, Madison County, OH. Horton published a Card of Thanks in a local newspaper, saying: "We wish to thank Mr. Snyder and Son for their efficient services, the minister for his consoling words, the singers for the beautiful songs and all others who helped to aid and cheer our brother in his last days."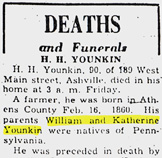 Obituary, 1950

Horton was summoned into court as a witness in the November 1932 divorce case of Minnie B. O'Day versus Jese T. O'Day of South Bloomfield.

Sadly, Dorothy died on May 16, 1939 at home in South Bloomfield, at the age of 75. Her newspaper obituary was reprinted in the Younkin Family News Bulletin:

When health permitted, she loved to attend the services of this little chapel, but in her declining years she gained much spiritual strength and comfort listening to the beloved hymns and sermons on the radio by one of her former pastors.... Her life was centered upon her home and children, never too busy to lend a helping hand to one in need.... She was an indulgent and helpful wife and mother and was highly esteemed by her friends and neighbors.

Horton outlived his wife by 11 years, and made his home at 189 West Main Street. He died at home in Ashville on June 16, 1950, at the age of 90. He was buried beside his wife at the South Bloomfield Cemetery.



~ Son Frederick "Fred" Younkin ~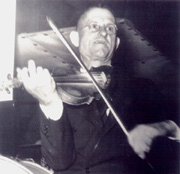 Left handed fiddler
Fred Younkin -- enlarge

Son Fred Younkin (1891-1983), the left-handed fiddler, was born in 1891.

He entered into marriage with Alna E. Dudleson (1892-1992).

They resided in Ashville, and together produced seven children -- Ruth Thelma Younkin, William Horton Younkin, Delano Donald Younkin, Clarence "Robert" Younkin, Ermalee May Bowers Shumate, Carole Ann Younkin and Rachel Maxine Younkin. Sadly, children Ruth (1916), William and Carole Ann all died in infancy.

Fred kept in close contact with the Younkin reunion planners in Pennsylvania. In a letter dated Sept. 27, 1936, Younkin newspaper publisher Charles A. Younkin wrote the following to reunion president Otto Roosevelt Younkin:

Say, how would you like to make a visit to Ohio to see our good friends Fred, his dad Horton, and his brother at Ashville. If you think we owe them this courtesy, and if in the next few weeks, while the weather is fairly good, I am on, say the latter part of Oct. Start Friday after noon, so we can spend Saturday and up to Sunday noon. Let me know what you think of it."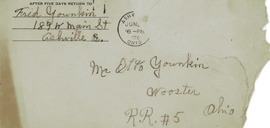 Envelope of Fred's now-lost letter
to reunion president Otto Younkin

Charles wrote again to Fred on March 28, 1937, saying:

Since this is Easter, and a fine day but rather cold, and as many plans are in the making for our great Reunion which will be held Aug. 22 - 37, and I am told that you were sorry that you had not brought your string orchestra on last year. Dear friend I am sorry that you had misunderstood as long as you the leader is a Younkin. Hope that you will be able to bring the entire orchestra as we are planning this great Reunion will be one of much music and song...

In another letter dated July 27, 1937, Charles wrote to Otto: "Have received letters from ... Fred Younkin of Ashville O. and several others in the past few days."

Fred wrote his own letter to Otto Younkin sometime after Otto moved from Masontown, PA to Wooster, OH, circa 1945-1950. The letter is lost, but the envelope survives. In 1976, he received the Ashville Community Club Distinguished Service Award.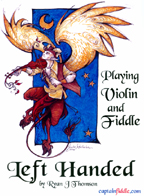 Book profiling Fred

Fred died on May 23, 1983, at the age of 92. In the years just before his death, Fred was interviewed on tape by his grandson, Ronald Melvyn Younkin, providing memories of his family from the early days. Alna lived to the age of 100. Said the Circleville Herald, she "was a 55-year member of the Ashville Church of Christ in Christian Union, where she served as Sunday school teacher for many years."

Minerd.com's "Photo of the Month" in March 2007 featured the image of Fred playing his fiddle. The image of Fred and a reference to this website are mentioned in the 2003 book, Playing Violin and Fiddle Left-Handed, authored by Ryan Thomson. See www.captainfiddle.com for more.

Son Clarence "Robert" Younkin (1924-1989) married Dora Catherine ( ? - ? ). They lived in Williamsport, Pickaway County, and had two sons, William Younkin and James Younkin. Said the Circleville Herald, Robert "was a World War II Army veteran, was a member of the Fifth Avenue Church of Christ in Lancaster, American Legion Post 618, was the former co-owner of a grocery and dairy shed in South Bloomfield and was owner of a dairy shed in Williamsport." Robert died at age 64 on Feb. 20, 1989, with burial in Harrison Township Cemetery.

Son Delano Younkin (1919-1996) was born in 1919. He married Mildred "Kathryn" Ward (1919-1989). They had five children, Donald Younkin, Ronald Melvyn Younkin, Rev. Martin Younkin, Marlene Bickel and Marilyn Giese. Delano was a veteran of World War II, and, like his father, the recipient of the Ashville Distinguished Citizen Award, in 1994. Mildred passed away in 1989. Delano began bringing his family to the Younkin Reunions in Somerset County, PA, after they were re-formed in the early 1990s. Delano passed away at the age of 76 in Ashville on June 13, 1996. He was laid to rest beside his wife at the Harrison Township Cemetery.
Grandson Donald Younkin
Grandson Ronald Melvyn Younkin (1944-1995) was born in 1944. He was joined in wedlock with Barbara Barch. They resided in Lockbourne, near Columbus. Ron was employed by the Ohio Bureau of Employment Services, was a veteran of the Vietnam War, financial secretary of the St. Matthew Lutheran Church, vice president of the board of trustees of Fernwood Cemetery and treasurer of Teays Valley Band Boosters. Ron and his father and family attended the Younkin Reunions of the early 1990s, and Ron generously shared his extensive research findings and large family tree charts with the founder of this website. Sadly, Ron passed away suddenly at age 51 on June 12, 1995, in Circleville. This page is devoted in grateful thanks for Ron's many kindnesses.
Grandson Rev. Martin Younkin
Granddaughter Marlene Younkin wed (?) Bickel
Granddaughter Marilyn Younkin was united in matrimony with (?) Giese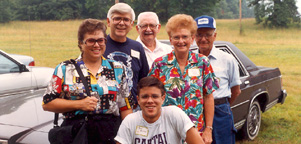 Delano Younkin (rear, center) and family at the 1992 Younkin Reunion in Kingwood, Somerset County, PA

~ Daughter Nora Maud (Younkin) Furniss Harris Crabbe ~
Pickaway County News

Daughter Nora Maud Younkin (1887-1941) was born in 1887.

She was thrice-married. Her first spouse was Harley Furniss ( ? - ? ).

They bore one daughter, Ethel Waneta Heskett, born in 1905.

Nothing more is known about Harley at this time.

Her second husband was Snode Harris (1887-1946), the son of John R. and Amelia (Albright) Harris, in August 1907. When the federal census was taken in 1910, Snode and Nora lived on a farm next to Nora's parents in Pickaway County.

Snode apparently adopted or otherwise raised Ethel Waneta as his own child. They went on to have four offspring of their own Richard Harris, Russell "Pete" Harris, Dorothy Buckley Naegele and Basil Harris.

The pair eventually divorced.

Later that year, in March 1920, Nora wed Guy Emery Crabbe (1878-1943 ), the son of John Newton and Elizabeth Crabbe.

Nora and Guy resided in Mt. Sterling, where Guy was employed as a commercial printer. In about 1930, Nora joined the First Baptist Church of Columbus.

She suffered from cancer of the cervix, and passed away at the age of 54 on May 27, 1941, at home in Columbus. At her death, the Pickaway County News eulogized that:

Of a cheerful nature, she made many friends and those who loved her will miss her kindly deeds. About two years ago she was stricken with diseases suffering intensely until death brought relief. Only those who so tenderly cared for her during the long weeks of her illness could realize her suffering yet through all she trusted in God that not her will but his be done. She requested her children not to grieve or wish her back in this world of suffering and longed for that home where sorrow and pain are no more.

Guy outlived his wife by only two years. He suffered from "exhaustion" and hardening of the arteries. He passed away at the age of 64 on Jan. 2, 1943. His death certificate was signed by Edwin Crabbe. He was buried at Mt. Sterling.

Nora's second husband Snode remarried again to Hettie Snyder ( ? - ? ) and had at least one child -- Franklin L. Harris -- to the second marriage. They lived in Mt. Sterling, Pickaway County, where Snode worked as a "manager" over the years. He died in Columbus of stomach cancer on April 9, 1946, at the age of 59. His official Ohio death certificate -- with daughter Dorothy Naegele as informant -- lists him as a "widow" and that his wife's name was "Nora." He was laid to rest in the Mt. Sterling Cemetery.

Daughter Ethel Waneta Furniss (1905-1926) was born in Derby, OH. She married William Heskett ( ? - ? ). They lived at 633 Kerr Street in Columbus. Tragically, she suffered from congestive heart failure and an ovarian abscess. Following an operation for her affilictions, she did not recover, and died at the most untimely age of 21 on May 31, 1926. Her remains were buried at Pleasant Cemetery in Era, OH, near Pickaway County's western border with Madison County.



~ Son Earl William Younkin ~
Pickaway County News

Son Earl William Younkin (1889-1956) was born in 1889.

He wed Florence Burkhead (1891-1983).

Their five children were Hazel M. Younkin, Edgar Younkin, Warren Charles Younkin, Omer Younkin and William Earl Younkin Jr.

The 1920 census shows the Younkins living on a farm in Harrison Township, Pickaway County. By 1930, with the nation locked in the grip of the Great Depression, Earl obtained employment as a truck driver for a transfer company in Columbus. The 1920 census shows Earl, Florence and sons Edgar, Warren and Omer making their home on North Fourth Street in Columbus. That year, 30-year-old Laura Roop was a roomer in their household.

Earl died on Sept. 4, 1956. In his obituary, the Pickaway County News said "Born and raised in Pickaway County, his many friends in South Bloomfield will miss his usual friendly greeting. Earl like people and they, in turn, liked him." He was laid to rest in the Harrison Township Cemetery.



~ Son Howard Wilson Younkin ~

Son Howard Wilson Younkin (1894-1964) was born in 1894.

He entered into marriage with Tessa Green (1892-1963) in about 1915.

Together, they bore had six children -- Gladys M. West, Floyd Edwin Younkin, Carl F. Younkin, Marjorie Wilson, Lola Faye Mumaw and Russell W. Younkin.

In 1920, they lived on a farm in Harrison Township, Pickaway County, where Howard worked as a grange laborer. By 1930, they had relocated to a farm in Scioto Township, Pickaway County.

Tessa was a member of the Scioto Evangelical United Brethren Church Chapel Ladies' Aid and the Commercial Point chapter of the Womens Christian Temperance Union. In August 1932, the family attended a reunion of the Green clan at the home of George Adkins.

She passed away at age 71 on April 20, 1963.

Howard followed her to the grave a year later, in 1964. At the time of their deaths, they had produced 16 grandchildren and eight great grandchildren.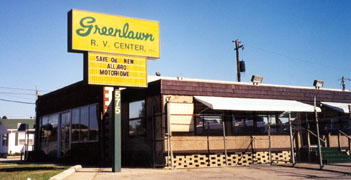 Greenlawn R.V. Center in Columbus, Ohio

Floyd Younkin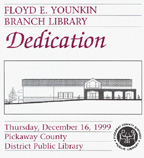 Booklet, 2000

Son Floyd Edwin Younkin (1917-1997) was born in 1917. He was president of Greenlawn Realty Company and founder of Greenlawn Mobile Home Sales and Park, Greenlawn R.V. Center, Scarlett Manor, Rose Hill Terrace and Enchanted Acres Communities, all of Columbus, OH. He founded what today is Dycom Industries, Inc., of West Palm Beach, FL. He was inducted into the Hall of Fame of the National R.V. Mobile Home and Park Developers Association in 1982, and was a member of the Ohio State University Presidents Club, among other accomplishments.

In his honor, his family donated funds for the Floyd E. Younkin Branch Library of the Pickaway County District Public Library, dedicated on Dec. 16, 1999, and for the Younkin Success Center at Ohio State University, dedicated June 6, 2000.



~ Son Everett "Hobart" Younkin ~

Son Everett "Hobart" Younkin (1897-1972) was born in 1897.

He first was united in matrimony with Gladys (?).

Later, he married Gertrude M. (?) (1902-1971), and resided in Dayton, Montgomery County, OH.

Neither marriage resulted in offspring.

At the time of his death, said the Columbus Dispatch, he was a "retired truck driver for Commercial Freight [and] currently employed at the Larry Boord Insurance Co. as building manager."

Gertrude passed away at the age of 69 on Nov. 26, 1971.

Hobart died just a few months later, on Jan. 28, 1972, and they are buried at Harrison Township Cemetery.



~ Daughter Mildred Clara (Younkin) Hoover ~

Daughter Mildred Clara Younkin (1899-1964) was born in 1899.

She married James Hoover (1900-1977). James was a carpenter in the building construction industry. Circa 1930, they made their home along Goose Pond Road in Scioto Township, Pickaway County. Later they lived in South Bloomfield, Pickaway County.

The couple were the parents of seven children -- Rowland Hoover, Geraldine Hoover, Cleo Furr, Willard "Rudy" Hoover, Christina Naegele, Imogene Hoover and Paul Hoover.

Heartache shook the family in August 1919, when newborn son Paul died of heart problems. The tender infant was placed in eternal rest in South Bloomfield Cemetery.

Mildred passed away in 1964, at the age of 65.

James outlived her by 13 years. He surrendered to the angel of death in 1977, at age 77.



~ Daughter Edith (Younkin) Mithoff ~

Daughter Edith Younkin (1903-1980) was born in 1903.

She was joined in wedlock with Clarence Mithoff (1900-1974).

The Mithoffs resided in Columbus, Franklin County, OH and later at Lancaster, Fairfield County, OH.

They had three daughters -- Helen Schwartz, Louise Land and Beatrice Ford.

Clarence was spirited away by the angel of death in 1974.

Edith died on March 15, 1980, with her obituary published in the Columbus Dispatch. They are buried at Harrison Township Cemetery.

Daughter Helen Mithoff ( ? - ? ) Schwartz

Daughter Louise Mithoff ( ? - ? ) Land

Daughter Beatrice Mithoff ( ? - ? ) Ford

~ Daughter Ora Bernice (Younkin) Drake ~

Daughter Ora Bernice Younkin (1906-1923) was born in 1906.

She wed Kenneth Drake ( ? - ? ) at about age 17.

Tragedy devastated this young couple on Oct. 8, 1923, when 17-year-old Ora suffered an obstruction of her intestine, which ruptured and caused peritonitis. She died the same day.

The remains were laid to rest at Stoutsville, Fairfield County, OH.

Kenneth's fate is unknown.



Copyright © 2000, 2003-2006, 2008-2010, 2022 Mark A. Miner