Home

Among of the most enduring cultural contributions of Pennsylvania Germans of the late 1700s and 1800s were highly decorated birth and baptismal certificates, known as "taufschein." Originating in Berks County, PA -- where Friedrich and Eva Maria (Weber) Meinert Sr. settled in the 1730s -- the art form is highly prized today for originality and color as well as valuable genealogical information about the child and his or her parents and sponsors.
This taufschein was commissioned by the Meinerts' great-grandson and his wife James and Mary (Bernhardt) Fegely of Longswamp Township, Berks County for their son David "Wilson" Fegely. Born on May 30, 1851 in nearby Lower Macungie Township, Lehigh County, Wilson was baptized at age four months, on Sept. 25, 1851, by Rev. Jeremias Schindel of the Lutheran wing of Solomon's Church. David and Sallie (Trollinger) Hertzog stood for the infant as his sponsors.
As a teenager, Wilson received formal religious instruction and was confirmed by Rev. D.K. Humbert in the Longswamp Church.
This taufschein measures 16¼ inches by 13¾ inches and was pre-printed in black ink, as a fill-in-the blank form, by Plumer, Butch and Co. of Allentown. It was hand-colored by the artist using decorative figures of angels, an eagle and birds using gold, red and green watercolors. The layout not only includes a central rectangular space with Wilson's hand-lettered birth and baptism particulars, but also smaller rectangular spaces above to the left and right, and below, with pre-printed inspirational writings. Approximate translations into English are provided below, with thanks to Linda Marker -- of the family of Frederick J. and Delilah (Faidley) Younkin -- for her work on the translation, applying her knowledge of the oddities of Pennsylvania German dialect.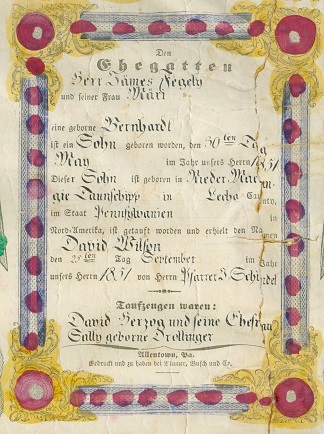 Text in the central rectangle:
The
Birth
Mr James Fegely
And his wife Mari
One born Bernhardt
Is a son born the 30th day
May in the year of our Lord 1851
This Son is born in Lower Macun-
gie Township in Lecha [Lehigh] County
In State Pennsylvanian,
North America, is baptized and given the name
David Wilson
The 25th day September in year
Our Lord 1851 by Mr. Minister Schindel
Sponsors were:
David Herzog and his wife
Sally, born Drollinger
Allentown, Pa.
Birth and (?) by Plumer, Butch and Co.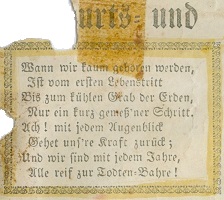 Text in top left rectangle:
Birth and
When we are born
Is from first life occurs
Until the earth feels the grave
Just a measured step
O with every eyesight
Look back
And we find with every year
All ripe for the lodging stretcher.
[Coffin?]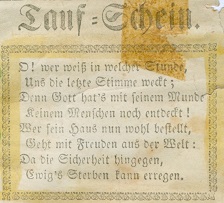 Text in top right rectangle:
Baptism Certificate
O! Who knows in which hour
Our the last voice (?) is heard (?)
Then God has with his (?)
His human still deprived!
Who now his house well ordered
Goes with friends from the world
because the security, on the other hand
When to die excites.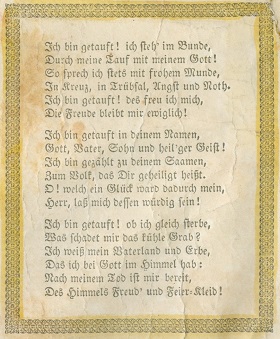 Text in bottom rectangle:
I am baptised! I remain bound
Through my life with my God
So I speak with joyful tongue
In Cross, in Sorrow, Fear, and Roth*
I am baptised! I am happy,
The joy remains my emiglich*!
I am baptized in your Name,
God, Father, Son and Holy Ghost!
I am paid for by your Name,
To Bolt (?), that means sanctified,
O! what a happiness was mine.
Lord, let me be His.
I am baptized! If I die now
What harm does that feeling have?
I know my fatherland and heritage,
That I have in heaven with God:
Is ready for me after my death.
Heaven's celebration above, might mean death.
* These German words do not directly translate.


VisitPITTSBURGH is the promotional sponsor of this page. Be sure to get a copy of the Greater Pittsburgh Convention & Visitors Bureau's Official Visitor's Guide, a 25-page workbook to help event organizers stay on track, no matter what type of reunion or meeting they are planning to hold. The booklet features a page of ideas by the founder of this website, headlined "Take It from a Professional."
Full text>>>
Copyright © 2019 Mark A. Miner