Home

Frederick J. Younkin
(1824-1879)


Frederick and Delilah Younkin
Frederick J. Younkin was born on March 15, 1824 in Somerset County, PA, the son of Jacob and Sarah "Salome" (Weimer) Younkin Jr. He was a veteran of the Civil War.
As a baby, Frederick was christened in the Laurel Evangelical Lutheran Church in Somerset County. He grew up in Hexebarger and counted among his boyhood friends Charles Rose, Frederick Dull, Alexander W. Faidley, Harmon D. King and John Romesburg. Many years later, Romesburg recalled that "We were boys together, of the same age, often worked together...," and Faidley said that he and Frederick "knew each other from boyhood up....We often worked together."
Frederick in young manhood held an account at the John McMillan tannery in Listonville, and his entries from the years 1845 to 1868 are recorded in the tannery's business ledger which is preserved today. His individual entries read as follow:
...a pair of half soles, cost 25 cents, June 23, 1845 – a Qr of up at $1.62 and 7½ lbs of SL, July 26, 1847 – a set of Chares at $6.00, July 28, 1848 – a CS at $1.37, April 14, 1849 – 2 Qr SL weight 11½ lbs., cost $3.58, Oct. 6, 1849 – a Qr SL weight 2¾ lbs., cost $3.04, Sept. 23, 1850 – a pair of corse Boots at $3.50, Nov. 4, 1851 – a CS at $1.37, Dec. 5, 1852 – 2 Barrals of Cider at $1.50, cost $3.00, 2 barrals apples, 75 cents and garden + meddow lot, $1.00, Nov. 12, 1853 – settled accounts with John K. McMillen + balance due him two dollars and 19 cents, Dec. 21, 1854 [signed] – 7½ lbs of sole at 31¼, cost $2.34, March 27, 1860 – 229 feet Poplar Boards, $2.29 and a side of up at $5.95, Oct. 24, 1868.
At the age of 24, on July 2, 1848, Frederick was united in matrimony with 19-year-old Delilah Faidley (1829-1913), daughter of John William and Barbara (Kreider) Faidley of Salisbury, Somerset County. The couple had met in the late 1840s when Frederick was working on the farm of his cousin Rev. Harmon "Herman" Younkin, and Delilah came to visit. Coming from Salisbury, the other Faidley relatives also resettled in the Hexebarger area, where they met and mixed with the large Younkin families who populated the region at that time.
The wedding ceremony was performed by Rev. Samuel King, preacher of the Methodist Church of Paddytown, at the nearby home of the groom's first cousin who was married to the bride's sister -- Rev. Harmon and Susanna (Faidley) Younkin. Among those in attendance were another of the bride's sisters married to one of Frederick's cousins -- Frederick and Margaret "Peggy" (Faidley) Dull -- and to John Faidley, who later settled in Kansas.
The Younkins and Faidleys became especially fond of each other. Frederick's brother "Weasel Jake" was wedded to Catherine Faidley, daughter of Peter and Elizabeth (Meyers) Faidley -- his cousin Frederick F. Younkin was joined in matrimony with Delilah's sister Sarah Faidley -- cousin Rev. Harmon "Herman" Younkin married Delilah's sister Susanna -- Younkin cousin Frederick Dull was wedded to Delilah's sister Margaret "Peggy" -- and cousin Hila Younkin was wedded to Delilah's brother John.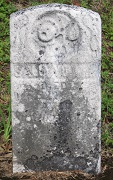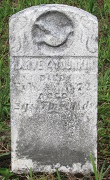 Graves of Sally (1862) and Harvey Younkin
(1872), Delilah Younkin Cemetery
They went on to produce a family of 11 children -- Emily J. "Emma" Clevenger, Edwinna Canallas Glotfelty, George Washington "Wash" Younkin, Nessly Younkin, Sarah Ann "Sally" Younkin, Benjamin "Franklin" Younkin Sr., Josephine "Fina" (Younkin) Younkin, William Lincoln Younkin, Harvey Younkin, Mary Ann Kane McCarthy Corbett and Hila King Hawkins.
Delilah was assisted in her births by family friend and midwife Sarah Rugg and, in later years, her eldest daughter Emily Clevenger.
Sadness enveloped the family when two of their children died young. Little Sarah Ann "Sally" Younkin passed at the age of three years, 11 months and 10 days just three days before Christmas in 1862. Her tender remains were placed into repose in the family farm cemetery. Her small grave marker still stands but is fading, and portions are still legible today. [Find-a-Grave]
A decade later, son Harvey Younkin succumbed after just two years of life on Feb. 21, 1872. His name and dates of birth and death were handwritten into the family Bible. These pages later were torn out of the delapidated Bible and sent to the U.S. Pension Bureau in Washington, DC to support the Civil War pension claim of Harvey's father.
In the years leading up to the Civil War, Frederick was held in high esteem by his neighbors and friends. Said Levi Snyder, "He was one of the best farmers in the mountains near about Kingwood.... I often worked with him." John Frederick Kreger, married to Frederick's cousin Sarah Younkin, noted that "We always lived near neighbors and were well acquainted. So far as I can recollect he was a strong able bodied man, worked a very rough farm." Future brother in law Alexander W. Faidley said that he was "one of the stoutest men in the community."
During the Civil War, with casualties mounting in alarming numbers, and President Lincoln issuing repeated calls for more soldiers, Frederick was drafted into the Union Army on Sept. 26, 1864. He was assigned to the 52nd Pennsylvania Infantry, Company I, which had been organized earlier in the war and was depleted of troops, needed new men. Left behind were his wife and six children on their farm ranging in age from 15 to a few months.
He served for a little more than nine months. Evidence shows that Frederick and the 52nd Pennsylvania were ordered to South Carolina, where in December 1864 they took part in the battle of Morris Island, SC, in their attempt to capture the port city of Charleston. While at Morris Island, exposed to inclement weather, he contracted bad cases of asthma and rheumatism, with pain in his back and shoulders. On one particular day, he was carried from picket duty into camp on the island. Fellow soldier John M. Bowlsby, who was a mess- and bunk-mate with Frederick, observed that he "got so that he could not sleep."

Union troops storming Fort Wagner, a beach fortification on Morris Island, SC
After the siege of Charleston ended, the regiment moved to North Carolina where it remained until the end of the war. Frederick received an honorable discharge on June 2, 1865, and began the journey back to Somerset County.
Upon his arrival home on or about July 5, 1865,, relatives and friends were shocked by his haggard appearance. Said his cousin and nephew by marriage, Freeman Younkin, son of Rev. Herman Younkin: "I saw him the next day after he came home, and will never forget how he looked. He was brought home from Somerset in a wagon, and he was so changed, I hardly knew him." Sister in law Susanna (Faidley) Younkin claimed that he "looked more like a corpse than a living man." Boyhood chum John Romesburg recalled that "I was really surprised at his appearance. He was so changed from his former self." Friend Levi Snyder, who had worked with him before the war, said:
I was in Somerset ... the day he came home and upon inquiry I found him very sick, suffering for shortness of breath and great pain in his chest and limbs.... At his request I took him to Dr. Brubakers office; and the Dr. pronounced him very sick. Said he had asthma and Rheumatism and gave him some medicine. I then took him to my house and kept him all night.
Frederick rode the final leg of his trip home on a wagon. He eventually recovered sufficiently enough to work a few hours a day and to produce four more children with Delilah. A year after the war ended, on March 19, 1866, Frederick acquired a 222-acre farm in Hexebarger from Judge William J. Baer, who had bought several adjacent tract for mineral rights and then bundled them again for resale. The farm included the Younkin Cemetery where Frederick later would be placed into eternal repose. Baer had bought these lands from the Gross family, estate of Frederick G. Younkin and from Jacob Minerd III -- the latter whom in turn had acquried the farm from his unmarried sister in law Hannah Ansell a few years earlier. The deed is recorded in a Somerset County Deed Book. Sister in law Susanna (Faidley) Younkin, who lived in nearby Paddytown, recalled that she saw Frederick from two to five times a week from July 1865 to 1873.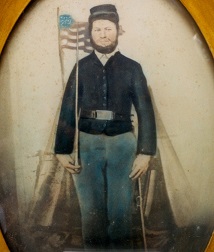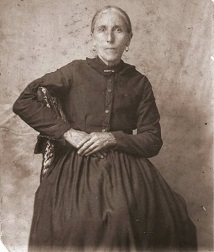 Frederick and Delilah (Faidley) Younkin
Frederick never fully recovered his health. Friend John Romesburg recalled Frederick trying to work but being short of breath and had to be led home. He received treatment from Dr. H.D. Bevens from the spring of 1872 until 1876, and from Dr. B.A. Fichtner in 1875. Fichtner recalled that Frederick needed to sit up to rest or sleep "as the position of lying down entirely exhausted his breath." Other physicians who provided care were Dr. Joseph Rogers, Dr. Ed S. Conley and Dr. Davud Meyers. His condition became precarious in the dead of winter 1877, a dozen years after the war ended. Friend Charles Rose of Ursina paid frequent visits, and often shaved, washed and dressed him. Frederick complained of a "terrible shortness of breath," Rose recalled.
Unable to sleep on his back, Frederick at times would sleep sitting up, leaned over forward with his head resting on his arms. Delilah at times would see him twitch or jerk as he slept.
Neighbor and cousin by marriage, John Frederick Kreger, wrote that "I came over the night before his death and I was the only man at the place... I was sitting by him. He raised up breathing very hard and said he thought he could breath better if he got on his knees and laid his breast on the lounge and in a few minutes, and in that position he died."
Delilah Younkin Cemetery
Courtesy Linda Marker
Frederick died in Upper Turkeyfoot Township on Feb. 23, 1877. His age at death was 52 years, eight months and eight days. Friend Rose assisted in the preparation of the body for burial and helped lift the corpse into a coffin. His remains were placed into rest in a cemetery on the home farm which later became well known under his widow's name -- the "Delilah Younkin Cemetery." Among the mourners attending the funeral was cousin Frederick Dull. [Find-a-Grave]
Inscribed on his upright grave marker was a carving of two shaking hands, just below the single word "FAREWELL." The marker stands erect and legible today.
Son Nessly took on the duties of estate administrator. An inventory was made of his father's possessions. They included hay and corn fodder, wheat, one hog, two pigs, a copper kettle, tools and stands, potatoes, corn, a churn, beams, onions and buckwheat. Other items in the estate were a spinning wheel, barrels, a chest, stand, one gladd, a clock, two stovev, a sink, dishes, four beds and wheat. When the estate was settled in November 1882, the family farm was described as 132 acres, "about 100 acres cleared, the balance timber, with house, barn and other outbuildings..." The farm was put up for sale to raise cash to pay debts, and Delilah was the high bidder at $1,507.
Delilah was thus rendered a widow with five children between the ages of 16 and two. She survived her husband by 36 years and resided on a farm in Hexebarger, making her home with her son William. After becoming widowed, she became aware that she could obtain a military pension for her late husband's wartime service. She applied for the pension and had to provide extensive documentation of her husband's wrecked health, their marriage and children. She even ripped out family record pages from her Bible which contained handwritten inscriptions of family marriages, births and deaths. In doing so, she remarked,"The bible is all torn, just take it along."
Those relatives and friends who stepped forward to provide testimony and evidence in support of her case were cousin Freeman Younkin, brother Alexander W. Faidley, Charles Rose, Susanna (Faidley) Younkin, cousin Rev. Harmon Younkin, John Frederick Kreger, daughter Emily J. Clevenger, Harmon D. King, John M. Bowlsby, John Romesburg, Frederick Dull, Ed. W. Smith, Alfred N. Snyder, Levy Snyder and George Stough as well as physicians H.L. Bevans, B.A. Tichtner, W.S. Harah and Henry Brubaker. Unfortunately, Delilah was unable to locate the whereabouts of the surgeon or assistant of the 52nd Pennsylvania who would have known Frederick's case best.

1860 atlas of Upper Turkeyfoot Township showing what's believed to be Frederick and Delilah's farm.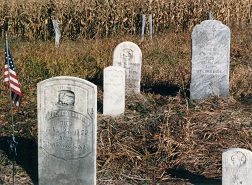 Younkin graves in Delilah's cemetery
Friend Stough, who had served with Frederick at Morris Island, verified that while in the line of duty, his deceased friend had contracted asthma, rheumatism, spasms and diarrhea. "He has great trouble in breathing, also bleeding at his mouth and nose," Blough wrote. Friend Smith, now living in Scranton, PA, testified that "Frederick Younkin was enlisted in my Company some time in Sept. 1864 and was a large, stout, heavy, and healthy man from his appearances, he done duty and was a good Soldier up to sometime in the month of December 1864, at Morris Island South Carolina, he took sick with Diarrhea, Asthma, & Rheumatism, and was sick quite awhile…"
Bowlby and King noted that after the war, Frederick no longer was "the man [they] messed, tented & bunked with…" Nephew Freeman Younkin said that "I did not think at that time he would live a week. His looks was more like a dead man – than a live man."
The pension finally was awarded two years later in September 1879. [Widow App. #251.424, Cert. #203.058] Thus she would have been eligible for a windfall payment covering the previous two years and then to draw monthly pension payments for the remainder of her life. The federal government paid to have a standard-issue military marker placed at Frederick's grave under contract to William Manson dated Jan. 21, 1883. By the time it was installed, an elaborate civilian marker had been erected, so the military marker serves as the footstone at the site.
In March 1883, Delilah hosted the wedding ceremony of her son to a cousin, Caroline Kreger -- daughter of John Frederick and Sarah "Sally" (Younkin) Kreger -- officiated by justice of the peace G.W. Anderson, before they left for Kansas. The event was covered in the Somerset Herald.
The final three decades of Delilah's life are not well known. One of the few glimpses is her activity with the house of worship near her home, the Old Bethel Church of God. In a history of the church written in the 1880s or early 1890s, Harrison Grant King wrote:
Nor let us fail to mention Sisters Delilah Younkin and Hester Faidley, the former still living and a member of the church, of her we can say she hath done what she could and the recollections of the good she done for the cause and Kingdom will live long after it is said of her body dust to dust, ashes to ashes. And while the latter has gone to her reward some 14 years ago her name is dear to the church today, for her motherly kindness and her deep love and interest she manifested for the church "Down life's dark vale we wander" was one of her favorite hymn's.
By 1913, Delilah was receiving $12 per month in military pension payments. Suffering from acute laryngitis, she passed into eternity on April 9, 1913, at the age of 84. Wilson Clevenger of Markleton provided key details for her official Pennsylvania certificate of death. In a twist of fate, she was not buried in her own family graveyard, next to her husband, but rather at the nearby Old Bethel Church of God.
Under the terms of Delilah's will, she appointed as executor J.B. Davis, operator of a general merchandise store in Ursina. He declined to serve. The next choice was her husband's cousin and trusted local physician Dr. Winfield Scott Kuhlman, son of Louisa (Smith) Kuhlman. Sadly, though, by the time the estate was settled in 1923, Dr. Kuhlman had died just a few years earlier.
Old Bethel Church Cemetery
The will spelled out that each of her children was to receive one dollar, except for Washington, who was to receive the remainder of her property, including the farm. Upon Washington's future death, grandson George Washington Kane was to inherit the farm, as a repayment for a $300 loan which the boy's stepfather Jeremiah John McCarthy had once made to her. In conclusion, she wrote, "Should there be anything left after my son Washington's death then I desire that it shall be equally divided between my son Franklin and daughters Hily and Josephine and my grandson George Kane and is distinctly understood that my grand Son George Kane shall first receive the aforesaid $300 -- before the division is made."
Twenty years after Delilah's death, her old family burying ground was the setting of a remarkable, coincidental meeting between two double cousins that led to the founding of the Younkin National Home-coming Reunions from 1934-1941 and the Younkin Family News Bulletin published between 1937 and 1941. The cousins -- Charles Arthur "Charleroi Charley" Younkin and Otto Roosevelt "Pete" Younkin -- had corresponded but never met, and both were on driving day trips researching their ancient roots, and happened to be in the same place at the same time. Writing of that first meeting, Otto said:
While paying a visit to my mother, near Kingwood Pa., on Sunday Aug. 5th, 1934, I decided to visit the old Delilah Younkin cemetery in "Hexebarger." So in company with my wife, son, mother, step-father, and also a picnic lunch, we proceeded upon the journey. Having spent an hour or so in the cemetery we were ready to leave for other old burial grounds when another car drives in through the wilderness. Two men got out of the car, one of them whom I recognized as a first cousin of my mother, Milton Bruce "Pete" Younkin, of Kingwood Pa.; the other man was a total stranger to me as well as the rest with me. Upon being introduced we learned this stranger to be none other than the former Charles A. Younkin of Charleroi Pa. Who was upon a similar mission as ourselves. It was a rather strange coincidence since I had received no further communication from him and neither knew the other to be in that vicinity. It was then resolved that the first reunion of Younkins had taken place. There were six Younkin descendants and related by marriage present at this little reunion.
Immediately after meeting in the rural cemetery on a rough dirt road, the group then drove out of the woods and back onto what today is Old Bethel Road. They turned left and drove a short distance to the Old Bethel Church of God Cemetery, spread out some blankets and had a picnic lunch together. Remembering that day a few years later, Charley wrote to Otto: "You are all wet. It is a cherry tree at the Bethel Church where we had our first Reunion Dinner."

Delilah Younkin Cemetery, Hexebarger, October 1986
In the mid-1930s, the memory of Frederick and Delilah was brought into view when their son William attended the Younkin National Home-coming Reunions and was interviewed by reunion organizers Otto Roosevelt "Pete" Younkin and Charles Arthur "Charleroi Charley" Younkin, who were trying to piece together "who's who" in the extended, confusing family. In a letter to Otto in December 1936, Charley wrote: "Perhaps you are right about Fred. J. having brothers Jonas [Isaac], Dan and Elijah as this had slipped my mind."
The story of Frederick and Delilah was told in part in the Younkin Family News Bulletin, Vol. 6, #1, January-February-March 1995, written by Donna (Younkin) Logan. Portions of Frederick's wartime experience story were authored by Linda Marker and reproduced here with consent.
Frederick's Civil War photograph today is safely in the possession of a great-great-great-great granddaughter Laurel "Lolly" (Sanner) Piersel. Lolly's mother saw it for the first time in a Southern State, and it was crawling with bedbugs. She brought the treasure back home and has restored it including the curved glass of the frame. More than likely, the photograph was given to Frederick and Delilah's grandson, George Washington Kane, a branch of the family who had moved to Atlanta, GA.
Copyright © 2016-2018, 2020 Mark A. Miner
Research for this page graciously shared by the late Olive (Rowan) Duff, the late Donna (Younkin) Logan and Linda Marker.