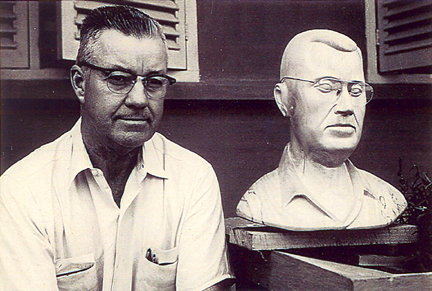 Harvey "Dean" Miner (1910-1998), the son of Hugh Valentine and Mabel Olive (Shanower) Miner of Tontogany, Ohio, poses with a bust of himself crafted circa 1961 by a student in Nigeria. At the time, Dean was on a leave of absence from his longtime employer, Bowling Green State University, and was living in Port Harcourt, Nigeria with his wife Florence and son Charles Robert "Bob" Miner. Under the auspices of the former International Cooperation Administration, Dean was helping to organize industrial arts ["handicraft"] shops in the country's eastern region.

The unidentified woodcarver and bust
Writes son Bob: "One of the skills common to the Nigerians of this region was wood carving. I suspect a local wood carver, having respect for the work my Dad was doing offered to carve his head from a photograph. The actual carving was life size and in fact old glasses and hats will fit. The problem is that the wood was not cured properly and has cracked. None-the-less it is now a valuable possession. I suspect that Dad provided the carver some money but it was not done for profit."
Dean was an influential industrial arts instructor based for many years in northwest Ohio. Said a newspaper, he was "a specialist in setting up industrial arts programs. He "organized and set up industrial arts shops at schools in Weston, McClure, St. Paris and Tontogany [OH]." Dean was the author of the book Exploring Patternmaking and Foundry, published by the D. Van Nostrand Co., of Princeton, and of "Pattern Making and Foundry in the General Shop" in the October 1950 edition of Industrial Arts Magazine. In 1959, Dean was appointed to a team of Ohio University educators in a program through the Nigerian government and the International Cooperative Administration. Their mission was to study the technical education programs of Nigeria's secondary schools and colleges before making specific recommendations for change. Upon returning to the United States from Nigeria, Dean authored "Industrial Arts in Nigeria" in the December 1966 issue of the Journal of Industrial Arts Education.
Copyright © 2007 Mark A. Miner