Mabel and Hugh Miner

Hugh Valentine Miner was born on his namesake day, Feb. 14, 1884, near Tontogany, Wood County, OH, the son of Jacob and Louise (Finkenbeiner) Miner.
On March 4, 1908, Hugh was united in the bonds of holy matrimony with Mabel Olive Shanower (1885-1985), a native of Plymouth, IN, and the daughter of Ananias B. and Lucy Ann (Whiteleather) Shanower.
Hugh and Mabel are said to have ridden a streetcar from Tontogany to Perrysburg, Wood County, to be married.
The Miners became the parents of three children: Harvey "Dean" Miner, Lucy Margaret Mettler and Ivo "Dale" Miner.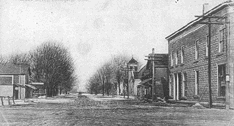 Broad Street, Tontogany

The family resided in Tontogany for decades.

As a young adult, Hugh was manager of the Royce and Coon Grain Elevator at Tontogany, Later, for 19 years, he worked at the highway garage of what is now the Ohio Department of Transportation, from where he retired.

Hugh had a boiler's license, and usually worked nights as a watchman.

Another distant cousin who worked for the county highway department was Logan Potter, son of George and Mary (Leonard) Potter.

Mabel was a member of the Past Noble Grand Club of Oriana Rebekah Lodge in Tontogany. She kept scrapbooks filled with news clippings of relatives and friends, preserving an important part of our family's legacy.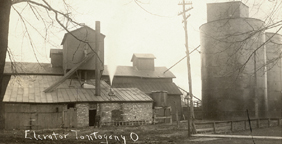 Old grain elevator in Tontogany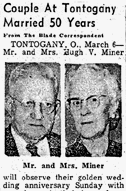 News story, 1958

In 1958, the Miners celebrated their 50th wedding anniversary by hosting an open house reception at their home for 100 guests. A newspaper article said:

Book namingMabel

The Miners' only daughter, Mrs. Duane Mettler, of Edon, baked the 3 tier cake for the occasion, which was decorated with white icing and topped with yellow roses. Yellow tapers, surrounded by yellow rose-buds on a white linen cloth, added to the attractiveness of the buffet table…. A picture of the bride and groom taken 50 years ago was hung on a wall between two recently taken pictures, adding interest to the celebration.
Hugh and Mabel were married for a total of six decades.
He passed away in Bowling Green on Oct. 28, 1968. Interment of the remains was in the sacred soil of Union Hill Cemetery near Tontogany.
Mabel outlived Hugh by 17 years. When Tontogany celebrated its centennial anniversary, she was pictured in s special booklet, Tontogany Times: Story of Tontogany, Ohio, 1875-1975. She was a talented quilt-maker, and two of her quilts are featured in the Minerd.com Online Quilt Museum -- one with blue highlights, and the other featuring pink details.
She died at the age of 100 on March 16, 1985, also in Bowling Green. They are buried together at Union Hill.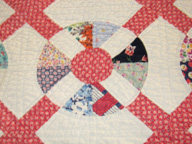 Quilt lovingly crafted by Mabel for a great-granddaughter

Dale Miner

~ Son Ivo "Dale" Miner ~
Son Ivo "Dale" Miner ( ? -1955) was born in (?).
Dale moved from Tontogany to Michigan, where he resided in Reading, Hillsdale County, MI. There, he first worked at the Weaver Tannery.
Later, he moved to relocated, MI and was appointed as a deputy sheriff of Hillsdale County.

News story

In 1940, Dale married Ruth Miller ( ? - ? ).

Together, the couple produced one daughter.

Tragedy struck in January 1955 when Dale was killed in an automobile accident in Hillsdale, on his way to work, when his vehicle skidded off the road and flipped over an embankment.

His widow Ruth later married James Pugh ( ? - ? ).

~ Son Harvey "Dean" Miner ~

Son Harvey "Dean" Miner (1910-1998) was born in 1910.

He was joined in wedlock with Vera "Florence" Hardy ( ? - ? ).

Dean was an influential industrial arts instructor at Bowling Green State University. Said a newspaper, Dean was "a specialist in setting up industrial arts programs… [and] organized and set up industrial arts shops at schools in Weston, McClure, St. Paris and Tontogany [OH]."

Dean was the author of the book Exploring Patternmaking and Foundry, published by the D. Van Nostrand Co., of Princeton, and of "Pattern Making and Foundry in the General Shop" in the October 1950 edition of Industrial Arts Magazine. In 1959, Dean was appointed to a team of Ohio University educators in a program through the Nigerian government and the International Cooperative Administration. Their mission was to study the technical education programs of Nigeria's secondary schools and colleges before making specific recommendations for change.

During a two-year leave of absence from BGSU in 1960-1961, Dean and Florence resided in Enugu, Nigeria, about 200 miles inland. Later, upon returning to the United States, he authored "Industrial Arts in Nigeria" in the December 1966 issue of the Journal of Industrial Arts Education.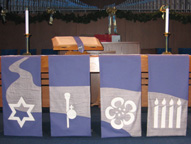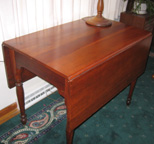 Some of Dean's creations -- the Exploring Patternmaking book, altar at the First United Methodist Church, and drop-leaf table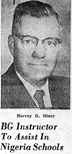 News story

At his home church, the First United Methodist Church in Bowling Green, Dean also "donated his labor to build most of the chancel furnishings, including the large overhead cross, pulpit, lectern, baptismal font, altar, and pew communion cup-holders in the sanctuary," said the Toledo Blade. Dean's creations are shown at larger size and greater detail on three pages of our online "Museum of Creativity" -- the book page, chancel furnishings page and home furnishings and decor page. He and Florence were married a total of nearly 59 years. Diagnosed with cancer in the early 1990s, he battled the illness for a number of years until his passing at the age of 88, on June 20, 1998. The Toledo Blade newspaper carried an extensive obituary, entitled "Ex-Industrial Arts Teacher Was 30-Year BGSU Veteran." He was laid to rest in the Union Hill Cemetery near Tontogany.



Beverly receiving award

Son Charles Robert "Bob" Miner (1940-2022) was born on June 14, 1940. He was an alumnus of Washington Township/Otsego High School and later received his bachelor of industrial technology degree from Ohio University and and master of industrial education degree from Bowling Green State University. In young manhood he accompanied his parents on a mission trip to Nigeria. He also served in the U.S. Air Force, with tours of duty in Great Britain and Clark Air Force Base in the Philippines. In nuptials held in Duluth, MN on June 19, 1965, Robert was united in matrimony with Beverly May Hansen ( ? -living). Their union survived for a remarkable 56 years until separated by death. The two offspring they produced together are Kirk Miner and Rev. Kathleen Kisner. He went on to a long career as an industrial arts and technology teacher at Gateway Middle School in the Maumee (OH) City System. He has followed in his father's footsteps in church leadership with the Trinity United Methodist Church in Bowling Green, serving in 2005 as Chairman of the Board of Trustees, and helping to lead mission trips to Appalachian regions. His travels also included 20 countries and 44 different U.S. states. He was a member of the Tontogany lodge of the Independent Order of Odd Fellows, the Wood County Hospital Wheeled Meals and the Black Swamp Chapteer of the Veteeran Motor Car Club of Ameerica. In her own right, Beverly has been an active family historian and volunteer with the Wood County Chapter of the Ohio Genealogical Society. Bob and Beverly's family are profiled in the 1994 publication, On the Courthouse Steps of Wood County, Ohio, and are immortalized in a sewn section of a special quilt produced by the Genealogical Society. She also contributed information for Carl Day's 2002 book, Tom Custer: Ride to Glory, and introduced the author when he spoke at the 2002 Minerd-Miner-Minor Reunion. Beverly received an award in 2003 for her work with the Historical Society of the United Methodist Church of Ohio. Sadly, he passed away in their home on May 3, 2022. His funeral service was held in the family church, with interment in Union Hill Cemetery.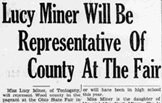 News story, 1932

~ Daughter Lucy (Miner) Mettler ~
Daughter Lucy Miner ( ? -1975) was born in (?).
She entered into marriage with Leonard Duane Mettler ( ? - ? ).
The pair did not reproduce.
The Mettlers were active in the community.

Leonard and Lucy Mettler

In 1932, Lucy was named the official Wood County representative to the Ohio State Fair in Columbus, having written an award-winning essay on "Wood County and Ft. Meigs in History."


She also "became the advisor [to the 4-H Club in Tontogany] in 1933 at the age of 17 and remained in that capacity for seven years," said the Tontogany Times booklet.

She died in February 1975, and is buried at Montpelier, OH.



Copyright © 2002, 2005-2008, 2010, 2012, 2022 Mark A. Miner