Online Quilt Museum
Pattern: ?
Quilter: Ada (McMillen) Firestone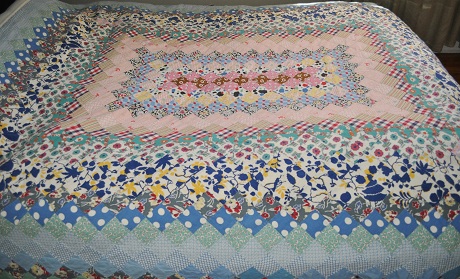 Ada (McMillen) Firestone, wife of Ulysses S. "Grant" Firestone, crafted this quilt in the 1930s or '40s. She loved to fashion her patchwork quilts from scraps of clothing, mostly cotton dresses and shirts. Many were fabricated in recognizably similar ways -- working patchwork outward from a center strip, and in straight diagonal lines.
They resided for many years near Normalville, Fayette County. Grant was the son of Civil War veteran Michael A. Firestone.
Click for next quilt
Return to quilt index page
Copyright © 2012 Mark A. Miner. Photograph by Deborah Thomas.