Online Quilt Museum
Pattern: ?
Quilter: Ada (McMillen) Firestone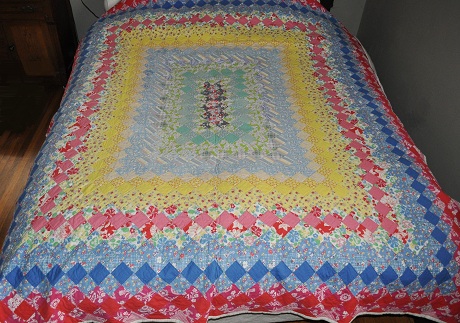 Ada (McMillen) Firestone, wife of Ulysses S. "Grant" Firestone, crafted this quilt in the 1930s or '40s. They resided for many years near Normalville, Fayette County. Grant was the son of Civil War veteran Michael A. Firestone.
Ada's technique in quilt making was to employ functional stitching rather than elaborate stitching for holding together the designed side and the backing. Writes a great-granddaughter, "The sewing is organized in simple diagonals. My impression is that Ada was taught a certain way to put together a quilt and this is what she did. She appears to have been industrious with high standards, in fact she was active in the 1930s at the Fayette County Fair and won some awards for animal husbandry, though I don't know if she showed quilts at the fair. Her joy in quilting shows up in the uninhibited use of color."
Click for next quilt
Return to quilt index page
Copyright © 2012 Mark A. Miner. Photograph by Deborah Thomas.