Online Quilt Museum
Pattern: Wheel Pattern Fundraising Quilt
Quilter: Dunbar (PA) Ladies Aid Society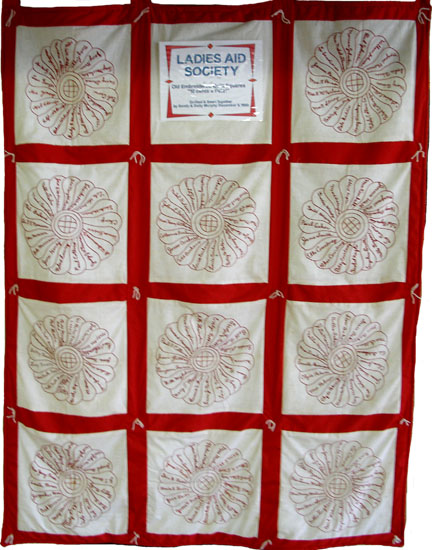 Many years ago, to raise funds, the Ladies Aid Society of Dunbar, Fayette County, PA sold "name petals" for 10 cents each to the good residents of town. Monies raised were used for church and community projects, as well as for disaster relief throughout the world, according to the book, How to Compare and Value American Quilts by Stella Rubin.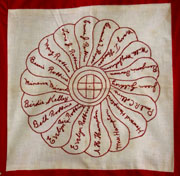 These squares represent the names placed on the petals, with each name stitched in red onto white fabric petals which eventually formed the shape of flowers super-imposed on squares. The squares were sewn together into an attractive red and white quilt some years later, on Dec. 5, 1999, by Sandy and Dolly Murphy.
Today, the quilt is in the collection of Dunbar resident Mae Hardy, who passed it down to her niece Doris (Porter) Rockwell.
If you look closely in the square at left, you can see some names of our cousins who contributed to the effort -- Minerva (Bodkin) Minerd (1878-1953), Emma (Fuller) Robbins (1865-1957), Beth Robbins and others.
This quilt has been displayed at the Dunbar Community Fest in 2002 through 2005.
Click for next quilt
Return to quilt index page
Copyright © 2005 Mark A. Miner