Online Quilt Museum
Pattern: Pine Tree
Quilter: Minnie Elizabeth (Younkin) Rhoads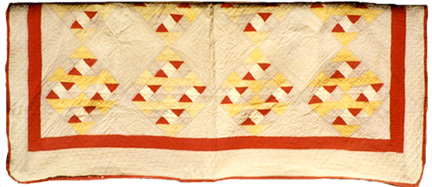 This pine tree quilt, only half-visible, was fashioned by Minnie Elizabeth (Younkin) Rhoads (1871-1938). It was made of flour-sack type material.
Minnie and her husband James Rhoads began married life in Casselman, Somerset County, PA, but later were pioneer settlers of Nebraska, though they ended their years in Yale, near Deerfield, Ohio.
The quilt was handed down to their great-granddaughter, Diana (Younkin) Burnell Egan. It was displayed at the 1998 Younkin Reunion-West, which Diana organized. It was a major inspiration for our 2005 National Minerd-Minard-Miner-Minor Reunion on "A Legacy of Quilting."
Click for next quilt
Return to quilt index page
Copyright © 2005 Mark A. Miner