Home

Thomas Henry Johnson
(1854- ? )
Thomas Henry Johnson was born on Sept. 2, 1854, in Preston County, WV, the son of Adrian and Rebecca Catherine (Martin) Johnson. He grew up in Davistown, Dunkard Township, Greene County, PA and was age nine when his father died during the Civil War.
As he was eligible, Thomas attended the Pennsylvania Soldier's Orphans School in Phillipsburg (Monaca), Beaver County. After completing his studies there, at the age of 16, in about September 1870, he is thought to have remained in that locality.
Thomas married Jennie Jolly (1854-1941), the daughter of William and Catherine (Turley) Jolly of Moon Township, Allegheny County, PA. They were united in marriage in about 1873, when they were both age 19.
The couple produced at least four children -- Edward Johnson, William J. Johnson, Anna E. "Annie" Coss and Alvin L. Johnson.

Phillipsburg Soldiers Orphan School, Monaca, PA
Circa 1895, at the birth of their son Alvin, the family lived in Freedom, Beaver County. By 1900, when they were enumerated in the U.S. census, the family home was on East Fifth Avenue in Freedom. That year, Thomas was employed as a laborer.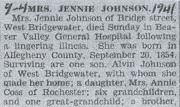 Jennie's obituary, 1941
When his step-father Isaac Moore died in 1904, Thomas' whereabouts were reported by the Connellsville Courier as "unknown." In a search of the Beaver County Courthouse in August 2009, Thomas' name was not found among marriage license, death or will records on file. He is believed to have abandoned the family, or to have died, as his wife claimed thereafter to be a widow.
To support herself in widowhood, Jennie obtained work as a servant for private families. The 1910 census shows her living in the household of Joseph Buser on Third Avenue in Freedom. The census-taker noted that of her four children, one already was deceased.
In 1920, the 65-year-old Jennie was widowed and lived in Freedom. Her 25-year-old son Alvin, and 13-year-old nephew Lester Johnson, were under her roof that year. Alvin generated income for the family as a railroad laborer.
The federal census of 1930 shows Jennie, age 75, residing in the house of 87-year-old Emily Warren on Penn Avenue in New Brighton, Beaver County. She occupied her time as a maid for Mrs. Warren.

Flooding in Bridgewater, PA, March 1936
Circa 1941, Jennie was living on Bridge Street in West Bridgewater, near Beaver, Beaver County, PA, likely under the roof of her married son Alvin. On Aug. 7, 1941, while at home, she fell and fractured her left hip. Added to chronic heart disease, her health began to fail. She was admitted to the Beaver Valley General Hospital. She died several weeks later, at the age of 86, on Aug. 31, 1941. Had she lived 20 days longer, she would have celebrated her 87th birthday. In a short obituary, the Beaver Falls newspaper noted that her survivors included six grandchildren, one great-grandchild and her brother Charles Jolly of Freedom.
Her remains were transported to Carnot Cemetery in her childhood community of Moon Township for interment. The burial ground, also known as Sharon Presbyterian Cemetery, is located at the intersection of Beaver Grade Road and Carnot Road. Her grave is not known to be marked, but this will be double-checked.
~ Son Edward Johnson ~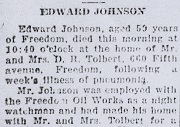 Beaver Falls News Tribune, 1932
Son Edward Johnson (1876-1932) was born on June 14, 1876 in Pennsylvania.
He married Bertha Hartley (1886-1930), who was a decade younger than he. She was the daughter of David Hartley of Antiquity, OH and Florence Sayre of Iowa. Their only known son was Raymond Johnson.
In 1930, the family dwelled at 299 Third Avenue in Freedom, Beaver County. Edward earned a living as a night watchman at the local Freedom Oil Works. He was a member of the Moose and Eagles Clubs in Freedom.
Sadly, Bertha died on Oct. 18, 1930, at the age of 44. A local newspaper reported that her passing occurred "following a lingering illness." Her remains were shipped for burial to Racine, Meigs County, OH, where four of her brothers and sisters resided.
Within a year or two, Edward and his son moved into the home of Mr. and Mrs. D.R. Tolbert 660 Fifth Avenue in Freedom (relationship unknown). At the age of 55, afflicted with pneumonia and influenza, he passed away on March 2, 1932. Burial was in Oak Grove Cemetery in Freedom, following funeral services in the Tolbert home. D.R. Tolbert of Freedom provided information for Pennsylvania state death certificate, and an obituary was printed in the Beaver Falls News Tribune.
~ Daughter Anna E. "Annie" (Johnson) Coss ~
Daughter Anna E. "Annie" Johnson (1882- ? ) was born in about 1882.
At the age of 18, in 1900, she married 23-year-old Harry Evertt Coss (1876-1947), a native of Warrenton, Jefferson County, OH. He was the son of John and Elizabeth (Easthom) Coss, and was tall with a medium build, and had blue eyes and dark hair. While Annie and Harry partially filled out a marriage license application in 1900, it was never completed, nor issued.
Their three known children were Margaret Coss, Harry Coss, Charles Coss and Lester Coss.
Harry left the household and abandoned his family sometime between 1908 and 1917. While separated, they never divorced, and remained this way for the next three-plus decades. He returned to Ohio, and made his permanent home there in Yorkville, Jefferson County, where he was a bartender for Joe Penna Company. In September 1918, at the age of 41, with World War I raging in Europe, he was required to register for the military draft. At that time, he noted that he lived in Yorkville but that his wife Annie, in Freedom, PA, was his nearest relative.
When the 1920 census was taken, Annie and her children made their residence on Adams Street in Rochester, with Annie marked as married. To make ends meet, she worked as a laborer in a local glass factory, as did her daughter Margaret. She enjoyed playing bridge.
By 1930, her home was on Pleasant Street in Rochester, with her three children, all in their 20s, living in the household. The federal census of 1940 shows her lodging in the home of Mary Roush and her son Clifford on West Madison Street in Rochester. At the time, yet again, she was marked as "married."
Circa 1947, Harry served as deputy sheriff of Jefferson County and made his home at Fourth and Washington Streets in Steubenville. He suffered a heart attack in mid-January 1947. He was admitted to Ohio Valley Hospital in Steubenville, OH and died six days later, at the age of 69, on Jan. 20, 1947. On his death certificate, John Coss of Steubenville served as informant, noting that the name of Harry's wife's was "Anna Johnson." Burial was in Linwood Cemetery in Blaine, Belmont County, OH.
Annie's fate is still being researched.
Daughter Margaret E. Coss (1901-1988) was born on Jan. 5, 1901. In 1920, at age 18, she worked as a laborer in a local glass works. When she was age 29, in 1930, she was single and at home with her mother, and earned a living as a waitress in a local restaurant. Margaret married Frank Dishler (1889-1964). They had no children. She was a member of the First United Presbyterian Church of Rochester. Frank passed away in September 1964. Margaret spent her later years living on Monroe Street in Rochester. She passed away on Jan. 29, 1988, at the age of 87. Her remains were interred in Sylvania Hills Memorial Park in nearby Daugherty Township.
Son Harry E. Coss Jr. (1903-1992) was born on Jan. 3, 1903. At the age of 17, in 1920, he was a railroad laborer, residing at home. Unmarried at the age of 27, he remained at home with his mother and worked as a clerk in a local bridge works, likely Pittsburgh Bridge & Iron (PBI). Harry was a member of the Rochester United Presbyterian Church. He enjoyed bowling and was active with the Beaver Valley YMCA Church Bowling League (circa 1929) and Beaver Valley Bowling Association. Circa 1988, his home was in Baden, Beaver County. He died on Jan. 27, 1992.
Son Charles L. Coss (1906- ? ) was born on July 25, 1905. He married Ruth (1907-2000). They lived in Gainesville, FL in 1988-1995. Charles passed away on April 8, 2000, at the age of 94. Ruth lived on for only less than three months. She died on July 1, 2000, in Gainesville.
Son Lester F. Coss (1908-1995) was born in about 1908. He lived with his mother in 1930, at age 22, and with his brother Harry was employed with a local bridge works as a clerk. He married Elizabeth "Betty" Voynik ( ? - ? ). They did not reproduce. In about 1943, the Cosses moved to Ambridge, Beaver County, where Lester secured employment as a rate analyst with the industrial engineering department of United States Steel Fabrication. He worked there for 42 years and retired in 1974. He belonged to the Elks and Eagles lodges in Ambridge. Lester died at the age of 88 on Dec. 18, 1995, in Allegheny General Hospital in Pittsburgh. Funeral services were conducted by Fr. William Evansky, followed by burial in the St. Elijah Serbian Orthodox Cemetery in Hopewell Township in nearby Aliquippa.
~ Son Alvin L. Johnson ~
Son Alvin L. Johnson (1895-1961) was born on March 30, 1895 in Freedom, Beaver County and was a lifelong resident of the community. He was 19 years younger than his eldest brother. As a young man, he was of medium height and build, with brown eyes and brown hair.
When he was age 22, in 1917, he was required to register for the military draft during World War I. He disclosed to the registration agent that he lived on Fourth Avenue in Freedom, was a laborer with the Pennsylvania Railroad at the famed, sprawling Conway yards, and that his mother depended upon him for support.
In 1920, single and age 25, he lived with his widowed mother and teenage cousin Lester Johnson in Freedom, and worked as a railroad fireman.

Conway yards in Freedom, Beaver County, PA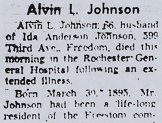 Beaver Falls News Tribune, 1961
Alvin married Ida Anderson (1905- ? ), a native of Kentucky. The couple had one known daughter, Margaret Huddy Zwierzynzki.
Their home in 1930, when the federal census was made, was on First Street in East Rochester, Beaver County, with Alvin working as a railroad laborer. (Neighbors two houses away were Slovak immigrants Andrew and Veronica [Nachman] Jagerski, the great-grandparents of the founder of this website.)
By 1940, Alvin and Ida resided in Bridgewater, Beaver County, with Alvin employed as a laborer in a local granite works. That year, his 88-year-old mother lived in the household. Then by 1961, they lived at 599 Third Avenue in Freedom. Alvin worked over the yeas as a freight handler for the Pittsburgh and Lake Erie Railroad.

Pittsburgh & Lake Erie logo
In about 1955, he began to feel the effects of heart disease. He also contracted hepatitis and died of congestive heart failure at the age of 66, in Rochester General Hospital, on Sept. 13, 1961. His remains were buried at Oak Grove Cemetery in Freedom. Rev. O. Anderson, of the Evangelical United Brethren Church of Freedom, assisted by Rev. G. Wayne Parks of the Church of the Nazarene of Freedom, officiated at the funeral.
Daughter Margaret Johnson (1925- ? ) was born in about 1925. She grew up in Bridgewater, Beaver County. She wed Frank Michael Huddy Sr. (1901-1971). The family resided in New Brighton, Beaver County. They had 10 children -- Frank Michael Huddy Jr., William Huddy, Guy Huddy, John Huddy, Joseph Frederick Huddy Sr., Paul Huddy, Wayne Huddy, Millard "Gigs" Huddy, Patricia Skerlec and Mary Margaret Stevens. Sadly, Frank passed away in April 1971 at the age of 69. Margaret later married again, to widower Joseph Zwierzynzki (1917-1995). He was a native of Lendora, PA and the son of Stanley and Katherine (Gurniak) Zwierzynzki. He had served with the 78th Lightning Division of the U.S. Army during World War II. After the war, he was employed for 32 years by Westinghouse Electric Corporation. He was a member of the Holy Family Parish, Seventh Avenue Worship Site in New Brighton, the Beaver County Retired Men and the Men of Melody. Joseph passed away at the age of 78 on Feb. 11, 1995. Burial followed in New Brighton's St. Joseph Cemetery, with the funeral led by Fr. Harry E. Parsons. Margaret lived in New Brighton circa 1995.
Grandson Frank Michael Huddy Jr. (1942-1996) was born on July 1, 1942 in Rochester. He wed Kathleen A. (McFadden) Morton, daughter of William and Dorothy McFadden of Ellwood City. Kathleen had two children from a previous marriage, Scott Joseph Morton and Jennifer Louise Morton. They resided in Ohioville and later Brighton Township near Beaver, Beaver County and had six more known children -- Michael Huddy, Kimberly Huddy, Kevin Huddy, Patrick John Huddy, Shelly Taddeo and Christopher William Huddy. Frank Sr. was employed at the tin mill of the Aliquippa Works of LTV Steel, formerly known as Jones & Laughlin. Active in the community, he coached football with the Brighton Township Athletic Club, was a member of the Beaver Valley Mixed Bowling League and was a member of the SS Peter and Paul Roman Catholic Church in Beaver. Tragically, while at work on Jan. 9, 1996, Frank was seriously injured in an accident at work, and died soonafter. Burial was in Beaver Cemetery. He is one of far too many cousins of the extended Minerd- Minard- Miner- Minor family to lose their lives in workplace accidents in the mining and metals industries.
Grandson William Huddy lived in New Brighton in 1995.
Grandson Wayne Huddy married Roseann (?). They made a home in Wampum, Lawrence County, PA.
Grandson Joseph Frederick Huddy Sr. (1945-2014) was born on Aug. 15, 1945. He dwelled in New Brighton and was married. Their children were Barbara Huddy, Joseph Frederick Huddy Jr. Garen Huddy and Lindsay Chufe. He was considered as "crazy and eccentric but lovable and memorable." Said the Beaver County Times, he "was a retired cranes man from B&W Steel, but was most remembered for his time at the New Brighton Hot Dog Shoppe." He died at home at the age of 69 on Dec. 16, 2014. At his death, he was survived by 16 grandchildren and one great-grandchild. Burial was in Freedom's Oak Grove Cemetery.

Babcock & Wilcox's Koppel plant near Beaver Falls, PA. From a painting by Howard Fogg for the Pittsburgh & Lake Erie Railroad Co., of the New York Central System.
Grandson Guy Huddy (1950-2002) was born on Jan. 28, 2002 in New Brighton. He resided for most of his life in New Brighton. Guy married Kathleen Vular ( ? - ? ), daughter of William and Ann Vular. The couple had two children -- Chad Huddy and Stephanie Huddy. Guy was employed by Babcock & Wilcox in Beaver Falls and later by S&S Maintenance in Beaver. They were members of the Holy Family Catholic Church in New Brighton. Sadly, Guy died at the age of 51 on Jan. 28, 2002 in The Medical Center of Beaver. Fr. Bob Vular officiated at the funeral followed by placement into eternal repose in Sylvania Hills Memorial Park.
Grandson Paul Huddy lived in New Brighton.
Grandson Millard "Gigs" Huddy wed Cynthia (?) and lived in in New Brighton.
Granddaughter Patricia Huddy married Robert Skerlec and lived in Beaver.
Granddaughter Mary Margaret Huddy wed Randy Stevens and resided in Tulsa, OK.