Home


Minerd.com regularly is in the news and its content generates news. Telling the story of our website, our extended population of cousins, national family reunion and proprietary brand of research is a key to reaching many thousands of cousins and the public at large and sharing this website's encyclopedic trove of family information.
Our goal is to educate any interested individual about our mission to document the early lives of more than 1,900 of our collective forefathers and mothers, and the enormous, long-term collective impact that an average, ordinary American family can have on society. Here is a summary of news-making efforts since 1999:
~ 2017 ~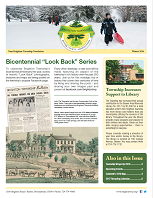 Feb. 9, 2017 - Minerd.com releases its 2016 Annual Review detailing continued activity the past year to attract visits and publish the stories of thousands of forgotten lives involving a frenetic pace of research, travel and writing. Not a week went by that meaningful content of some type was not added to the site. Among the indicators are the number of biographies added or expanded during the year – the number of archival images posted – the number of cousin deaths recorded – and the number and variety of blog posts. Last year, 17 new biographies were added – many so lengthy that they will be subdivided into new ones in 2017 – and many hundreds more bios expanded with new findings – bringing the total on the site to 1,610. Some 1, 034 images were added as illustrations, bringing the overall site-wide count to 14,541. Since we began counting in earnest on July 1, 2000, the known number of deaths of cousins and spouses is 1,629, or one every 3.7 days. While many of these are related to old age or illness, some are in fact due to domestic violence and heroin addiction. In some periods of our heaviest losses, such as in the 2002-2003 timeframe, we lost a cousin/spouse once every 2.94 days.
January 2017 - Scanned images of old farmsteads scenes and detailed maps from the 1876 Atlas of Beaver County, Pennsylvania, courtesy of the Minerd.com Archives, are published in the Winter edition of Your Brighton Township Newsletter in Beaver County, PA in celebration of the township's bicentennial anniversary. Additional Minerd.com Archives images are being deployed as part of an ongoing "Bicentennial Look Back" series on the township's popular Facebook page.
January 2017 - Minerd.com founder Mark Miner accepts an invitation from the Mt. Union Church Camp #502 and Auxiliary in Somerset County, PA to speak at a memorial service and archival document dedication at the Jersey Baptist Church and Cemetery in Ursina, PA on Sun., May 21, 2017 in cooperation with the Grand Army of the Republic (GAR) Ross Rush Post #361. Miner will provide biographical stories about these known cousins who were original GAR post members and buried at the Jersey who are profiled on Minerd.com -- Leroy Forquer, Charles Rose, Jacob J. Rush, Balaam Younkin and John H. Younkin. Other members of the GAR post buried at other cemeteries include Marcellus "Marsh" Andrews, John Enos, Jerome B. Jennings and Harrison K. Younkin.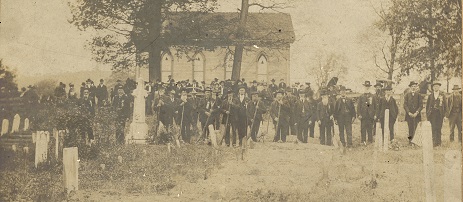 Civil War veterans' reunion at the historic Jersey Church, Ursina, PA, where Minerd.com's founder will present their stories on May 21, 2017.
~ 2016 ~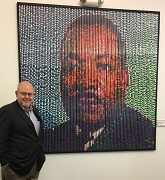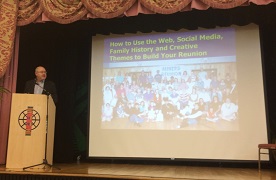 Miner with a portrait of Dr. King prior to making his remarks
Oct. 1, 2016 - At the invitation of Experience Columbus -- also known as the Greater Columbus Convention & Visitors Bureau in Ohio -- Minerd.com's founder Mark Miner serves as keynote speaker at the annual family reunion planning seminar, hosted byMiner's topic is "Reinvigorating Your Reunion" using a variety of web, social media, research and news publicity tools. The Saturday morning seminar, held at the The Martin Luther King Jr. Arts Complex, draws 100 reunion planners.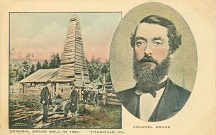 Sept. 9, 2016 - A rare historical image from the Minerd.com Archives, a vintage postcard showing the nation's first oil derrick at Titusville, PA, is used in a "This Is Your Life" powerpoint presentation at the 90th birthday celebration for legendary community leader Robert Allen Smith held at Beaver Station Cultural and Events Center in Beaver, PA. Smith, a retiree of both U.S. Steel and Michael Baker Corporation, was born in Titusville but spent most of his life in Beaver County, PA. In addition to impressive business achievement, the nonagenarian Smith is celebrated for his nine decades of renaissance accomplishment as a model builder, railroad enthusiast, self-taught keyboard player, raconteur, urban design advisor, reader, editor and publisher, pen and ink artist, watercolorist and champion of public education, foundation philanthropy and most especially local history through his beloved Beaver Area Heritage Foundation. Public landmarks in Beaver bearing Smith's touch include Beaver Station, the Beaver Area Heritage Museum and log house, Fort McIntosh monument, 1877 courthouse clock tower reconstruction and $3 million Streetscape improvements.This website's founder worked for Smith from 1985 to 1991 and served as master of ceremonies for the birthday celebration.

Minerd.com's founder, right, leading a tour of the Delilah Younkin Cemetery near Kingwood, PA, at the Younkin Reunion in July 2016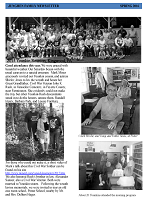 Junghen Family Newsletter
July 22-24, 2016 - Minerd.com founder Mark Miner leads a Saturday morning tour at the 2016 Junghen/Younkin Family Reunion at Kingwood, Somerset County, PA. The tour includes stops at the Delilah Younkin Cemetery in Hexebarger -- where Civil War veteran Frederick J. Younkin and his brothers "Weasel Jake" Younkin and Eli S. Younkin and their cousin Catherine (Younkin) Firestone rest for eternity, among the ashes of other ancient Younkins, and where the first unofficial Younkin National Home-coming Reunion was held by coincidence in the summer of 1934. Other tour stops include the old farm house of Jacob and Minnie (Miner) Gary in the Hexebarger valley and the Bethel Methodist Church Cemetery at Paddytown to pay respects to the grave of ill-fated Civil War soldier Albert Andrews of the family of Elizabeth (Younkin) Andrews. Following the Saturday noon picnic lunch at the Kingwood Odd Fellows Grove, Miner presents stories about the Jacob and Salome (Weimer) Younkin Jr. family, drawn from his Younkin research and biographies published on Minerd.com. View the full table of contents of Younkin content on this website.
June 2016 - Several pages from Minerd.com are excerpted and links spelled out in the Spring 2016 edition of the Junghen Family Newsletter, promoting the National Younkin Reunion East and edited by Linda Marker of Rockwood, PA. Full text>>>
May 30, 2016 - At the invitation of cousin Rhonda (Cook) Tabler -- one of the panelists from last year's national Minerd-Minard-Miner-Minor Reunion -- Minerd.com's Mark Miner is a guest speaker at a Memorial Day family gathering in Cutler, Ohio. The event is billed as a "Celebration of Life" tribute to the late family genealogist Irita (Goins) Canady, who also was a panelist at the 2015 Minerd gathering before her untimly death late last year. Among the cousins Miner meets for the first time are from the family branches of Civil War veteran Henry C. Minerd, sister Ruth Ann (Minerd) Kennedy and brother Jacob Minerd Jr. He also has the privilege of meeting Ada Woodson Adams, President of the Multicultural Genealogical Center in Chesterhill, Ohio.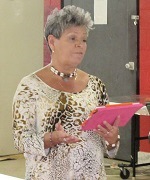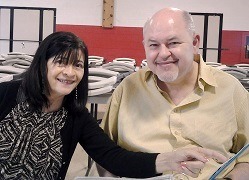 Above left: cousin Rhonda Tabler reads a tribute to late cousin Irita Canady. Right: cousins Joanne (Johnson) Smith talks about her branch. Below: conversation about "who's who" at the Mayle-Holbert Reunion, Elizabeth, WV.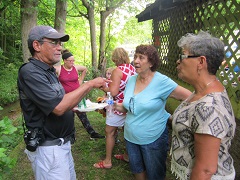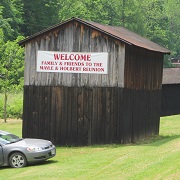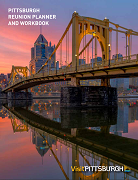 Pittsburgh Reunion Planner
May 28, 2016 - As an invited guest, Minerd.com's Mark Miner attends the Mayle/Holbert Reunion, Elizabeth, Wirt County, WV. This is an annual gathering of the descendants and related families of Riley Mayle and Laura Holbert), and always is held the Saturday before Memorial Day.
January 2016 - VisitPittsburgh, the official tourism promotion agency for Pittsburgh and Allegheny County, PA. makes public the latest edition of its Pittsburgh Reunion Planner and Workbook. The 25-page publication is intended to be a handy workbook to help event organizers stay on track, no matter what type of reunion or meeting they are planning to hold in Pittsburgh. The booklet features a full page of reunion ideas from the founder of this website, headlined "Take It from a Professional." Full text>>>
January 2016 - The Minerd.com Annual Review 2015 is released documenting the site's continuing growth the past year. In May, Minerd.com celebrated its 15th anniversary – launched a new blog – in March and May enjoyed all-time record numbers of visits – and in November reached its 3 millionth visit of all time. The number of visits in 2015 were the highest since 2007 and totaled 288,095. Over the span of 15½ years since the site was first launched, total visits stood at 3,039,129, up 9.8 percent from 2,751,034 last year at this time. During the year, 1,015 new photo images were added to the site, in comparison with 948 last year. At year-end, the site had a grand total of 13,507 archival images, up from 12,492 last year, a growth rate of 8.1 percent. Some 61 new biographies were added in 2015, up 45 percent from 42 last year, for a grand total of 1,593 bios. These bios tell tens upon tens of thousands of family stories unique to the clan. View>>>.