Anna (McKnight) Seddon
(1877-1960)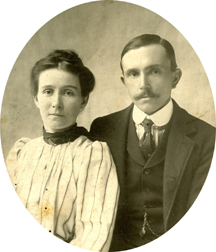 Anna Elizabeth (McKnight) Seddon was born on Dec. 28, 1877 (or April 1878) in Jefferson Township, Fayette County, PA, the daughter of Henry and Martha (Nutt) McKnight.
On April 5, 1899, at the age of 22, Anna married 21-year-old William "Henry" Seddon Sr. (1878-1954). He was born in Wigan, England, in April 1878, and came to the United States in 1884, at the age of 16. He also apparently carried the nickname of "Harry."
The Seddons' four children were Sara Elizabeth Dynes, William Henry Seddon Jr. and two unnamed infant sons who died between 1900 and 1910.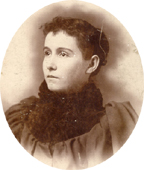 Anna is seen here in an early portrait, taken at the W.C and E. Nutt Company, a photographic studio operated by an uncle and aunt on her mother's side.
The Seddons lived over the years at Sherbondy Hollow and Brownsville, Fayette County. When the federal census was taken in 1900, the newlyweds are shown to have made their home in Jefferson Township, Fayette County. Henry's occupation that year was as a "station engineer." Among their neighbors were families from England, Austria and Sweden.
Anna was a member of the Christ Episcopal Church of Brownsville, and was "a member of the Daughters of America, being the oldest living member of the local council."
The Seddons remained in Jefferson Township as shown in the 1910 census. The writing on the record is so faint that Henry's occupation cannot be deciphered.
By 1920,the family moved into Brownsville Borough, as shown on that year's census enumeration. Henry's vocation that year was plumbing.
Bird's-eye view of Brownsville, PA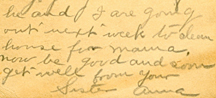 When her sister Adeline Radcliffe was hospitalized in Pittsburgh in April 1922, Anna sent her a penny postcard of greetings with humor and news from home:
Grace was in this morning. They are well out home. We are well. Glad to hear you are getting along all right. Bill was here a Sat. eve. He is lonesome. Billie is just fine. He says when you get well he is going to Buck eye. Don't you worry about him for he sure is enjoying himself. He and I are going out next week to clean house for Mama. Now be good and soon get well...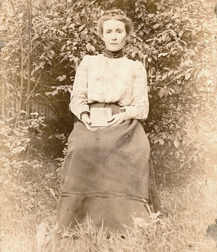 Seen at left as a young woman, Anna holds a precious object in her lap which unfortunately is not known to us, but which appears to be a book or a box.
The 1930 census shows Anna and Henry, and son William H. Jr., living on Church Street in Brownsville. Continuing his line of work over the decade, Henry was employed as a laborer for a plumbing company.
On April 5, 1949, the Seddons celebrated their 50th wedding anniversary at their home in Brownsville. A month later, they helped her sister and brother in law, Laura and Samuel Horstman, celebrate their own golden wedding anniversary, in nearby Canonsburg, Washington County, PA.
Henry died on Dec. 13, 1954, at the age of 76. In an obituary, the Uniontown Morning Herald said he was a "well known resident of Brownsville for the past seventy years" and added that he was a "retired employe of the Monongahela Railway Co., a member of Christ's Episcopal Church; Brownsville Lodge 60 [of the Masons] and Brotherhood of Railway, Firemen and Engineers." He was survived by five grandchildren.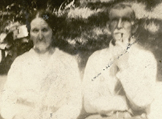 Anna outlived him by nearly six years, and died at age 82 on Oct. 2, 1960. They are buried at Redstone Cemetery near Brownsville.
At right: the Seddons later in life.
~ Daughter Sarah Seddon ~
Daughter Sarah Seddon (1905- ? ) was born in 1905.
She resided in Brownsville circa 1954. Her fate is unknown.
~ Son William Henry Seddon Jr. ~
Son William Henry Seddon Jr. (1911- ? ) was born in 1911 in or near Brownsville, Fayette County.
He lived with his parents in 1954.
Copyright © 2000-2002, 2010 Mark A. Miner