Alfred "James" Mills
(1902-1978)

Alfred "James" Mills, also known as James A. Mills, was born in 1902 in Fayette County, PA, the son of Joseph Henry and Flora (Minerd) Mills Sr.
James married Margaret (Kikta) Wadsworth. She brought a daughter to the marriage, Mrs. Edward Turnbull.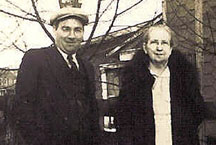 Little is known of their lives. They resided in the small coal mining patch town of Republic, Fayette County. In the photo seen here, he poses with his mother, Flora.
During the Millses' years in Republic, the town was a center of unrest in the coal mining organized labor movement. In fact, James' cousin Wilbert "Patsy" Minerd, also of Republic, helped broker the settlement of a coal strike in 1933 by traveling to Washington, DC to personally meet with President Franklin Delano Roosevelt.
Margaret passed away on Feb. 16, 1955 in the Weimer Nursing Home in Republic
James died at age 76 on Aug. 9, 1978 in Allegheny General Hospital, Pittsburgh. He is buried at LaFayette Memorial Park in Brier Hill, near Uniontown.
The Turnbulls resided in Monessen, PA.
Copyright © 2001-2002, 2006, 2008 Mark A. Miner