George Henry Minerd
(1845-1933)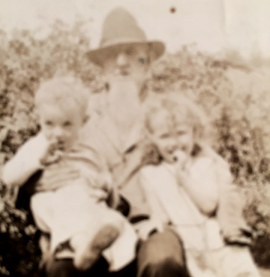 George with step-grandchildren
Bill Barrett and Orine Evans
George Henry Minerd was born in July 1845 in Hopwood, Fayette County, PA, the youngest son of Henry and Hester (Sisler) Minerd, and quite possibly the youngest and longest-surviving grandson of pioneers Jacob and Maria (Nein) Minerd Sr.
George was an early coal miner and railroader in our family.
In 1870, the Uniontown (PA) Genius of Liberty reported that while employed at the Tyrone Mine, George "had his left wrist dislocated ... while shifting cars."
The federal census enumeration of 1870 shows George residing with his widowed mother and separated sister Sarah Ingles and her two sons in North Union Township, Fayette County. Census records shows that they received their mail from Connellsville, Fayette County.
Four years later, in 1874, the Genius said while George was working as a brakeman on the P.&C. Railroad, he "had his hand crushed at siding, near Valley Works... [while] coupling cars. He was taken to Fountain Mills [Everson, PA]. Will probably lose his hand."
George's whereabouts in 1880, when the U.S. Census again was taken, are not yet known.
George did not marry until about 1880 or 1881, when he would have been age 35-36, an event occurring about the time that he moved to Pittsburgh.
He was united in holy wedlock with 37-year-old widow Eva (McKinney) Evans (Nov. 1844-1921), the daughter of William and Mary McKinney.
Eva had been married previously to William John Evans Sr. ( ? -1879), son of David F. Evans. The first husband had died of a brain injury in about 1879. George thus became an instant step-father to Eva's five young children -- Frank H. Evans, John David Evans, William J. Evans Jr., Cora Evans and Alice M. Virtue. At the time of the marriage, the two younger boys were residents St. Paul Orphanage, and the daughter was living with an aunt, Margaret (Evans) McAleer. Soonafter, George arranged for the children to be released into his and Eva's custody.
George and Eva also went on to bear one known daughter of their own -- Hester Minerd, named after George's mother.

Sprawling Pittsburgh of George and Eva's era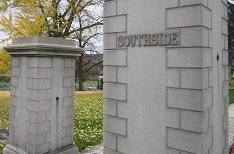 South Side Cemetery, where
daughter Hester rests
Heartache rocked this family in the spring of 1887, just a few months after they had moved to a new house on Brownsville Avenue in the Carrick neighborhood of the city. Daughter Hester, age six, contracted diphtheria, caused by blood poisoning. After enduring agonizing suffering for nine days, she died on May 10, 1887. Her tender remains were placed at rest in Pittsburgh's South Side Cemetery, in the single-grave section, without a headstone. Her name is still in the records there today, but all knowledge of where she might repose are lost to history.
Ohio's Western Reserve Democrat newspaper once reported that George "spent most of his life in the employ of the B. & O. Railroad company." In about 1890, George must have been transferred to the B&O's Pittsburgh yards, where he worked as a railroad switchman.
The Pittsburgh City Directory of 1895 shows George's occupation as railroad "switchman." In January 1897, the Minerds bought a house on McKee (now Musgrave) Street near Greenfield School in the Hazelwood section of Pittsburgh. The Pittsburgh Daily Post reported that Lorenzo Yoder was the seller, that the tract measured 24 ft. by 120 ft., and that the sales price was $1,266. The house -- with a spectacular view of the city from the front porch -- is seen here, circa 1994.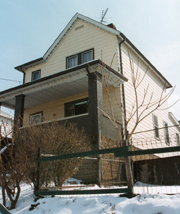 McKee Street house, Hazelwood
In August 1898, the Minerds made news in the Pittsburgh Daily Post when they hosted an "enjoyable musical" in their McKee Street home. The event was held:
..in honor of their son and his wife, Mr. and Mrs. William J. Evans, of [Ivanhoe Street] Pittsburg. An interesting musical program was rendered, after which supper was served, Mrs. Minerd being assisted by Miss Beatrice Gilligan. Among those present were Mr. and Mrs. Joseph Jackson, Mr. and Mrs. James Lucus, Mr. and Mrs. S.E. Virtue, Mr. and Mrs. William Evans, Mr. and Mrs. George H. Minerd, Misses Susie Mullen, Mammie Gilligan, Esther Dyer, Katie Milligan, Maggie Milligan, Alice Evans, Beatrice Gilligan and Miss Willma Marie Evans; Messrs. John D. Evans, Hugh Jackson, James V. Gilligan, Nick Rice, Willie Wilson and W.J. Bryan.
The federal census of 1900 shows George employed in Pittsburgh as a railroad watchman. That year, sons Frank (painter, age 30) and John (locomotive fireman, age 28) lived under their roof. By 1910, census records show him working as a switchman on the railroad.
The Minerds resided in Hazelwood until October 1911, when they sold the house to M.W. Hawthorne for $1,325, representing a $59 net gain for George. The transaction was noted in the Pittsburgh Daily Post. They moved to a large farm in West Farmington, Trumbull County, OH -- George was now age 66 and apparently had retired around that time. West Farmington is near the towns of Champion and Leavittsburg, Warren County, where the families of two of George's first cousins resided -- Joseph Miner and Jacob Minor -- though it's not known whether he had any sort of relationship with them.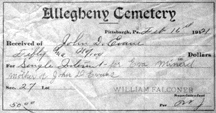 Receipt for Eva's burial plot, 1920
While in West Farmington in mid-April 1914, said the Warren (OH) Daily Tribune, Eva "received word ... of the death of her sister at Pittsburg."
Later that year, in August 1914, their son William J. Evans and his sons Regis and Orin came for a visit, and when they returned home to New Castle, Lawrence County, PA, the news was reported in the gossip columns of the New Castle Herald.
Federal census enumeration records for 1920 shows the Minerds living along the state road in Farmington, with 75-year-old George listed as a farmer, and 20-year-old neighbor girl Ruth Fishel boarding in their home and assisting with farm chores.
In September 1920, Eva came down with a serious case of tuberculosis affecting her heart. Sadly, on Feb. 15, 1921, she died at the home of her daughter Alice Virtue at 800 Anaheim Street in Pittsburgh. Son John immediately purchased a single grave for her at the prestigious Allegheny Cemetery in Pittsburgh. The receipt, seen here, shows that John paid $50 for the plot.
Three years later, tragedy again visited the family. On the fateful evening of Jan. 26, 1924, stepson John David Evans was involved in a freak accident at work on the railroad in Pittsburgh, and died after suffering terrible burns.
Hillside Cemetery, West Farmington, OH
Widowed after 30-plus years of marriage, George continued to reside in West Farmington. During an interview in the mid-1990s, his elderly grand-niece Anna Belle (Van Dyke) Breegle recalled coming to visit him in his declining years. George befriended her young son and promised him a dog, although the animal was never delivered, to the boy's dismay.
Ruth Fishel remained in George's home during the 1920s and '30s, working as a housekeeper and servant.
As he neared his 89th birthday, George died in West Farmington, on April 21, 1933. He was laid to rest in the Hillside Cemetery in West Farmington, and is buried there in an unmarked grave in Lot 143 that was purchased at the time of his death by Ruth Fishel. She also was the informant for his death certificate.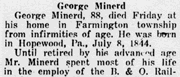 Western Reserve Democrat, 1933
Ruth later may have married a man named Hansen and resided on Route 1 in Rome, OH. In 1974, she wrote to the cemetery trustees asking for verification of the precise location of George's grave.
Ruth died on Feb. 25, 1975, some 42 years after George's passing. Later, ownership of the lot was transferred to Irene Yanovich of Greenville, PA -- connection unknown.
Copyright © 2000, 2003, 2006, 2010, 2017, 2018 Mark A. Miner