Home

James Eyster Murdock
(1842-1915)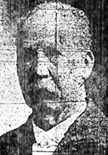 James Eyster Murdock was born on New Year's Day, 1842 in Kingwood, Preston County, WV, the son of John Smart and Rebecca (Miner) Murdock. As a soldier in the Civil War, he rose from private to brevet captain, saw action in 28 battles and was wounded four times.
When James was granted an increase in his federal pension for his war service, the West Virginia Argus said: "These old veterans deserve all they will ever get from the government, and more too."
James stood 5 feet 5 inches high, with light hair and grey eyes. He married Martha Ann Basnett, a school teacher, on Nov. 1, 1870. Martha is the earliest known woman educator in our family, teaching grade school for girls in Preston County circa 1869. She received a grand total of 34 cents for her work that year.
Their children were William Henry "Willie" Murdock, Julia Caywood Murdock, Minna Basnett Davis, and James Eyster Murdock Jr.
James enlisted as a private in the 7th West Virginia Infantry on July 4, 1861 at Kingwood. His regiment also apparently was known as the "Preston Guards." He was later promoted up through the ranks to brevet captain. He was wounded at the battles of Antietam, Fredericksburg, Spotsylvania and Cold Harbor.

Battle of Malvern Hill, during the Seven Days Campaign near Richmond, ending the Union's attempt to end the war by capturing the Confederacy's capital city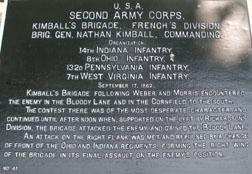 Plaque at Antietam naming the 7th WV Infantry
For the wound received at Fredericksburg, he was treated in Mt. Pleasant Hospital, Washington, DC, for two months. At the Battle of Cold Harbor, he was struck on the top of his head by a sharpshooter's bullet. At Gettysburg, he was in the thickest of the battle defending Little Round Top.
At the Wilderness, he suffered from painful swelling of his neck glands. He apparently was wounded in the foot in battle at Williamsburg in May 5, 1862, as he is listed by name in a Confederate newspaper, The Petersburg Daily Express, Extra edition, dated May 10, 1862, which apparently reprinted a similar list from the Lynchburg Republican of May 1862. (The extraordinarily rare Petersburg broadsheet was offered for sale at auction in 2008 by Bloomsbury Auctions.)
At Antietam, on Sept. 17, 1862, James and the 7th West Virginia joined the 14th Indiana, 8th Ohio and 132nd Pennsylvania infantries as part of the Second Army Corps. Facing troops commanded by General Robert E. Lee and Colonel John B. Gordon, they engaged in desperate fighting, which led to Union possession of the lane. Years later, an observer wrote that "In this road there lay so many dead rebels that they formed a line which one might have walked upon as far as I could see. They lay just as they had been killed apparently, amid the blood which was soaking the earth." Slick to see more details of the marker at this spot.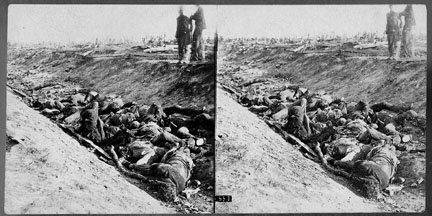 Before and after -- the Sunken Road -- otherwise known as "Bloody Lane" -- at Antietam, where James and the 7th West Virginia saw horrific bloodshed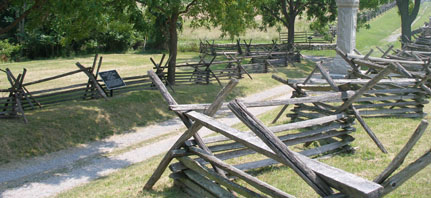 James' full battle list included Romney, Bloomery, Front Royal, Port Republic, Malvern Hill, Harrison's Landing, South Mountain, Antietam, Fredericksburg, Chancellorsville, Gettysburg, Williamsport, Robinson's River, Auburn, Bristoe Station, Bull Run, Mine Run, Morton's Ford, Wilderness, Spotsylvania, Petersburg, North Anna River, Totopotoing, Deep Bottom, Hatcher's Run, Ream's Station, Bardstown and Cold Harbor.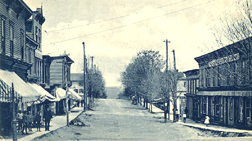 Price Street in Kingwood
After being discharged Nov. 24, 1864 at Petersburg, VA, James returned to Kingwood. He was a teacher and a blacksmith, but due to poor health, he gave up that work. For many years he was a clerk in dry goods, drug and hardware stores. Circa 1903, Kingwood's Price Street is seen here, looking north, in a rare postcard photograph view.
In the decade before the turn of the 20th century, James helped organize the Soldiers Reunion of Preston County. One of these was held at Kingwood in late August 1891. As a charter member of local Knights of Pythias, he led summer ceremonies of an "imposing procession [of members which] wended its way to the beautiful Kingwood cemetery and remembered the brothers gone before."
Heartache struck the family in the fall of 1874 when three-year-old son Willie Murdock died at home after falling into a tub of hot water. In a lengthy obituary, the Preston County Journal reported that he "was an unusually bright, intelligent, and winning child, full of innocent prattle, he was everybody's pet; and being the only child, his loss is a very, very sad one to the sorrowing father and mother."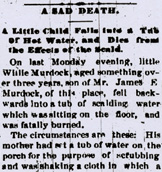 Preston County Journal, 1874
His mother had set a tub of water on the porch for the purpose of scrubbing and was shaking a cloth in which a few bits of bread had been placed, when a mouse jumped out of the cloth, and ran near Willie and frightened him; and while running backward from it, out of the room, his foot struck the door sill and threw him into the tub. His mother was standing near and grabbed him before he touched the water, but his his apron string broke and let him down, of course, he was taken out very quickly by the frightened mother, and his clothes torn from him, and it was thought the burn was not very deep nor of a very serious nature. Medical aid was immediately summoned, but all efforts proved unavailing, and Willie gradually grew worse until about 4 o'clock Tuesday evening when, after experiencing two or three paroxysms, he passed gently away.
The funeral was "peculiarly impressive and solemn, and the neighbors mingled their tears with those of the grief struck parents, said the Journal, "who mourn not as those without hope; for they know, that, although his little footsteps and cheering prattle will be heard no more, and his place at the hearth stone and table will be vacant, one more seraph has been added to that 'innumerable company which no man can number,' and 'sings around the throne of God in Heaven..." The procession to the Maplewood Cemetery was followed by "a large number of sympathizing friends."
James and Martha somehow found the strength to overcome the tragedy. They went on to have three more children following Willie's death.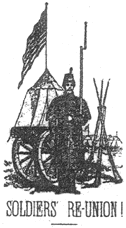 Preston County Journal, 1891
Active in his community, James held the office of Adjutant of the local post of the Grand Army of the Republic (GAR), a veterans organization, for several years. He also was township treasurer; postmaster under the first administration of President Grover Cleveland, and secretary of the Board of Education of Kingwood for 15 years. His detailed reports on annual school performance were published in the Preston County Journal, and a copy of the 1870 report is in the Minerd-Miner-Minor Archives.
James also was secretary of the Kingwood Methodist Episcopal Church Sunday School for 25 years, missing only two Sundays in that time. In January 1873, he was elected president when the young men of the church organized a Young Men's Prayer Meetings Association, "to hold meetings at 4 p.m. each Sabbath," according to the 1950 booklet entitled Through the Years: A History of Methodism in Kingwood, West Virginia, and authored by Ethel Peaslee Beerbower. His brother Charles Edgar Murdock also was a member of this prayer association. During 1878-1879, when a new church building was erected, James and his parents and brother Marcellus Hugh Murdock contributed funds for the work. The dedication service was held on May 25, 1879.
Among James' other community commitments were as a member of the Independent Order of Red Men and the Order of United American Mechanics.
In late June 1912, the West Virginia Argus reported that Martha was in Newfield, NJ, "visiting her daughter" Minna Davis.
On March 21, 1912, the Preston County Journal said that their son James had eloped:
[He] slipped away from Kingwood to Morgantown where he was joined by Miss Ethel Jenkins, going on to Fairmont where they were married by the Rev. Harry C. Howard, who was a former pastor of the Kingwood M.E. Church. The bride is a daughter of J.J. Jenkins of Terra Alta and is very well known to our people. She was a trusted employee in The Journal composing rooms for four years and resigned her position in December. The groom is one of Kingwood's well-known young men and he too was employed in The Journal office until about a year ago when he resigned the position... Both are pleasant young people and have hosts of friends throughout Preston county who will wish them much happiness.
Martha died on August 5, 1913.

Fourth of July parade in Kingwood in 1910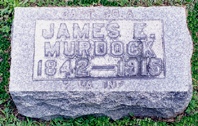 Maplewood Cemetery, Kingwood
James outlived her by 20 months. He passed away on April 19, 1915 at Kingwood. The Preston County Journal reported that "Only a short time before [his death], possibly less than an hour, he had been on the street conversing with friends. He had gone home and had lain down on the sofa to rest and about ten minutes before he was found dead he had conversed with members of his family. Shortly before six o'clock his son, James E., Jr., came in and went into the room where he was and spoke to him, and upon getting no response he went to the sofa and discovered that his father was dead." His death was top headline news in the April 22, 1915 edition of the Journal.
Both are buried at Maplewood Cemetery, Kingwood.
~ Daughter Minna Basnett (Murdock) Davis ~
Daughter Minna Basnett Murdock (1880- ? ) was born in 1880 in Kingwood.
At the age of 28, on Oct. 10, 1908, Minna married 30-year-old Willis "Clifford" Davis (1880- ? ) in Preston County. Rev. George B. Dever, minister of the Baptist Church in Kingwood, performed the nuptials. Clifford was a native West Virginian whose father was from Maine.
They had one daughter, Sarah M. Davis.
By 1912, the Davises moved to New Jersey, making their residence in Newfield, Gloucester County. That year, in June, Minna's mother traveled to visit them.
The federal census enumeration of 1920 shows the Davis family living in Landis Township, Cumberland County, NJ, on Weymouth Road. Clifford's employment was written as "clerical - ship yard."
By 1930, Minna and Clifford had relocated to Newfield Borough, Gloucester County, NJ, where he had secured a job as "cashier" of a "national bank." Their home was on Church Street.
More will be added here when learned.
Daughter Sarah M. Davis (1914- ? ) was born in 1914, presumably in New Jersey.
Copyright © 2000, 2004-2005, 2008, 2017 Mark A. Miner
Stereoview of Antietam sunken road courtesy of the Library of Congress