George Washington Rankin
(1881-1970)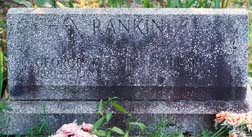 The Rankins' darkened grave, Brown Cemetery
George Washington Rankin was born on March 13, 1881 in Wharton Township, Fayette County, PA, the son of Robert and Hester (Minerd) Rankin.
On Dec. 28, 1901, when he was age 20, George married Daisy M. Franks ( ? - ? ). They resided with his parents in Wharton Township, but the marriage was not stable.
In January 1902 she left and went back to her parents' home in German Township. She returned to her husband in April of that year but by Christmas had departed again. During the short marriage, two children were born, but at least one if not both are thought to have died. On the grounds of desertion, George was granted a divorce on Jan. 8, 1907.
Later in 1907, at the age of 26, George wed his second bride, 19-year-old Lillie "Pearl" Fields (Nov. 31, 1887-1927). She was the daughter of George H. and Armelia Fields of Fairchance, Fayette County. At the time, he worked as a laborer.
They went on to have 12 children – Verna Morrison, Blanche Marinda Alisvard (or "Alasvird"), Bessie Mae Squires, Donald Edward Rankin, Earl Raymond Rankin, Cora Belle Henigan, Herbert Rankin, Delbert Amadee "Pete" Rankin, Edith Taylor, Sarah Pearl Miller, Alvie Rankin and Margaret Viola Rankin. Tragically, their two youngest children – Alvie and Margaret – both died young.
After bearing a dozen children, Pearl suffered from severe heart disease ("myocarditis") and died at the far too young age of 39 on July 2, 1927. She is buried at the Brown Cemetery near Elliottsville.
In 1936, George made news when he helped rescue victims of a tragic airplane crash near his home. That year, on April 6, a TWA airliner named the Sunracer crashed in the mountains above Uniontown. Everyone was killed except the flight attendant and two passengers. The attendant escaped the wreckage and somehow stumbled to the home of George's nephew, Ray Addis. George and his brother Alfred and nephews Harold and Robert all went together to the smoldering, twisted wreckage to help remove survivors.
George lived for another 43 years after his wife's death, and died in 1970, at the age of 89. Their grave marker, photographed in 1995, is blackened with age, and barely legible.
~ Son Earl Rankin ~
Son Earl Raymond Rankin (1913?-1941) was born in about 1913.
He married Fanchion (?).
They produced one son, Merle Edward Rankin.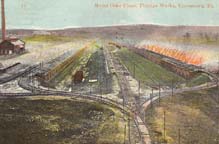 Rare views of the old Phillips coke plant near Uniontown

Earl's obituary, 1941
He worked at H.C. Frick Coke Co.'s Phillips coal mine and coke plant near Uniontown. The facility was widely considered a model of efficiency and safety for the time. He was a member of the Phillips local union of the United Mine Workers of America.
But tragedy struck on July 22, 1941 when Earl was killed in a freak accident at the age of 28. A newspaper reported: "The car left the rails and crashed into a post, causing a fall of slate. It was several hours before rescuers could clear the debris and remove the dead and injured men." He was laid to rest in White Rock Cemetery in Fairchance.
Of the many known Minerd-Miner-Minor cousins to be killed in a coal-coke-steel workplace accident, Earl is the one of the last. This is a macabre tribute to improved safety measures in the latter half of the 20th century.
~ Daughter Edith (Rankin) Taylor ~
Daughter Edith Rankin ( ? - ? ) was born in (?).
She married Donald R. Taylor Sr. ( ? - ? ).
The Taylors' son, Corporal Roger L. Taylor, died sometime prior to 1986. We are researching whether his death was related to military service.
~ Daughter Cora (Rankin) Henigen ~
Daughter Cora Rankin (1914- ? ) was born in 1914.
She married Leonard Henigen ( ? - ? ).
They lived in Point Marion, PA circa 1975.
~ Son Delbert Rankin ~
Son Delbert Rankin (1918-1975) was born in 1918.
He wedded Pauline (?).
They were the parents of six children -- Delbert E. Rankin, Thomas Rankin, Philip Rankin, Barbara Cody, Sandra Hamilton and Deborah Cain.
Circa 1975, he made his home in Elyria, OH, where he was employed a factory worker with Chevrolet Motor in Cleveland, Cuyahoga County, OH, while Pauline lived in Fort Lauderdale, FL.
Tragically, Delbert was killed on Dec. 30, 1975 of "injuries sustained in an automobile accident," reported the Uniontown Herald-Standard. His remains were returned to Fayette County for interment in Haydentown Christian Church Cemetery. At the time, the newspaper said he was survived by 16 grandchildren.
Son Delbert E. Rankin lived circa 1975 in Rosebush, MI.
Son Thomas Rankin resided in Amherst, OH.
Son Philip Rankin made his home circa 1975 in Amherst, OH.
Daughter Barbara Rankin married (?) Cody. She lived in Lower Salem, OH.
Daughter Sandra Rankin wed Daniel Hamilton. They resided in Lorain, OH.
Daughter Deborah married Gregory Cain and made their home in Amherst, OH.
~ Daughter Verna (Rankin) Morrison ~
Daughter Verna Rankin (1908- ? ) married Melvin Emmet Morrison (1905-1964). At the time of marriage, she lived in Morgantown, Monongalia County, WV.
They made their first home in Brownfield, Fayette County. Later, they lived at 487 East Main Street in Uniontown and had three children -- James Morrison, Wallace Morrison and Greta Mitchell. Melvin was a longtime employee of Gulf Oil Company. He was a member of the Masons lodge of Uniontown, the Knights Templar of Pittsburgh and Syria Temple.
Melvin died at age 59, in Uniontown Hospital, on June 19, 1964. He was laid to rest at Sylvan Heights Cemetery. At the time of his passing, the Uniontown Morning Herald said his survivors included five grandchildren.
Verna outlived him by more than 35 years. In July 1965 and July 1966, she attended the annual Alfred Rankin Reunion at Lick Hollow Park.
Verna died on Oct. 14, 2000, the last living member of her family.
Son James Morrison made his residence in Laurel Terrace in Uniontown circa 1969. They had one known daughter, Lynn Renee Morrison.
Son Wallace Morrison lived in Uniontown in 1964.
Daughter Greta Morrison married James Mitchell. They lived in Hopwood, Fayette County.
~ Daughter Sarah (Rankin) Miller ~
Daughter Sarah Rankin (1906-1930) was born in 1906. She married Homer C. Miller ( ? - ? ), a distant cousin who was the son of Jesse and Flora Belle (Farabee) Miller. See the Miller biography for more.
~ Daughter Blanche (Rankin) Alasvird ~
Daughter Blanche Rankin (1909- ? ) was born in 1909.
At the age of 21, Blanche married 24-year-old John Alasvird (1903-1966). The ceremony took place on Oct. 7, 1929 at the Methodist Episcopal Church parsonage in Brandonville, Preston County, WV, by the hand of Rev. S.E. Ryan.
The Alasvirds resided in the Haydentown area of Smithfield, Fayette County, but had no children.
They were members of the Haydentown Christian Church. John labored for many years as a coal miner and was a member of the United Mine Workers of America (UMWA).
John passed away at home at the age of 63 on March 28, 1966. Following the funeral at the family church, he was laid to rest in the church cemetery.
~ Son Herbert Rankin ~
Son Herbert Rankin (1917-1970) married Marie Joseph (1921-1966), the daughter of William and Caroline (Sharp) Joseph. They resided in Elliottsville Farmington, where they belonged to the St. Joan of Arc Roman Catholic Church at Farmington.
The Rankins had four children -- Irene Guthrie, Pauline Close, Paul Eugene Rankin and Dale Rankin. They were members of St. Joan of Arc Roman Catholic Church of Farmington.
Marie died at the age of 45 on June 11, 1966.
Herbert survived her by five years, and passed away at the age of 53 on Feb. 22, 1970. Following his requiem high mass funeral, he was laid to rest at the Visitation Cemetery in Farmington.
Daughter Irene Rankin married James Guthrie and lived in Farmington.
Daughter Pauline Rankin ( ? -2009) -- twin to Irene -- married James Richard Close ( ? -1983) and resided in Ruffsdale circa 1970 and at Uniontown. They had two children -- Darlene Marie Close and Linda (Close) Tucker. Said the Uniontown Herald-Standard, "Pauline loved her flowers and grandchildren very much." She passed away at the age of 69 on Jan. 31, 2009. She was buried at Lafayette Memorial Park near Uniontown.
Son Paul Edward Rankin (1947-2012) was born on June 22, 1947. He was twice married, first to Marian Zapotosky ( ? - ? ). They made their home in Bitner. Paul's second wife was Eva Rockwell ( ? - ?), and they resided in Uniontown. In all, he had four children -- Paul E. Rankin Jr., Kimberly (Hice) Idrovo, Jamie (Hice) Guth and Joni Marie Hice. Said the Uniontown Herald-Standard, Paul "was a life long truck driver with his own rig and worked 17 years for his friend and employer Dale Malinzak and all his fellas at Dem Trucking." He died in Uniontown at the age of 65 on Sept. 10, 2012. He was laid to rest in Mt. Washington Cemetery in Perryopolis, Fayette County.
Copyright © 2000, 2003, 2005, 2008-2009, 2012, 2019 Mark A. Miner