Home

Jacob J. 'Dorcas Jake' Younkin
(1808-1903)
Jacob J. "Dorcas Jake" Younkin was born on April 8 (or 16), 1808 in the upper section of Turkeyfoot Township, near Kingwood, the son of John J. and Mary "Polly" (Hartzell) Younkin.
A newspaper once said his birthplace was "on the land near where the mines of the Ursina Coal Mining co. are now located, which property he owned for a number of years."
At the age of 22, in 1830, Jake married his mother's cousin, 19-year-old Dorcas Hartzell (1811-1880). Writing many years later, his sister Elizabeth Hare said: "I was not present to witnefs in person his marriage to Mifs Dorkes Hartzell, but I was present when on the following day he brought his wife to my father's house, when and where we did celebrate the event of his marriage." Her name also has been given as "Tabitha."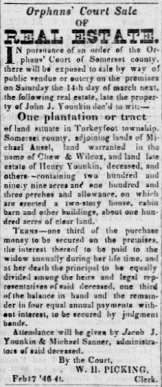 Somerset Herald, Feb. 1846
Because "there being so many Jake Younkins ... they identified each one of them by putting the given name of their wife before their surname," recalled a nephew, Connellsville attorney Frederick E. Younkin.
They had 10 children: Hiram Younkin, Joel R. Younkin, Balaam Younkin, Susanna Koontz, Foster H. (or "C.") Younkin, Dorcas "Tabitha" Grim, Noble Younkin, Caroline Malinda Grossman and Colwell Seveno Younkin. Sadly, son Noble is believed to have died young.
Of the 10 offspring, Jake outlived five. He carefully kept a record of his children's births in a family Bible.
Said a newspaper:
Mr. Younkin always followed the occupation of farmer and almost the whole of his long life was spent in the Turkeyfoot townships. He retained all of his faculties to the very last and had a most retentive memory and delighted to talk of by gone days. he cast his first presidential vote for Henry Clay in 1832 in the exciting election between Jackson and Clay in that year and voted at 17 presidential elections since, making eighteen in all. He always voted as a most sincere Whig in politics and being an ardent abolitionist he affiliated with the Free Soil party until the Republican party was formed and supported that party until his death. During one of Henry Clay's campaigning tours through this section he saw and conversed with the great Whig Statesman, a circumstance that he always referred to with great pleasure.
Upon his father's death in 1839, Jake and Michael Sanner were called upon to help administer the estate. This work was drawn out over several years, as efforts were made to determine if the farm could easily be subdivided among heirs. (It could not.) In February 1846, a classified advertisement was published in the Somerset Herald, advertising that the plantation would be auctioned the next March 14, on the premises. The advertisement is seen in full here, courtesy of the Chronicling America project.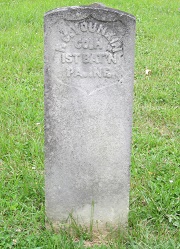 Foster's grave, Jersey Church, misspelled as "I.C." Younkin
During the Civil War, sons Balaam and Foster joined the army. Balaam enlisted on Oct. 24, 1862, and Foster -- stout, hearty and able bodied -- enlisted nearly eight months later, on June 17, 1863, for a term of six months' service. Foster was a member of the 1st Battalion, Pennsylvania Infantry, Company H. Foster and his regiment were assigned to guard duty in Harrisburg, the state capitol city of Pennsylvania. While there, he became seriously ill with chronic diarrhea. Among his fellow soldiers who were aware of his disability were Harrison H. Rush and Jacob J. Rush. When Foster was honorably discharged and came home in January 1864, his brother Balaam noted that he "continued to complain." Harrison H. Rush, wrote that said "Foster Younkin and myself were together much of the time we were in the service. I heard him complain of not being well while yet in the service." Foster remained ill for nine months, including a bout with the measles, and died on Sept. 30, 1864. Recalled his brother Balaam, "I was at his bed side when he died." Harrison Rush noted that "I visited the soldier during his sicknefs at his father's house frequently and was present when he died."
Their son's death shook Jacob and Dorcas deeply. Claiming he had been dependent on his son for financial support, Jacob applied to the federal government to receive a pension as compensation for his loss. Both Josiah Hyatt and Samuel Minder of Ursina (no relation to the Minerd-Minard family) testified on their behalf, writing in separate affidavits that Jacob "neither owns any property nor has he any income." Samson C. Lytle, who had known Foster's father for 33 years, also wrote a supporting affidavit.
The Younkins did receive one beneficial act from the federal government in the loss of their son. A standard-issue military grave marker was erected at the site of his burial at the Jersey Baptist Church Cemetery. The work was carried out by contractor D.W. Whitney in an agreement dated Nov. 29, 1879, some 15 years after the soldier's death.
Sadly, Dorcas died at the age of 69 on May 9, 1880. The Somerset Herald noted that "one of our aged citizens" had died, and that she "leaves a large circle of relatives and friends to mourn her departure. The interment will take place at the Jersey Church, on Tuesday." Among the mourners attending her funeral was Harrison H. Rush of Confluence, who had served in the army with their son Foster some 15 years earlier.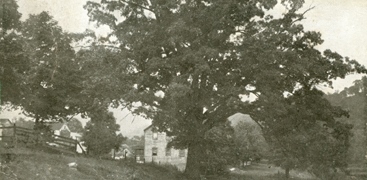 Familiar Ursina landmark, the "Charter Oak" tree, Water Street
Dorcas' grave, Jersey Church
Jake survived his wife by almost a quarter of a century. In his mid-80s, he was the subject of an article in the Herald, dated Jan. 7, 1891, which read as follows:
Jacob J. Younkin, Esq., a spry young gentleman from Confluence, dropped into this office on the 2nd to square up for his paper, he having been a reader of the HERALD since 1858. Mr. Younkin is rather small of stature but is as erect as an Indian. Very few silver hairs have appeared among the heavy, black crop that covers his head, notwithstanding he is in his 84th year. He was never sick a day in all his life and has never had to use eye glasses. Mr. Younkin cast his first vote for Andrew Jackson and has never missed voting at an election since that year -- not even for township officers. he has been an earnest and active Republican ever since the formation of the party. Mr. Younkin was born on that favored spot of Lower Turkeyfoot township, known as "Hexeburg" and always resided in the Turkeyfoots. He is one of the most remarkably active and well preserved men for his years in the county and has no idea of retiring from active life for a long time to come.
Meyersdale Commercial, 1903
Jacob spent his final time living in the household of his son Colwell in Ursina, Somerset County. He died there on March 24, 1903, just two weeks shy of his 95th birthday. He was laid to rest in the Jersey Church Cemetery following a funeral led by Rev. J.S. Potts and Rev. A.J. Black.
In an obituary, the Meyersdale Commercial said "He was only eight days sick" before his passing. "While Mr. Younkin never affiliated with any religious denomination, he lived a good, earnest, consistent life believing in the Golden Rule, 'As you would that others should do unto you do ye even so unto them' and that 'He prayeth best who lovest best all things both great and small; For the dear God who loveth us, he made and loveth all.' It was thus he lived doing much good in his humble way during his long life, and wronging no man."
~ Son Hiram Younkin ~
Son Hiram Younkin (1831- ? ) was born on Dec. 19, 1831. His paper trail has gone cold.
~ Son Joel R. Younkin ~
Son Joel R. Younkin (1834-1914) was born on April 18, 1834 in Turkeyfoot Township, Somerset County. As a young man, he migrated to Illinois and settled in Williamson County.
He is not to be confused with his first cousin Joel S. Youngkin (1845-1922), also of Williamson County, the son of John Harrison Youngkin.
Joel began his career as a teacher and is remembered in written notes made in the 1930s by his grand-nephew, Otto Roosevelt Younkin, president of the Younkin National Home-Coming Reunion of southwestern Pennsylvania. The note states that Joel "went west and taught for [his brother John] in Southern Illinois until the war broke out."
At the time, to be hired as a school teacher only required an eighth grade education. One room schools were scattered throughout townships, easily reached by walking, long before the era of consolidation into larger, centralized schools.
On April 14, 1858, when Joel would have been age 24, he was united in marriage in Williamson County with Martha Louise Padgett ( ? - ? ). She was a native of Virginia or of Kent, NC.
They had two known daughters -- Della "Dell" Wilson Fannon and Nora Younkin -- born 11 years apart.
Later that year, in December 1858, Joel purchased farm land for $400 from Joel Hufstutler in Southern Township near the farm of his uncle, John Harrison Youngkin. In 1859, Joel purchased additional adjoining land for $400 from George and Amanda Chamness.
Joel served during the Civil War in Capt Evans' Independent Company of Illinois Cavalry, nicknamed the "Egyptian Guards." With some level of organizational skills, as evidenced by his teaching experience, he was promoted to corporal. The Guards were part of the Illinois State Guards, available to defend their home turf if invaded. Members of the Guards volunteered for terms from two weeks to 100 days, so Joel may only have served for a few months. One of the few references to the guards is found in The Papers of Ulysses S. Grant, Volume 3, page 86. Nothing is on record in Frederick H. Dyer's landmark work, Compendium of the War of the Rebellion.

As one of the first actions of the Civil War in his home state, Abraham Lincoln had ordered the Central Illinois Railroad bridge over Big Muddy Creek in southern Illinois to be secured in April 1861 and General Richard Swift had stationed a small guard at the bridge. The crucial rail line crossed the creek just north of Carbondale. This line connected lead mines, factories and military camps in northern Illinois and Chicago with the military fort and arsenal at Cairo along the Ohio River. In October 1861, Maj. Gen. John C. Fremont, authorized Capt. Finis Evans to raise a cavalry company to guard bridge from sabotage by Confederate sympathizers in Little Egypt (called "Copperheads"). Evans raised a company of 124 mounted men and called them the Egyptian Guard. Brig. Gen. John A. McClernand wrote to Grant, stating that he inspected the bridge, finding that a cavalry guard of 150 men had been there for two to three weeks and that the bridge was safe.
Living conditions in Williamson County deteriorated substantially during and after the war, when the county earned the nickname "Bloody Williamson." In particular, farm commodity prices and land values appear to have plummeted in the county during the conflict, as many able-bodied men were away and not able to provide labor. Epidemics and lawlessness appear to be among the worst. Foreclosures were common and lucrative for local banks and politicians. Joel may well have sold or lost the land he purchased in Williamson County. "No record has been found," reports Mark Youngkin, who has researched this question.
By 1865, Joel and Martha had relocated to DeSoto, Jackson County, IL, where he obtained work making barrels as a "cooper." They remained in DeSoto through 1870 when the federal census again recorded them there.
During the two decades between 1880 and 1900, the family moved again to the small farming community of Kinmundy in Marion County, IL, just north of Williamson County, where Joel continued his labors as a cooper. That year, 30-year-old unmarried daughter Nora lived under their roof and was occupied making dresses.
In June 1892, Joel was awarded a pension for his military service, under the spelling of "Joel R. Youngkin." [App.# 1116864, Cert.# 871404] Circa 1906, his monthly payments were raised to $24, as approved by Congress.
Joel died on July 22, 1914 in Kinmundy.
Daughter Della "Dell" Younkin (1859-1936) was born on March 5, 1859 in Jackson County, IL. At the age of 17, on May 26, 1876, she was married to 23-year-old John W. Wilson (1852-1912), son of Elizabeth Wilson of Kentucky. They apparently did not reproduce. The 1880 census shows the couple living on Washington Street in Kinmundy, Marion County, IL, with John working as a dry goods merchant, and his 68-year-old mother under their roof. When the federal census was taken in 1900, they had been married for 24 years and lived as farmers in Kinmundy, Marion County. Sadly, John died on Jan. 26, 1912 in Kinmundy. On May 30, 1915, in or near Kinmundy, the 56-year-old Della married for a second time, to widowed Disciples of Christ evangelist and revivalist Rev. Frank O. Fannon (1860-1933). Frank had been married once before, to Louella F. Kepford (1861-1914) and brought two children to the marriage -- Harold F. Fannon and Shorland Fannon. At the time of marriage, they resided on a farm near Boyd, Jefferson County, IL for several years until Frank accepted a pastoral call to Newman, IL, where they spent two years. In 1919, Frank accepted a call to Centralia, Marion County to become pastor the Christian Church. He exhibited so much energy in his work that he once was called "the irrepressible." Frank once was named in an article in The Modern Woodman, which said he was "one of the best boosters and mixers you ever saw in your life. His invitation speech was a wonder and his winning personality made everybody love him." In 1925, Frank was president of the Centralia Chamber of Commerce and helped organize a conference to promote Southern Illinois as a site for homes, farms and "industrial advantages." Reported the Dixon Evening Telegraph: "The conference, one of the most important ever held in Southern Illinois from a booster standpoint was for the purpose of getting the railroad companies to cooperate with the commercial organization in telling the country about this section, known as 'Egypt'." Also in 1925, he was named an honorary chief of the Co-Hawks order, made up of 250 local boys "who have clubbed together for the purpose of conserving bird life," said the Decatur Herald. On Christmas Eve 1933, at the age of 73, Frank passed away. Della survived him by three years. She died in Centralia at the age of 77 on April 12, 1936. Burial was in Hillcrest Memorial Park in Sandoval, Marion County, and an obituary was printed in the Kinmundy Express.
Step-grandson Shorland Fannon dwelled in Casey, IL in 1936.
Step-grandson Harold F. Fannon made his home in 1936 in Fairfield, IL.
Daughter Nora Youngkin (1870- ? ) was born in June 1870. She apparently did not marry, and lived at home with her parents, assisting in earning income as a dressmaker. She is shown in their homeplace in the 1900 and 1910 federal censuses of Kinmundy. She made news in the gossip column of the Decatur Herald in January 1926 after having "visited in Centralia during the holidays with her sister, Mrs. F.O. Fannon." Circa 1928, she was a member of the 6 G's Club in Kinmundy. Nothing more is known.
[Many thanks to Mark Youngkin who has contributed significantly to this biography of Joel and family.]

Balaam Younkin
~ Son Balaam Younkin ~
Son Balaam "Baley" Younkin (1836-1921) was born on Valentine's Day 1836 near Ursina, Somerset County. As a young man, he labored as a farmer and resided in Harnedsville, Somerset County.
At the age of 22, Balaam married his first wife, 19-year-old cousin Amanda King (1839-1890), daughter of Thomas and Barbara (Younkin) King and granddaughter of Jacob and Sarah "Salome" (Weimer) Younkin Jr. They were wed at the Lower Turkeyfoot Township home of the bride's parents in August 1858, by justice of the peace Thomas Hanna.
Balaam stood five feet, eight inches tall, with a dark complexion, dark eyes and black hair.

Balaam's signature
The Younkins produced seven children -- Barbara Ellen Cunningham, Sarah Lavenia Younkin, Arvilla Younkin, Harvey G. Younkin, Ida Mae Younkin, Mary Ann "Mollie" Lenhart and Irena "Gertrude" Beynon Fisher.
During the Civil War, Balaam was drafted into the army and enrolled on Oct. 24, 1862. He was placed with the rank of private into the 171st Pennsylvania Infantry, Company K. Among the other members of his regiment were Younkin cousins Henry A. Miner, Herman Phillippi and Charles Rose.
He is not believed to have seen any action and was honorably discharged from the army nine-plus months later in Harrisburg, PA on Aug. 6, 1863.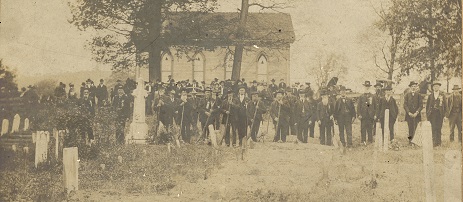 Balaam Younkin among these old Civil War veterans, photographed at the Jersey Baptist Church Cemetery near Ursina, PA. Below, he stands 8th from left.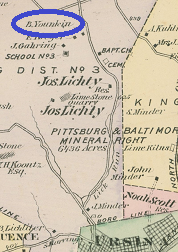 Balaam's farm, 1876, near the
Jersey Church and north of Ursina
After the war, Balaam and Amanda resided for six years in Upper Turkeyfoot, and then relocated to rural Lower Turkeyfoot Township, near Harnedsville. There, they remained for more than three decades, and owned six-acre and nine-acre parcels of ground in the Jersey Settlement near Ursina. In February 1883, she obtained a mortgage from the trustees of the Turkeyfoot Baptist Church, otherwise known as the Jersey Baptist Church, apparently for the purchase of a 30-acre tract. At some point, Balaam borrowed $2,022.68 from her and, in 1891, not having repaid the loan, was sued by Amanda to force the issue. After Amanda's death, still not satisfying his obligations, he agreed to convey the title of his homestead farm to his children and grandchildren. In doing so, he retained the right to "cut and remove any fall crop from the 36 acres & 86 perches in the summer of 1891." In turn, it was recommended to the orphan's court that the acreage be sold to the church trustees to satisfy the debt owed to them. At the time, in addition to Balaam, the trustees included A.J. Moore, Z.L. Tannehill, Samuel Minder, LeRoy Forquer (of the family of Christina [Younkin] Dull) and William R. Thomas.
Her death occurred on April 12, 1890, at the age of 50. Because her children Mary and Gertie were underage at the time, their older brother Harvey G. Younkin was named as their legal guardian.
Balaam later became the fourth husband of another distant cousin, Barbara Ellen Dull, daughter of Frederick and Margaret "Peggy" (Faidley) Dull, and granddaughter of George and Christina (Younkin) Dull. They were wed in the mid-1890s though apparently they repeated the ceremony when eloping to Cumberland, Allegany County, MD, on Feb. 25, 1901, where they were wed by the hand of Otto Rappalt. The marriage was a disaster, and they later divorced.
When Balaam's daughter Mollie gave birth to a son out of wedlock in 1898, Balaam made arrangements to help care for and raise the boy and was a significant influence on the lad. With Younkin genes from both of his grandparents, the lad grew up to become a noted school teacher and congressional candidate and became the first and only president of the Younkin National Home-coming Reunion.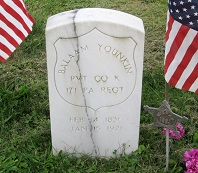 Balaam's grave, Jersey Church
In the 1890s, Balaam suffered from rheumatism, jaundice, failing vision of both eyes and heart disease, which he claimed were results of his military service. He applied for a military pension as compensation for his wartime service, writing: "Suffer pain so that I can't get up at times for 8 or 10 days." The application was approved, ,and he began receiving $12 in monthly payments. [App. #853.093 - Cert. #584.405]
Having spent 32 years as a farmer in Lower Turkeyfoot Township, Balaam moved into the borough of Ursina in 1901, at the age of 65. He received monthly federal pension payments of $150 up to the time of his death.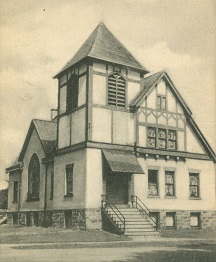 First Baptist Church, Confluence
In May 1912, when the new First Baptist Church of Confluence -- nicknamed the "Mountain Chapel" -- was dedicated, Balaam made a donation so that a stained glass window could be named in memory of his first wife Amanda. It extended from floor to ceiling, with Mr. and Mrs. Hulda Mountain and Mrs. Alfred King also named in memoriam. Other memorial windows in the sanctuary honor Lucinda (Sweitzer) Younkin, Jehu and Mary Ann (Ream) McMillan of the family of Samuel W. Ream, Mary A. Brooks (Harned) Forquer (first wife of LeRoy Forquer of the family of Frederick Dull), Ruth Rush, Mr. and Mrs. N.B. Critchfield, Rev. and Mrs. J.R. Brown, Rev. and Mars. W.P. Fortney and daughter Ruth, Almira Lenhart, Mr. and Mrs. Noah Bird, Ella Bird and Mr. and Mrs. Eli Osler. In describing the dedication, the May 9, 1912 edition of the Meyersdale Republican reported: "The church is a neat building with cut-stone foundation, the latter being high enough over ground to give a commodious basement where the heating apparatus is located, and this basement can be finished for class rooms or other purposes, should the growth of the congregation require it. The style of architecture is Gothic, the walls being of opressed brick of a light neutral color; the gables are of concrete, with slated roof. The exterior of the building, while neither imposing nor massive, has an air of cozy comfort and refinement about it that cannot fail to please.... The pews, doors and finish are of quartered oak, frescoed walls and ceilings done in panel work, the latter being of light tint, with the light softened through windows of stained glass, make a pleasing effect that must be seen to be appreciated."
Balaam was afflicted with a strangulated hernia and passed away on Jan. 15, 1921 in Frantz Hospital, Ursina, at the age of 84. He was laid to rest in the Jersey Baptist Church Cemetery, following a funeral service preached by Rev. R.B. Dunmire of nearby Ohio Pyle, Fayette County. His brother Colwell served as executor of the estate. Some of his children received a token dollar of inheritance, while others were bequeathed more substantial sums. Grandson Otto Roosevelt "Pete" Younkin received $100, and he earned another $10 for digging the grave.
Balaam's grave was not marked for decades.
Daughter Barbara "Ellen" Younkin (1858-1894) was born on (?) 25, 1858. She married widower and Irish immigrant Michael J. Cunningham (1844-1909), who had come from the Old Country at the age of 17, and was the son of John and Bridget Cunningham. They had four children -- Agnes M. McDermott, Michael J. Cunningham, Joseph P. Cunningham and Cora Amanda Cunningham. They lived in Connellsville, Fayette County, PA. Upon arriving in America in 1861, Michael secured a job in New York as a railroad construction foreman. His first wife was (?) Shay, who died young, but in their brief marriage are thought to have had these children -- John D. Cunningham, James Cunningham and Mary Ellen Extine. In about 1874, he relocated to Connellsville, employed by the Baltimore and Ohio Railroad. The Connellsville Daily Courier once said that he was "one of the oldest road foremen on the Pittsburg Division" of the B&O and "was well known in railroad circles and was held in the highest esteem by his many friends." They were members of the Immaculate Conception Church, which may have rankled Ellen's Baptist family. Sadly, Ellen died Dec. 17, 1894, at the age of 36. The children were appointed Michael Cunningham as their guardian, and at the death of their grandmother Amanda Younkin, were entitled to receive an inheritance. Michael survived his wife by 15 years, living under the roofs of his adult children. After 18 months of suffering from chronic kidney disease and hardening of the arteries, he resigned his position with the B&O in September 1908 and died six months later, on April 1, 1909. Death occurred in the home of his married daughter Agnes McDermott. Interment was in St. Joseph Cemetery. At his death, he left a will providing bequeaths of money from IOUs owed by a married daughter and her husband. Funeral expenses were paid by the B&O Relief Department.

B&O yards at Connellsville where Michael Cunningham worked
Granddaughter Agnes M. Cunningham (1880-1913) was born on Sept. 27, 1880 in Connellsville. She wed James McDermott (1878-1955), son of railroader John McDermott of West Apple Street in Connellsville. The couple was wed on July 22, 1907 at the Immaculate Conception Church in Connellsville, officiated by Rev. Fr. J.T. Burns. In reporting on the marriage, the Connellsville Daily Courier noted that they were "a well known young couple of town." James worked at the McGrath machine shop in Connellsville. They had three children -- Regis McDermott, Catherine Malone and Dorothy Luckey. At some point the young couple borrowed $800 from Agnes' father, and when it remained un-repaid at the father's death in 1909, James was named executor of the estate and thus was in the awkward position of repaying a debt to himself. Said the Daily Courier, "That only friendly relations existed in the family is shown in the appointment...." Their home was at at 404 East Washington Avenue in Connellsville. Tragically, Agnes became afflicted with tuberculosis meningitis in the spring of 1913, when she was only 32 years of age. She died shortly after her diagnosis on May 2, 1913. Burial was in the St. Joseph Cemetery. James lived another four-plus decades after Agnes' passing. He migrated to Montana, making his home in Havre, Hill County. He died there at age 77 on March 19, 1955, and was laid to rest in Havre.
Grandson Michael J. Cunningham Jr. (1885-1918) was born on Jan. 26, 1885 in Connellsville. As a young adult in Connellsville, he worked for Fred Robbins at the Soisson Theatre. Later, he earned a living as a machinist for the Baltimore and Ohio Railroad. He apparently never married. Stricken with pneumonia and influenza in the fall of 1918, he died on Oct. 20, 1918 at the age of 33. His remains were laid to rest in the St. Joseph Cemetery in Connellsville, following funeral services at the home of his sister Agnes McDermott.
Broadway show where Joseph
Cunningham managed scenery

Grandson Joseph P. Cunningham (1889- ? ) was born in January 1889 in Connellsville. As a young man, attracted by the lure of show business, he moved to Pittsburgh. He did not pursue acting, but got a job in a South Side theatre "in the wings" as a stage carpenter. In Pittsburgh, in 1910, he boarded in the home of Henry and Mary Graddemage on Gist Street in the city's First Ward. While employed at the Colonial Theatre, he became fast friends with Frank Powers, and the two remained close for many years. Later in 1910, he relocated to New York City to work in Broadway productions. In 1918, he resided at 518 West 204th Street. He occasionally returned to Connellsville for visits and always looked up his friend and fellow Connellsville native Ray D. Wetherell. In 1951-1952, he oversaw scenery for the smash Broadway hit Guys and Dolls which eventually reached 726 performances, vaulting it into the "longest run show in the 26-year history of New York's 46th Street Theater," reported the Pittsburgh Press. In February 1953, for two weeks, he was back in Pittsburgh when Guys and Dolls performed at the Nixon Theatre. The Broadway cast starred Pamela Britton (Adelaide), Iva Withers, Julie Oshins (Nathan Detroit), Norwood Smith (Sky Masterson) and Pat Rooney, with other roles featuring Tom Aherne, Susan Hight, Del Markee, Netta Packe, Al Nesor, Jack Prince and B.S. Pully. Reported the Connellsville Daily Courier, "It is only one of several Broadway hit shows for which he has managed scenery." Circa 1956, his residence was 45 Wadsworth Avenue in New York. A 1956 issue of the Daily Courier said that "Over these many years he has developed a high state of efficiency in his chosen work and has been with most of the bigger shows making the big city circuits." While in Pittsburgh in 1956, he learned that his old hometown of Connellsville was celebrating its 150th birthday. He contacted his old friend Wetherell and arranged to buy a "sesquicentennial bond." He told Wetherell that "I have never forgotten Connellsville and my dear friends there. I have always placed Connellsville at the pinnacle of a wonderful place in my recollections as as I have traveled throughout the United States I have always put in a good plug for Connellsville."
Granddaughter Cora "Amanda" Cunningham (1886-1952) was born in April 1886 in Connellsville. She was bequeathed $1,000 under the terms of her father's will. After the death of her married sister Agnes McDermott in 1913, Amanda relocated with her widowed brother in law and his motherless children to Montana, where they put down roots in Havre. She was away for 10 years before returning to Connellsville for the first time. Some 34 years after moving to Montana, she died there on or about Nov. 29, 1952, at the age of 66. An obituary was printed in the Connellsville Daily Courier, mis-stating that among her survivors was an uncle, "Herman" Younkin of Confluence. (His name was "Harvey.")
Daughter Sarah Lavenia "Venie" Younkin (1863-1941) was born on April 2, 1863. She never married, and was afflicted with spinal sclerosis which caused paralysis. At her father's death, in 1921, she was named to inherit one dollar, perhaps because he had given her aid during her lifetime. In her later years, she made her home at 315 Olinger Street in Meyersdale. Afflicted with hardening of the arteries and nerve pain in her ribs, she died in Meyersdale at the age of 78 on Aug. 13, 1941. Burial was in Meyersdale.
Daughter Arvilla Younkin (1866-1867) was born on April 15, 1866. She died a year later, just two days before Christmas, on Dec. 23, 1867, at the age of one.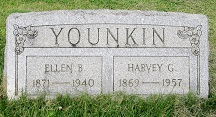 Jersey Baptist Church
Son Harvey G. Younkin (1869-1957) was born on Oct. 9, 1869 in Lower Turkeyfoot. He married Ellen B. Conn (1871-1940) on Aug. 18, 1891, when he was age 22 and she 20. She was the daughter of Eli and Nancy (King) Conn of Draketown, Somerset County. He inherited a dollar upon his father's death in 1921. They resided on Water Street in Confluence and produced these children -- Amanda Reed, Jacob H. Younkin and Nancy Jane Younkin. Sadly, daughter Nancy Jane died at the age of two years, five months on Oct. 3, 1897. Harvey was a carpenter and longtime railroad engineer based in Confluence, and was a member of the Brotherhood of Locomotive Engineers. He is mentioned by name in a list of "old time railroaders" in the booklet Rockwood Centennial 1857-1957. They were members of the Draketown Methodist Church. Sadly, suffering from heart disease and hypertension for a decade, Ellen succumbed and died in Confluence on Sept. 30, 1940, at the age of 68. Her obituary was reprinted in Vol. #3, issue 3-4, the very last edition of the Younkin Family News Bulletin (June 30, 1941). Harvey was afflicted with congestive heart failure and followed her to the grave 17 years later, at age 86, on April 9, 1957, at Price Hospital in Confluence. Rev. William Webb preached the funeral sermon, with an obituary carried in the Connellsville Daily Courier. They rest in the Jersey Church Cemetery.
Grandson Jacob H. Younkin lived in Mather, Greene County, PA in 1957.
Granddaughter Amanda Younkin wed (?) Reed. She resided in Confluence and signed her father's death certificate in 1957.
Daughter Ida Mae Younkin (1874-1881?) was born on Sept. 25, 1874. She died on May 3, 1881, at the age of seven. Her obituary in the Somerset Herald read: "The funeral of Ida May, daughter of Balaam and Amanda Younkin, took place at the Jersey church, on the 4th inst. This little girl died of brain fever in her sixth year. Funeral discourse by Rev. J.R. Brown."


Mollie and Bill Lenhart
Daughter Mary Ann "Mollie" Younkin (1878-1945) was born on Sept. 4, 1878. She was but 12 years of age when her mother died. In 1898, when she was 20 and unmarried, she and a man named "Bryte" produced a son, whom she named Otto Roosevelt Younkin. She did not marry Bryte, who was a native West Virginian. After 21 years as a single mother, on Nov. 24, 1920, she married William B. Lenhart (1870-1946), son of Andrew Jackson and Flora (Rankin) Lenhart. At the time of marriage, she was age 42 and William 50. They were members of the Jersey Baptist Church. Mollie hosted many planning meetings of the Younkin National Home-Coming Reunion committee in the 1930s. She died at the age of 67, at home near Kingwood, on Dec. 19, 1945. An obituary was published in the Connellsville Daily Courier.
Grandson Otto Roosevelt "Pete" Younkin married Mildred Coldren. He was an active researcher of genealogy in the 1930s, and went on to become president of the Younkin National Home-Coming Reunion and Association. Read his account of the first Younkin reunion held in September 1934. In the 1990s, Otto's son Harry "Tom" Younkin made arrangements to have a Civil War veterans marker placed at Balaam's grave in Jersey Church Cemetery.
Daughter Irena "Gertrude" Younkin (1881-1963) was born on Feb. 19, 1881 in Confluence/Ursina. She was only nine years old at the death of her mother. As a young woman, she made her home in Meyersdale, Somerset County. On Jan. 2, 1902, when she was 20, she married her first husband, 25-year-old Charles William Beynon (1877- ? ), son of David and Susan Beynon of Meyersdale. Rev. B.B. Collins officiated. Charles was a laborer at the time of marriage. They had two known sons -- Earl Beynon and Paul Beynon. Sadly, Charles died on Nov. 22, 1905, after just four years of marriage. She wed her second spouse, 34-year-old Frederick J. Fisher (1873- ? ), son of William and Henrietta Fisher. Frederick earned a living as an engine hostler for the Baltimore and Ohio Railroad. Rev. Collins again performed the nuptials, on Nov. 17, 1907. Circa 1945, she made her home in Meyersdale. She passed into eternity due to "acute brain syndrome" at Meyersdale Community Hospital at the age of 82 on July 17, 1963. Her funeral was conducted by Rev. Charles Staub in Meyersdale, followed by entombment in Union Cemetery. Her obituary was printed in the Connellsville Daily Courier.
Grandson Earl Beynon made his home in Somerset in 1963.
Grandson Paul Beynon dwelled in Meyersdale.
~ Daughter Susanna (Younkin) Kuhns ~
Daughter Susanna Younkin (1838-1922) was born on July 17, 1838. She wed Jacob B. Kuhns (also spelled "Koontz") (1835-1925), son of Michael Kuhns.
They lived in Indian Head, Fayette County, PA during their adult lives. They had 10 children, of who eight are known -- John Kuhns, W. "Benson" Kuhns, Mrs. W.P. Miller, Malinda Miller, Lavan Y. Kuhns, Jacob Y. Kuhns, Horatio Kuhns and James Y. Kuhns.
Said the Connellsville Daily Courier, Jacob "was well known in the Indian Creek Valley. He was a farmer and a blacksmith...."
Susan contracted kidney disease and dropsy and died from their effects at the age of 83 on April 1, 1922.
In his final years he suffered with senility. While spending the winter of 1924-1925 at the home of his son Lavan Y. Kuhns in Champion, Fayette County, Jacob became unexpectedly and seriously ill with a cerebral hemorrhage. He died on Jan. 5, 1925. Burial was in Indian Head Cemetery.
Susanna's story is obscured by the shroud of history.
During the Younkin national home-coming reunion and genealogy research conducted in the mid-1930s by Otto Roosevelt Younkin and Charles Arthur "Charleroi Charley" Younkin, the Kuhnses were included in the studies of these ancient family history links.
Son John H. Kuhns (1868-1921) was born in Indian Head. He married Ella Porterfield ( ? - ? ), daughter of David and Sarah (Miller) Porterfield. They had two children -- Mrs. Harry Herbert and Harry C. Kuhns. For many years, John labored as a blacksmith at the Moyer coal works near Connellsville. He operated his own shop before moving to Francis Avenue in Connellsville and thence to the coal mining patch town of Herbert in 1920. He was a member of the United Brethren Church of Connellsville and the local lodges of the Odd Fellows and Knights of the Mystic chain, as well as the Junior order of United American Mechanics. His wife belonged to the United Daughters of Rebekah. John became ill and went to live with his brother in law John H. Porterfield in Moyer in early April 1921 so he could receive treatment from a favored local physician. He died in the Porterfield home on April 21, 1921, age 53. Following funeral services held at the Mount Olive Church in Bullskin Township, with Rev. J.S. Showman officiating, he was laid to rest in the adjoining cemetery.

Rare aerial view of Indian Head
Son W. "Benson" Kuhns lived in Indian Head.
Daughter (?) Kuhns married Walter P. Miller. She resided in Indian Head.
Daughter Malinda Kuhns (1865-1954) was born on Sept. 9, 1865 at Indian Head. On July 20, 1890, at Indian Head, the 24-year-old Malinda wed 30-year-old James S. Miller ( ? -1942), son of Samuel H. and Mary Miller. They dwelled in Indian Head and had three children, Chester Miller, Gertrude Breakiron and an unnamed infant who died young. They were members of the Indian Head Church of God. Sadly, James died on April 24, 1942. Malinda lived for another dozen years, and went to live in the home of her daughter and son-in-law Gertrude and Clifton Breakiron in Indian Head. In September 1948, Malinda received a surprise 83rd birthday party at her son's home. "Beautiful gifts were presented to her by her relatives and friends," said the Daily Courier. Among the attendees were Jacob Kuhns, Lavan Kuhns, W.P. Miller, Minerva Kuhns, Ida Kuhns, Bell Kuhns, Mr. and Mrs. Robert Shultz, Rev. and Mrs. Marion Smith and their son David, Mr. and Mrs. Joseph Miller, Sarah Whetsel, J.V. Miller, Sherman Miller, Mr. and Mrs. bill Walker and their daughter Yvonne, Jean Firestone, Sidney Firestone, Mr. and Mrs. Lloyd Davis, Mr. and Mrs. Marlin Showman, Mr. and Mrs. Lyman Miller, Mr. and Mrs. Lee Swisher and Grace Hunter. Malinda died in the Breakiron home at age 89 on Oct. 10, 1954. Her funeral sermon was preached by Rev. G. Marion Smith, assisted by Rev. James I. Kalp, at the family church. She was buried in the Sparks Cemetery of Indian Head. In an obituary, the Daily Courier noted that she "had lived all her life in the same community." On Nov. 22, 1967, their son Chester and his wife Minnie were pictured in the Daily Courier when celebrating their golden wedding anniversary.
Son Lavan Y. Kuhns (1876-1949) was born in 1876. He married Mildred Berg (1883-1932), who had a daughter from a previous marriage, Evelyn Whipkey. They had three children of their own: Glenn Kuhns, Eugenia Martin and Lorraine Ritchie. He was a longtime blacksmith, and was employed for many years by the Melcroft Coal Company, retiring in 1946. He was a member of the United Mine Workers of America Local 6872. Circa 1921, they established a home in Roaring Run in the community of Indian Head/Champion, remaining there for the remainder of their lives. Sadly, Mildred endured a long illness and passed away on Dec. 14, 1932, at age 49. He died at Connellsville State Hospital at the age of 73 on Nov. 8, 1949. Funeral services were held in the County Line Church of the Brethren in Champion, with burial in the Sparks Cemetery of Indian Head.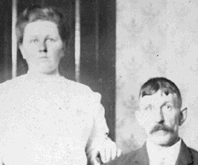 Jacob Y. and Minnie Kuhns
Son Jacob Y. Kuhns married a cousin, Minnie Enos, daughter of Perry and Joanna (Minerd) Enos of Normalville, Fayette County. They are seen here.
Son Horatio Y. Kuhns (1871-1937) was born on Sept. 30, 1871 in Indian Head. He married Rachel Berg ( ? - ? ), daughter of David R. and Barbary Berg, (1872- ? ) on Feb. 19, 1894. Later, he wed Ida (?). They had five children -- Susan Gorman, Charles B. Kuhns, Mrs. James McMaster, Frank Kuhns and Reid M. Kuhns. The family moved to Moyer, near Connellsville, circa 1905. He originally was employed by the W.J. Rainey Inc. coal company, where he spent two decades before establishing an independent blacksmithing business. They were members of the Trinity Lutheran Church of Connellsville. Horatio also belonged to the Knights of the Mystic Chain and Junior Order of United American Mechanics. On June 8, 1937, Horatio died at home at the age of 65. Following a funeral in the family church, led by Rev. Dr. William H. Hetrick, he was interred in the Indian Head Cemetery.
Son James Y. Kuhns (1873-1946 ) was born on July 1, 1873 near Indian Head. He married Belle Miller ( ? - ? ) on March 18, 1898, when he was age 24 and she 21. They had two daughters, Hazel Bosley and Jean Kuhns. James "resided in Connellsville and vicinity for ... 44 years," said the Connellsville Daily Courier. "He was a blacksmith and a former employe of the H.C. Frick Coke Company at Coalbrook and was a retired employe of West Penn Railways Company." They were members of the Indian Head Church of God, and circa 1946 lived in Poplar Grove. James was stricken with a deathly illness in May 1946 and was admitted to the Connellsville State Hospital. After five months of decline, he died there on Oct. 7, 1946, age 73. Entombment was in Green Ridge Memorial Park north of Connellsville.
~ Daughter Tabitha (Younkin) Critchfield Grim ~
Daughter Dorcas "Tabitha" (or "Isabella") Younkin (1842-1911) was born on April 16, 1842 in Turkeyfoot Township. Her middle name, which she primarily used, was given differently in the newspaper obituaries of her two daughters.
She was twice married, and her first husband was James Critchfield ( ? - ? ). They had three children -- George W. Critchfield, Cyrus Critchfield and Carrie M. Sheppard.
Later, Tabitha wed Peter Grim ( ? - ? ), and they had one daughter of their own, Gertrude Grim.
Her home in 1865 was in Confluence and in 1869 was in Addison, Somerset County. Within a few years she moved to Connellsville, Fayette County, where she remained circa 1903. Her final address there was 522 North Pittsburgh Street.
Tabitha suffered for 18 months from cancer of the bowels, and died on March 25, 1911 at the age of 68. She was laid to rest in Hill Grove Cemetery. Daughter Gertrude, living in Connellsville at the time, provided information for her death certificate.
Son George W. Critchfield (1865-1936) was born in 1865 in Confluence, Somerset County. He moved as a boy to Connellsville, where he "grew to manhood," said the Connellsville Daily Courier. He married Carrie Artis of Connellsville, and they had three children: James Critchfield, Oscar Critchfield and Mae Logan. Carrie also had an earlier daughter, Mrs. Bert Means. George and family lived in Pittsburgh, where he was employed for many years as an insurance agent. He also was a member of the Pittsburgh lodges of the Masons and Odd Fellows. Their home was on Mount Washington in Pittsburgh. George suffered from a debilitating illness for three months in late 1935 and died in Pittsburgh City Hospital at age 71, on Dec. 12, 1936. His remains were shipped to Connellsville for burial in Hill Grove Cemetery.
Daughter Carrie Critchfield (1869-1959) was born on April 22, 1869 in Addison, Somerset County. She married Harry G. Sheppard ( ? -1906). They had one son, Harry C. Sheppard. The family resided in Hazelwood, near Pittsburgh. Then, in 1906, tragedy struck when Harry died at a young age. She moved back to Connellsville the following year and lived at 110 Green Street in Connellsville. At Christmas 1926, she hosted a visit from her half sister Gertrude Grimm of Buffalo, NY. Later, she and sister Gertrude shared the home. Carrie was a member of the First Methodist Church of Connellsville. At the age of 90, "after a lingering illness," she died at home on April 1, 1959, said the Daily Courier. Following funeral services at the Brooks Funeral Home, led by Rev. H. Carl Butterbaugh, she was interred in Hill Grove Cemetery. Circa 1959, her son lived in Pittsburgh.
Daughter Gertrude Grimm ( ? -1965) was born in Confluence. She never married, but pursued an early professional career of impressive credentials. In the 1910s and 1920s, she was employed as a buyer with Kobacher's Department Store in Connellsville. Circa the mid-1920s, she resided in Buffalo, NY. She eventually returned to Connellsville and was treasurer of the German Union Insurance Company. She was elected president of the Connellsville Business and Professional Women's Club in 1918 and was a member of the Connellsville chapter of the Eastern Star and Woman's Culture Club. She also belonged to the First Methodist Church of Connellsville. Circa 1919, she mingled socially with distant cousins Harriet (Sherbondy) Younkin and Martha Jane Detwiler of Pennsville, and Clara (Jeffery) Younkin of Connellsville, all of the family branch of Charles and Jane (Johnson) Younkin, as reported in the social columns of the Daily Courier. In the 1950s, she resided with her half-sister Carrie Critchfield on East Green Street in Connellsville, but after the sister's death moved to Pittsburgh. There, she resided with Mrs. John A. Henrich at 108 Lebanon Church Road in the borough of Pleasant Hills. In a news story about her hospitalization circa April 1961, the Daily Courier named her nieces Margaret O'Hara, May Fosbrink and Geraldine Bailey. She died on Feb. 3, 1965. Following a funeral organized by the Eastern Star, and preached by Rev. Lynn Shindledecker, she was laid to rest in Green Ridge Memorial Park.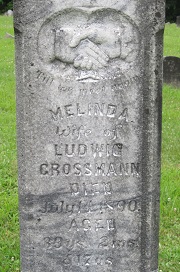 Melinda's grave, 1890
~ Daughter Caroline Malinda (Younkin) Grossman~
Daughter Caroline "Malinda" Younkin (1850-1890) was born on April 27, 1850 or 1851. He rmiddle name also has been shown as "Belinda."
At the age of 19, in 1870, Malinda was unmarried and lived at home with her parents near Ursina, Somerset County. That year, 35-year-old, Saxony-born Ludwig "Louis" Grossman (1843-1916) dwelled in the household.
In about 1879, the 29-year-old Malinda married her parents' boarder, the 36-year-old Louis. They are shown together in the 1880 census of Confluence.
Notes compiled by a grand-nephew, Otto Roosevelt "Pete" Younkin, of the family of Balaam Younkin, state that the couple produced only one son, Garfield Grossman, who died at the tender age of four days on Nov. 24, 1888. The infant's remains were placed into holy repose in the Jersey Baptist Church Cemetery. At the base of the marker -- still erect but of fading legibility circa 2016 -- were inscribed the words "Gone to Heaven."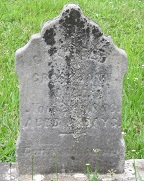 Baby Garfield's grave, 1888
Sadly, Melinda only lived for two years after the death of her baby. She passed away on July 14, 1890 at the age of 39 years, two months and 17 days. Burial was in the Jersey Baptist Church Cemetery near Ursina, near the resting place of her infant son. [Find-a-Grave] An image of shaking hands was carved at the top of the marker shaft, under which were written these words: "Till we meet again."
The widowed Louis moved into the town of Connellsville by 19100 and obtained work as a railroad laborer. He boarded in the home of widow Julia Nee on West Fayette Street. In 1900, he disclosed to the census-taker that he was widowed, had no children, was born in October 1846 in Germany, and had come to America in 1866 and was a naturalized citizen.
By 1910, he had moved again into the Fayette County seat of Uniontown, where he was a patient in the Fayette County Home and performed odd jobs as a hospital janitor. He is believed to have been the same "Lewis Grossman" who, suffering from pancreatic cancer, died in the County Home at the age of 72 just five days before Christmas 1916. Home executive Richard "Dick" Sherrick -- whose wife Nora Catherine was a Younkin cousin, of the family of Franklin B. Younkin -- signed the death certificate. Interment was in the Home cemetery.
~ Son Colwell Seveno Younkin, a.k.a. "Professor Younkin ~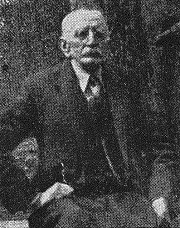 Colwell S. Younkin, 1930s
Son Colwell Seveno Younkin (1853-1946) was born on June 19, 1853.
He made his home as a young man with his widowed father near Ursina. When the federal census was taken in 1880, he and his father resided together, with the father laboring as a farmer. That year, 50-year-old servant Rachael Carver and 12-year-old farm hand Charles Fisher also lived under the Younkin roof.
Although Colwell was age 27 in 1880, he had no occupation, noted the census-taker, other than being "At Home."
Early in life, known locally as "Professor Younkin," he made a name as a ventriloquist and, "struck by the glamor of the footlights [he] toured vaudeville circuits for a half dozen years as a ventriloquist and sleight-of-hand performer, interspersing his performances with discussions of astronomy," said a Somerset newspaper.
In about 1885, at the age of 32, Colwell married Emma Ringer ( ? - ? ), a native of Listonburg, Somerset County, and the daughter of Josiah J. and Sarah Jane Ringer. They had four children, of whom four are known -- Ernest Ives Younkin and Emma V. Lincoln.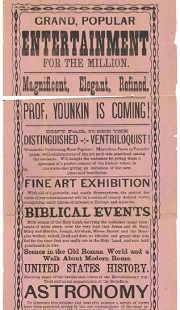 Poster advertising Colwell's
vaudeville act, 1880s
The 1900 census shows Colwell heading a household with his elderly father, nine-year-old son and 13-year-old niece Daisy E. Brother. When the federal census again was enumerated in 1910, he lived alone, with Emma heading her own household in Connellsville, Fayette County, PA.
Professionally, Colwell was a longtime county engineer for the County of Somerset. Circa 1924, he was sworn in as county surveyor even though the position was un-compensated, and he continued to produce his own blue prints. This continued for several decades, and generated a headline article in Somerset American later reprinted in the Younkin Family News Bulletin, "Younkin Pays $25 To Get County Payless Job." The story said that Colwell's responsibility as surveyor was made easier by the fact that "Today, there is very little or no unclaimed land in Somerset county. None has been reported for nearly a decade." He also was a beekeeper in his spare time.
At the age of 79, reported his cousin Frederick E. Younkin, a Connellsville attorney, he "can go over the hills yet like a greyhound." A story in the Younkin news bulletin of 1940 said he:
... strides rapidly when walking, his shoulders erect and enjoys walking more than a mile from Confluence to his home farm even with a heavy load of groceries for himself and his wife. His sparkling blue eyes and sun-tanned face, the brown spots showing through his thinning gray hair, indicates a man who has spent much of his life in the open.... [He] likes astronomy and mathematics, and he is somewhat of a linguist, speaks fluent German. Like his engineering, he learned German from a brother-in-law who studied at a German university before coming to America as a railroad engineer when the Baltimore and Ohio was building between Cumberland and Connellsville.

Jersey Baptist Church
Emma spent her final years in the dwelling of her married daughter and son-in-law Emma V. and W.S. Lincoln in Connellsville. She passed away at the age of 82 on March 27, 1945. Her remains were shipped to Confluence for interment in the Jersey Baptist Church Cemetery near Ursina.
Colwell suffered a stroke and died in Confluence's Price Hospital on June 10, 1946. His death occurred just 10 days before what would have been his 93rd birthday. At his death, the county surveyor position was offered to his son Ernest, but the son declined as it would not provide income.
Son Ernest Ives Younkin (1890-1957) was born on Aug. 27, 1890 outside of Confluence. He learned the trade of surveying from his father and they apparently worked together over the years. He was married but later divorced, and may have had a son named Ernest. Ernest Sr. maintained a home in Confluence. He suffered a heart attack at the age of 66 and died three days later on April 20, 1957 in Somerset State Hospital. Burial was in the Jersey Church Cemetery. Providing vital information for his certificate of death was Ernest Younkin of Ohio.
Minerd.com extends its gratitude to these cousin-researchers who graciously shared their findings for publication: the late Donna (Younkin) Logan, the late Olive (Rowan) Duff, the late Harry "Tom" Younkin and Mark Terry Youngkin.
Copyright © 2013, 2016-2017 Mark A. Miner