Home

City of Uniontown
Proclaims Official
"Jacob Minerd Weekend"
The City of Uniontown, the county seat of Fayette County, PA, the epicenter of our family's modern founding in 1791, has issued a proclamation declaring our reunion weekend as "Jacob Minerd Weekend." This is in honor of the dedication of the Revolutionary War grave marker for Jacob planned for our event. See the document below.
We thank cousin Kenneth Tilghman Minerd, who serves on the City's Zoning Hearing Board, for his efforts to help secure this honor for our pioneer ancestor. We also are grateful to these individuals who wrote letters of support: James D. Barnett, owner of the Barnett (formerly Minerd) Funeral Home; Rev. Dr. Thomas D. Whitehead, pastor of the Calvary United Methodist Church; Victoria Leonelli (Curator, PA Room) and Christy Fusco (Head Librarian) of the Uniontown Public Library; and cousin Melinda (Swope) Brooksher, of Pittsburg, KS, whose memoir of her unusual 2002 reunion-visit is posted on our website. Our gratitude also extends to cousin Alice (Lange) Jacobs, the first member of our clan to join the prestigious Daughters of the American Revolution based on Jacob's service; and cousin Marilyn (Jenkins) Prinzing, also a DAR member, who has lent support to cousins seeking membership.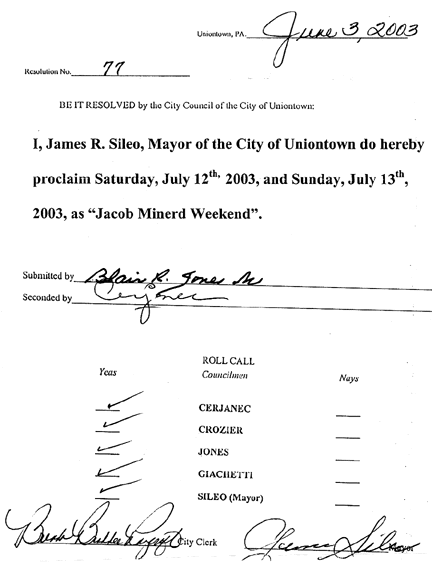 Copyright © 2003 Mark A. Miner