Andrew Jackson Birch
(1868-1949)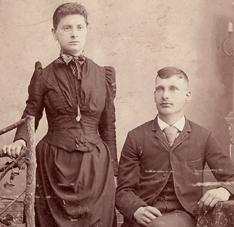 Emma and Andrew
Andrew Jackson "Andy" Birch was born on Jan. 8, 1868 in Greene County, PA, the son of Samuel and Susan (Miner) Birch. While his birth year also has been given in various sources as 1866 and 1867, it is written in the family Bible as 1868.
On March 8, 1894, at the age of 26, Andrew was united in matrimony with 19-year-old Emma Louise Specht (June 2, 1874-1966), the daughter of Dow and Nancy J. (Covert) Specht of Uhrichsville, Tuscarawas County, OH. Emma's maiden name often has been shortened to "Speck."
The Birches went on to produce a family of five children – Flora R. Birch, Rosetta Birch, Esther Brookman Isiminger, Howard Irwin Birch and Alberta McKinney.
Daughter Flora was born in Ohio in 1893. The family, however, seems to have spent most of their years in Washington County, PA, including on a rented farm in Prosperity, then in Canton Township in 1900 and Tylerdale in the city of Washington in 1901.
When the federal census was made in 1900, the Birches dwelled in Canton Township. Andrew earned a living as a stone mason.
Sadness enveloped the family twice during the decade between 1900 and 1910. Daughter Rosetta died at age 10 months on Jan. 19, 1901. A brief notice of her untimely passing was published in the Washington Reporter newspaper.

Little Rosetta's obituary, 1901
Then, on Sept. 29, 1907, 14-year-old daughter Flora, who was anemic, passed away after an affliction with typhoid fever and internal bleeding. Burial was in Washington Cemetery.
Then in 1910, remaining in Canton Township, Andrew supported the family as a laborer.
Andrew is said to have had red hair and chewed tobacco, and that by the time of his death, his teeth had worn down to his gums.
The family relocated during the decade of the 1910s and in 1920 was marked in the United States Census as living in South Franklin Township. At that time, Andrew was earning his income as a farmer.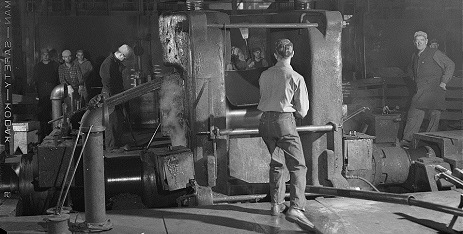 Washington Tin Plate workers, circa 1941.
Library of Congress
Said the Washington Reporter, Andrew "worked for 17 years at the Washington Tin Plate Co. until it closed and has been farming since then." He also hauled coal and is said to have had two teams of horses and two trucks.
He is known to have been a teamster/trucker in a local coal mine operation in Washington circa 1930-1934. The Birches were members of the West Union Presbyterian Church.
By 1940, with Andrew retired, the Birches lived alone at 925 Sycamore Street in Washington.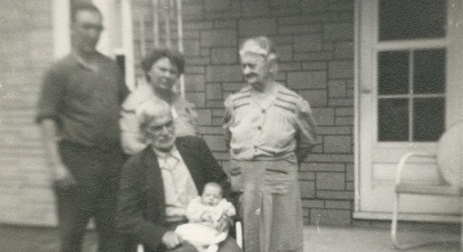 Andrew (seated) and Emma (right) in a 4-generation photo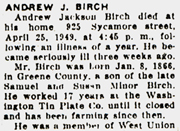 Obituary, 1949
Andrew and Emma celebrated their 55th wedding anniversary on March 8, 1949.
Howard suffered later in life with hardening of the arteries. Within a few weeks of the anniversary, however, Howard contracted a serious kidney infection ("pyelonephritis") and bronchitis. Unable to recover, he succumbed to his illnesses at the age of 82 on April 25, 1949. Interment of his remains was in Washington Cemetery.
Emma survived her husband by 17 years. She was a member of West Washington Methodist Church, where many of her late husband's relatives of the Miner and Bedillion family were longtime members.
Later in life, Emma went to live in the home of her married daughter Alberta McKinney. Her address toward the end was 837 Birth Street in South Strabane Township.
After suffering bleeding on the brain, Emma passed away at the age of 91 on April 22, 1966, at Washington Hospital. At the time of her death, she was survived by three grandchildren and eight great-grandchildren.
~ Daughter Esther Mae (Birch) Brookman Isiminger ~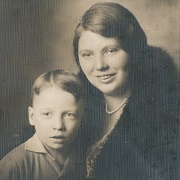 Esther and Robert
Daughter Esther Mae Birch (1903-1961) was born on May 5, 1903.
She was married twice. Her first husband was 30-year-old divorcee William "Peyton" Brookman (Jan. 1, 1895-1935), a native of Culpeper County, VA and the son of J.S. and Nancy M. (Hall) Brookman, both of Richmond, VA. They were wed in Wheeling, Ohio County, WV on Nov. 28, 1925, by the hand of Rev. Homer J. Metheny.
The Brookmans lived on South Street in Washington. Together they bore two sons, Francis Harry Brookman and Robert (Brookman) Isiminger.
Peyton was tall and slender, with grey eyes and brown hair. He earned a living as a worker at the Hazel Atlas Glass plant in Washington. Circa 1917, his job was as a "gatherer" at the factory.
During World War I, said the Washington Daily Reporter, Peyton joined the U.S. Army. He served "with Co. B of the 305th Ammunition Train, of the 50th Division, [and] was active in the battles of St. Mihiel and Meuse Argonne. He left the United States for France, May 26, 1918, and returned June 1, 1919."
Once he settled back home, Peyton resumed his work at Hazel Atlas.

Above: Peyton's workplace, the Hazel Atlas Glass plant in Washington, PA
Tragically, Peyton never recovered from his war experience. He contracted lobar pneumonia at the age of 40 and was admitted to Washington Hospital. There, a week later, he died on Jan. 23, 1935. He was buried in Washington Cemetery.
Esther was left alone with two young sons to raise. In 1939, she married again to James "Walton" Isiminger (June 3, 1904-1994), son of Nicholas L. and Flora (Antill) Isiminger of Washington County. He stood 5 feet, 7½ inches tall and weighed 160 lbs., with brown hair and brown eyes.
Walton agreed to adopted one of but not both of his wife's sons.
The couple resided in the rural outskirts of Washington. During the World War II years, Walton earned a living at Hazel Atlas and also raised farm produce for their own use.
Esther was burdened with heart disease and enlargement of the heart. At the age of 58, on Sept. 28, 1961, Esther suffered a heart attack and died as a patient in Washington Hospital. Her remains were buried at Forest Lawn Gardens in Peters Township (McMurray, PA).
Walton outlived her by more than three decades. He passed away on July 6, 1994, at the age of 90. His remains were lowered into the death at Mount Viewe Cemetery in Dallas, Marshall County, WV.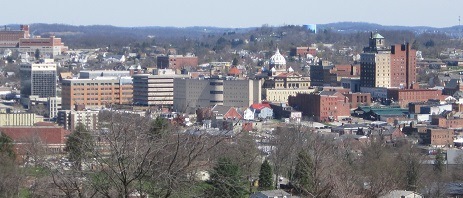 Washington, Pennsylvania
Son Francis Harry Brookman ( ? - ? ) was born in (?). His fate has been lost for now.

Robert Isiminger
Son Robert Roy Brookman (1923-2007) was born on July 6, 1923 in Washington County, PA. He was age 12 when his father died, and was adopted by his step-father, taking the surname "Isiminger." He served in the U.S. Army during World War II, in the South Pacific theatre, attaining the rank of corporal. On Feb. 5, 1947, at the age of 23, he was united in marriage with 18-year-old Marie Anna Prall (May 24, 1928-2012), daughter of James M. and Louise (Diebold) Prall of Monongahela, Washington County. Their marriage union endured for an extraordinary six decades. The Isimingers were the parents of a brood of four children -- Robert R. Isiminger Jr., Thomas W. Isiminger, M. Darlene Allen and Connie L. Wilby. Robert was the owner and operator of Superior Electric Service Company in Washington. Marie liked to raise flowers and spoil her family and pets. They were members of First Christian Church of Canonsburg, and resided at 231 Mansfield Road. The pair celebrated their 60th wedding anniversary in February 2007. Robert held memberships in the Edwin Scott Linton Post 175 of the American Legion and the Strabane Post of the Veterans of Foreign Wars. He met with the founder of this website at his home in about 1991, providing valuable information about the Birch branch of the family. Robert passed away on Feb. 17, 2007, with burial at Forest Lawn Gardens in McMurray. Marie endured as a widow for five years. She died on March 29, 2012, at the age of 83. At her death, said the Washington Observer-Reporter, she was survived by 12 grandchildren and 17 great-grandchildren.
Grandson

Robert Roy Isiminger Jr.

( ? - ? ) was born in (?). In young manhood he received a bachelor's degree in electrical engineering at West Virginia University. He appears to have been married twice. On May 29, 1970, he wed his first wife, Carol Ann Clark ( ? - ? ), daughter of John H. and Edith P. Clark of McKees Rocks near Pittsburgh. The ceremony was held in the Moon Run United Presbyterian Church, officiated by Rev. Harold Kimmins. News of their wedding was printed in the

Canonsburg Daily Notes

-- including Carol Ann's bridal portrait -- and

Pittsburgh Press

. At the time of marriage, Robert was employed by U.S. Steel Corporation, and Carol Ann worked for Bell Telephone Company. The newlyweds made their home in Coraopolis, Allegheny County, PA. Then in 1994, at the age of 46, he married again to 42-year-old Jeanette Rae (Durnil) McKenzie ( ? - ? ). They dwelled in Greer, SC in 1994 and in Baltimore, MD in 2007.
Grandson Thomas W. Isiminger

( ? - ? ) was born in (?). He was united in wedlock with Shirley A. Etherington ( ? - ? ), daughter of Mark and Lillian Etherington Sr. Their home has been in McDonald, Washington County. Together, the couple bore three children -- Thomas M. Isiminger, Noelle Isiminger and Ashley Isiminger. On the tragic day of Sept. 18, 2003, their son was killed when the vehicle in which he was a passenger was speeding on Interstate 79, lost control and crashed into a bridge abutment. The driver in 2005 was convicted of the crime of driving under the influence of alcohol.
Granddaughter M. Darlene Isiminger ( ? - ? ) was born in (?). She was an alumna of Slippery Rock State College. On or about Aug. 29, 1970, she wedded Donald "Don" Allen ( ? - ? ), son of Chester E. Allen of Lodi, OH.

At the time they married, Donald was employed as a professional harness driver at Hawthorne Park Race Track in Chicago, the nation's oldest family-owned horse race track in continuous operation. The couple relocated to California. Darlene dwelled in Buena Park, CA in 2012.
Granddaughter Connie Louise Isiminger was born in (?). She worked as a young woman as a senior relief manager for Western Union Telegraph Company. She was twice-wed. She joined in matrimony on Dec. 26, 1970 with her first spouse, J. Kenneth Breakwell ( ? - ? ), son of G.B. Breakwell of West Mifflin. The nuptials were performed by Rev. Richard Allen Davis at the Pigeon Creek Presbyterian Church of Eighty-Four, Washington County.The news was announced and the bride pictured on the pages of the Canonsburg Daily Notes. Kenneth attended Point Park College and was program director for the WESA-FM radio station in Charleroi. He also was a member of the U.S. Army Reserves. In time she tied the knot with Daniel Wilby ( ? - ? ). The Wilbys also migrated to California and put down roots in Carlsbad, CA.
Howard and his 1st wife Mary
~ Son Howard Irwin Birch ~
Son Howard Irwin Birch (1905-1986) was born in 1905.
He attended the sixth grade in Cross Roads Public School in South Franklin Township, Washington County, taught by Lisle K. Godon. His sisters Esther was in the eighth grade and Alberta in third grade in the same school.
He earned a living in young manhood as a glass worker in Washington, likely at the Hazel Atlas Glass plant where his brother-in-law Peyton Brookman and uncle George Mattax and many extended cousins also were employed.
Howard wedded his first bride when he was age 26 -- Mary M. Brown ( ? - ? ), age 22, daughter of Daniel and Nellie (Hammel) Brown -- in about February 1932. The couple divorced on Oct. 13, 1934.
On Nov. 11, 1934, at the age of 29, he was joined in the bonds of wedlock with his second bride, 24-year-old telephone operator Anna Genevieve Preston (July 20, 1910-1972). She was the daughter of William and Hazel (Vankirk) Preston of Washington.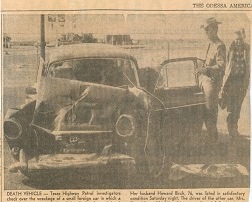 Deadly auto wreckage in Odessa, TX
The couple did not reproduce.
The Birches initially resided on Sycamore Avenue in Washington and are shown there in the federal census enumeration of 1940. At the time, he earned a living as a selector in a local glass factory. They generated additional funds by renting a room to a lodger, Grace Nosser. The pair were Methodists.
In time Howard and Anna established a home in Upper St. Clair, a prominent suburb of Pittsburgh. Their address in the early 1970s was 105 Royanna Drive.
Tragedy struck on the fateful day of Jan. 22, 1972 when the couple were driving together in a small foreign automobile in Odessa, TX. At the intersection of FM 1601 and Interstate 20 in Penwell, west of Odessa, their vehicle collided with another. Howard and Anna were rushed to the Medical Center Hospital, where Anna at age 61 was pronounced dead on arrrival. Howard, age 76, was injured but said by the Odessa American to be "in satisfactory condition." The wrecked vehicle was pictured in the newspaper. Howard's sister-in-law and nephew flew to Texas to be at his side.
Her body was flown to Pittsburgh for interment in Washington. A death notice in the Pittsburgh Press said Anna was survived by her siblings Alberta Wagner of Phoenix, Betty Sorgie and Susan Marks of Washington, and Kenneth B. Ross of Axtell, KS.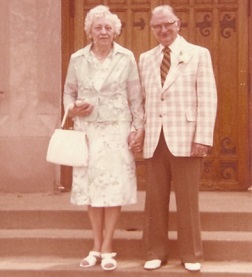 Howard and Edna, 1973
In his grieving, Howard penned a thoughtful and heartfelt letter to the editor of the Odessa American newspaper, published on Feb. 4, 1972:
I would like to express my deep appreciation for the kindnesses shown me after my recent automobile accident near Odessa. I am especially grateful to Sgt. Bob Brookshire to the Texas Highway Patrol for his warm interest and helpfulness from the time of the accident until I left for home. The great help and comfort Rev. Lawrence Menefee and another member of the clergy gave me during this time of distress is something I will never forget. It is heartwarming to be shown such Christian love by so many citizens of Odessa.
After more than a decade as a widower, Howard married again to Edna (?) McCabe (1909-1999) in about 1973.
She had been married previously and brought three adult children to the union -- Edna Marilyn Sickman, Robert E. McCabe and Roy John McCabe.
Howard died on March 25, 1986, at the age of 81. In an obituary in the Pittsburgh Post-Gazette, the family asked that any memorial donations be made to the American Heart Association.
His widow Edna was interviewed in 1991 by the founder of this website, and generously shared her knowledge of the family. She also sent a number of vintage photographs and documents to be preserved in the family collection.
Edna was gathered away by the angel of death at the age of 90 on Dec. 19, 1999. Burial was in Jefferson Memorial Park. A death notice was printed in the Post-Gazette.
~ Daughter Alberta (Birch) McKinney ~
Daughter Alberta Birch (1908-1991) was born in about 1908.
She made a home at Dunns Station in young womanhood.
When she was 19 years of age, on Aug. 10, 1927, she was joined in wedlock with 21-year-old truck driver Willard Edward "Buck" McKinney Sr. (1905-1974), son of William and Lucille (Hunnel) McKinney of Washington.
They lived in Washington at 444 Extension Avenue in 1937 and later at 81 Ellis Avenue.
The McKinneys bore two sons, Willard Edward "Barney" McKinney Jr. and Howard Irwin "Babe" McKinney. They also lost an unnamed daughter on Aug. 3, 1937, prematurely born at five months' gestation.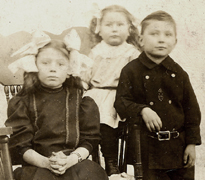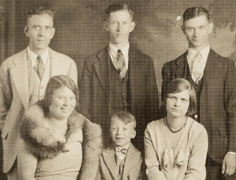 Esther, Alberta and Howard Birch as children (left), and as adults
Willard passed away in July 1974.
Alberta lived for another 17 years and succumbed to death in May 1991.
Son Willard Edward "Barney" McKinney Jr. (1928-1980) was born on May 20, 1928. He made his home in Washington, PA. On June 22, 1950, he was joined in the bonds of marriage with 17-year-old Mary Louise Pickens (Aug. 25, 1932-2020), daughter of Levi Kenneth and Irene (Morris) Pickens of 782 Addison Street in West Washington. Because she legally was underage, her father had to sign his consent to the union. Their marriage lasted for three decades until cleaved apart by death. One son was born to this couple, David Lee McKinney. As a young woman, Mary Louise was employed as a telephone operator by Bell Telephone. Later, she earned a living through her work in the cafeteria of Trinity Area High School. They were members of the Washington Christian and Missionary Alliance Church. Sadly, Willard died in December 1980 at the age of 52. Burial was in Washington Cemetery. Mary Louise outlived her spouse by a remarkable four decades. On Dec. 10, 1994, after 14 years as a widow, she wedded again to widower James Earl Baer (March 8, 1930-2012). She endured her second husband's demise on Nov. 15, 2012. She passed into the realm of the eternal at the age of 87 on July 8, 2020.

Sketch of Howard McKinney's workplace, Jessop Steel in Washington
Son Howard Irwin "Babe" McKinney (1930-2008) was born on May 26, 1930 in Washington. He married Roxie E. Brown (April 10, 1935-2019), a native of Daisytown, Washington County and the daughter of Samuel H. and Snoma C. (Kisner) Brown. Their marriage lasted for for 54 years. The three children the McKinneys produced together were Howard L. "Hug" McKinney, Debbie McKay and Darlene Johnson. Said the Washington Observer-Reporter, he "was a 1949 graduate of Trinity High School and was employed by Jessop Steel for 36 years. He was a member of the 40th Infantry Division, serving during the Korean Conflict. [He] was a member of The Word of Faith Church, Washington. He was an ordained minister of All Faith Church Mission and a pastor at Wolfdale Chapel. He also worked with Christian Outreach. He loved reading his Bible, working on small engines and his German shepherds." Howard was nicknamed "The Preacher" because of his evangelical Christian outreach in the workplace. Roxie shared his devotion for Christian faith. She was talented as an artist and liked to express her creativity in painting. In the 1990s, Howard spoke with the founder of this website by telephone but showed no interest in the history of his family. He died at age 78 in Washington Hospital on July 26, 2008. His remains were placed into honored rest in the National Cemetery of the Alleghenies. Roxie survived as a widow for about 11 years and remained in Washington. She passed into death at the age of 84 on Oct. 15, 2019.
Grandson

Howard L. "Hug" McKinney

was joined in matrimony with Deena. They have dwelled in Hickory, Washington County.
Granddaughter Debbie McKinney married (?) McKay.
Granddaughter

Darlene McKinney was united in wedlock with Ricky Johnson

. Their home in 2009 was in Washington.
Copyright © 2001, 2007-2008, 2012, 2021 Mark A. Miner
Any reproduction of words or images from this page must be used with credit to the Minerd.com Archives.