Andrew Jackson Birch
(1866-1949)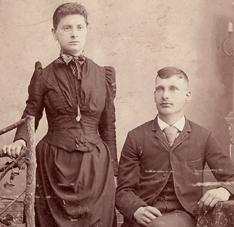 Andrew Jackson Birch was born on Jan. 8, 1866 (or 1868), in Greene County, PA, the son of Samuel and Susan (Miner) Birch.
On March 8, 1894, at the age of 28, Andrew married Emma Louise Specht (1874-1966), the 20-year-old daughter of Dow and Nancy (Covert) Specht. Emma was a native of Uhrichsville, Tuscarawas County, OH.
The Birches had five children – Flora R. Birch, Rosetta Birch, Esther Brookman-Isiminger, Alberta McKinney and Howard Irwin Birch. Daughter Flora was born in Ohio in 1893.

Sadness enveloped the family twice during the decade between 1900 and 1910. Daughter Rosetta died at age 10 months on Jan. 19, 1901. A brief notice of her untimely passing was published in the Washington Reporter newspaper. The obituary is seen here.
Then, on Sept. 29, 1907, 14-year-old daughter Flora, who was anemic, passed away after an affliction with typhoid fever and internal bleeding. Burial was in Washington Cemetery.
Early in married life, Andew rented a farm near Prosperity, Washington County. Later, around the turn of the 20th century, they moved into the Tylerdale section of Washington, PA, and resided at 925 Sycamore Street. Said the Washington Reporter, he "worked for 17 years at the Washington Tin Plate Co. until it closed and has been farming since then." He also hauled coal and is said to have had two teams of horses and two trucks.
The Birches were members of the West Union Presbyterian Church.
Andrew is said to have had red hair and chewed tobacco, and that by the time of his death, his teeth had worn down to his gums.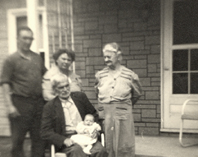 In the photo seen here, Andrew (seated) and Emma (at right) in a three-generation photo.
Andrew and Emma celebrated their 55th wedding anniversary on March 8, 1949. Within a few weeks, however, he became seriously ill, and died on April 25, 1949.
Emma survived her husband by 17 years. She was a member of West Washington Methodist Church, where many of her late husband's relatives of the Miner and Bedillion family were longtime members.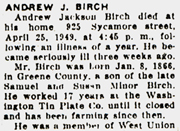 Later in life, Emma resided in the home of her married daughter Alberta McKinney. Emma passed away at the age of 91 on April 22, 1966, at Washington Hospital. At the time of her death, Emma had three grandchildren and eight great-grandchildren.
~ Son Howard Irwin Birch ~
Son Howard Irwin Birch (1905-1986) attended the Cross Roads Public School in Washington County. As an adult, he resided in Mt. Lebanon/Upper St. Clair, a prominent suburb of Pittsburgh.
He married Anna (?).
He made tragic news in 1972 when he was critically injured and his wife killed in an automobile accident in Odessa, TX.
After more than a decade as a widower, Howard married again to Edna (?) (1909-1999) in about 1973. She had children from a previous marriage -- Edna Marilyn Sickman, Robert E. McCabe and Roy J. McCabe.
Howard passed away on March 25, 1986, at the age of 81.
His widow Edna was interviewed in 1991 by the founder of this website, and generously shared her knowledge of the family. Edna passed away at the age of 90 on Dec. 15, 1999.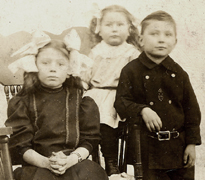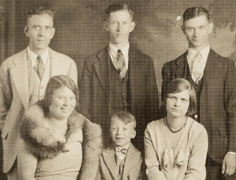 Esther, Alberta and Howard Birch as children (left), and as adults
~ Daughter Alberta (Birch) McKinney ~
Daughter Alberta Birch ( ? - ? ) married Willard "Buck" McKinney Sr. (1905-1974). They lived at 81 Ellis Avenue in Washington. The McKinneys had two sons, Willard McKinney Jr. and Howard Irwin "Babe" McKinney. Willard passed away in July 1974. Son Howard worked in the electric furnace at Jessop Steel Company for more than 35 years, and was nicknamed "The Preacher" because of his evangelical Christian outreach in the workplace.
Son Willard McKinney Jr. passed away in December 1980.
Son Howard Irwin "Babe" McKinney (1930-2008) was married for 54 years to Roxie Brown. Said the Washington Observer-Reporter, he "was a 1949 graduate of Trinity High School and was employed by Jessop Steel for 36 years. He was a member of the 40th Infantry Division, serving during the Korean Conflict. [He] was a member of The Word of Faith Church, Washington. He was an ordained minister of All Faith Church Mission and a pastor at Wolfdale Chapel. He also worked with Christian Outreach. He loved reading his Bible, working on small engines and his German shepherds." He died at age 78 in Washington Hospital on July 26, 2008.
~ Daughter Esther (Birch) Brookman Isiminger ~

Daughter Esther Birch ( ? -1961), seen at right, was married twice. Her first husband was Peyton William Brookman (1896-1935), the son of J.F. Brookman. They lived on South Street in Washington and had two sons, Francis Harry Brookman and Robert Brookman.
Peyton was a glass worker in Washington. During World War I, said the Washington Daily Reporter, he served "with Co. B of the 305th Ammunition Train, of the 50th Division, [and] was active in the battles of St. Mihiel and Meuse Argonne. He left the United States for France, May 26, 1918, and returned June 1, 1919." Tragically, Peyton never recovered from his war experience, and died at the age of 39 on Jan. 23, 1935. He was buried in Washington Cemetery.
Left alone with two young sons, Esther married again to James "Walton" Isiminger (1904-1994), who adopted one of not both sons.
Esther died in 1961, and is buried at Forest Lawn Gardens in Peters Township (McMurray, PA).
Walton passed away on July 6, 1994, at the age of 90.

Grandson Robert Roy (Brookman) Isiminger (1923-2007) was the owner and operator of Superior Electric Service Company in Washington. In 1947, he married Marie Anna Prall (1928-2012), daughter of James M. and Louise (Diebold) Prall. The Isimingers had four children -- Robert R. Isiminger Jr., Thomas W. Isiminger, M. Darlene Allen and Connie L. Wilby. They were members of First Christian Church of Canonsburg, and celebrated their 60th wedding anniversary in February 2007. Robert served in the U.S. Army during World War II, in the South Pacific theatre, and later was a member of the American Legion Edwin Scott Linton Post 175 and Strabane Veterans of Foreign Wars. He met with the founder of this website at his home in about 1991, providing valuable information about the Birch branch of the family. Robert passed away on Feb. 17, 2007, with burial at Forest Lawn Gardens in McMurray. Marie died on March 29, 2012, at the age of 83. At her death, said the Washington Observer-Reporter, she was survived by 12 grandchildren and 17 great-grandchildren.
Copyright © 2001, 2007-2008, 2012 Mark A. Miner