Hardin Duvall Carroll
(1863-1941)
Hardin Duvall Carroll was born on Feb. 16, 1863 near Masontown, Preston County, WV, the son of James M. and Elizabeth (Burke) Carroll. Despite suffering from epilepsy, which began when he was 17, he became a prominent educator and dairy farmer, and was profiled in several history books about Preston County.
Hardin married Elma Herring (1861-1940) in 1888. He was age 25 at the time of marriage, and she was two years older.
The Carrolls went on to have five children -- Allen Keyser Carroll, Paul Carroll, Ruth Leeth, Myra Carroll and Helen Carrico.
Wiley's 1882 History of Preston County lists Hardin's name as a teacher in sub-district 3 during the winter term of 1881-1882 in the Valley District of Preston County. He continued teaching at least through 1886, when he was named in the Biennial Report of the State Superintendent of Free Schools of the State of West Virginia.

An 1891 issue of the West Virginia Argus reports that Hardin was selling "Pure Bred Poland Chinas of the very best strains" and was inviting the public to "Write for prices and pedigrees." On Thanksgiving Day of that year, he moved to his parents' farm, where:
He has erected a dwelling on the place and is now making arrangements to run a milk wagon and supply our people with milk. This is a commendable move and should be encouraged, as many of our people do not keep cows and in winter milk is sometimes hard to get.
Of Hardin's long career, which included serving as a teacher for a total of 23 years, the 1914 History said he:
…superintended the schools at Masontown three years, and as an agriculturalist held farmers' institutes and lectured. Beside superintending the farm and veterinary practice, he is connected with the Civil Service in the Post Office Department and finds time to write for several agricultural papers and report to the U.S. Agricultural Department.
West Virginia University's agricultural experiment station in Morgantown, early 1900s.
At the age of 42, Hardin obtained a bachelor of science degree in agriculture in 1905 from West Virginia University, majoring in veterinary science. He is pictured and featured in a lengthy profile in H.S. Whetsell's 1914 book, A History of Preston County.
Elma died in 1940, when she was age 79. The details are not yet known. She was buried in the cemetery beside the high school in Masontown.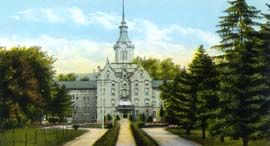 As Hardin aged, his epilepsy grew worse, and he was admitted to the State Hospital for the Insane in Weston, WV. He also suffered from hardening of the arteries. The entrance to the sprawling facility is seen at right.
He outlived Elma by just one year, and died at the hospital in Weston at age 78 on March 26, 1941. His remains, finally at rest, were returned to Masontown for burial, beside his wife. Despite an extensive search of the Preston County Journal archives on microfilm, no obituary for Hardin has been found.

~ Son Allen Keyser Carroll ~
Son Allen Keyser Carroll (1890-1973), seen here, is said to have been the "first R.F.D. carrier from Masontown, 1909." He later obtained a bachelor's degree in agriculture from WVU in 1918, and is pictured in that year's yearbook. He also is pictured and profiled in the 1979 book, Preston County West Virginia History, published by the Preston County Historical Society. According to the book, he "was an agricultural professor in Washington State, married Frances Durham, and they had Alan Keyser and Donna Faye."
The Washington Death Index (1940-1996) maintained by Ancestry.com shows that Allen died in Seattle on March 7, 1973, He would have been age 83 at the time.
~ Son Paul Carroll ~
Son Paul Carroll (1893-1948) was born in 1893.
He also suffered from epilepsy, starting at age 12. He resided in Masontown, but is not known to have married or had children. In 1923, suffering from psychosis as a result of his illness, he was sent to the Hospital for the Insane in Weston, where he remained for the remaining quarter century of his life. He died at the hospital 20 days after his 55th birthday, on April 7, 1948. His remains are believed to have been donated to West Virginia University's school of medicine.
~ Daughter Ruth (Carroll) Leeth ~
Daughter Ruth Carroll (1895- ? ) married Willard Leeth and resided near Masontown, Preston County.
They had two children, Wallace Leeth of Woodstock, VA and John Leeth.

~ Daughter Myra Carroll ~
Daughter Myra Carroll (1900-1994) never married. She was "one of Preston County's outstanding school teachers," said the 1979 history. "She taught at Bretz, Masontown, Cascade and Arthurdale for more than 40 years," said the Preston County Journal. "She was a self-taught naturalist and avid gardener, and she brought these interests into her classroom."
Myra obtained her bachelor of science degree in human resources and education in 1958, at the age of 58, from West Virginia University. She was a member of the Wesley United Methodist Church of Morgantown, and belonged to Alpha Delta Kappa, a national sorority of women educators. Myra authored a chapter on the Carroll family for the 1979 book.
Failing in health, Myra in 1988 went to live in Madison House in Morgantown. She passed away there after six years of residence, at the age of 94, on March 8, 1994, and was buried beside her parents in Masontown.
~ Daughter Helen (Carroll) Carrico ~
Daughter Helen Carroll (1904- ? ) was born in 1904.
She married Walter Carrico ( ? - ? ). They resided in Dover, Tuscarawas County, OH, where she was employed as a school counselor.
They had three children -- Carolyn Jones of Dover, OH; Christine Goldman of Cincinnati, OH; and James Carrico of Lajitas, TX.
Granddaughter Carolyn Carrico married (?) Jones.
Granddaughter Christine Carrico ( ? -2012) married John Goldman. They had two children -- Carolyn Grant and Mary Ann Wren-Jarvis. The Goldmans resided in Cincinnati most of their adult lives. She passed away at the age of 88 on New Year's Eve 2012, served in her final illness by VITAS Hospice. An obituary was published in the Cincinnati Enquirer.
Grandson James Carrico married Ginny.
Copyright © 2001, 2003, 2006, 2009-2010, 2013 Mark A. Miner
Photograph of Hardin Duval Carroll originally published in A History of Preston County, West Virginia, by H.S. Whetsell (1913) and digitized for Microsoft Corporation by the Internet Archive in 2008, courtesy of the New York Public Library. Photo of Allen K. Carroll courtesy of Preston County West Virginia History, published by the Preston County Historical Society (1979).