Lieut. Col. John Jackson Solomon Paul Carroll
(1829-1900)

Lieut. Col. Carroll
Lt. Col. John Jackson Solomon Paul Carroll was born in March 1829, in Preston County, WV, the son of Anthony Carroll and his second wife, Temperance Alley. His father had been previously married to Sarah Miner, and thus John had an older half-brother, James Miner Carroll.
John was a farmer and lived with his parents when the 1850 census was taken. As an adult, he stood 5 feet, 8 inches tall and weighed 175 lbs.
His first wife was Rebecca Ann Swindler (1831-1858?), daughter of Drake and Rebecca Swindler. They were wed in Preston County in 1851, when he was age 22 and she 20. Rev. Reckard performed the marriage ceremony.
The couple apparently established a home in Grantsville, Garrett County, MD. Tragically, Rebecca did not live long. She died the following year, in 1852, as several sources suggest, or in Grantsville on Aug. 15, 1858, as per her husband's records. She was buried in Kingwood, and a monument apparently installed at her final resting place.
John's years as a widower are hazy, but he apparently attended Morgantown College, and graduated from there.
Following his position as a preacher, he was assigned to Wayne County, WV. After eight years alone, on Aug. 23, 1860, when John was 31, he married local resident Cynthia Ann Bowen (1841- ? ), who was about 13 years younger in age. She was the daughter of John B. and Hester A. (Haney) Bowen of Shoals, Wayne County, and a descendant of Charles Carroll, who was a signer of the Declaration of Independence, and of Bacchus Bowen, a member of the first West Virginia Legislature.
They lived for many years in Shoals, a rural community on the outskirts of Huntington, Cabell County. Cynthia was referred to by newspaper columnist W.L. Mansfield, writing in "Bench and Bar of Wayne County, 1843 to 1873" as "a most excellent and worthy woman of one of the best families of [their] church and among the most prominent in the county."
The Carrolls had four children -- Osmond D. Carroll, John E. Carroll, Anna Forbess (or "Farbus" or "Farbes") Lunsford and James Tolbert Carroll.
John initially prepared for a career in the ministry in the Methodist Episcopal Church. In April 1859, he was listed among those preachers admitted to the conference "on trial." His name was published in the Minutes of the Annual Conferences of the Methodist Episcopal Church for the year 1858.
He moved to Wayne County, WV to become a "northern Methodist circuit rider to serve a few churches that had not gone with the other branch of that denomination," stated a newspaper some years later. "He had transferred from the Indiana Conference and politics engaged more of his attention than religion." John's demeanor apparently did not impress Wayne County locals, reported newspaperman Manfield:
He was nervous and fidgety and exhibited little of the mein, humble piety and humility of a minister of the gospel. In his talk he was pompous and conceited. He insinuated himself into the leadership of the scattered abolitionists largely became no other man wanted the job. In his manner he betrayed an exaggerated degree of politeness which in a dispute assumed a mock and exasperating obsequiousness; but the smirk of the hypocrite was plainly reflected through the thin veneer of gentility.
During John's preaching, he traveled to various assignments including Guyandotte, Cabell County, and became friends with the Topping/Toppins family, which had fateful results later.
When the Civil War broke out, John enlisted in the army at Guyandotte, Cabell County, WV on Oct. 1, 1861. He was assigned to the 9th West Virginia Infantry, Company D. Later, on Feb. 26, 1862, he received a commission as captain with the regiment, commanded by Col. I.H. Duval and Col. Skinner. During the war, his older half-brother James Miner Carroll is known to have sent him letters, as one was published in the Huntington (WV) Day Book newspaper in November 1863.
On March 20, 1862, John contracted a case of measles, leading to erysipelas, a painful infection of the skin, also known as cellulitis. It was pronounced incurable by Dr. Hysell, the regiment's surgeon. Then, while on a march known as the Lynchburg Raid, between Lewisburg, WV and Lynchburg, VA, he came down with hemorrhoids. In his recovery, he boarded at a private house where he received medicines from Hysell.
John and the 9th West Virginia are believed to have taken part in the Battle of Cedar Creek, VA, in mid-October 1864. At month's end, he filed official reports from there that were published by the West Virginia Adjutant General's Office.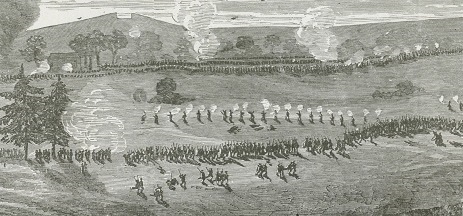 Cedar Creek battle, in which John and the 9th West Virginia Infantry saw action
Friend Lewis S. Hinchman, who first met John in 1858, later provided military authorities with his own synopsis of John's wartime ailments, writing the following many years later:
I was present with [him] on or about November 10, 1861 at Barbersville, Cabbell County, Virginia. I was a member of [his] company and regiment. [He] was then sick with the measles. [He] took cold and was very sick for several weeks afterwards. After his return to the company he was still suffering more or less and could not stand mutch fatigue. Altho he continued with the company and took part in every battle -- except one -- that of Carter Farm near Winchester, Va, when [he] had the piles so bad he had to ride in an ambulance. This was in July 1864. [His] health was very poor during all the time from Nov. 1861. [He] was very sick at Point Pleasant on or about Sept. 1862. [He] had fever and was completely worn out and was very sick for several weeks. Our company then went on a ride and left [him] sick at Morefield, Va. This was about Dec. 1862. About Fall 1863 [he] took typhoid fever at Fayetteville, West Va. He was sick for quite a while, afterwards in year 1864, while on a raid to Dublin Depot, Va., [he] was sick and had to be hauled in an ambulance Again in same year while on Lynchburgh raid, Va., [he] was sick with Erciples and piles. He was so bad that he had to be hauled in ambulance. [He] was still stick with the above diseases up to my muster out of service in November 1864.
James A. Nicely, another fellow member of the regiment said that John's hemorrhoids "frequently bleed him making him weak..." Nicely also stated that John complained of the disability on the march to Floyd Mountain.
With casualties mounting, diminishing headcounts in John's regiment, said the Parkersburg (WV) Gazette, the regiment was consolidated with others in November 1864 and became the 1st West Virginia Veterans Infantry (Company S), stationed at Martinsburg, Berkeley County, WV. He was promoted to full major on Nov. 8, 1864 and to lieutenant colonel on Jan. 7, 1865.
"In a fighting capacity [he] did much toward suppressing the rebellion and meting out punishment in the rebels at the close of the war when the spoilers swarmed down like wolves on the fold, their visages gleaming the the lust for gold," recalled a newspaper reporter. "J.S.P. Carroll was in the vanguard, pointing with pride to his accomplishments and claiming that reward henceforth laid up for those who had been loyal and brave."
Military records show that John often was absent from the 1st West Virginia Veterans Infantry. In November and December 1864, he was ordered to Cumberland, MD along with other Union officers to attend the court-martial of Col. George R. Latham of the 6th West Virginia Cavalry. Then, in January 1865, he was granted leave "to attend to important private business."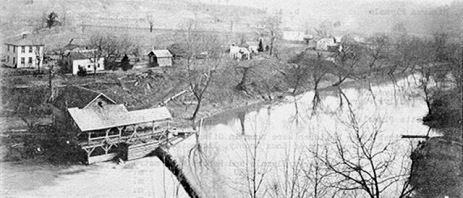 "Falls of 12 Pole Creek" at Buffalo Shoals, WV, circa 1890. The mill ground corn and wheat into flour and meal -- but the dam fell apart from flooding and neglect.
When the war ended, he mustered out on July 21, 1865, at Cumberland, MD, and returned home:
He acquired the leading hotel at Wayne Courthouse, and while the records may not show that he was the jailor de jure, his hotel was situated near the jail, and Carroll had, at least, a feeding relation to that institution. During the war he had become a man of the world and not only had gone in for glory, but also for blood. As no man's religion can survive his morals he had shed the mask and habiliments of the parson. He entered the more congenial field of politics, and soon went all of the most difficult and freakish gates.
After the State of West Virginia convened its fourth legislature in Wheeling in January 1866, John attended as a delegate from Buffalo Shoals, Wayne County. He also was in the House of Delegates in the fifth and seventh legislatures in 1867 and 1868. For many years after that, his name regularly appeared in lists of early delegates, published in the West Virginia Legislative Hand Book and Manual and Official Register. But his unusual behavior continued:
He ran for legislature against one of the most prominent Union men in the county, one who had held down a seat in the first Wheeling convention in 1861, and was an original Union Man. Having no advantages over him on the plea of loyalty, Carroll went down to defeat before the better man. Advised by J.H. Ferguson, he filed a contest and was seated by Ferguson, who was more potent than the legislature. In the following election he sought an endorsement at the polls for the same office. His opponent was another Union man and an honest and capable citizen, and the second condition of Carroll was worse than the first. Nothing daunted he went up to the legislature on a contest and was elected a second time by the same influence as before.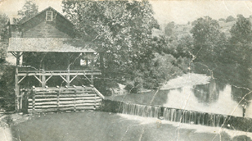 Water mill at Wayne, West Virginia
Friend John D. Blankenship, of West Virginia and later Chenoa, IL, testified that between 1865 and 1870, John "frequently stopped at my Mother's home and was sick with the Piles and Erysipeles and could not perform any manual labor since the year 1870 to the present time [1897]." He was treated for his hemorrhoids and erysipelas in the late 1860s by Dr. McCullough, who lived four miles west of Guyandotte.
In about 1867-1868, John was working as a preacher. Along with M.L. King, he was assigned to the Wyandotte District of the West Virginia Conference of the Methodist Episcopal Church in Wayne. He also served as president of the Wayne County auxiliary to the American Bible Society, aided by corresponding secretary Barnwell Newman and treasurer J.B. Bowen. Reports of the Society show he collected no donations on the organization's behalf, and only sold $6.25 worth of Bibles.
The federal census of 1870 shows John and Cynthia (spelled "Syntha") living in Union Township, Wayne County, WV, near the post office of "Falls 12 Pole." John's occupation is listed in that census as "Lawyer" but he also was a farmer at that time. In February 1870, he and 10 others petitioned the West Virginia House of Delegates to extend its statute of limitations for Wayne County citizen Washington Adkins in a matter whose details are not yet known.
~ Abandoning His Family ~
Around that time, in 1867, John ran country store at Shoals. He and Cynthia employed a servant girl, Salona Keys Toppings. Salona and John became infatuated with each other, and began an affair. Accounts differ -- Cynthia said she never had any trouble with John -- and Salona said that he and his wife were separated. In Salona's words, she and John "went together" for two years until he announced that Cynthia had "got a divorce from him."
On Sept. 5, 1870, despite the objection of Salona's mother, they eloped. With Salona's brother Levi, they traveled on horseback, a day's ride, from Shoals to the Ohio River. After spending three days with John's friends the Combs family, they traveled by boat to Kentucky to get married. It took several years for Cynthia to learn their whereabouts, and it was her understanding that they "pretended" to get married in Ohio on their way to Illinois.
The local community was outraged, as illustrated by one report:
Having put his religion professions in cold storage, he entered upon a saturation of wickedness, his hotel became a resort of gamblers and the demimonde and chief among the revelers was Carroll. The carousals reached the ears of the grand jury, and indictments were filed against Carroll and his associates by the score. When the atmosphere became too heavily overcharged, he decamped taking with him the favorite of his seraglio [harem of women].
One descendant believes John abandoned his family "because of the effects of the war," said a descendant -- possibly some form of post-traumatic stress. It is certain he was under great threat of imprisonment, and may have gotten away to escape the law.
While the details are sketchy, he never returned. Said a newspaper, "It was ascertained some years afterward that he had again donned the garb of the parson, and was holding a relation with the Methodist Conference in Indiana."
Salona (1848-1941) was the daughter of John Blankenship (or "William") and Matilda (Storm) Toppings, also spelled "Toppins." They fled West Virginia and went to Kentucky, where they were married in Greenupsburg (Greenup), Green County on Oct. 3, 1870. Salona's brother Levi Toppins was the only witness to the nuptials, which allegedly were officiated by justice of the peace William Elkins. Recalled Salona later, "We were entire strangers at Greenup, Ky., and were there only about 1½ hours as we were anxious to make the next boat."
In Salona's recollection, immediately after their wedding, she and John and Levi "took the boat the same day to Cincinnati and came on from there to Indianapolis where I stayed until Christmas."
Because John legally was still wed to Cynthia, his marriage with Salona had no standing. But because they were out of state, no one questioned it. When the issue arose years later, in regard to a military pension application John had filed, he claimed there was no record of the marriage because the courthouse in Greenup had burned -- which authorities later found was not true.
While in Beaver Lake, the Carrolls' house burned, destroying papers and other family valuables.
~ Settling in Chenoa, Illinois ~
They made their home for about six years in six different places. Salona later said the following:
[John and Levi] went to Kentland, Ind., got woek at farming and I joined them and went to housekeeping. We lived in that neighborhood 3 years. Then we moved to Beaver Lake, Newton Co., Ind., where we lived 4 years. In 1877 we moved here [to Chenoa] and have lived here continuously since.
Two children were born -- Lida Carroll (in 1884) and one who died young. When the federal census was taken in 1880, John and his wife lived in Chenoa on North Commercial Street, with John's employment marked as "engineer."
It was not until Cynthia was granted a divorce on May 22, 1894, that John and Salona were free to legalize their union. On the advice of a lawyer, they traveled to neighboring Pontiac, Livingston County, IL, where justice of the peace Alexander "Alec" McKay performed the ceremony. John was age 69 at the time, and Salona 55, but gave their ages as 70 and 50, respectively on the marriage license.) The nuptials took place on June 8, 1898, with John noting on the license application that it was his third marriage. Writing sometime later, Salona said "It did not make me any more his wife than I had been for years..."
John's wartime illnesses never abated, and he filed a claim to receive a military pension as compensation. Friend William Alexander and Thomas Calvin Carlisle, of Chenoa, noted that John's face was "badly swollen" and his skin rashes "showing badly" on his face, head and body. John even painted his face with iodine to try to reduce the itching, giving it a red appearance. Dr. James A. Monroe of Chenoa noted that John also suffered from "catarrh of the stomach and is incurable..." Other friends who provided eyewitness corroboration of John's ailments included John M. Harkrider, Dr. Charles S. Elder and William H. Mattocks (who boarded at their home).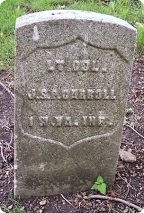 John's grave

Military surgeons who examined John in 1895 noted that he was chronic eczema all over his body, but not erysipelas. In 1899, another examining physician said he was "weakened and debilitated by age. He is stooped..."

Brother in law Levi Toppins, who boarded with John and Salona in Kentland, IN, gave testimony that he had known John from Aug. 1, 1865 to the time of writing (1897). He said that "at no time he could do anymore than 1/2 a day's work..." such as cutting wood or other jobs. At times, when his hemorrhoids bled, "it could be noticed on his Garments..." For four months, from September to December 1874, John was confined to bed. As of 1897, John was "bedfast every of few days." He also sprained his ankle so badly that he limped, with the foot being turned inward.

In 1900, the Carrolls lived in Chenoa, with John marked as "running a boarding house" with two renters -- 42-year-old harness maker Reuben Morris and 54-year old laborer William Mattocks. In reality John's health was so poor that Salona and their daughter did most of the work for a dozen years to maintain the lodgings.

Tragically, John is said to have died shortly after being struck by a railroad engine on Aug. 10, 1900. Details are lost to history for now, but he was attended in his final hours by Dr. W.R. Shinn. Their niece Anna (Toppins) Turner later said that on the same day he passed away, "I saw him lying dead that day."

He was laid to rest in the Chenoa Cemetery in McLean County. Salona then began receiving his pension payments in the amount of $12 per month.

Further heartache rocked Salona on Aug. 10, 1905, when her brother Levi died.

After seven years as a widow, Salona married John F. Simpson (1853-1935), on Oct. 27, 1907, in McLean County. Rev. E. Frank Roe performed the nuptials.

The Simpsons resided in Chenoa. Sadly, John passed away at the age of 82 on July 25, 1935.

~ Salona's Remarriage and 2nd Widowhood ~

After Simpson's death, Salona became eligible to obtain her first husband's military pension. Her claims were rejected time and again on a variety of grounds, primarily because of poor documentation and that she had married John after certain laws had been passed regulating eligibility. At least one lawyer with the government considered Salona's 30-year cohabitation with John as "meretricious" -- in more common terms, "prostitution."

Salona retained the legal services of the firm of Baker, Niven & Crabtree of Pontiac to aid in her quest. The U.S. Department of the Interior assigned the case to a special examination, involving interviews with all parties. Eventually, in February 1936, she was awarded a pension of $40 per month.

Salona spent her final years living at 522 East Chestnut Street in Pontiac, Livingston County, IL. She died on Nov. 28, 1941, at the age of 93. At her funeral, Mrs. Goudey was organist, and Delora Fox sang.

In her final illness, hardening of the arteries and heart disease lasting several years, Salona was treated by her physician Dr. Homer L. Parkhill. She also was cared for by her daughter Della Willis, who spent hundreds of dollars of her own funds for physician's and undertaker's bills and cemetery charges. The U.S. Veterans Administration eventually reimbursed Della for her costs.

John's burial site in Chenoa, IL, next to his 2nd wife, and her 2nd husband
~ Fate of Ex-Wife Cynthia ~
The 1880 census of Wayne County marks 41-year-old Cynthia (spelled "Cintha") as the head of the household, with all four children living with her. Cynthia's occupation was "keeping house" and she could neither read nor write. Her elder sons were listed as "works on farm." Living next door were Cynthia's parents, both in their early 60s.
John's abandoned, fatherless children were "brought up under the influence of the most estimable mother [and] have attained stations in life of the highest respectibility and usefulness," said a newspaper. "No reasonable estimates can be placed upon the virtuous influence of a noble woman."
When Cynthia planned to marry again, to Civil War pensioner Jonas Powers Sr., after nearly a quarter century apart from John, she filed for and was granted a divorce. She and Powers were wed in Shoals on June 11, 1894, by the hand of Rev. J.B. Workman. She was age 56, and he 72, at the time. By December 1906, Powers was dead, and Cynthia drew $8 per month in his Civil War pension payments.
When the 1900 census was taken, she carried the surname "Powers," and was marked as married but lived alone. Her home was next-door to her sons Osmond and James in Wayne County. At the time, three of her four children were living.
In 1907, investigating the truly confusing case of John and his marriages, related to his military pension, special examiner A.G. Pollock traveled to Shoals and took Cynthia's deposition. Pollock, who discovered many discrepancies in John's pension petition, recommended that Law Division prosecute John for "false claim."
Cynthia died in Huntington, Cabell County, WV on May 19, 1922, at the age of 83. Her death certificate lists her as "widowed." She was laid to rest in Shoals.
~ Daughter Hester Anna "Annie" (Carroll) Forbess Underwood Lunsford ~
Daughter Hester Anna "Annie" Carroll (1866-1948) was born in 1866 in Wayne County, WV. Annie was thrice married.
Her first husband was James Forbess (or "Farbus"), whom she married when she was age 18.
They together produced five children -- James "Jamie" Forbess, Inez Gibson, Lelia Williams, Olive Martin and Eugenia McElroy.
The couple later divorced, although the census of 1900 shows her as a widow.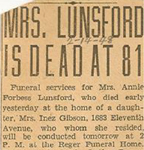 Obituary, 1948

On March 2, 1903, she wed her second husband, Winfield S. Underwood (1863- ? ) in Wayne County. She was age 36, and he 40, at the time. Underwood was a native of Lawrence County, OH, but living in Wayne County when he married Annie. Rev. E.C. Switzer officiated.

By 1910, when the federal census was enumerated, the marriage had ended. As a "hired man," Underwood boarded with the family of John H. Dumkle in Union, Wayne County, and declared himself widowed.

The 1920 census shows Annie making a living as a seamstress in a mattress factory in Huntington, Cabell County, WV at the age of 52, with daughter James and grandson Raymond living in her home. Circa 1922, she lived at 1540 Monroe Avenue in Huntington.

Later, by 1930, she married postal mail carrier James K. Lunsford (1857-1934), son of John and Matilda (Hall) Lunsford of Ohio. James brought a son to the marriage -- Fred A. Lunsford, acting postmaster in Huntington, who died in 1936. They made their home in Huntington.

Both James and Annie died of heart disease -- "myocarditis" -- he at the age of 76 on Feb. 24, 1934, and her 14 years later, at the age of 81. Annie died at her daughter Inez Gibson's home in Huntington on Feb. 13, 1948, the last surviving one of her siblings. Her remains were interred at Bowen Cemetery in Shoals. The informant on her death certificate was "Mrs. J.M. Gibson" of Huntington.

Burial of second husband James Lunsford was at Springhill Cemetery in Huntington.

Daughter Lelia Forbess (1884- ? ) wed Alabama native Dillard E. Blanton (1881- ? ) on Christmas Day 1905, in Wayne County.

Son James "Jamie" Forbess married (?) Earl and died in Huntington at age 65 on Aug. 21, 1963.

~ Son Osmond B. Carroll ~

Son Osmond B. Carroll (sometimes spelled "Asman") (1861-1942) was born in 1861.

He married Kentucky native Ella (?) (1867- ? ) in about 1888. They had two children -- William "Delbert" Carroll and Nettie K. Carroll.

They resided in the Union District of Wayne County when the census was enumerated in 1900, with Osmond (spelled "Osmon") engaged in farming. At some point Osmond moved to a home farm in Buffalo Creek, in the Ceredo District of Wayne County.

He died at the age of 80 on Jan. 13, 1942. His burial site is not indicated on his official West Virginia certificate of death.

~ Son John E. Carroll ~

Son John E. Carroll (1864- ? ) is lost to history for now. He died before 1898, and likely much earlier.
James Tolbert Carroll
~ Son James Tolbert Carroll ~
Son James Tolbert "Uncle Bertie" Carroll (1868-1933) was born on Sept. 22, 1868 in Wayne County.
He married Angeline Brumfield (1868-1963), daughter of Allen Trig and Nancy (Adkins) Brumfield of Giles County, VA. They were wed in about 1890.
Their three children were Charles Emerson Carroll, John W. Carroll and Crystal Gaye Carroll.
The 1900 census shows them to be residing near James' brother in the Union District of Wayne County, and under their roof that year was James' 82-year-old widowed grandfather, John B. Bowen. James is said to have played a banjo and violin as a young adult, but never to have worked at a "public job."

Angeline Carroll
Over time, they accumulated 100 acres of land near Shoals, including three houses thereon. He raised cain, corn and hay on the upper level of the hilly tract, which was rich in beech, hickory, white oak and chestnut oak trees.
James became blind during his final years. He died of pulmonary tuberculosis at the age of 64 in Wayne County on Aug. 31, 1933. Following a funeral held at Newcomb Baptist Church, led by Rev. B.F. Curnutte, he was laid to rest in the Brumfield Cemetery.
In his will, James left everything to his wife except for their log house and six acres to their daughter.
Angeline outlived him by three decades. She achieved fame, with her photo published in a newspaper, when she rode the first and last passenger trains on the Twelve Pole Valley Railroad, some 50 years apart. She died in Shoals at the age of 95, of an arteriosclerotic heart, on Dec. 2, 1963.
Son Charles Emerson Carroll (1894- ? ) was born in 1895. He married Edna Lunsford ( ? - ? ). The couple had a daughter Marceline Beuhring.
Granddaughter Marceline Carroll (1916-2003) was born on Oct. 29, 1916. She wedded Harold Beuhring (June 10, 1907-1990), a native of Cabell County, WV and the son of Victor Frederick and Myrtle Ivy (Taylor) Beuhring. They bore a son, Larry Lee Beuhring, born in 1937 at St. Mary's Hospital in Huntington, WV. Harold went to work at the age of 10 in a chain factory and handed over his pay to his father. Later, he was employed at the Owens Illinois glass factory, located in West Huntington on 5th Street, spending 43 years with the company. He worked swing shifts and was a heavy drinker. Harold died in 1990. Marceline outlived her husband by a baker's dozen years. She passed into eternity in Fairmont, Marion County, WV on May 27, 2003. Their son Larry researched his own family roots for more than 40 years. He has been a certified general appraiser in Ohio for more than 25 years and a painter of nature scenes on display at the Briggs Lawrence County Public Library, Chesapeake Branch. In 2013, he made a donation of three volumes of his research papers to Marshall University in Huntington, WV, covering not only the John Jackson Solomon Paul Carroll family but also Frederick G.L. Beuhring of Germany and William Wirt Brumfield of Giles County, VA.
~ Daughter Della (Carroll) Bivens Willis, from the 2nd Marriage ~
Daughter Della Carroll (1884-1973) was born on Feb. 18, 1884 in Chenoa, McLean County, IL.
She was married twice. Her first husband, (?) Bivens, was a coal miner. They were wed Dec. 4, 1900 in Livingston County, IL.
The couple produced one son, John Carroll Bivens.
The marriage did not last long, and by 1910, Della had wed Charles F. Willis ( ? - ? ).
They bore a son of their own, Charles Willis.
Circa 1936-1941, Della resided in Pontiac, IL.
Della died in May 1973.
Copyright © 2000-2001, 2003, 2006, 2008-2010, 2012. 2019 Mark A. Miner
Carroll portraits courtesy Larry Beuhring