Sarah (Miner) Carroll
(1790s? - before 1820)
Sarah (Miner) Carroll was born most likely in the 1790s in or near Kingwood, Preston County, WV, the daughter of Burket and Frances (Skinner) Minerd.
Sarah married Anthony Carroll (1793-1840?), son of James and Sarah (Vankirk) Carroll. Documents on file today at the Monongalia County (WV) Courthouse in Morgantown show that on Nov. 18, 1815, Sarah's father signed his consent for her to marry Anthony. Both Carroll and Godfrey Guseman signed a bond for the marriage license, which stated that the "marriage is suddenly intended to be had and solemnized..."
Their only known child was James Miner Carroll, born in 1815.
The Carrolls lived near Kingwood and Masontown, Preston County, WV. They are mentioned in several history books of the county, including Samuel T. Wiley's 1882 History of Preston County and the 1979 book, Preston County West Virginia History, published by the Preston County Historical Society. (Unfortunately, in the 1979 volume, Sarah's maiden name is misspelled as "Niner.")

Preston County Journal, 1908
Sarah and Anthony are mentioned in an article in the April 23, 1908 issue of the Preston County Journal, entitled "Pioneers of Preston," written by H.S. Whetsell. In the article, the author writes this compliment of their son James, who had died at the age of 90 just two years earlier: "Being a close observer and having a retentive and accurate memory of early events, the lack of his assistance has been keenly felt by the compiler of these articles."
Sarah appears to have been active in her church congregation -- according to Wiley's 1882 History of Preston County:
The first Methodist society in Kingwood was organized sometime prior to the year 1815 ... Soon after the organization of the society, a log church was built one mile east of the village [of Kingwood]... After 1818, the Court house was used as a place for preaching, and class and prayer meetings were held in the houses of the leaders... The following are the names of the class, as far as can be ascertained, which met in the log church: ... Sarah Carroll ...
In 1829, Anthony purchased a 200-acre farm from James and Dorcas Dent, adjacent to "drains of Bull Run and Cheat River," said the deed. It was stocked with poplar, gum, beech and white oak. The farm was located "about three miles northeast of Masontown,... [contained] a cabin and a clearing … and [the family] lived there between the years 1829 and 1856."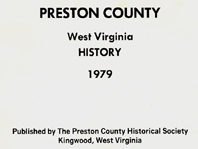 Book naming Sarah and Anthony
At some point, at a young age, Sarah died, leaving behind her husband and only child. Her death was probably in the 1815 to 1820 timeframe, although this needs to be proven. Son James was sent to live with his grandfather and namesake, James Carroll, near Kingwood.
Anthony later married Temperance Alley (1800- ? ).
They went on to produce eight children -- Mary Herndon, Eugenus Carroll, Lieut. Col. John Jackson Solomon Paul Carroll, Lucinda Carroll, Catherine Caroline "Kate" Kemble, Margaret Carroll and two who died infants.
In 1840, son James Carroll purchased a 70-acre portion of his father's farm. Both Anthony and his second wife could not read or write, and in the deed, they signed their names with an "X."
When the federal census was taken of Preston County in 1850, the 55-year-old Anthony and 50-year-old Temperance made their home in the 45th District. Anthony was marked as a farmer. That year, 16-year-old daughter Caroline Catherine, nine-year-old daughter Margaret and 21-year-old son John lived under their roof.
Their final fates are unknown, but as they cannot be located in the 1860 census, it's presumed that they died during the decade of the 1850s.
~ Daughter Mary (Carroll) Herndon from Anthony's 2nd Marriage ~
Daughter Mary Carroll ( ? - ? ) was born in (?).
She married Dr. William P. Herndon ( ? - ? ) of Ritchie County, WV.
Their paper trail mysteriously ends, but more will be reported here when learned.

Dr. J.C. Kemble
~ Daughter Catherine "Kate" (Carroll) Kemble from Anthony's 2nd Marriage ~
Daughter Catherine Caroline Carroll (1834- ? ) was born in 1834.
As a single woman of age 26, Catherine lived with Solomon and Mary Herndon in Preston County in 1860 when the federal census was taken. (Was Solomon Herndon and Dr. William P. Herndon the same man? Or brothers?)
When the federal census again was taken in 1870, Catherine was age 35 and unmarried, and made her home with her 55-year-old half-brother James Miner Carroll, who operated a hotel that year in Rowlesburg.
Circa 1880, when she was age 46, Catherine filed a legal complaint against Gustavus J. and Ruhama Cresap, alleging that the Cresaps illegally occupied land that belonged to her. She stated in her complaint that the tract was "covered with valuable white oak and other timber, and charges that [the Cresaps] are engaged in cutting said white oak timber and manufacturing the same into boards, rails, &c. and are cutting and removing timber therefrom, and thus committing great waste on said land..." The Cresaps countersued. Because the title to Catherine's land was imperfect, and in dispute, she was unable to prove she was the clear owner, and lost the case.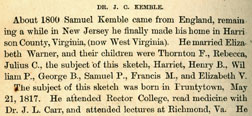 History of Preston County profile, 1882
She married later in life to Dr. Julius C. Kemble (1817- ? ) on Jan. 19, 1882, at the Herndon Hotel in Kingwood. He was the son of Samuel and Elizabeth (Warner) Kemble of Kingwood, WV. Husband and wife were 17 years apart in age -- she was 48 and he 65 at the time of marriage. She fibbed on her marriage license, stating she was only 40 years old.
In a biographical profile, Wiley wrote this about Julius:
[He] was born in Pruntytown, May 21, 1817. He attended Rector College, read medicine with Dr. J.L. Carr, and attended lectures at Richmond, Va. He came in 1844, from West Union to Evansville where he served as postmaster from 1845 to 1850, and also as justice of the peace. he was a member of the Legislature of Virginia from 1855 to 1861, and afterwards Democratic candidate for State Senator from Preston and Monongalia counties. His first wife having died several years since, he married Miss Catherine C. Carroll, of Kingwood. He has enjoyed a good practice and accumulated considerable wealth.
Julius' first wife was Eunice (1817- ? ). They lived in Evansville, Preston County circa 1860. Widowed by 1870, he practiced medicine and boarded in the hotel of George Weaver in the Reno District of Preston County. He lived alone in 1880, in his own home, as shown by the federal census.
As postmaster in Evansville, Julius was named in a list of post-offices and post-masters in the 1850 book, Tremayne's Table of The Post-Offices in The United States.
Their fates are unknown.
~ Daughter Margaret Carroll from Anthony's 2nd Marriage ~
Daughter Margaret Carroll (1841- ? ) is lost to history.
Copyright © 2000-2001, 2003, 2006, 2008-2010, 2012, 2019 Mark A. Miner
Sketch of Julius C. Kemble originally published in Samuel T. Wiley's 1882 History of Preston County.