Lula Ethel (Stairs) Swift
(1890-1961)
Lula Ethel (Stairs) Swift was born on Feb. 1, 1890 in Mount Pleasant, Westmoreland County, PA, the daughter of Lehman G. and Mattie (Minerd) Stairs.
Much of what we know about her early adult life has been gleaned from a collection of 47 penny postcards sent to her from 1908 to 1918 by her brothers, sisters, cousins and an aunt. The collection was added to the Minerd.com Archives in 2005, and some of the cards are shown on this webpage.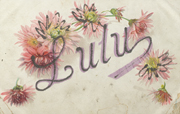 One of the family postcards
In the summer of 1908, when Lula was 18, she left the family home on Diamond Street in Mount Pleasant and moved to Pittsburgh's East End, temporarily lodging on 167 Auburn Street. She was back home in Mount Pleasant the following year.
A 1908 postcard from Verna "S." (identity otherwise unknown) teased that Lula's beau, Samuel S. Swift, "was in Bridgeport Sat. eve." The note went on to say, "I have not been in the store but have spoke to him several times on the street." A card from Ralph Stairs asked, "How is S.S.S. getting along."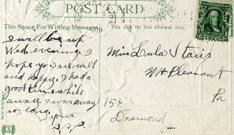 Postcard from Sam to Lula
Sam himself sent Lula occasional cards, including one in July (year unknown) stating, "I will be down Sat. evening about 8 o'clock. Yours, SSS. My address is No. 11 South, Greensburg, Pa." Another said, "I will be up Wed. evening. I hope you are well and happy. I had a good time while away. I was away so long. Yours, S.S.S." The latter card is seen here.
In about 1910, when she would have been age 20, Lula married 23-year-old Samuel (April 21, 1887-1965). He was the son of Henry L. and (?) (Wasner) Swift.
They went on to have four children -- Ethel Bartlow, Merle Swift, Elnora Jane Snedden and Glenn Wayne Swift. Heartache blanketed the family on Oct. 4, 1923 when son Merle, age 10, died of tetanus poisoning after 11 days of suffering. The lad's remains were placed into eternal repose in Hillview Cemetery in Greensburg.
When the federal census was taken in 1910, the newlyweds lived under the roof of Lula's parents on Diamond Street in Mount Pleasant. Samuel's occupation was listed as manager of a department store. Later that year, they relocated to the coal and coke patch town of Braznell, Fayette County, PA. (Today Braznell is known as Grindstone.) There, Lula received cards from her sister Bess and sister in law Mary L., reporting on family news. One card, from friend Pearl, asked if she was returning to Mount Pleasant for "Old Home Week" to see the "big show in town."
Lula received many greeting and birthday cards in the early years of her marriage. Among the senders were Ralph Stairs in Pittsburgh; brother Clyde Stairs; Mrs. Emery "Etta" Davis in Johnstown, PA; cousin Jessie (Thurston) Piper; Stella (?) in Jerome, PA; Ina (?) in Pittsburgh; and "Aunt Maggie," believed to have been the wife of her father's brother, David Oliver Stairs.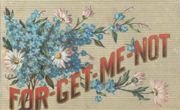 Another Swift postcard
Among her most regular correspondents was her cousin Lucinda (Crosby) Kelly, who at the time was unmarried and helping raise her younger brothers and sisters in Stauffer, near Mount Pleasant.
Unmarried younger sister Bess wrote a card, circa May 1910:
Get a straw hat and come home for decoration and show day. School children are to march. The show is coming on Sunday morning and staying till Mon. evening. It is to be in Rumbaughs Field.
By 1913, the Swifts resided at at 241 Unity Street in Greensburg. Just after Christmas 1917, cousin Verna wrote to Lula, saying:
I was surprised to hear you were in the hospital. Earl was up at our place on Xmas and told us. Hope you get along all right. I came back to Pgh on Xmas night. It is awful cold here.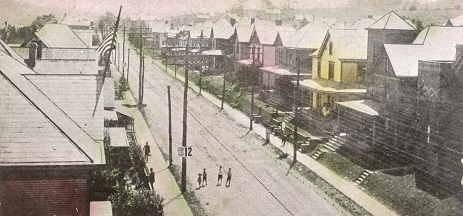 The Swifts' neighborhood on North Fourth Street in Youngwood
Another of Lula's postcards

Within a few years, the Swifts moved to 428 North Fourth Street in Youngwood, Westmoreland County. They remained there for good. In about 1939, Samuel was hired to work as a machine operator for Robertshaw Thermostat plant in Youngwood.When Samuel's father died in 1945, the Swifts held the funeral service in their home.

In late January 1942, Lula celebrated her 52nd birthday with a party in their home in Youngwood. Among the attendees were Clyde and Sarah Stairs and daughters Betty and Susan of Mount Pleasant; Mr. and Mrs. A.C. Leeper and daughters Betty Jean and Venetta of Mount Pleasant; Ruth Crosby, Pearl Stairs and Edward Stairs of Mount Pleasant; Myrtle Stairs and son Donald of Tarrs; Mr. and Mrs. J.G. Watson and son Jack of Greensburg; Jemima Clark and Mrs. Luther Rodehaver of Greensburg; Kathleen Dell of Youngwood; Mr. and Mrs. B.J. Bartlow and sons Sammy and Leslie of Norvelt; and Jane Swift and Glenn Swift of Youngwood. The event received publicity in the Courier, which said that Lula "received a birthday cake and many gifts."

Lula and Samuel celebrated their golden wedding anniversary with an open house reception in the home they had shared for the entire 50 years of marriage. The event generated a headline in the Courier.

Toward the end of her life, Lula contracted artersclerotic heart disease, where the heart walls thicken and harden. It left her not able to appropriately pump blood throughout her system. She was admitted to Westmoreland Hospital in Greensburg. Four weeks later, she passed away on Jan. 8, 1961, at the age of 71. She also is buried at Hillview Cemetery in Greensburg.

Samuel outlived his wife by four years. He died at age 78 on Feb. 21, 1965, at the Westmoreland Hospital. He was buried at Hillview Cemetery in Greensburg, with Rev. Nelson E. Stants preaching the funeral sermon. At the time of his passing, noted the Daily Courier, he had three grandchildren and five great-grandchildren.

~ Daughter Ethel L. (Swift) Bartlow ~

Daughter Ethel L. Swift (1910- ? ) was born in 1910,

She wedded Burton J. Bartlow (1904-1970).

They produced two sons -- Leslie Bartlow and Samuel Burton Bartlow.

Their home was at House 35B in Norvelt, Westmoreland County in 1954-1959. They were members of Pleasant Unity Methodist Church.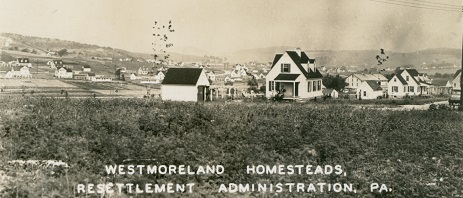 The community of Norvelt, originally known as "Westmoreland
Homesteads" and renamed in honor of First Lady Eleanor Roosevelt
In later years, the Bartlows went to live with their son Samuel in Mount Pleasant. Sadly, Burton died in Westmoreland Hospital in Greensburg at the age of 66 on Oct. 23, 1970. An obituary was published in the Connellsville Daily Courier.
Ethel survived him by a decade. She passed away in 1980 at the age of about 70. They rest for all time in Westmoreland County Memorial Park in Greensburg.
Son Leslie Bartlow ( ? - ? ) was born in (?). In September 1955, he "completed the first six months of his training as a male nurse at Pennsylvania Hospital in Philadelphia," reported the Connellsville Daily Courier. He graduated in April 1958. Leslie dwelled in Bedford, Bedford County, PA in 1970. He was deceased by 2017.
Son Samuel Burton Bartlow (1934-2017) was born on March 4, 1934 in Greensburg. Circa 1955, he is believed to have been joined in wedlock with Martha Lorraine Shaw ( ? - ? ), daughter of Joseph Shaw of Standard Shaft near Mount Pleasant. The couple produced these sons -- Joseph S. Bartlow, Timothy D. Bartlow and Todd K. Bartlow. The Bartlows made a home in Mount Pleasant until 1970, when they relocated to Southwest Greensburg. There, Samuel joined the police department as a patrolman. Over the years he was promoted, including a term as chief, but retiring in 1996 as a lieutenant. He was a longtime member of the Community Church of Hecla. In retirement, he was active with the Southwest Greensburg Volunteer Fire Department and is known to have been a responder to active shooter calls. He also enjoyed bicycling and is known to have ridden to and from Ohiopyle in a single day. At some point the marriage ended, and he kept company with Jennifer Dyer. Samuel passed away at the age of 83 on Aug. 29, 2017. His death generated headlines and a photo in the Greensburg Tribune-Review, which credited him with creating a rapport with the public "at a time when the borough was more like Mayberry. People knew each other, and police officers knew the residents." Interment was in Westmoreland County Memorial Park.
~ Daughter Elnora "Jane" (Swift) Snedden ~
Daughter Elnora "Jane" Swift (1923-1990) was born on March 19, 1923.
After high school, she graduated from Greensburg Business College.
In about 1950, Jane married World War II veteran Ned William Snedden (Dec. 20, 1920-1994), son of Fred C. and Mary Margaret (Helman) Snedden of the Greensburg-Armbrust Road. At the time of marriage, he was employed by Greensburg Machine Company.
The couple produced one or more children.
Their home in 1959 was in Youngwood. Circa 1976, Jane was a volunteer with the 38th annual New Stanton Farm and Home Fair, helping to organize floral exhibits.
Jane passed into eternity at the age of 67 on Oct. 5, 1990. Burial was in Westmoreland County Memorial Park.
Ned lived for another three-and-a-half years after his wife's death. He succumbed at the age of 73 on Feb. 17, 1994.
~ Son Glenn Wayne Swift ~
Son Glenn Wayne Swift (1925-1983) was born in 1925.
Glenn was united in holy matrimony with Isabel M. Kelly (Oct. 24, 1924-1998).
They made their home at 508 George Street in Greensburg in 1965.
Glenn died in 1983 while in his late 50s. He is in repose in Westmoreland County Memorial Park.
Isabel survived as a widow for another 15 years. She joined him in death on Nov. 18, 1998.
Copyright © 2001, 2005, 2008, 2010, 2019 Mark A. Miner