James M. Enos
(1877-1957)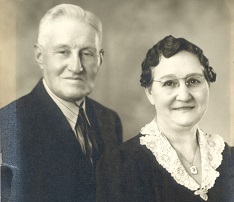 James and Elizabeth Enos
James M. Enos was born on Dec. 7, 1877 near Normalville, Fayette County, PA, the son of Perry and Joanna (Minerd) Enos.
As a young man, James performed a lot of farmwork for his parents. When his father died in 1909, James received funds from the estate for making and weighing hay.
The federal census for 1910 shows that the 31-year-old James was unmarried and lived under the roof of his sister and brother in law, Minnie and Jacob Y. Kuhns, in Saltlick Township, Fayette County. The census-taker recorder noted that James earned a living as a "laborer - odd jobs." Among their near neighbors that year were double cousins Jonas and Josephine "Fina" (Younkin) Younkin -- of the families of Jonas H. Younkin and Frederick J. Younkin.
At the age of 44, in about 1921, James married 28-year-old Elizabeth (Eberhart) Sargent (1893-1973) of East Huntingdon Township, Westmoreland County, PA. She had been married once before, and brought a daughter, Irene Sargent, to the marriage.
James and Elizabeth had one son of their own, Frank J. Enos.
The family resided at Mt. Pleasant, Westmoreland County, with an address of 405 Braddock Street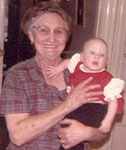 Elizabeth holding
Janice (Campbell) Hawk
As with many Western Pennsylvanians of German descent, James often talked of seeing "ghosts and tokens" -- mysterious lights in the night sky. He told of driving to Indian Head, Fayette County, in 1932 to visit his ailing mother. There was a bright flash of light behind his vehicle, nearly blinding him with its reflection off the rear-view mirror. Then the light went away. He looked at his wristwatch, and it was 8 p.m. When he arrived, he found that his mother had died while he was en route. When he asked when exactly she had died, he was told "8 o'clock."
James worked as a pumper in the coal mines, and later was a maintenance worker of the Pennsylvania Department of Highways (now PennDOT). The 1930 United States Census lists the Enoses in Mount Pleasant, with James' occupation shown as "laborer - coal mine." He continued this work during the 1930s and is shown as a coal miner in the census of 1940.
Elizabeth was a member of the Catholic Daughters of American of Perpetual Health and the Mount Pleasant Volunteer Firemens Ladies Auxiliary. Seen here, Elizabeth enjoys holding one of her great-granddaughters, Janice Campbell.
James died suddenly of a heart attack at the age of 79 on Feb. 17, 1957 at the home of his brother in law, Frank Eberhart. An obituary in the Connellsville Daily Courier reported that a "requiem high mass will be intoned ... at the St. Joseph R.C. Church with the Rev. Philip Dugan as celebrant." He was buried at the St. Pius Cemetery in Mt. Pleasant.
Elizabeth outlived James by 16 years.
She died on Oct. 30, 1973 in Mount Pleasant. She was buried beside her husband.

Irene Campbell
~ Daughter Irene (Sargent) Campbell ~
Daughter Irene Sargent (1916- ? ) was born in about 1916. She was six years of age when her mother married James M. Enos.
Irene married John J. Campbell Jr. ( ? - ? ).
They lived in Armbrust, Westmoreland County.

Early Westmoreland history
They had one known son, John James "Jack" Campbell.
Son John James "Jack" Campbell ( ? -living) was united in wedlock with Judy Snyder ( ? - ? ), a member of the Riley branch of our family. Jack has served as Pennsylvania Commissioner for the Clan Campbell Society, North America and currently is Deputy Commissioner of the Clan's Region 2, covering Pennsylvania, New York and New Jersey. In 2005, he collaborated with James William "Jim" Campbell, a distant cousin, on the publication of a booklet, A Brief History of Early Westmoreland County. The booklet comes with personal ancestral files on a CD disk, and it contains 10,000 names of descendants of some of the early settlers to the south of Fort Ligonier. Jack and Judy have opened their home, hearts and memories to the founder of this website.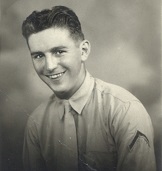 Frank Enos, U.S. Marines
~ Son Frank Enos ~
Son Frank Enos (1923-2004) was born in 1923.
He married Mary Louise Brier ( ? - ? ).
They had three children -- Anthony Enos, Barbara Ann Zwierezelewski and James Enos.
Frank served in the U.S. Marines in the South Pacific during World War II, and witnessed horrific fighting.
Said the Mt. Pleasant Journal, "Prior to retirement, he was employed for 30 years by Fisher Body and General Motors... He also served 30 years in the PA National Guard." Added the Greensburg Tribune-Review, "He was known by all who traveled Main Street, Mt. Pleasant, for his Easter display and also for his beautiful spring and summer flowers which grew in front of his home."
He received the Mt. Pleasant Rotary Club's Community Above Self Award, and was featured and pictured in the Aug. 9, 2001 edition of the Mt. Pleasant Journal, headlined, "Enos, Example of Service Above Self."
In the spring of 1992, Frank and Mary hosted the founder of this website, accompanied by their nephew Jack Campbell, for a visit to talk about family history.

Fisher Body plant of General Motors near Pittsburgh. From a painting by Howard Fogg for the Pittsburgh & Lake Erie Railroad Co., of the New York Central System.
Mary Louise died on Aug. 6, 1998.
Frank survived her by six years. During that time, he attended several Minerd-Miner Reunions held at Kingwood, Somerset County, PA, and brought highly decorated cakes. Frank passed away on March 22, 2004.
Son Anthony Enos married Beverly. They have resided in Mt. Joy, Westmoreland County.
Daughter Barbara Ann Enos (1949-2016) was born on Nov. 16, 1949 in Mount Pleasant. She married Stanley A. "Vutch" Zwierzelewski ( ? - 1996). They were members of the St. John the Baptist Roman Catholic Church of Scottdale, where Barbara was a member of the partner parish. They had one daughter, Kelly Ann Zwierzelewski. Barbara was employed for 15 years as a machine operator for Lenox Crystal in Mount Pleasant. Heartache rocked this family when Stanley passed away on March 9, 1996. Barbara remained a widow for the rest of her two decades of life. She died suddenly at home at the age of 66 on Aug. 12, 2016. Rev. Andrew M. Kawecki of the family church gave the funeral liturgy, with burial in the St. Joseph Parish Cemetery in Everton. An obituary was published in the Connellsville Daily Courier.
Son James Enos was wedded to Carol and they have made their home in Bear Rocks, Westmoreland County.

Frank and Mary on their colorful porch
Copyright © 2000, 2004, 2016-2017 Mark A. Miner