Home

Jonas H. Younkin
(1825-1855)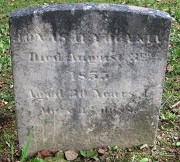 Jonas H. Younkin, died 1855
Jonas H. Younkin (1825-1855) was born on March 21, 1825 near Kingwood, Somerset County, PA, the son of John J. and Mary "Polly" (Hartzell) Younkin.

Jonas in young manhood is known to have held an account at the John McMillan tannery in Listonville. His entries from the years 1847 to 1851 are recorded in the tannery's business ledger which is preserved today. The entries read as follow: "a QR up[pers] at $1.43, July 3, 1847 – leather for a pair of Boots made by L. Harbaugh, $2.00, March 1848 – one month cow pasture, 48 cents, April 1851 – 10 months paper postage, July 1, 1851."
When the federal census was enumerated in 1850, Jonas dwelled with his widowed mother and 15-year-old Maria McClintock in Upper Turkeyfoot Township. At the time, he earned a living as a laborer.

He eventually married Mary Beal (1830- ? ), daughter of Daniel and Mary Beal.
During their short-lived union, the couple together produced an only son, Jonas M. Younkin.
Circa 1854, Jonas served as a trustee of the Methodist-Episcopal Church, along with his brother Rev. Harmon Younkin and cousins John Minerd and Jacob Minerd III as well as Samuel McMillen and Daniel N. Beal. The church was named "Mt. Zion" though it's unknown whether a building actually was constructed, although its location is shown on an 1860 map of the township prepared by Edward Walker. Jonas' brother Harmon may have been the preacher of this church.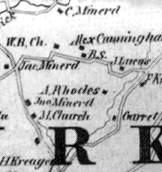 "M. Church" next to the farm
of "Jno. Minerd, 1860
The move to create a church of the Methodist denomination here may have been driven by competition from the new Old Bethel Church of God, which had been constructed about a quarter of a mile away and whose congregants included members of the Younkin and Minerd families.
Tragedy struck the following year, however, when 30-year-old Jonas died on Aug. 3, 1855 in Upper Turkeyfoot. The cause is not known. His remains were laid to rest in his parents' graveyard. At the time of his untimely passing, his wife was expecting, and nearly five months later, she gave birth to their only son.
Appointed as administrator of Jonas' estate were his brother-in-law Levi Leighliter (Lichliter) as well as William H. Postleweight and Thomas King. Levi petitioned the Orphans Court of Somerset County to allow a sale of the deceased's real estate to generate funds to pay debts. Three others, brother in law Garrison N. Smith, cousin by marriage Jonathan Dumbauld (son in law of Christina [Younkin] Dull) and brother Herman Younkin, were selected to appraise the estate's value. At the eventual sale, Jonas' brother Herman purchased the farm for $650, to be paid in three annual installments.
Mary's fate is not yet learned.
Copyright © 2013, 2016, 2020, 2022 Mark A. Miner
This page is dedicated in the memory of cousin-researchers who graciously shared their findings: Linda Marker, the late Donna (Younkin) Logan and the late Olive (Rowan) Duff.